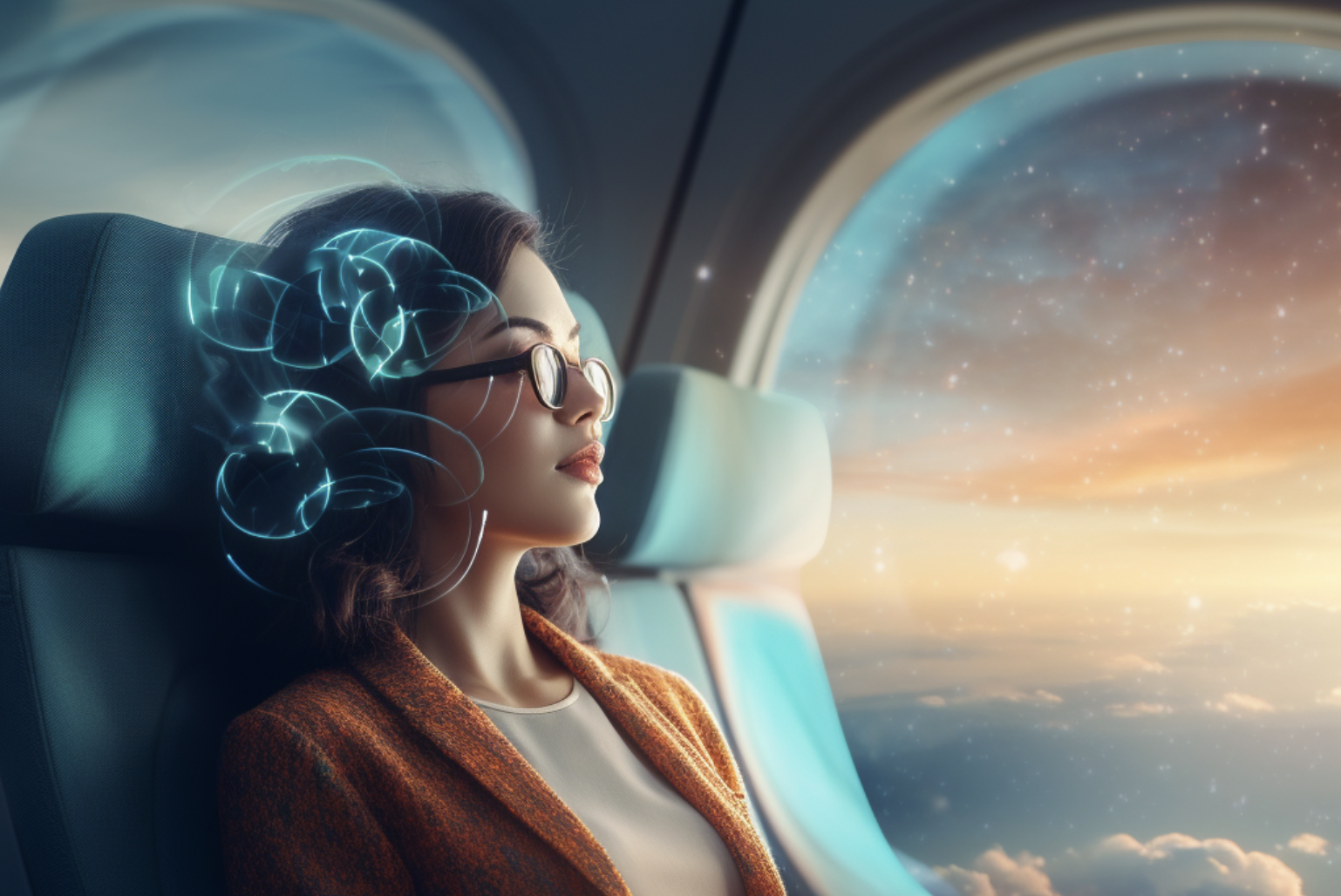 SkyAide is the perfect solution for airlines looking to optimize their operations, allowing them to improve the air travel experience with AI.
If we look at the history of commercial aviation, it is clear that air travel has come a long way from a complex and costly undertaking to something much more accessible. However, the modern traveler still faces many challenges - right from the ticket-booking process to the post-flight experience.
In recent years, airlines have been looking to improve the air travel experience with AI. AI helps airlines to increase efficiency, reduce costs and improve customer service. SkyAIde is a platform that harnesses AI and machine learning algorithms to offer a more seamless flight experience. Here's how airlines can modernize their air travel experience with SkyAIde.
How SkyAlde Can Help Improve the Air Travel Experience with AI
SkyAlde is helping airlines improve the air travel experience and combat modern-day challenges in the following ways: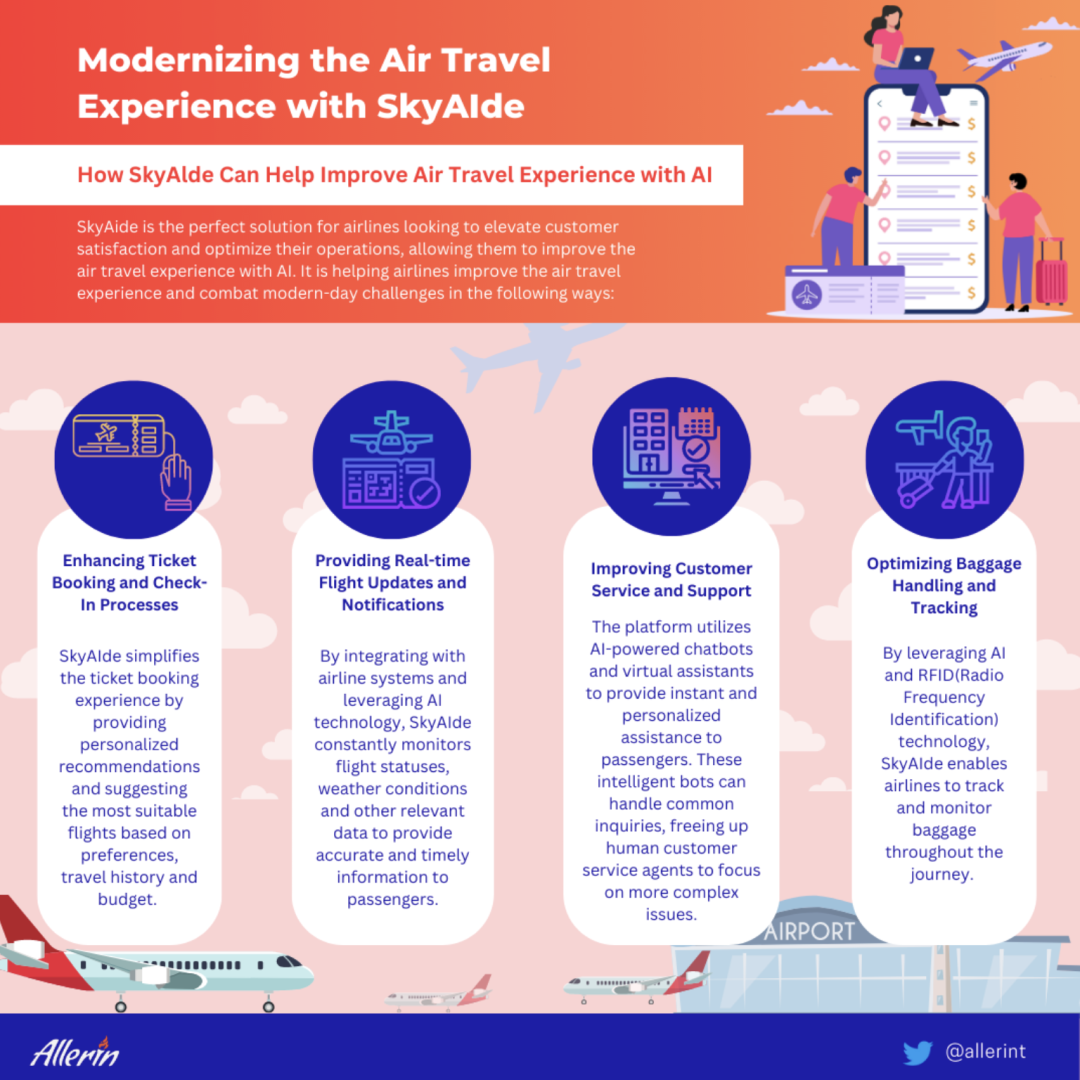 ENHANCING TICKET BOOKING AND CHECK-IN PROCESSES
SkyAIde revolutionizes the ticket booking and check-in processes, making them more efficient and user-friendly. With its AI-powered algorithms, SkyAIde simplifies the ticket booking experience by providing personalized recommendations and suggesting the most suitable flights based on preferences, travel history and budget. It eliminates the hassle of manual searches and presents users with tailored options, saving time and effort.
Additionally, SkyAIde streamlines the check-in process by offering mobile check-in capabilities, allowing passengers to avoid long queues at the airport. Through its intuitive interface and intelligent automation, SkyAIde improves the air travel experience with AI and ensures a seamless and convenient ticket booking and check-in experience for modern travelers.
Providing Real-Time Flight Updates and Notifications
SkyAIde keeps travelers informed and updated with real-time flight updates and notifications. By integrating with airline systems and leveraging AI technology, SkyAIde constantly monitors flight statuses, weather conditions and other relevant data to provide accurate and timely information to passengers.
Whether it's changes in departure gates, delays, or cancellations, SkyAIde promptly notifies travelers through various channels like mobile apps or SMS. This proactive approach ensures that passengers can stay ahead of any disruptions, make necessary adjustments and have a smoother travel experience.
Improving Customer Service and Support
With SkyAIde, airlines can significantly enhance their customer service and support. The platform utilizes AI-powered chatbots and virtual assistants to provide instant and personalized assistance to passengers. These intelligent bots can handle common inquiries, such as flight schedules, baggage allowances, or seating preferences, freeing up human customer service agents to focus on more complex issues.
SkyAIde's chatbots are equipped with natural language processing capabilities, allowing them to understand and respond to passenger queries in a conversational manner, providing a seamless and efficient customer service experience.
Optimizing Baggage Handling and Tracking
SkyAIde optimizes the baggage handling and tracking process, reducing the likelihood of misplaced or lost luggage. By leveraging AI and RFID (Radio Frequency Identification) technology, SkyAIde enables airlines to track and monitor baggage throughout the journey. RFID tags attached to bags provide real-time location updates, allowing airlines and passengers to know the exact whereabouts of their belongings.
Conclusion
As the air travel industry continues to evolve, it is crucial for airlines to improve the air travel experience with AI. SkyAIde, with its AI-powered capabilities, offers airlines a comprehensive solution to modernize the air travel experience. It enables airlines to stay ahead of the competition and provide passengers with an unparalleled experience. SkyAIde is the ideal way for airlines to optimize operations and elevate customer satisfaction.