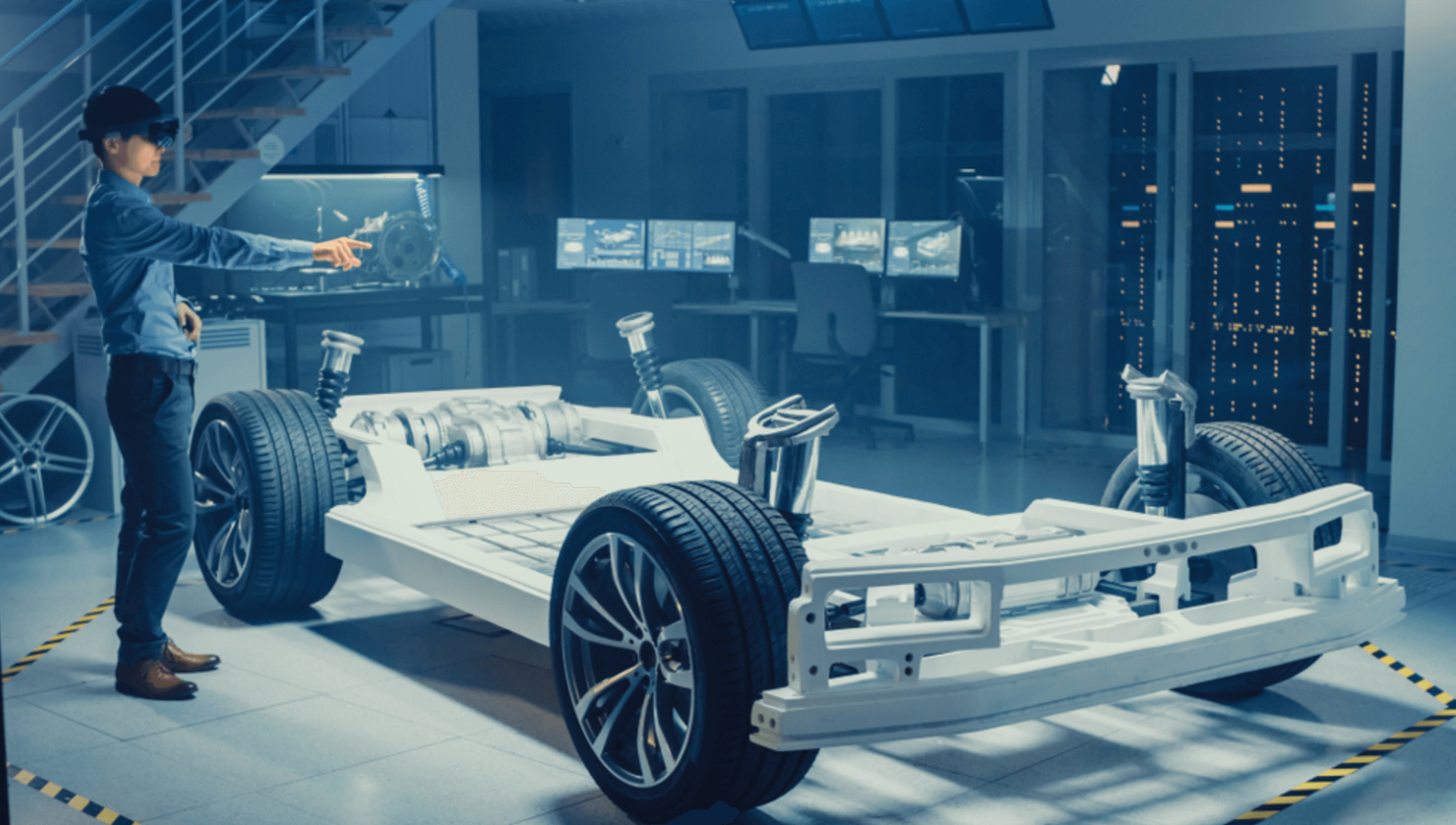 Diverse industry sectors are experimenting with integrating the metaverse into every aspect of the industry.
The automobile sector is also on the verge of a transformation with the adoption of VR in automobile operations.
The use of VR in automobile manufacturing and integration of the digital environment in the automobile industry is transforming the car buying experience. Potential vehicle buyers would usually return home after talking to a dealer to conduct an in-depth study on their own instead of relying solely on the dealer they are working with. After that, they would visit the closest shop and describe the features and qualities they want, only to discover that their ideal car is still only a fantasy. The metaverse has the potential to simplify car configuration in the not-too-distant future. With the help of VR, it can delve deeper into the wishlist of potential car buyers to fulfill their wishes.
The next major selling point in the commercial sector or digital shopping is the Metaverse. When you think of the metaverse, gaming might be the first thing that comes to your mind. An example of this is Fortnite, where a person with a computer can chat, play and even purchase items.
However, there are several additional ways that enterprises can leverage the Metaverse. One example of this is the supermarket chain, Target. The AR and VR applications at Target enable customers to see how the furniture will fit in their rooms. The Metaverse has the power to alter every aspect of our daily lives, including the way we buy or sell cars.
VR in Automobile: Shaping the Future of Automobile Sector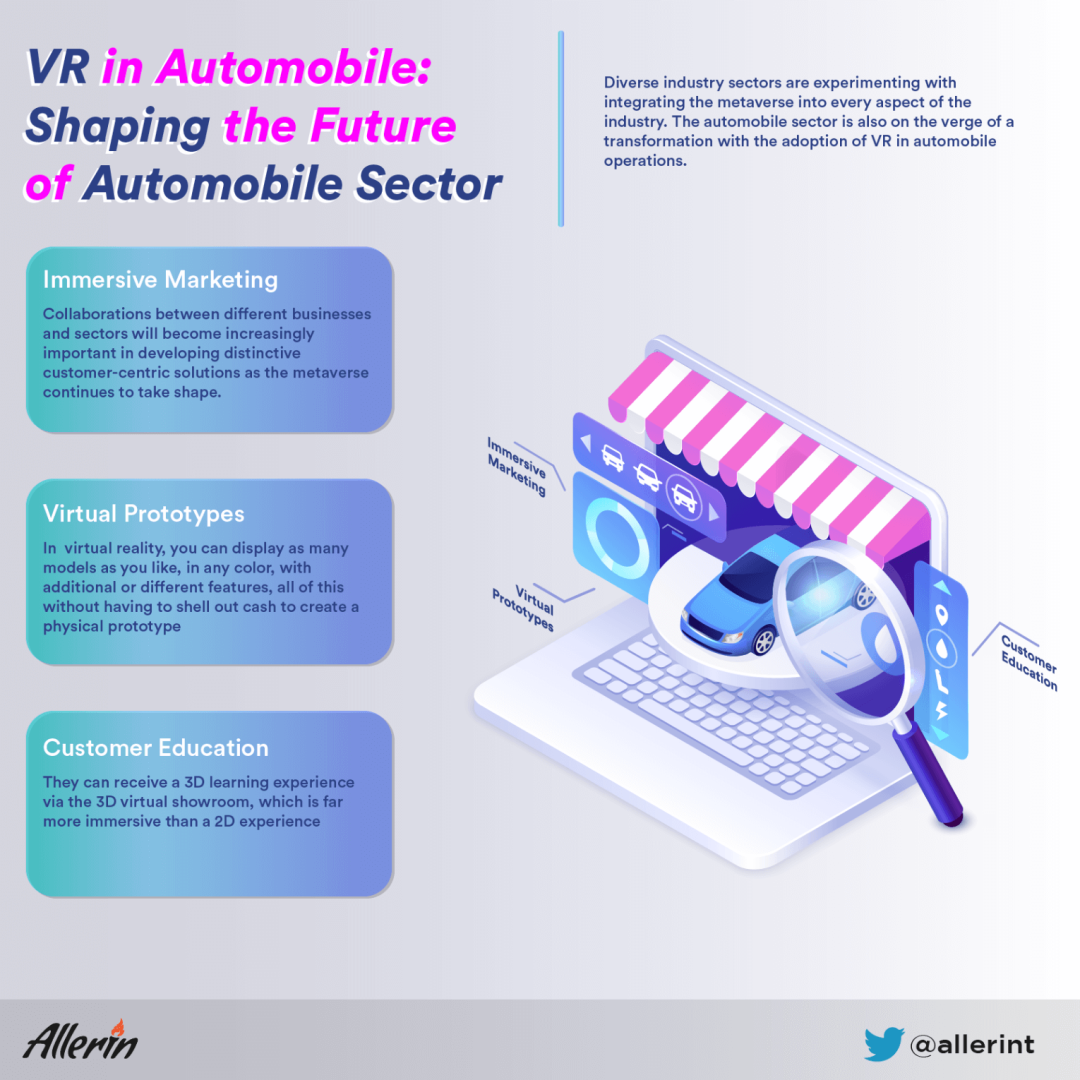 One of the key advantages of the Metaverse is that it helps potential consumers learn and comprehend the working of their cars. They can learn how to operate their vehicle more efficiently. For instance, buyers are now thinking about purchasing electric cars. They can receive a 3D learning experience via the 3D virtual showroom, which is far more immersive than a 2D experience. In contrast to a straightforward guidebook, which would not be as successful as an immersive experience, this could contain a 3D tutorial on how to charge one's electric vehicle.
Impact of VR in Automobile Buying
Most individuals will start their car buying journey by doing online research about the car that they want to buy and fits their requirements. They will talk to friends and family to get better insights. Most individuals start by looking for the latest car version they have in mind. They will type something similar to "top 10 SUV" to find the best one in the market.
Following this, customers will start to narrow down the cars that they might be interested in. At this stage, the reviews and opinions of others will have a significant impact on their choice. They will check through reviews, charts and videos to determine whether or not this is the right car for them. Since they have a fixed budget and want to discover the most excellent vehicle, the budget will also play a key factor in narrowing down the list of cars they can buy. Keeping this in mind, it is known that reviews and videos tend to be biased toward the platforms on which they are published, which could impact decision-making.
On the other hand, virtual reality reviews are neutral, as they present themselves as an experience. Through VR in automobile, potential buyers can see exactly how their cars look and how they would appear in the real world. Few AR applications even let users drive a vehicle and view how it appears on the street. With the use of the Metaverse, people may not only get a close-up view of the car's interior and exterior, but they can also interact with relevant statistics and other options to personalize it in any way they see fit. Since VR comes without a biased sales pitch or even visiting a showroom, this entire experience helps boost buyers' confidence and makes for a more pleasant shopping experience.
Impact of VR in Automobile Selling
With VR's many benefits, one might be worried if it will replace car dealers altogether. However, that might not be the case. VR in automobiles comes with benefits for both the buyer and the seller. We have spoken about the buyer; now let's dive deeper into the sellers' perspective.
In virtual reality, you can display as many models as you like, in any color, with additional or different features, all of this without having to shell out cash to create a physical prototype. This can be done anywhere, be it virtual showrooms or trade shows. All of this ultimately allows dealers to give customers a positive experience without having to hold onto any automobiles. Since they made their purchasing decisions in virtual reality, satisfied customers also require less inventory, which saves both time and money.
When consumers interact with the VR interface, data is collected by the system. This data can then be utilized for customer behavior analysis. This helps businesses build better customer experiences, making their entire selling experience more straightforward and seamless.
Future of VR in the Automobile Industry
The marketing efforts of most automotive brands and dealerships are directed toward middle-aged and older consumers since they represent their primary demographic. This group is beginning to use websites and digital tools in their research, even if they are less likely to put on a VR device while looking for their next car. That being said, one can assume that people in this age bracket will even be open to experiencing the Metaverse in the future.
In the coming years, vehicle manufacturers will need to develop many levels of experience with various points of access to succeed with metaverse deployments. For instance, creating a metaverse experience that can only be accessed through a website and a more intricate one that can be accessed via holography. By doing this, businesses can guarantee that they can satisfy the requirements of every customer, from early adopters who already own headsets to those who are still adjusting to online purchasing.
Before the Metaverse becomes a truly common service, many years of development are still left. Companies must decide whether to treat the metaverse as a passing trend or as following an uncharted territory. There's no telling where we might end up next, in the metaverse or the actual world.
Collaborations between different businesses and sectors will become increasingly important in developing distinctive customer-centric solutions as the metaverse continues to take shape. With network providers improving bandwidth by switching to 5G, consumers are engaging more and more with virtual assets and spaces in greater numbers every day. Businesses that build their metaverse presences gradually will have more lasting power. Companies that are willing to break into VR in automobile and other industries early are more likely to reap the rewards.