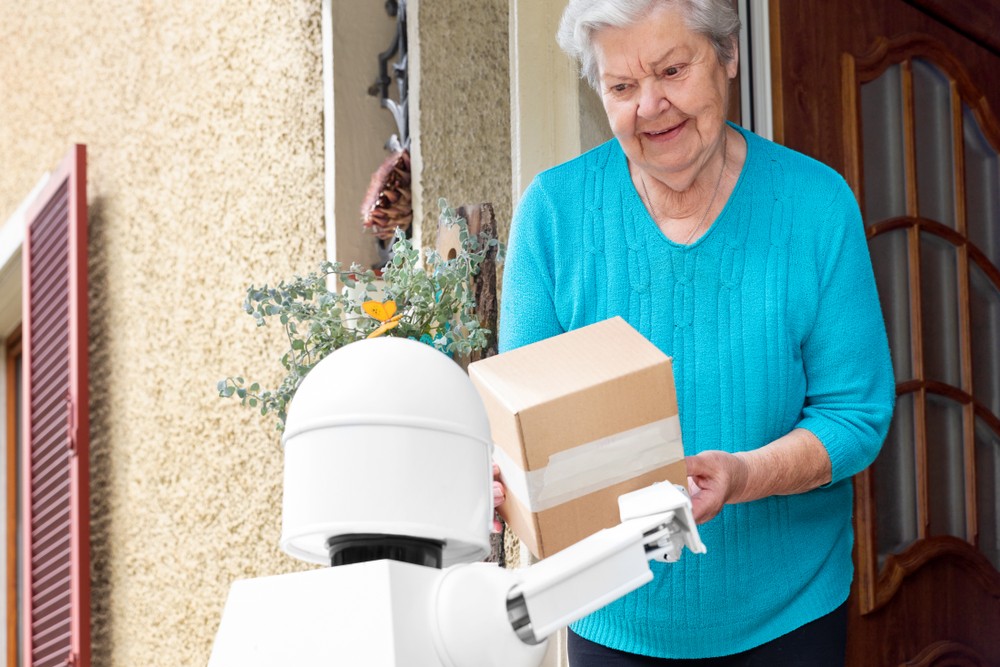 Autonomous delivery through either robots or drones allows you to make your product distribution and supply chain cycles quicker and cheaper.
So, out of the two, which option should you choose for last-mile delivery?
With a wide variety of options at their disposal today, customers seek maximum convenience while they switch back and forth between different e-commerce sellers. Once they zero in on an e-commerce retailer, buyers want to expend as little time and energy as possible before they can get their hands on the products they purchased online. So, naturally, e-commerce businesses are continuously on the lookout for newer solutions to provide convenience to their customers while reducing costs and lead time to boost their own ROI. Traditionally, a large percentage of logistics companies believe that the last-mile delivery phase makes the supply chain inefficient due to various reasons—a lack of visibility, high costs (up to 53% of the overall shipping expenses), inadequate route planning, channel unpredictability, outdated technology, coordination and communication issues.
Delivery automation through robots or drones enables e-commerce operators to kill two birds—customer convenience needs and last-mile delivery issues—with one stone. Already, behemoths such as Amazon have begun developing frameworks to employ their fleet of drones and delivery robots for autonomous, faster and more convenient product deliveries in the future. Grubhub, an American online food ordering company, will soon begin deploying robots to deliver food on US college campuses.
Why Autonomous Delivery is the Future of Last-Mile Logistics
The most logical reasons to opt for autonomous deliveries are the elimination of human error and a drastic reduction in delivery time. However, e-commerce biggies face a wider array of issues when it comes to executive-driven deliveries. As we will see, automating deliveries can resolve most of them without hassles. Some of those problems—and their subsequent, automation driven solutions—are:
Preventing the Spread of COVID-19
Today, as the pandemic still rages on in nearly all countries, customers may feel reluctant to order goods due to the fear of catching the potentially deadly COVID-19 virus from a delivery executive. Machine-driven delivery robots or drones take the possibility of virus transmission out of the equation for apprehensive customers.
Saving the Money Spent on Delivery Executives' Wages
E-commerce retailers spend a considerable amount of money periodically on delivery executive wages. Having a machine carry out the deliveries will cut down on such expenses as organizers will then only have to spend on the occasional repairs and maintenance of the automated infrastructure and the delivery robots or drones.
Staying Clear of Human Rights Controversies
As stated earlier, e-commerce is extremely competitive in today's day and age, with most big companies looking to eat into each other's target audience pie. As a result, the biggest companies in the world need to extract every ounce of productivity from their employees to stay ahead of the chasing pack in a competitive market. There are very fine margins between getting the most out of your workers and subjecting them to inhuman treatment. If you drift into the wrong side of this line, the reputation of your business will take a colossal hit in the public view, eventually affecting your ROI. Although the technology powering automated delivery tools is far from perfect and needs to be fine-tuned to enable e-commerce companies to use them for daily operations, automation keeps your business away from controversies of this kind.
Avoiding Delivery Executive Misdemeanor
Your delivery executives are an extension of your organization. So, their behavior in the final phase of last-mile delivery is a reflection of your business and corporate culture for your end customers. There have been several instances of alleged misdemeanor in the past from delivery executives during the final delivery. Automating your last-mile deliveries will prevent such instances from occurring. Now that we have seen why you need automation for your last-mile deliveries, here are two of the best options for the purpose: delivery robots and drones. Each tool offers your business-specific advantages while possessing certain weaknesses too. Based on those points, you can choose the option that suits your last-mile delivery the best.
Why Drones Have Become a Popular Delivery Option
As seen earlier, Amazon—through its Prime Air division—has started testing the efficiency and effectiveness of drones for deliveries in some regions. Drones are Unmanned Aerial Vehicles (UAVs) that use the shortest possible distance—or, as they say, 'like the crow flies'—from source to destination. Drones fulfill the ideal of executing package deliveries in a straight line to customers to reduce lead time. Additionally, unlike robots, drones do not expose themselves greatly to the risk of being damaged while they glide smoothly across the sky. There are several benefits of using drones for autonomous deliveries.
Customers Find Drone Delivery Appealing
Drones smoothly carry out the deliveries from retail warehouses to your final customers. According to a study, a large percentage of customers provided their approval to drone deliveries due to the wow factor attached with them. Having your products delivered aerially is still a fairly new concept for customers today. As a result, several customers may prefer drone deliveries over regular ones, even if that means that they may have to pay a premium for it.
Drones Make Deliveries Environmentally Sustainable
Delivery executives mostly use cars or bikes to deliver goods to your final customers in the last-mile delivery phase. As one can imagine, several deliveries take place in a day. Factors such as vehicle emissions and fuel consumption make traditional product delivery methods harmful to our environment. On the other hand, drones are battery-operated. The charging requirements of drones are minimal, and they can deliver goods over large distances without large fuel requirements. It is undeniable that drones are more advantageous over traditional last-mile delivery modes. However, drones are mired in a set of their own problems, preventing them from gaining immediate mainstream adoption. The biggest limitation of using drones is the fact that they need strict and new regulatory controls to address the unprecedented set of challenges they bring. Moreover, on a purely operational front, aerial drones don't exactly offer what we can call "last-mile delivery."
How Delivery Robots Offer True Last-Mile Delivery
Drones, while being extremely useful in situations where it is necessary to take the shortest possible route to a destination, may not be very convenient for customers in a number of scenarios. For instance, drones would require people to foray beyond their doorstep to receive their deliveries, especially if they live in multi-storied apartment buildings. And unless the goods they've ordered arrive near-instantly, giving up the convenience of doorstep delivery will make little sense to people. This will make even less sense when the novelty of drone delivery wears off.
On the other hand, a delivery robot—like the bipedal one made by ford—can offer "last-mile delivery" in the truest sense of the term. Such robots can climb stairs and navigate through closed spaces to offer doorstep delivery to people. This will not only enhance the convenience of customers but can also prove to be critical in scenarios where people cannot venture out of their homes, for instance, when the customer is an unassisted senior citizen or when there is a pandemic-induced lockdown. In fact, such robots can also minimize the spread of infectious diseases, which is a concern when human delivery agents are involved. Armed with computer vision, they can also ensure that the goods they are carrying are in acceptable condition, which is hard to monitor with human delivery executives.
In fact, this versatility of delivery robots also makes them more suited to the delivery of services, such as at-home health checkups and basic banking services like account opening and address verification.
As you can surmise, both delivery drones and robots have their own advantages and limitations. While drones may enable high-speed delivery, they cannot reach all the places a human can.
Similarly, while humanoid robots can access closed areas, they cannot travel as fast as drones. In either case, automating last-mile delivery will require heavy investment from logistics handlers and e-commerce companies. Therefore, it is important for businesses to choose between absolute speed and absolute convenience when deciding between delivery robots and drones. And, when the cost barrier for both these technologies is lowered with time, it may not be uncommon for logistics teams to have a hybrid fleet of on-ground and in-air robots.