With the increasing utilization of digital technologies in creating, marketing, and monetizing different art forms, the question that's bothering most of us is - Is technology killing creativity or improving it?
Two years ago, an AI algorithm created an artwork titled "The Portrait of Edmond Belamy," which was sold for $432,500 at the renowned auction house, Christie's. The algorithm was trained using 15,000 portraits painted between the 14th and 20th century. Another interesting detail to share here is that the portrait was signed under the equation that was used to create it. The influence of technology is apparent in every aspect of human life today, and creativity is no exception. Multiple digital platforms and mobile apps enable creative professionals to share their art with the world. But, the rising role of technology in creative pursuits has sparked a debate among creative professionals. While some agree that technology is augmenting human creativity, others feel that 'technology is killing creativity.'
HOW IS TECHNOLOGY IMPROVING CREATIVITY
With social media platforms and streaming services taking over the Internet, and technology makings its inroad into our daily lives with technologies such as VR and AR, better and more career opportunities await artists. The influence of technology is enhancing human creativity in the following ways:
Alternative Careers and Freelancing Opportunities
Traditionally, pursuing a career in creative professions was considered as a risky move. Artists, such as musicians had to record a demo, send demo CDs to record labels, and then wait anxiously to hear back. After an approval and signing of contract, musicians got a chance to record their album by paying for the studio time, music producers, and sound engineers. Although successful musicians still prefer that approach, upcoming artists are deciding to go a different way. Musicians can now record, produce, mix, and master entire albums on their laptop and share their music via a wide range of streaming services like Spotify, Soundcloud, iTunes, Google Play Music, YouTube, or Amazon Music. Likewise, creative professionals from various other fields too are working independently through digital platforms. Freelancers also share their work on social media to create an online presence and attract freelance opportunities. For example, several photographers share their pictures on Instagram to display their work to potential clients.
Creative Community and Collaboration
Each time a creative content creator shares their art on an online platform, they end up creating a community of like-minded individuals who resonate with their work. For example, Patreon is an online payment platform where fans voluntary pay a monthly donation to their favorite Youtubers or podcasters to support them. In return for such support and appreciation, some creators provide early access to their work, such as films or songs. Such communities also help content creators build their brand along with a strong online presence. Another benefit of online platforms is that creators can collaborate with their followers and fans through the same platform. For example, Dan Mace, a Youtuber, created a film titled, 'Humankind' by collaborating with hundred other filmmakers from across the globe. The result was an incredible visual masterpiece that gave a glimpse into human lives globally. Likewise, several creators collaborate with their fans and other creators by simply commenting on each other's work on social platforms.
Online Learning
To learn a new skill, people generally look for tutors or schools. But, the advent of technology has created a new medium for learning new skills. The digital era has led to the rise of online learning services that can be premium or free. Such online services have lectures and training sessions for photography, music, filmmaking, and painting that are curated by creative professionals and education experts.
Immersive Storytelling
Every storyteller aims to immerse the audience into their story. The development of virtual reality and augmented reality has led to the creation of immersive storytelling techniques. The generation of VR games and VR films enables the viewers to enter the environment of a story. Such immersive media can also be used to convey a social message. For example, two students from Berkeley's Graduate School of Journalism have created a 360-degree VR video project called The Wait, exploring the refugee crisis in Europe and focusing on immigrants' lives and challenges before they receive asylum. Such VR projects have the potential to manipulate our minds in a positive way and generate empathy for refugees.
Accessibility
The first ever digital camera, created by Kodak, weighed eight pounds with 0.01-megapixel resolution and was worth $13,000. Now, an 8 megapixel SLR costs around $200. Likewise, Osborne 1, the first ever laptop, was worth $1795 and weighed around 24 pounds. But today, some of the most advanced and compact laptops can be bought for the same price. It can be clearly observed that tech devices grow cheaper with time as technology advances. As a result, multiple devices have become more compact, advanced, and accessible to creators.
DARK SIDE OF TECHNOLOGY IN CREATIVITY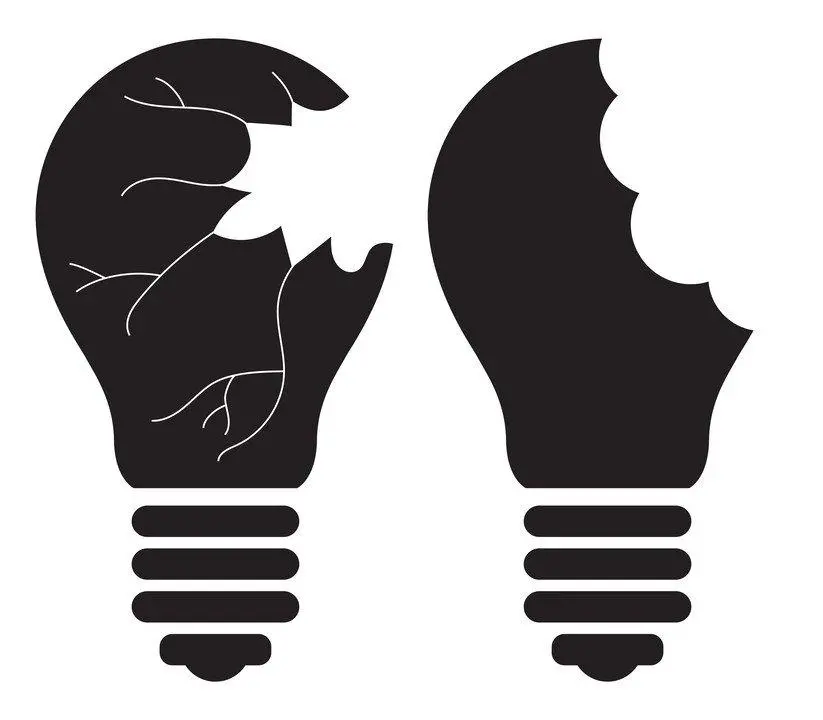 Along with the advantages, technology has introduced several obstacles too for artists and creative professionals. Here are some such challenges:
1. Piracy Issues
Piracy is one of the worst downsides of open source technology. In 2017, over 300 billion internet users visited piracy sites to download TV shows, music, and TV illegally. In fact, it's predicted that the global online TV and movie industry would lose $51.6 billion of revenue by 2022 due to piracy. Hence, internet piracy is a major concern for every content creator. Such significant losses may also demotivate artists. For example, let's say an upcoming jazz band is selling their music online to recover what they spent on studio sessions and production. But, internet piracy would eat into a major chunk of their revenue. Such losses will tighten an artist's budget, affecting their tours and music production. Eventually, the artist or band would have to stop making music as the business may seem unsustainable.
2. Over Reliance of Artificial Intelligence
Recently, an AI system has collaborated with musicians to produce an album called, 'IAMAI.' The music producing AI was developed by a team of musicians and tech experts. Such innovations have raised the fear of AI taking over human creativity altogether. The fear of extensive utilization of AI has raised a sense of concern among several people in almost all creative industries. Multiple professionals believe that AI can outperform humans in various tasks and create art and music that most humans cannot.
3. Source of Distraction
Boredom is often considered an effective source of creative inspiration. Several studies suggest that boredom enhances human creativity as the human brain starts seeking stimulation by daydreaming or coming up with creative ideas whenever it is bored. But, everyone avoids boredom by constantly using their phones for social media or streaming TV shows. Additionally, most people spend their time on chores, jobs, traveling, and social interactions. Hence, nobody has the time to just sit and think, or simply put - just get bored, you see?
WHAT IS THE FINAL VERDICT?
The benefits of technology outweigh the shortcomings when we think of creative pursuits. Small and rising creators have it easier than ever to pursue their creative aspirations. Hence, the number of online creators are rising daily as every upcoming creator has realized the immense potential of a single platform that helps them earn, collaborate, and market their art. However, media giants and production studios are getting hurt the most due to piracy. Therefore, lawmakers need to come up with more stringent policies and laws to curb piracy, as the current anti-piracy laws are failing us. Different stakeholders may have to come together for this.