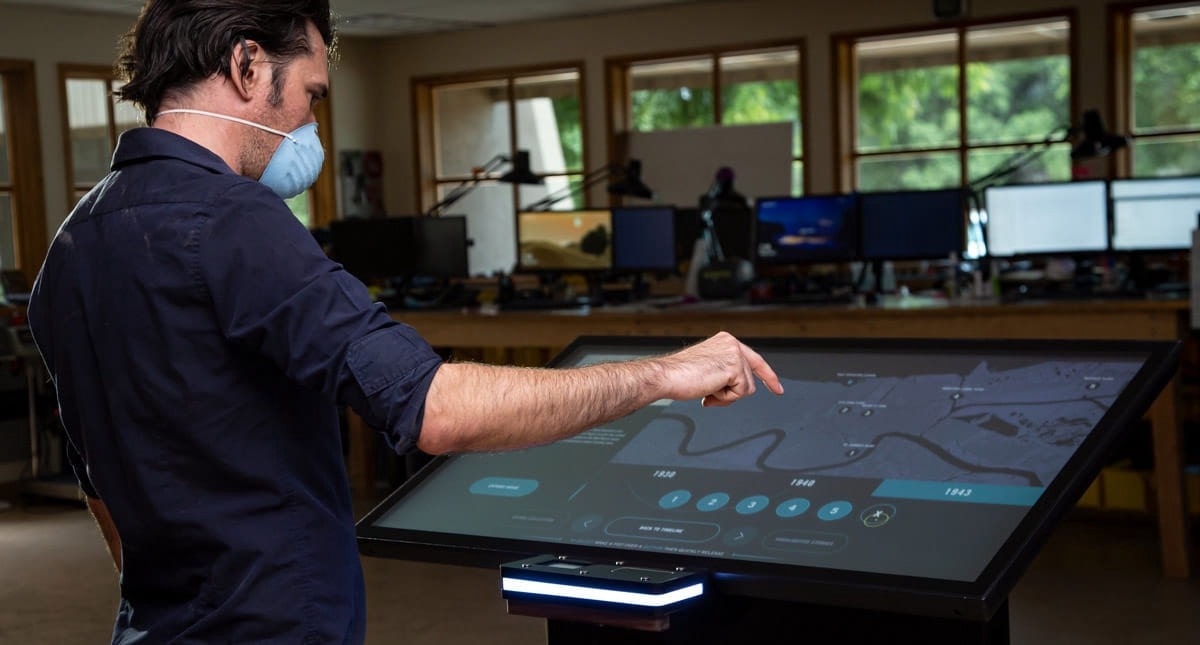 Waiting in queues is the biggest headache for clients, but with touchless kiosks, you can convert waiting in queues from boring to entertaining.
Waiting in a queue is the most boring and frustrating part for clients. Hence, as a means to solve this issue, businesses used visitor management system kiosks. Visitor management system kiosks enable self-service using which customers can perform several activities while they are in a queue, which otherwise, they would have to do after reaching a counter. Such kiosks really came in handy to manage queues. But, they had some limitations. For instance, a low-educated person without adequate grammar and vocabulary knowledge would not be able to fill in every detail properly. Since visitor management kiosks are not human, they are likely to provide inappropriate responses if they receive inputs that have spelling and other human errors. Additionally, these visitor management kiosks cannot operate dynamically. Hence, if a user types something that the kiosk is not trained for, then it may enter an infinite loop, resulting in an irate customer. Hence while visitor management kiosks offered self-service, they were not engaging and convenient for users. They were also boring and required customers to type every detail. But not anymore. Touchless kiosks with embedded AI capabilities can relieve queue headaches for both clients and businesses. These touchless kiosks can not only address the limitations of touchscreen kiosks that have been mentioned earlier but also provide several additional benefits that can enhance consumer experience and satisfaction.
BENEFITS OF TOUCHLESS KIOSKS IN IMPROVING QUEUE MANAGEMENT
Touchless kiosks can offer services that can help organizations to manage queues efficiently. It can also serve the purpose of engaging and entertaining customers and visitors while they are waiting.
1. Speeding up Data Collection with VUI
Speech is three times faster than typing. That's what a study by Stanford reveals. The study says that, on average, speech recognition software can recognize 150 words per minute. A touchless kiosk has a voice user interface (VUI) enabled by Natural Language Processing (NLP), which allows users to interact with it verbally. NLP can accurately understand plain language, interpret it, and provide an appropriate response. Thus, instead of typing their basic information in a touchscreen kiosk, consumers can verbally speak with touchless kiosks. This will quicken the process of filing basic information and increase the pace of queues.
2. Enabling Seamless ID or Token Printing
Once visitors have provided all their basic information verbally, touchless kiosks can have an organic conversation with them to verify all the inputs. Verifying details through verbal communication will reduce the chances of errors as users will be more attentive to speech than to read what they have typed. As the verification gets completed, customers can say "print" and kiosks will initiate printing their digital ID badges or tokens.
3. Offering Means of Entertainment While Waiting
Unlike simple visitor management system kiosks, touchless kiosks can also offer means of entertainment to consumers while they await their number. Touchless kiosks enable VUI and Gesture Control Interface (GCI), which can help engage customers and entertain them. Consumers can use these touchless kiosks in the way they use their smartphone assistants for quick entertainment. For instance, consumers or visitors can use speech or gestures to browse the internet, listen to music, and watch videos. They can also play gesture-based games or interact with ads that are embedded in touchless kiosks. For instance, a touchless kiosk in a hospital can have interactive content that educates patients. Patients or their caregivers who are waiting for their turn can use gestures to see information on treatment options.
4. Improving Security Measures with GCI
Some organizations seek visitor information for security purposes. For instance, they will require visitors to scan their ID proofs into visitor management kiosks for enhancing security. Touchless kiosks can improve such organizations' security measures without any extra effort from your customers' end. For instance, touchless kiosks have a facial recognition system that can capture consumers' faces for security. GCI can also enable auto check-out without a need for customers to perform that manually, as they would do in the case of touchscreen kiosks. GCI can detect which customers are leaving the premises, and facial recognition systems can detect their faces to match them with their database of faces collected during check-ins. When they find a match and detect which consumer has left the premises, they can initiate the auto check-out process in the backend. This will save time for both customers and companies.
5. Alerting Clients on Their Turn
Even touchscreen kiosks can alert clients on their turn by displaying their names on a screen. But touchless kiosks can take this to an entirely new level. They can alert customers about their turn in three different ways. Using NLP, they can call out customers' names. The second way is to display names on monitor screens. Touchless kiosks can use facial recognition and gesture recognition to stop displaying a consumer's name when the person starts moving to the counter. The third way is to send messages on consumers' smartphones. Touchless kiosks can use the contact information collected before giving an ID badge or token to send a notification alert on customers' devices.
6. Eliminating Repetitive Tasks and Providing an Efficient Service
Visitor management kiosks collect information such as the reason for a visit, among others. And when the customer's turn arrives, and the person goes to a service agent, the same question is asked again. These repeated questions can be irritating to your consumers. Touchless kiosks can aid normal visitor management systems to eliminate such repeated questions. When a consumer's turn arrives, and the person is headed towards the service agent's desk, touchless kiosks can send all collected information to the service agent. With the help of computer vision and facial recognition, touchless kiosks can detect customers' faces and send their information to service agents when their turn arrives. Thus, basic information such as the consumer's name, contact details, and reason for the visit will be with service agents before they arrive. This can help service agents to jump to providing service instead of asking repeat questions directly. Hence, it will reduce the average time required to serve customers and pace queues.
7. Monitoring Individual Customers in a Queue
With facial recognition, touchless kiosks can monitor every customer in a queue to fetch information on how long they have been waiting or how many customers are waiting in the queue. They can also collect information such as how long it is taking to attend a single customer. Businesses can leverage all such data and analyze it to generate actionable insights and enhance the efficiency of queue management and customer service. For instance, they can extract information about which reasons for a visit take longer and which ones take less time. And then they can consider creating two separate queues -- one for reasons that take long and another for the ones that can be attended quickly.
WHERE CAN YOU USE TOUCHLESS KIOSKS FOR QUEUE MANAGEMENT?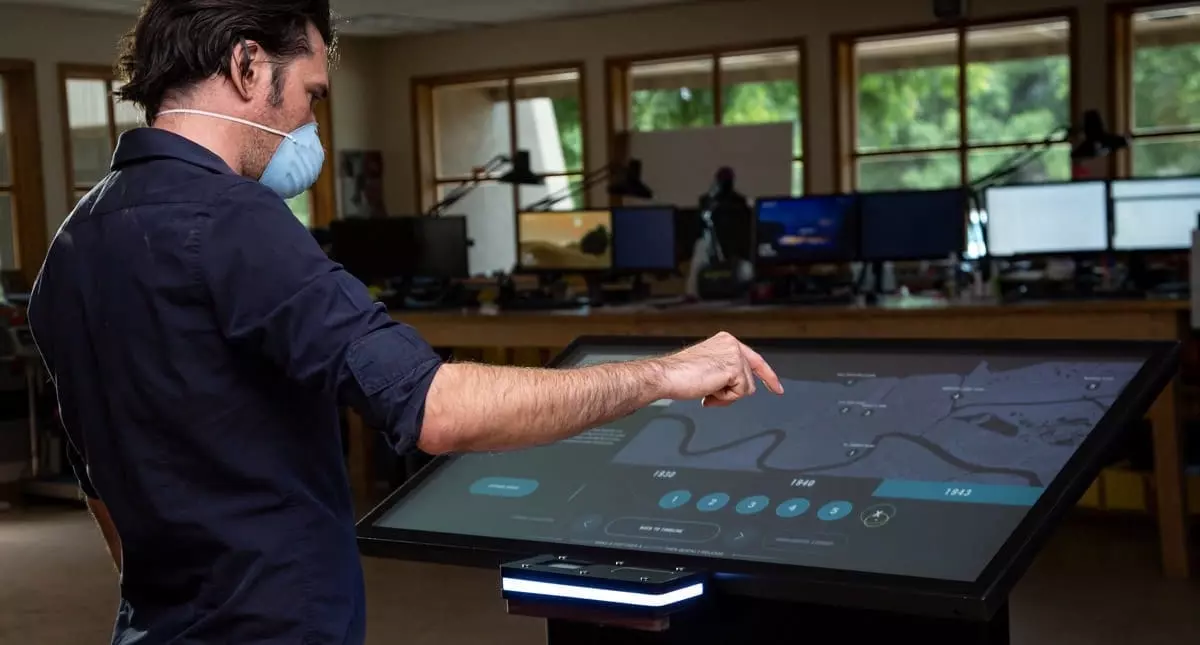 It is simple to deploy touchless kiosks with all the capabilities mentioned above at various locations.
Airports
The first thing that a passenger does after arriving at an airport is checking-in. Touchless kiosks can create an engaging way of self-service check-ins at airports. Travelers can validate their ID details, show checked baggage, and verify flight information and other details to print their boarding pass. Touchless kiosks can also offer means of entertainment to passengers while they await their flight's departure. For instance, they can play gesture-based games in touchless kiosks.
Hospitals
Touchless kiosks can serve as token systems in hospitals or clinics. They can send alerts on patients' or their relatives' smartphones when their token number arrives. This will allow patients to relax instead of having to look up to LED screens awaiting their numbers.
Receptions
Visitors can verbally give the necessary information and print their IDs from touchless kiosks. Also, touchless kiosks can capture visitors' images for enhanced security. Visitors' images can also be used to identify who has checked-out and who all are still inside the premises. Facial recognition integrated into touchless kiosks can detect which visitors are leaving the building premises. Hence, visitors will not have to stop to check-out as they would have to do in the case of a touchscreen kiosk.