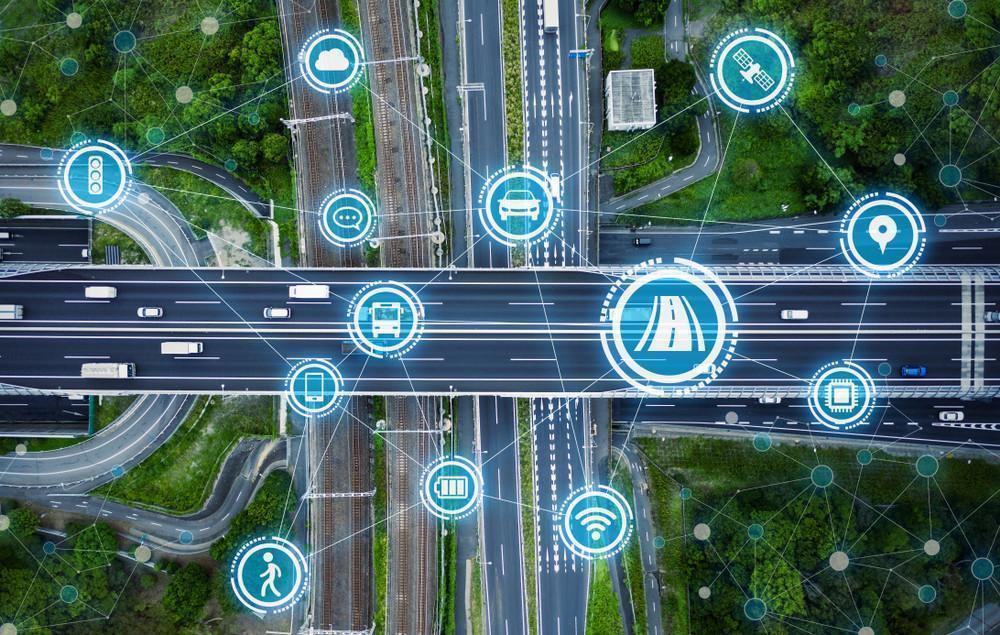 While traffic is one of the most common effects of growing urbanization, the advent of modern technologies in traffic management will effectively reduce traffic issues, and consequently the commute time.
Every year, an average commuter in the United States spends 42 hours in traffic and over $1400 for gas while their vehicle stands idle. Spending long hours in traffic exposes commuters to pollution along with carcinogens that can lead to life-threatening disorders. Additionally, the global trend of urbanization is worsening the already terrible traffic issues. The degree of urbanization was 55% in 2018 and statistics have estimated up to 70% rise by 2050. One can only imagine the dire consequences of such a population explosion on the road traffic. Therefore, preparing for the explosion is the immediate need of the hour.
Here, modern technologies such as AI, big data, and IoT can provide effective tools to reduce, or even eliminate, the issue of traffic. Numerous applications of advanced technologies have revolutionized different industry sectors in the recent past. Likewise, the advent of modern technologies like AI will address all the traffic-related concerns by introducing innovative traffic management systems. Applications based on these technologies can be incorporated with Intelligent Traffic Management Systems to reduce congestions, commuting time, and road accidents effectively.
Smart cities are integrating advanced technologies for efficient traffic management. These advanced applications can be implemented in almost all urban areas to analyze traffic flow and to create an effective strategy for traffic management:
IoT
The introduction of IoT will introduce a data-driven approach when tackling issues like traffic congestion. Besides, the various IoT-based applications will also enhance the travelling experience of commuters. IoT-powered traffic lights that contain smart IoT sensors can be strategically placed in different areas. Such sensors can collect real-time traffic data. The collected data can prove helpful in performing big data analytics to create the most practical traffic management solutions.
IoT sensors and beacons will also enable monitoring parking spaces to identify empty parking spots. These sensors will navigate drivers to empty spots. Furthermore, IoT sensors can be used for the development of anti-theft system that'll transmit the location of a stolen vehicle and a centralized system or an app can deactivate the vehicle remotely.
In 2017, 40,000 people died in road accidents in the US. Road safety has always been a major concern for commuters. Against such a backdrop, IoT sensors can be used in combination with CCTV cameras to detect accidents and alert emergency services. Such efforts will help bring down the casualties in road accidents. An Indian startup has developed an IoT-powered technology called Emergency Response Automation that uses IoT sensors installed in ambulances to alert nearby traffic lights. After receiving a notification from an ambulance, the traffic lights turn green to allow the ambulance to pass. The device also has a touch screen that enables route-mapping and a live tracking system that monitors a victim's condition.
Artificial Intelligence
AI-powered use cases will enable the development of an analytical approach to traffic management. Compared to current traffic management procedures, AI-based traffic management will allow informed planning and execution mechanisms that will effectively reduce traffic.
Researchers at the Nanyang Technological University in Singapore have developed an AI-based intelligent routing algorithm to minimize spontaneous congestions by directing the paths of multiple vehicles simultaneously. Similar algorithms can help build a system that would suggest alternative routes to drivers for reducing traffic. Moreover, CCTV cameras with image and video recognition can generate crucial data for analysis of traffic flow and development of strategies that enhance traffic management. For example, the city of Pittsburgh in Pennsylvania has installed radar sensors and cameras at intersections for better traffic management. The radars collect data about traffic patterns which is then analyzed by AI-based systems to optimize the traffic flow. This approach has reduced the commute time by 25% and traffic congestion by 40%. Also, traffic management systems can incorporate crowd-sourced traffic information to obtain real-time traffic updates for training AI-based system.
Tech giants are already developing autonomous cars with the vision of ensuring safety as well as decreasing traffic. Several studies suggest that AI-based autonomous vehicles can decrease the stop-and-go waves of traffic. Autonomous vehicles utilize short-range radio to detect cars and infrastructure ahead of them and adjust their speed and path accordingly. With such an approach, multiple autonomous vehicles can cooperate with each other to avoid congestion and accidents.
Blockchain
Blockchain-based smart contracts and decentralized ledger can introduce improved transaction mechanisms for tolls, parking lots, and gas stations. Such blockchain applications will provide automated and secure payment solutions.
Toll booths often have long queues of vehicles, especially during rush hours. Blockchain-powered smart contracts can enable automated payment with the help of a digital identification system. Such blockchain applications will shorten long queues and commute time. Similarly, automated peer-to-peer transactions can be used in parking spaces and gas stations.
One of the major issues that IoT and AI-based traffic management systems might face is the security of collected data. Since the IoT sensors and cameras will be connected to vast databases, hackers may attack networks to breach crucial data. In such a scenario, blockchain can prove to be a robust solution. Storing the collected data on a transparent and decentralized network will help create a more reliable and secure framework for data collection.
Augmented Reality
Smart applications based on augmented reality (AR) will promote safe driving practices and decrease congestion at traffic signals. Augmented reality for traffic management will also provide tools for vehicles to stay connected to traffic management systems.
Smart windscreens can display essential information, such as speed, ETA, distance, navigation, and possible congestion in real-time. Such windscreens will assist drivers by suggesting them the perfect time for switching lanes to avoid accidents. Furthermore, AR-based windscreens will connect to traffic management systems to detect unsafe driving practices like crossing speed limits and jumping traffic lights. AR-powered windscreens can also send images and location data to traffic management systems that can help in monitoring traffic. If the smart windscreen is transmitting data from the same location for a specific long interval, traffic management systems will check images from the windscreen to detect congestions. This information will be collected in the traffic management system and necessary actions will be taken to reduce traffic.
Effective Strategies for Deployment
Traffic management authorities will need to fulfill various requirements before deploying any modern technology. Numerous technicalities are involved in the adoption process which can only be addressed by skilled and experienced professionals. Hence, hiring experts who can strategize and help execute the amalgamation of laws, rules, and technology around traffic management is essential. Such professionals will allow informed decision-making and planning of infrastructure such as zoning and road planning, amongst other construction-related issues. Furthermore, advanced technologies like IoT demand 24x7 network connectivity. A high-speed connection that avoids any downtime or connection failures is a necessity. Besides, the data collected must be secured using robust protocols and authorization mechanisms.
Considering the various procedures, infrastructure, and resources, government organizations need to collect and allocate adequate funds via private or PPP investments. Additionally, promoting and incentivizing the development and adoption of innovative traffic management will go a long way in curbing the traffic problem.