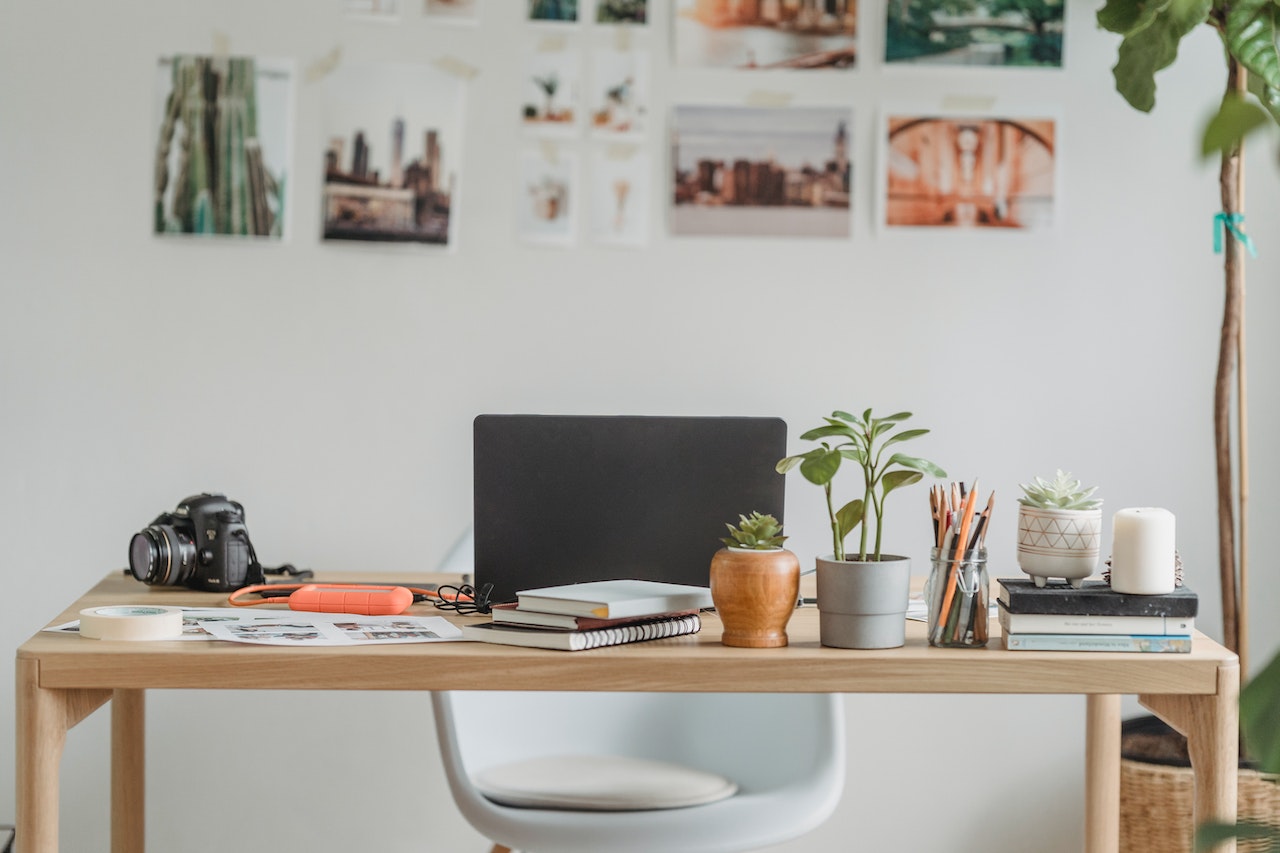 VanceAI Art Generator is an online tool designed to assist users in creating art with ease.
It leverages the power of artificial intelligence to generate stunning and visually appealing artworks. Whether you're an artist looking for inspiration or someone with no prior artistic skills, the AI art generator provides a user-friendly platform to explore your creativity.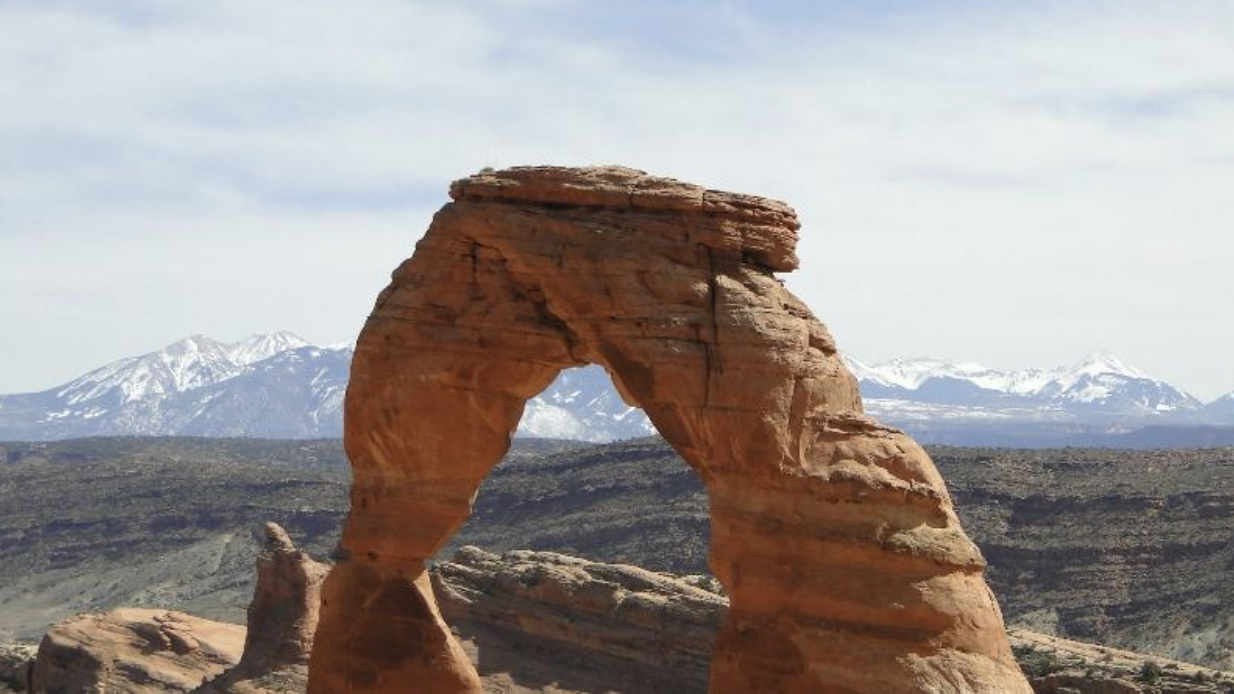 Given that the AI art generator is a VanceAI tool, online content creators can make their art creation process easier and better knowing that VanceAI offers additional tools on its platform to improve images further. VanceAI Art Generator makes use of advanced algorithms to ensure a smooth experience.
What is the VanceAI Art Generator Tool?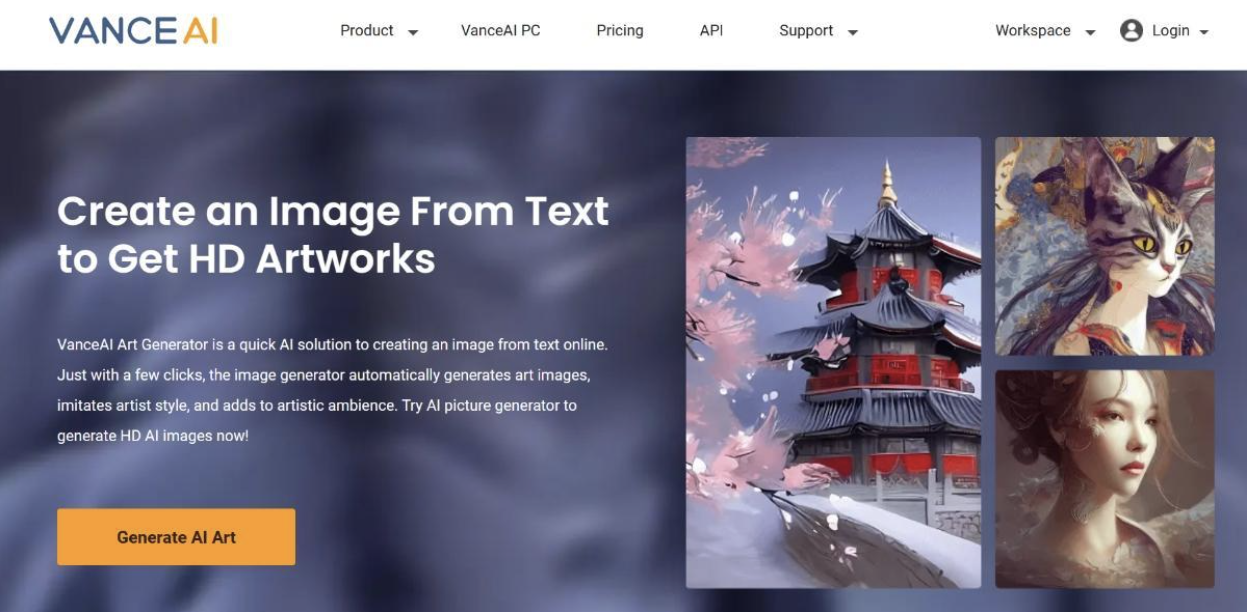 Image Credit: VanceAI
The underlying technology behind AI Image Generator of VanceAI is based on deep learning algorithms, particularly Generative Adversarial Networks or GANs. GANs consist of two neural networks: a generator and a discriminator. To use the AI image generator, users typically begin by selecting a style or theme for their artwork. The platform offers a wide range of artistic styles, including famous paintings, abstract designs, and contemporary art. Once a style is chosen, users can upload their own images or use the default images provided by the platform as a reference, if they want. When you add these features with the customization options provided by the AI image generator, you get a tool that is modern and easy to use.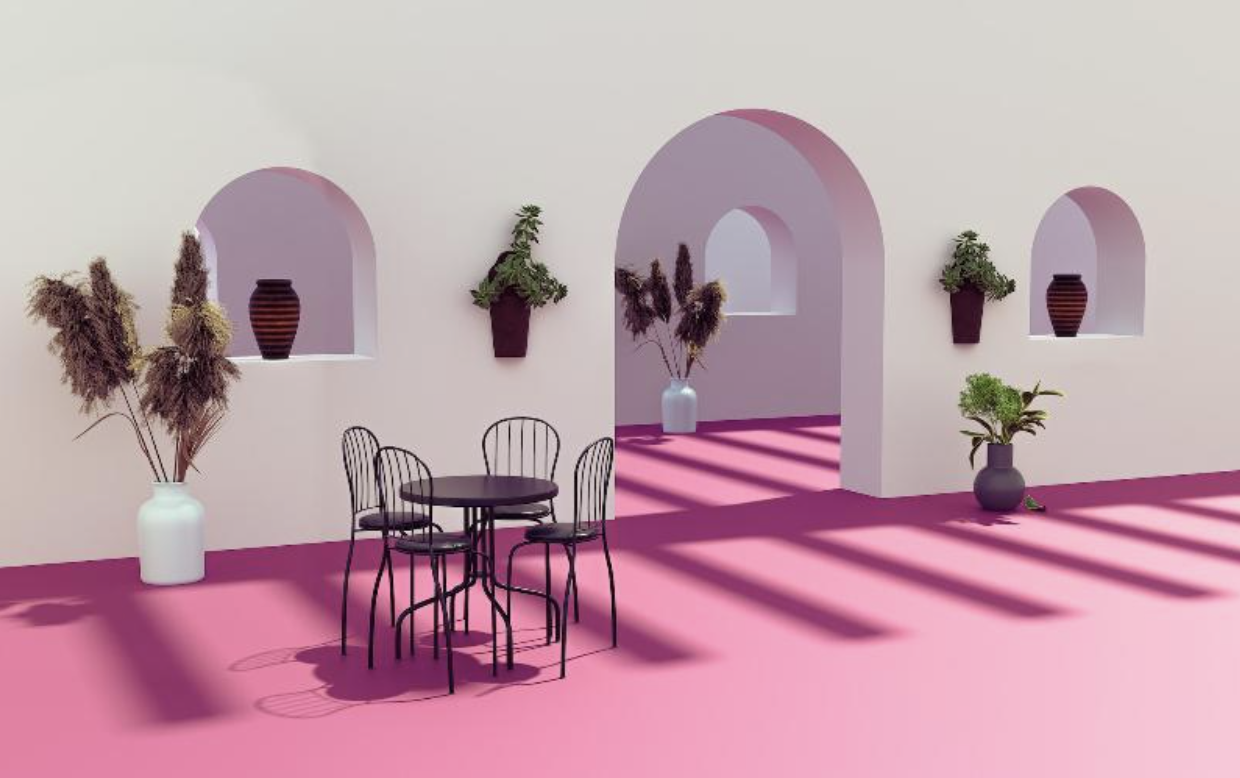 Image Credit: Unsplash
VanceAI Art Generator stands out as an easy-to-use tool due to its intuitive user interface and straightforward workflow. The platform provides a seamless experience, enabling users to create compelling artwork without the need for advanced technical skills or extensive artistic knowledge. The interface is designed to be user-friendly, making it accessible to artists of all levels, from beginners to professionals. Also, the reference image feature allows creators to repurpose their content by changing it.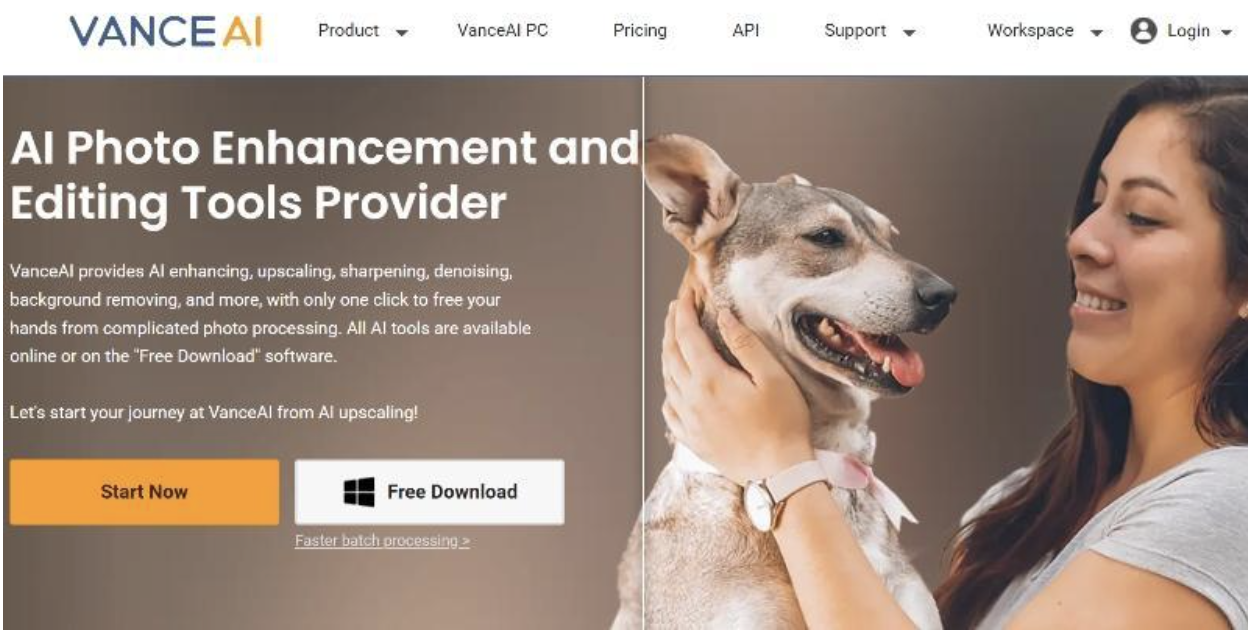 Image Credit: VanceAI
As a creative individual, you constantly seek innovative tools that can streamline your artistic process while enhancing the visual appeal of your creations. This is where VanceAI Art Generator comes into the picture. Utilizing the AI image generator can be helpful for your artistic endeavors. The first step is selecting a desired style that complements your current project. Whether it's a vibrant abstract style or a classic painting, the platform offers a diverse range of options to suit your artistic vision. Next, you simply upload your reference image, be it a photograph or a design sketch. Once your reference image is uploaded, the platform's user-friendly interface allows you to effortlessly customize various aspects of your artwork.
In addition to the creative possibilities offered by Art Generator, users have the opportunity to utilize tools such as the image upscaler, image sharpener, and image denoiser to enhance the quality and refinement of their generated art. This complete suite of tools empowers users to elevate their artwork by improving image resolution, sharpening details, and reducing noise, resulting in a more polished and professional final product.
Why it made the cut:
AI Image Generator provides users with a convenient platform to explore and test their creative ideas. It is also a great starting point for art creation for many kinds of users.
Pros:
VanceAI Art Generator significantly expedites the image creation process. It swiftly generates artwork in different styles.
With VanceAI Art Generator, users have access to a diverse collection of artistic styles.
Cons:
The image processing may take more time than expected if the servers are busy.
Steps for Using VanceAI Art Generator
Click on AI Art Generator to access it and follow the steps to generate art.
Step 1: Begin by accessing the designated link to enter the VanceAI Art Generator. Look for and click on the "Generate AI Art" option available on the webpage.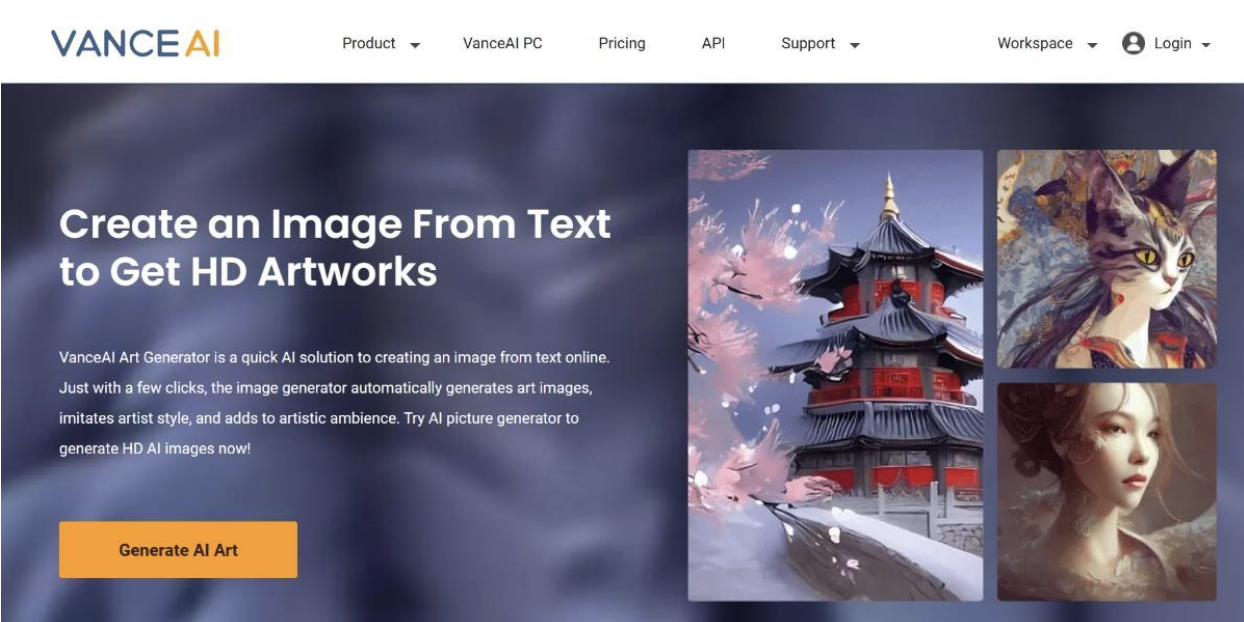 Image Credit: VanceAI
Step 2: Within the workspace, input your desired art description. Take advantage of the text prompt provided to express your specific requirements. Once you're satisfied with your description, initiate the art generation process by clicking the "Create" button.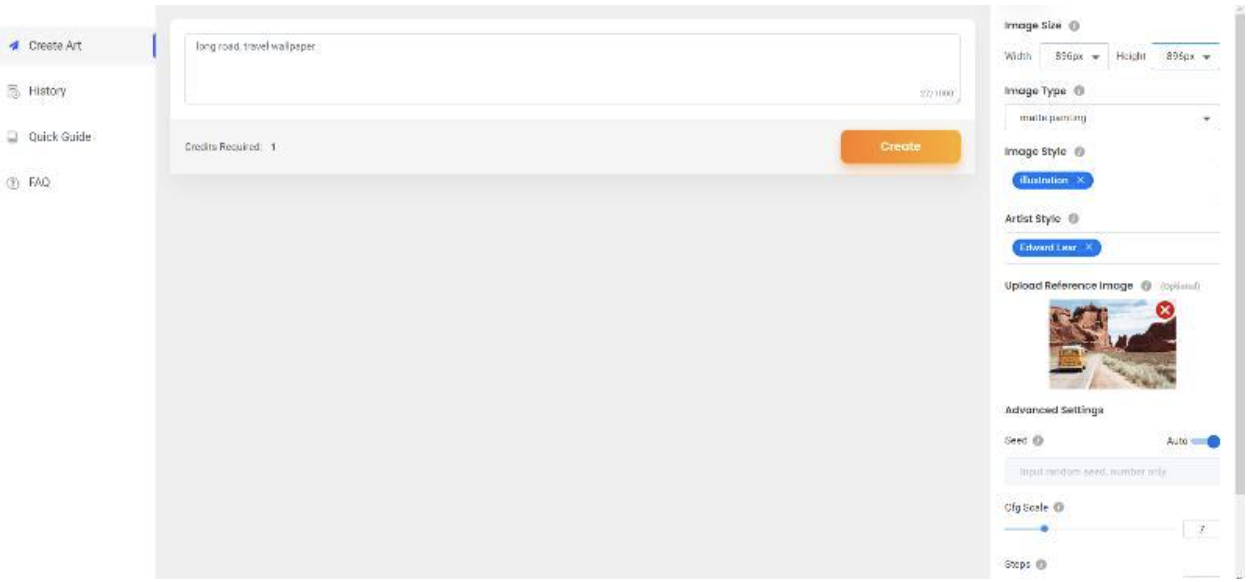 Image Credit: VanceAI
Step 3: After the image is successfully generated, it will be displayed on the screen. When you're ready to save the artwork, simply download the image using the provided download option.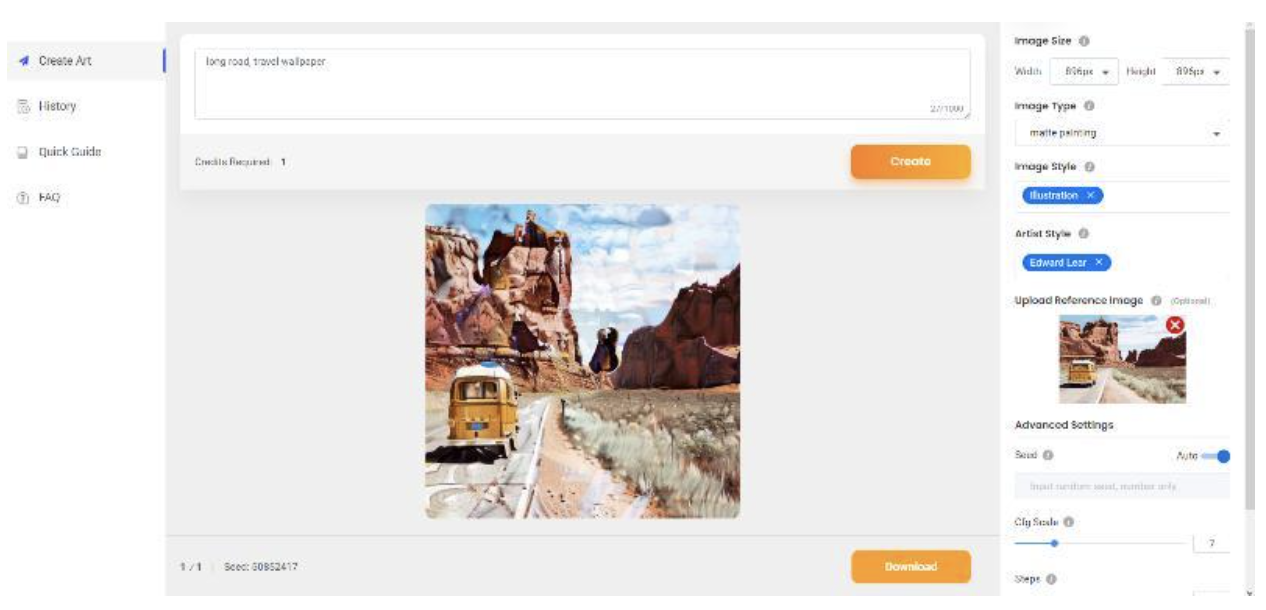 Image Credit: VanceAI
VanceAI Pricing
VanceAI offers a range of paid subscription plans tailored to suit diverse needs and budgets. Among their cost-effective options, the most affordable plan is priced at just $4.95 per month, delivering exceptional value for the cost. Subscribers of this plan receive 100 image credits, which can be utilized across the platform's various tools. Additionally, VanceAI provides a generous offer of three free image credits to all users on a monthly basis. These credits can be applied to any tool available on the platform, enabling users to explore their creativity without incurring any extra charges.
More Options from VanceAI
VanceAI PC is a software version of the platform aimed at enhancing the overall user experience. While it may not currently offer the full range of tools available on the online platform, VanceAI PC is continually evolving and gradually incorporating additional features to provide an improved user experience.
VancePDF.com is a dedicated platform focused solely on handling PDF files. Users can access a range of practical functionalities, including splitting, merging, and converting JPG to PNG, among other convenient features. It serves as a streamlined solution for simplifying the workflow involving PDF files.
Moreover, VanceAI offers the comprehensive toolset of VanceAI Photo Editor, which enhances the editing process for artists. This toolset includes essential features like image cropping, layout editing, rotation, and background removal.
Final Verdict
The AI Image Generator is an incredibly powerful tool that enables users to create a diverse range of visuals, making it a valuable asset for enhancing websites and online profiles. Its extensive array of customization options and robust features provide users with the flexibility to tailor their visuals to suit their specific needs and preferences. Furthermore, the affordability of the VanceAI Art Generator ensures that users with varying budget constraints can access and benefit from the tool's capabilities. To enhance accessibility, offering users a preview of popular image styles can prove advantageous, allowing them to explore different options before finalizing their choices.