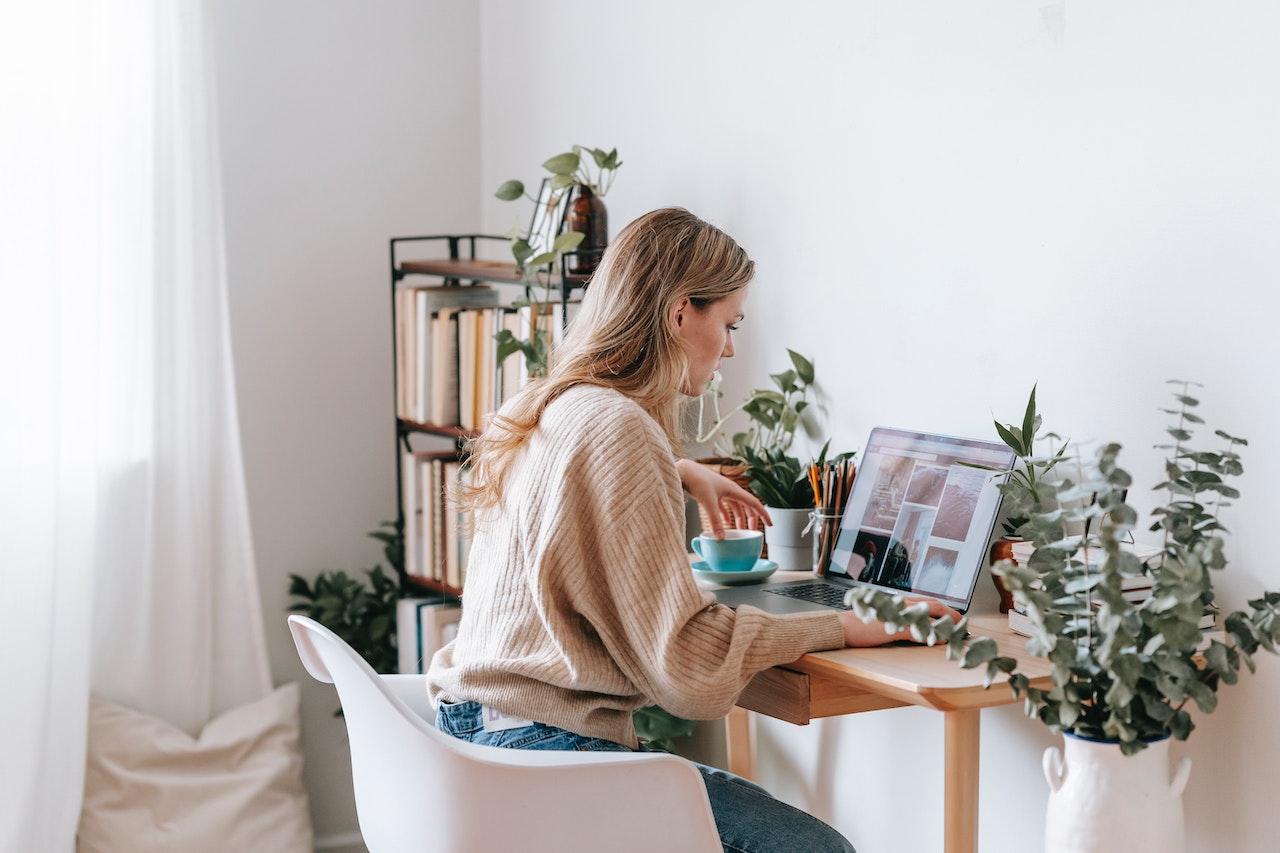 VanceAI Photo Editor is a valuable tool that can greatly streamline your workflow as a creative professional or digital artist.
The AI image editor offers a wide range of editing features, including image cropping, layout editing, rotation, background removal, and more. Having all these tools in one platform eliminates the need to switch between multiple software or applications, saving you time and effort in your editing process. The user interface of Photo Editor is designed to be intuitive and user-friendly. Navigating through the tool and accessing various editing functions is straightforward, even for those with limited technical expertise.
In this guide, we will discuss the various features of the Photo Editor by VanceAI.
Features of VanceAI Photo Editor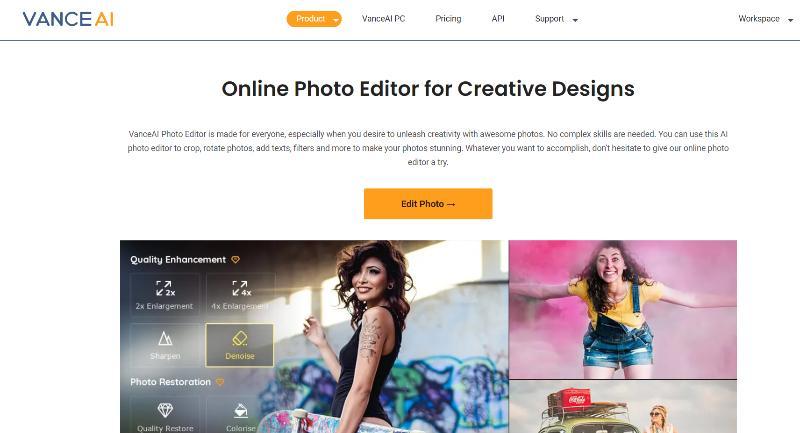 Image Credit: VanceAI
VanceAI offers a convenient tool called VanceAI Photo Editor, equipped with a wide range of image editing tools. This software uses the power of AI technology to simplify and streamline the editing process, making it easier for users. Photo Editor provides a user-friendly interface and a comprehensive set of features, allowing users to effortlessly enhance their images. It stands out with its advanced AI-powered functions, such as image enlargement, which maintains image quality while making necessary edits. Within the workspace, users can access various tools like cropping, resizing, and background removal with just a simple click, ensuring a smooth and hassle-free editing process.
Moreover, having essential editing tools in one place enhances user creativity. The Photo Editor empowers users to explore different effects, adjustments, and enhancements easily, helping them achieve their desired image outcomes. The seamless integration of various editing features ensures a smooth and efficient editing experience, enabling users to focus on their creative vision rather than getting overwhelmed by technical complexities. Instead of navigating between multiple sources or instructions, AI Photo Editor consolidates functionalities like cropping, rotating, overlaying images, enlarging images, and removing backgrounds, streamlining the editing workflow and making it more convenient for users.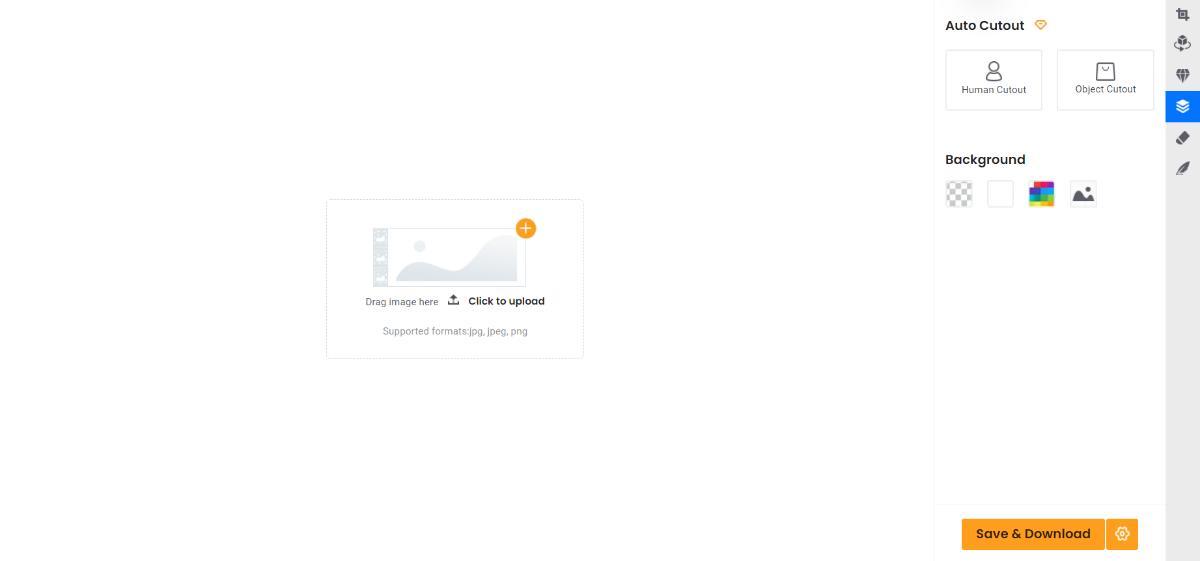 Image Credit: VanceAI
By utilizing VanceAI Photo Editor's array of tools and features, digital marketer can streamline their workflow, efficiently edit visuals, and create captivating images for their social media campaigns. The simplicity and versatility of the Photo Editor contribute to an enhanced creative process, allowing the marketer to focus on their core tasks and achieve better results in less time. For example, the digital marketer wants to showcase the product images against different backgrounds to see which one resonates better with the target audience. With VanceAI Photo Editor's background remover, they can effortlessly remove the existing background and replace it with a variety of options.
Extra Features of VanceAI Photo Editor
A professional designer or creator receives a set of product images from a client to be used in social media ads. Using VanceAI Photo Editor, they can quickly enhance the images by adjusting brightness, contrast, and colors to make the products visually appealing. The user-friendly interface and intuitive controls of the Photo Editor make this process simple and efficient. When using VanceAI Image Upscaler online, the original version of the feature, users can upscale images up to 8x times the original.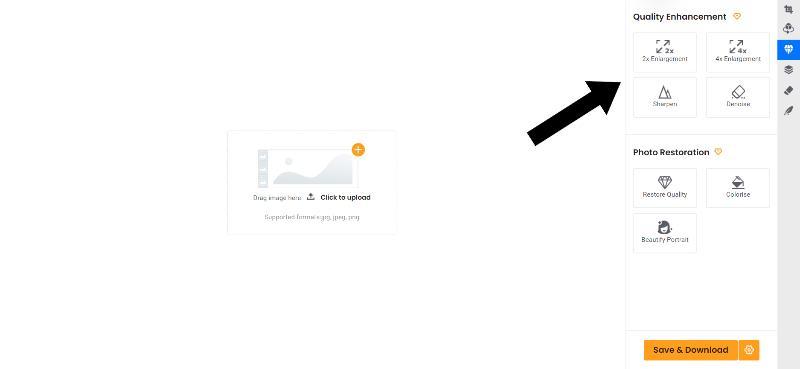 Image Credit: VanceAI
VanceAI Photo Editor provides impressive capabilities for restoring old and damaged photos, revitalizing them with a fresh appearance. The photo restoration features are specifically designed to address common issues found in vintage or worn-out photographs. With the photo restorer tool, users can breathe new life into these images, improving their overall quality and appearance. Another standout feature of VanceAI Photo Editor is the colorizer. This tool adds vibrant and realistic colors to black and white images, transforming them into colorful and visually appealing visuals.
Make Images Bigger with the Photo Editor Feature
Use AI image editor to make your images look bigger and better in quality.
Step 1: Access VanceAI Photo Editor online by clicking the provided link. Once you're redirected, proceed to the Workspace by selecting "Edit Photo".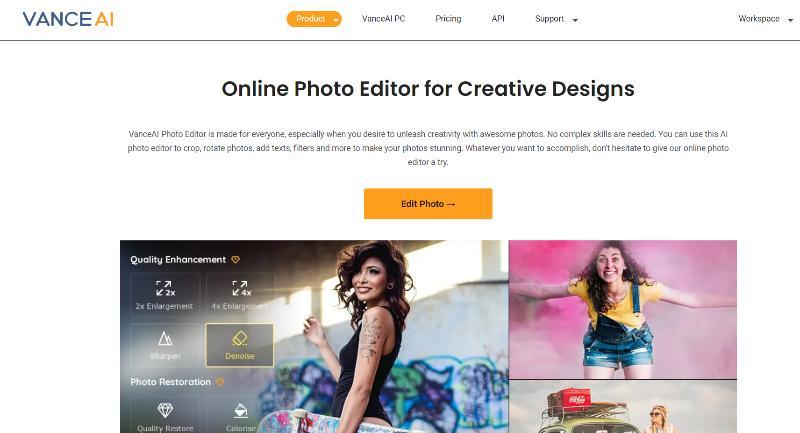 Image Credit: VanceAI
Step 2: Upload the photo you want to enlarge and choose one of the available enlargement options. The tool will begin processing the image accordingly.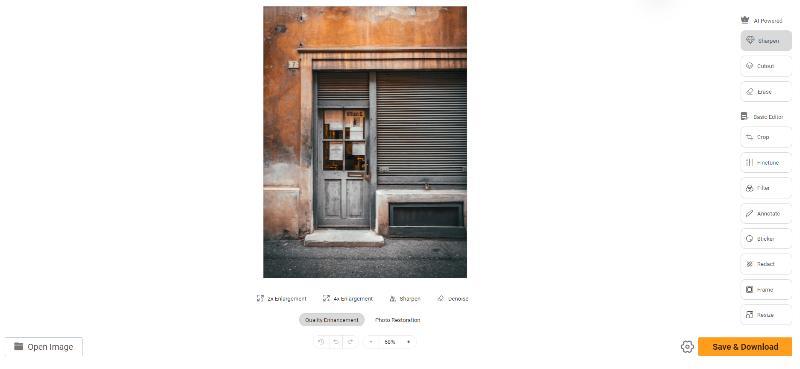 Image Credit: VanceAI
Step 3: Once the process is complete, the upscaled image will be displayed on your screen. To save it, utilize the provided option in the Workspace for downloading the enlarged image.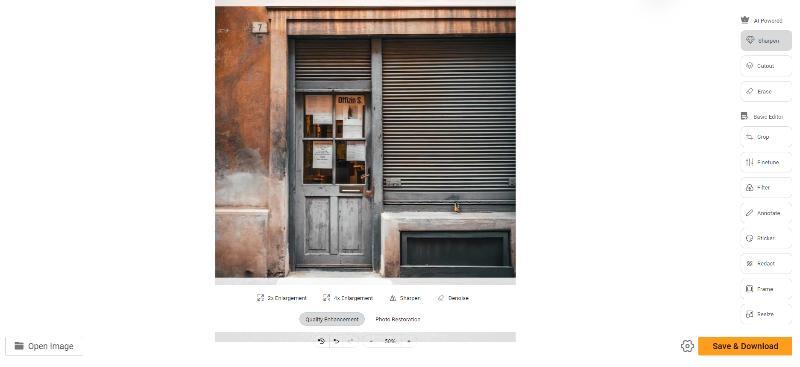 Image Credit: VanceAI
Use VanceAI Image Upscaler to Increase Image Size Further
Step 1: You can start the process by accessing AI Image Enlarger through the provided link. Upon reaching the webpage, proceed by selecting the "Upload Image" option.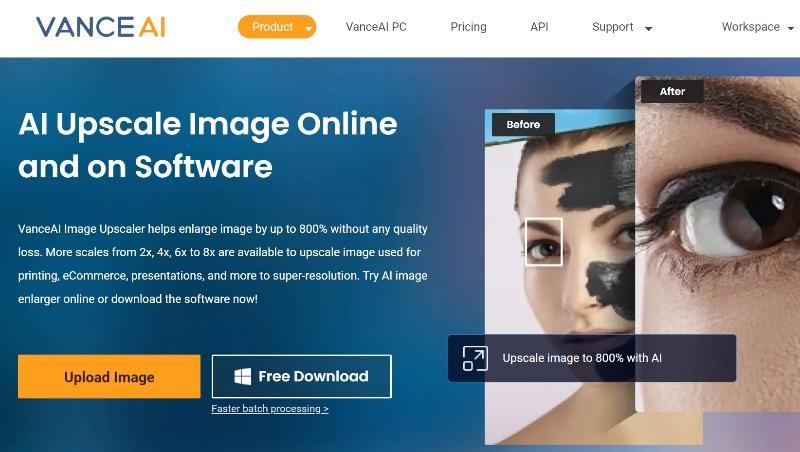 Image Credit: VanceAI
Step 2: Once you enter the VanceAI Enhancer Workspace, proceed by uploading the image. After successfully uploading the image, utilize the settings available on the right side. When you are ready, click on "Start to Process" to initiate the enhancement.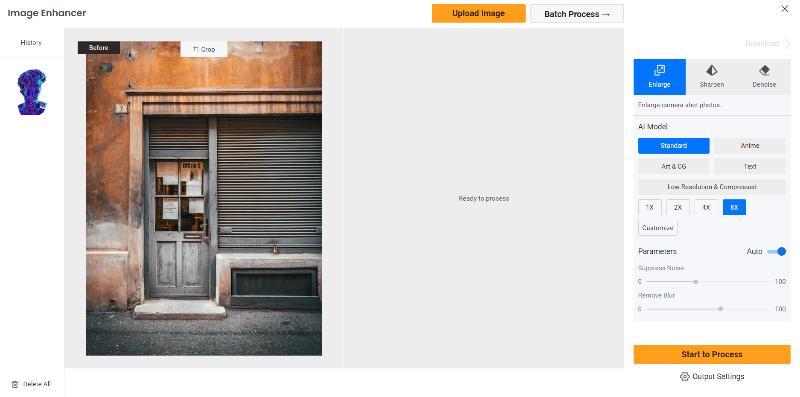 Image Credit: VanceAI
Step 3: After the enhancement process is complete, the image will be displayed. To obtain the enhanced version, simply click on the "Download Image" option.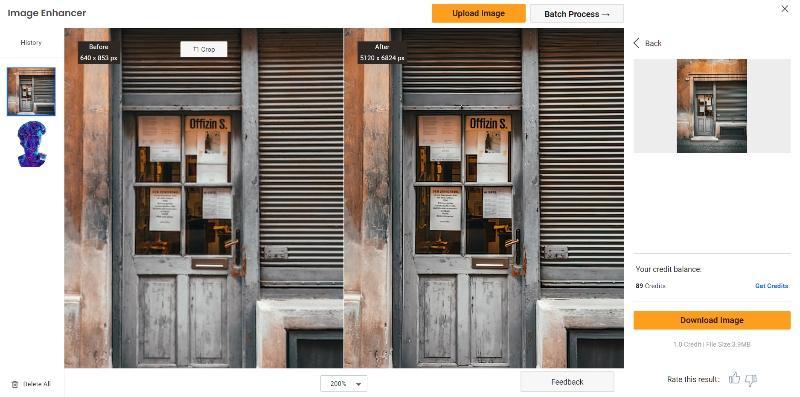 Image Credit: VanceAI
VanceAI Pricing
Upon signing up, you receive a monthly allocation of 3 image credits that can be used to access the various editing features. If you require additional credits and extra functionalities, you have the option to select from their paid plans, starting at a modest price of only $4.95 per month. These plans grant you 100 image credits along with supplementary benefits such as batch processing, faster processing times, and priority access in queues.
Additional Choices From VanceAI
VanceAI PC is a powerful desktop software provided by VanceAI that brings the capabilities of their image editing tools directly to your computer. With VanceAI PC, users can enjoy a seamless and efficient editing experience without the need for constant internet access. One of the major advantages of using VanceAI PC is the ability to work offline. Unlike web-based platforms, you don't have to rely on an internet connection to access and utilize the image editing tools. This allows for uninterrupted editing sessions.
Alongside VanceAI PC, another valuable offering is VancePDF.com, a specialized platform focused specifically on handling PDF files. This dedicated platform provides a comprehensive set of features tailored to address the specific requirements of working with PDFs. Users can effortlessly merge multiple PDF files into a single document, split large PDFs into smaller sections for better organization, and more.
Final Verdict
VanceAI Photo Editor stands out as a valuable tool for image editing and enhancement. One significant advantage of using VanceAI Photo Editor is its integration with the larger VanceAI platform. By being part of the VanceAI ecosystem, users not only have access to powerful photo editing tools but also a wide array of other editing and enhancement tools. Given that it only costs $4.95 per month to get full access to VanceAI, a platform with more than 15 AI-powered tools, it is beneficial to get a subscription.