Artificial intelligence is going to the Edge and more so in 2021.
What is the Edge?
Image source University of Paderborn
Edge Computing refers to on the device closer to where the data is generated at the edge of the network. We'll see AI increasingly inferencing on the devices around us including mobile devices, sensors and smart cameras with Graphical Processing Units (GPUs, or specialised AI chips for sake of simplicity) embedded in the device. Indeed it is interesting to wonder where NVIDIA (arguably the world leader in GPUs) will go next following the acquisition of ARM for $40 billion. Counterpoint Research forecast that the number of mobile devices with GPUs (or AI Chips) will increase from 190 million in 2019 to 1.25 billion by the end of 2022, accounting for 3 out of 4 mobile devices.
The growth of the Edge does not mean that the Cloud will disappear. Rather in the next few years we are likely to continue to witness the growth of the hybrid model whereby Machine Learning and Deep Learning algorithms will be trained on the Cloud and inference on the Edge. It may also be that some firms will use a Cloud server as a data lake for historical datasets rather than store vast sets of data locally.
Currently it is common practice for Machine Learning and Deep Learning algorithms to reside on a remote cloud server where the big data sets are stored. Increasingly Machine Learning and Deep Learning will be operating on your mobile phone, or smart sensor devices around us.
The Role of 5G
As we transition across to 5G the key benefits include significant enhancements in speed, latency, and connectivity. The types of 5G include low-band, mid-band and high-band.
5G is significantly faster than 4G with reported times of up to 100 times faster than 4G albeit such speeds may have to await standalone 5G networks with millimeter wavelength (mmWave) infrastructure for high-band 5G. Current 5G services on non-standalone dedicated 5G networks are reported to be between 10 to 20 times faster than 4G. The relative gain in speed will depend upon the type of 5G that is available in the local area to the user.
Jeremy Horwitz authored the definitive guide to 5G low, mid and high-band speeds in VentureBeat and reported that "T-Mobile's low-band 5G peaks at somewhere in the neighborhood of 225 megabits per second (Mbps), which is six to seven times faster than common 4G speeds in the United States today. With a 600MHz signal it is also able to pierce windows and walls."
The same article in VentureBeat also observed that "tests of the first Sprint mid-band 5G phone peaked at 480Mbps, but more commonly fell in the 125-200Mbps range — an average around as fast as low-band 5G at its best, with the prospect of reaching 600-700Mbps peaks in some markets."
Furthermore, the article in VentureBeat noted that "outside of the U.S., including China and South Korea, carriers and phone makers are currently promising peak mid band 5G speeds in the 2 gigabyte per second (Gbps) range, but more commonly delivering 600-900Mbps peaks. Chip makers expect to deliver roughly 5Gbps speeds over mid band in upcoming chip sets."
Moreover, Jeremy Horwitz in VentureBeat also noted that "The small red tier at the very top of the cake represents high-band millimeter wave (mmWave) 5G, super fast but very short-distance towers that will be deployed in "dense urban" environments and public gathering places that frequently serve huge numbers of people — sporting and concert stadiums, convention centers, and the like..." However, high-band 5G can be blocked by certain types of glass, walls, and apparently even leaves and rainfall. Hence it requires much more dense installation of transmitters relative to the other bands and the associated infrastructure costs are greater.
The greater speed of 5G relative to 4G will result in enhanced user experience for HD videos with significantly faster download times. However, the main benefits of 5G relate to low latency and significantly greater device connectivity.
The low latency of 5G is a key differentiator that will in turn have significant impact for the AI Internet of Things (IoT) and remote healthcare as well as autonomous robotics including vehicles.
Latency represents the time that it takes from the moment information is sent from a particular device (or server) until it may be used by the receiver.
As JustaskThales notes "5G will be able to fix bandwidth issues. Currently, there are so many different devices connected to 3G and 4G networks, that they don't have the infrastructure to cope effectively. 5G will be able to handle current devices and emerging technologies such as driverless cars and connected home products."
Larger bandwidths mean more capacity to use data – like using apps or streaming and downloading media - with less existing cellular data clutter than 4G.
The real-world context of the above points is that an autonomous vehicle cannot wait to receive a signal from a remote cloud server. By the time the signal returns the local environment (traffic lights, other traffic, pedestrians) may have changed resulting in risk of accident and injury. The same applies to autonomous industrial and surgical robots where near real-time decision making will be necessary.

Statista forecast that there will be 75 billion connected devices by 2025. That is an average of nine internet connected devices per person on the planet! We'll need 5G and next generation WiFi for the enhanced connectivity and also AI will be crucial in crunching and analysing the data to make sense of the vast volumes of data generated with IDC forecasting an exponential increase in data generated to 175 Zetabytes by 2025.



This is a reason why there will be no new AI Winter as AI will be essential in the era of 5G and the AIIOT (AI Internet of Things). Maybe a consequence of the Covid-19 crisis and the resulting increased trend to adopt digital technology may even result in a greater amount of data being generated by 2025 than the already vast figure that IDC predict.
In addition AI on the Edge opens up possibilities for near real-time and highly personalised marketing engagement with customer on the fly for brands and retailers. AR and VR struggled with 4G in part due to latency. The significantly reduced latency along with standards such as JPEG XS will result in significantly improved user experiences for AR and VR.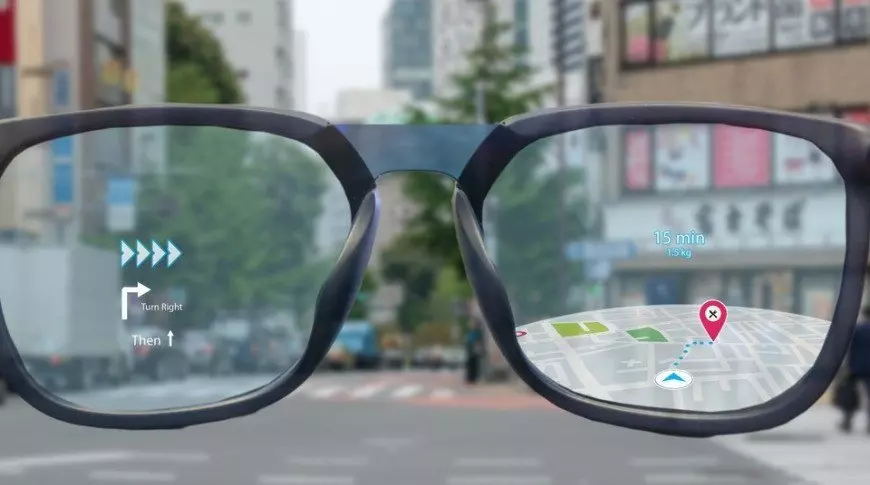 Image source above AppleInsider.com

The arrival of 5G enabled smart glasses over the next couple of years may well prove to be as big of a revolution as the advent of the smart mobile phone itself. Apple along with other tech majors including Microsoft and Facebook are reported to be working on 5G enabled AR glasses.
In terms of Fintech we'll witness the rise of the invisible bank with frictionless user experience and payments that I believe will be based upon retina (or iris) with finger print used for two-factor verification. The user experience will merge the physical and digital world together with object detection performed by Convolutional Neural Networks (CNNs) inferencing on the edge and Neural language translation performed by Transformers with Self-Attention mechanisms removing language as a barrier for video calls around the world or interactions for users wherever they may travel to across the world as they interact with retailers, entertainment, healthcare providers and restaurants in the local environment.
Remote healthcare will be a key area of growth in the era of 5G and AI on the edge and the current Covid-19 crisis has demonstrated the importance of creating greater capabilities for effective remote medicine. AI combined with 5G is expected to also result in beneficial outcomes in relation to surgery and also remote surgery with an example being a surgeon in China who successfully conducted remote brain surgery whilst 3,000 km away from the patient.
In this world privacy and data security will be key and we'll also see increasing development of Federated Learning with Differentiated Privacy as a solution to enable AI to scale across healthcare, insurance and banking services. Fascinating work is ongoing in this field with the likes of Google with TensorFlow Federated along with OpenMined with PySft and NVIDIA with Clara.
Furthermore, techniques that enable Deep Learning to work with reduced data such as Neurosymbolic Concept Learner and other similar research worth combining logic with Deep Learning, Transformers combined with CNNs and pruning of Deep Neural Networks such as shown in the Lottery Ticket Hypothesis are likely to continue to gain momentum next year.
A future article will deal in more detail with the techniques of AI that are likely to gain momentum in 2021 including the latest with Deep Reinforcement Learning and Neuroevolutionary approaches.
A key summary is that AI is going to increasingly emerge from the lab and the cloud servers into the devices around us next year onwards resulting in transformed customer experiences, significant advancements in remote medicine, along with industry 4.0 including scope to improve energy efficiency and optimise energy generation with smart cities and grids in turn resulting in reduced pollution. A cleaner, smarter and more efficient way of life with exciting new business opportunities too. This new era of digital transformation also provides scope for job creation and GDP growth that will be high on the political agenda around the world next year.