"My project 'Antisocial' has been going viral this week… which is very ironic since it points out the flaws of each social network" – Mike Campau is a Digital Artist and you may have seen his thought provoking work doing the rounds on Facebook, LinkedIn, Instagram, Twitter etc. in the past few week or so.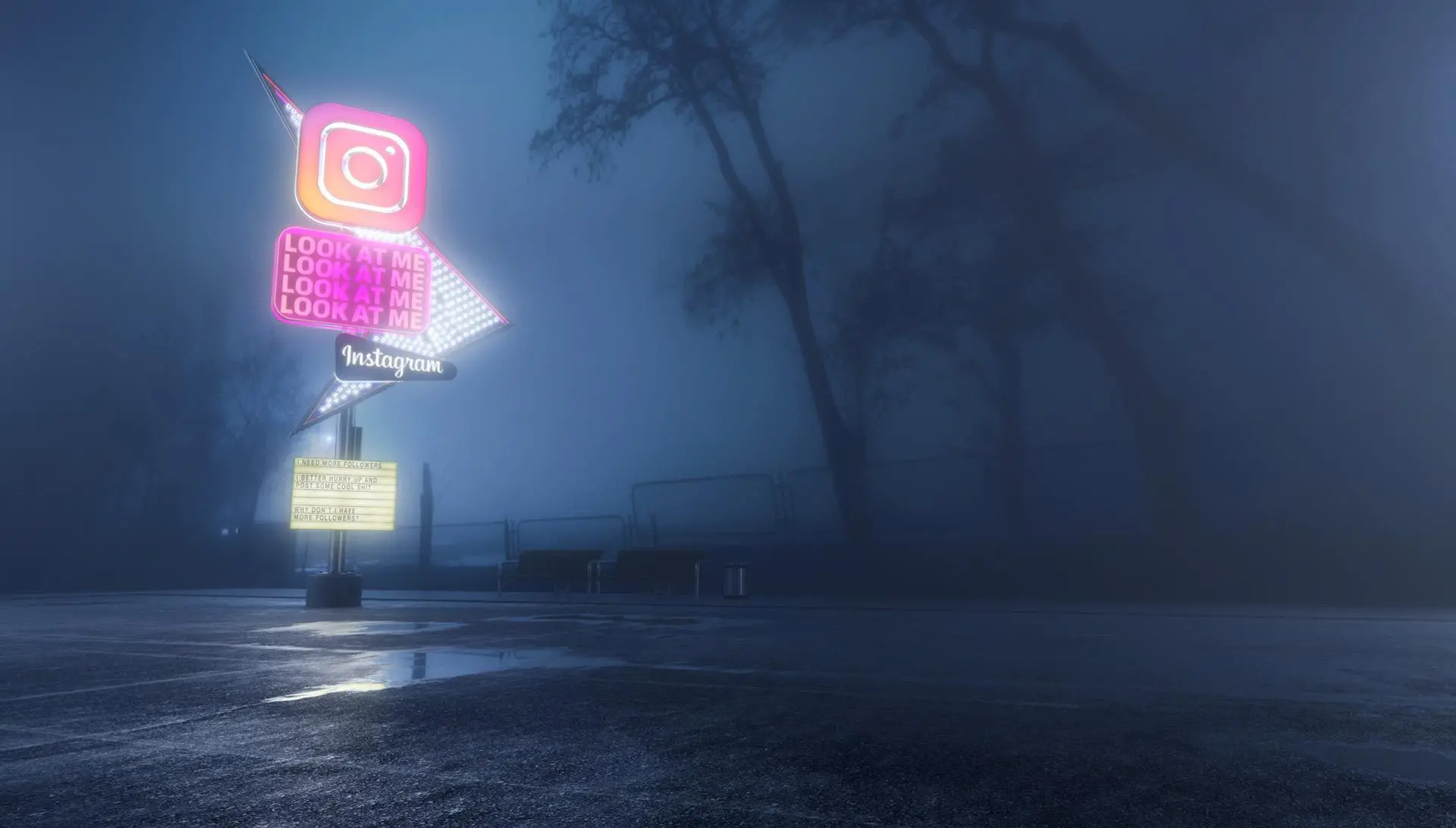 If you haven't seen his work, it portrays all of the main social media platforms on a garish Las Vegas style neon sign in a misty, murky car park in the middle of the night each with it's own incisive message. It's a clever juxtaposition and the symbolism is exceptionally striking. I asked Mike what he had in mind when he created the artwork:
"Social media is starting to get some pull back, and rightfully so. Each platform has its own problems, but all have had a large impact on society as a whole, both good and bad. Each image takes place in an empty parking lot which is a symbol of our singularly isolated posts, but placed in a location where it can be easily seen by many."
I quizzed Mike about some of the individual messages on the signs and what he was trying to convey. On the Facebook version of the Antisocial series, the main message is "The Place To Go & Make Everyone Think Your Life Is Great". It's then followed up with a subtext which describes a woman posting about her wonderful husband on his birthday when the reality is that they are divorcing. I asked Mike if he believes that everyone airbrushes their lives on Facebook but have such a lack of self-awareness that they are not prepared to admit it?
"I think Facebook falls victim to FOMO more than any other platform. This fear of missing out, drives people to post their life highlights and make it appear their lives are going very well. It's the modern day, "keeping up with the Joneses" where we must put up a front on our virtual lives as well as our real lives. We know people are scrolling through Facebook in a voyeuristic way, so we put up images and events that we want them to see. I truly believe some people don't even know they are doing this, and it's just a product of what the platform has become"
The Instagram picture is just as hard hitting and focuses on the narcissistic repetition of three little words: "look at me". Again the light board underneath the main sign delves deeper with a plaintive plea for more followers. We all know that Grammers crave attention and are somewhat self absorbed so I asked Mike if he felt that egocentricity is out of kilter with the youth of today and that will inevitably lead to platforms ultimate demise?
"This is a tough one because Instagram is so big and I think it applies to all ages and even businesses, not just youth. It has created a livelihood for so many people, but this in turn has created the idea that anyone can do it as long as they can get the followers. The sole motive for some people to post images is to gain likes and followers, plus the hit of dopamine doesn't hurt either. When they post something that doesn't do well, they are in a panic to bury that post by posting more content. It can turn into a vicious circle and it becomes more about the end result than it does about what you are actually sharing"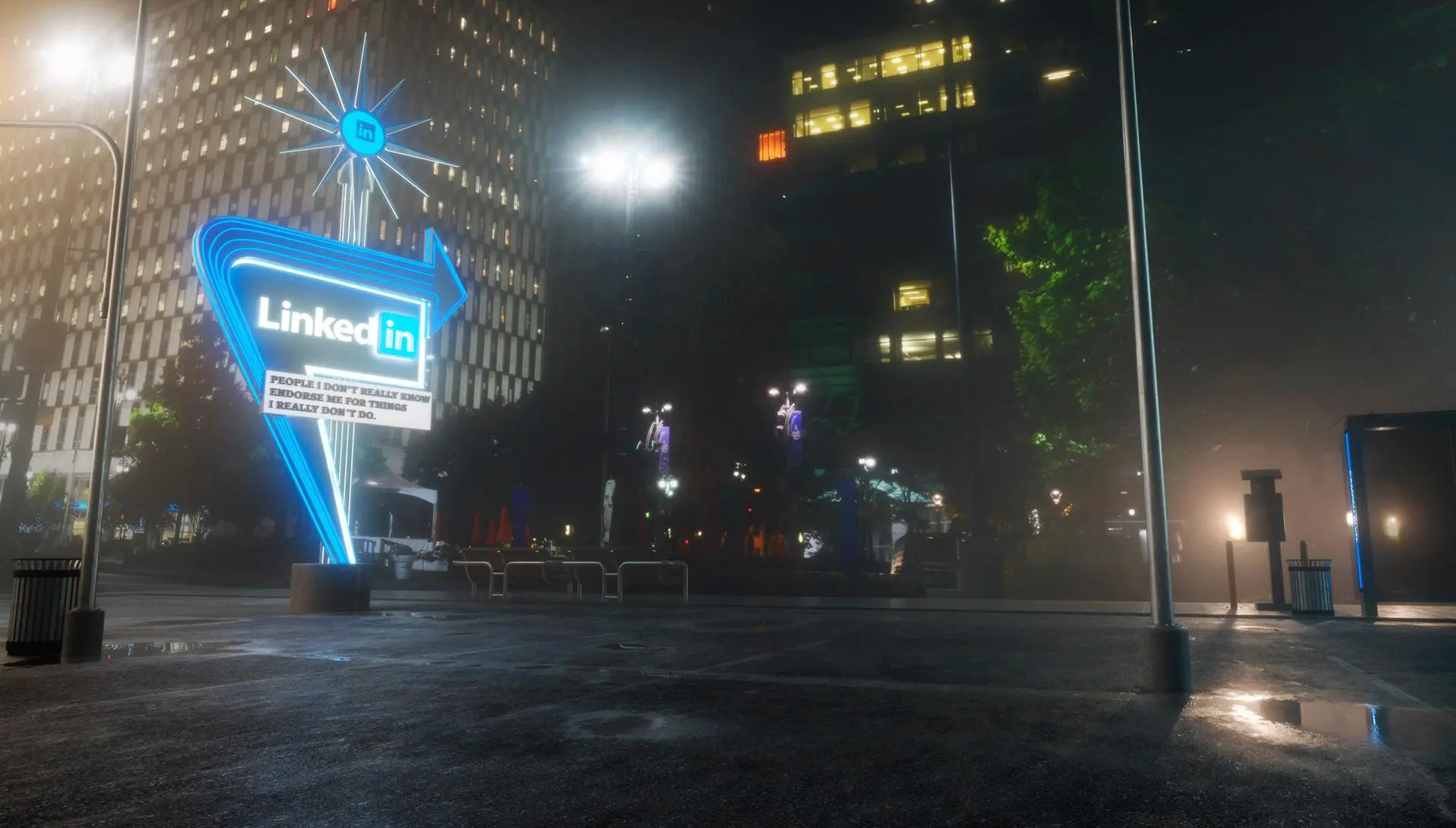 I'm sure the LinkedIn artwork resonated with many of you. It certainly did with me. The message on the faux neon sign was simple: "People I Don't Really Know Endorse Me For The Things I Don't Really Do". Ouch. And you know, I decided to check my profile to see if that's the case – the harsh reality is that around 70 per cent of my endorsements are via connections that I have never worked with or even met. It's an odd phenomenon and I asked Mike why he thinks that people are compelled to recommend people they don't actually know?
"This is definitely my favourite version out of the series, because it's so true. Since LinkedIn is a business platform, I would accept any invite because I never knew if it would lead to an opportunity in the future. This thinking might be true, but it makes my list of connections somewhat arbitrary and with people I don't know personally. In my case, I think people see some of my work and like what I do, so they check off a few creative endorsements from the list not knowing my process."
So, to conclude, you might imagine that Mike is not a big fan of social media given his artwork but the reality is not the case.
"I don't think all social media is terrible. In fact, I gain quite a bit of inspiration from fellow artists, I'm exposed to different points of view, I can keep in touch with old friends, make new friends and I can stay current with what is happening around the world. All of which are great things and something that couldn't have happened 10 years ago," Mike added.