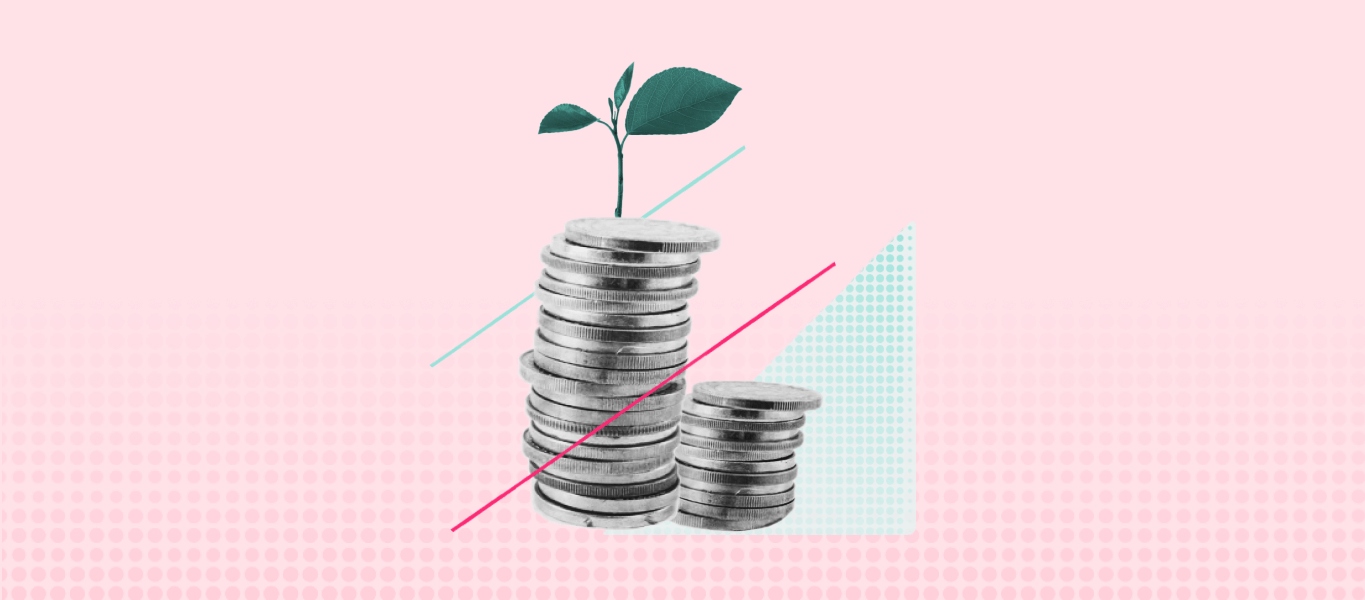 There are numerous key performance indicators you could track to see whether your ecommerce business is heading towards success.
But, in addition to profits, conversions, customer lifetime value, cart abandonment rates, and the number of orders on a daily/monthly basis, it's also essential that you keep monitoring average order value.
But what is AOV in the first place? And what can it tell you about the effectiveness of your business and marketing strategies?
Simply put, AOV represents the average dollar amount customers spend on your website every time they make a purchase through your store. To calculate AOV, all you have to do is apply this formula:
AOV = Total Revenue / Total Number of Orders
There are two reasons AOV matters to the growth of your ecommerce store:
The metric provides valuable information about the purchasing habits of your customers.

Focusing on AOV is a great way to drive success for your business as it relies on enhancing your sales and marketing tactics and results in boosting your profits.
This article will provide you with the best strategies for boosting AOV in your store. Let's get into them.
Cross-Sell Complementary Products
One of the best ways to increase AOV on your ecommerce site is to encourage your customers to buy more than a single product.
When doing this, it's essential that you don't just shove irrelevant items in their faces and alienate your website visitors by being too pushy. Instead, if you decide to employ cross-selling on your site, make sure that the action of adding extra items to the cart is beneficial to the customer experience.
Moreover, ensure that you employ top-quality UX design so that the action of adding more items to the cart comes as an intuitive extension of the overall shopping experience instead of becoming a nuisance.
Overall, there are two excellent methods for implementing cross-selling techniques on your ecommerce website.
On the one hand, you can do something similar to Nomad, a brand whose product pages include ultra-relevant product recommendations right below the main "Add to Cart" button.
For instance, on the product page shown below, the main product displayed is a smartwatch band, and the cross-selling recommendation is a wireless charger for the same type of smartwatch, an accessory that can complete the experience of owning (and charging) this type of wearable device.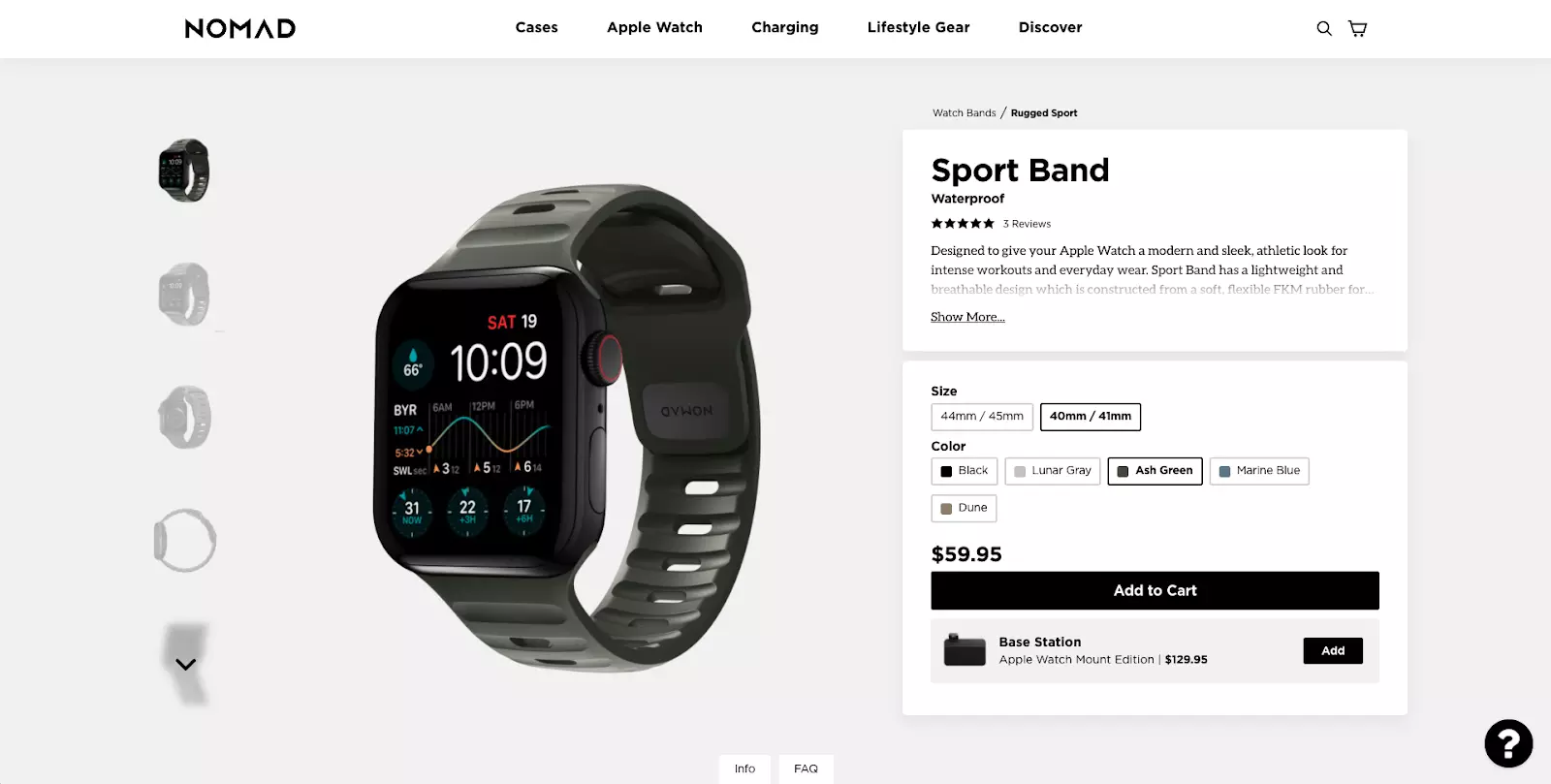 Source: nomadgoods.com
On the other hand, you can go in a different direction, as West Elm did.
On this ecommerce site, cross-selling recommendations are only presented once a customer adds an item to their bag. Then, the site's algorithm displays a recommended product that can be purchased without leaving the cart, along with several additional options potential buyers can check out and add to their order.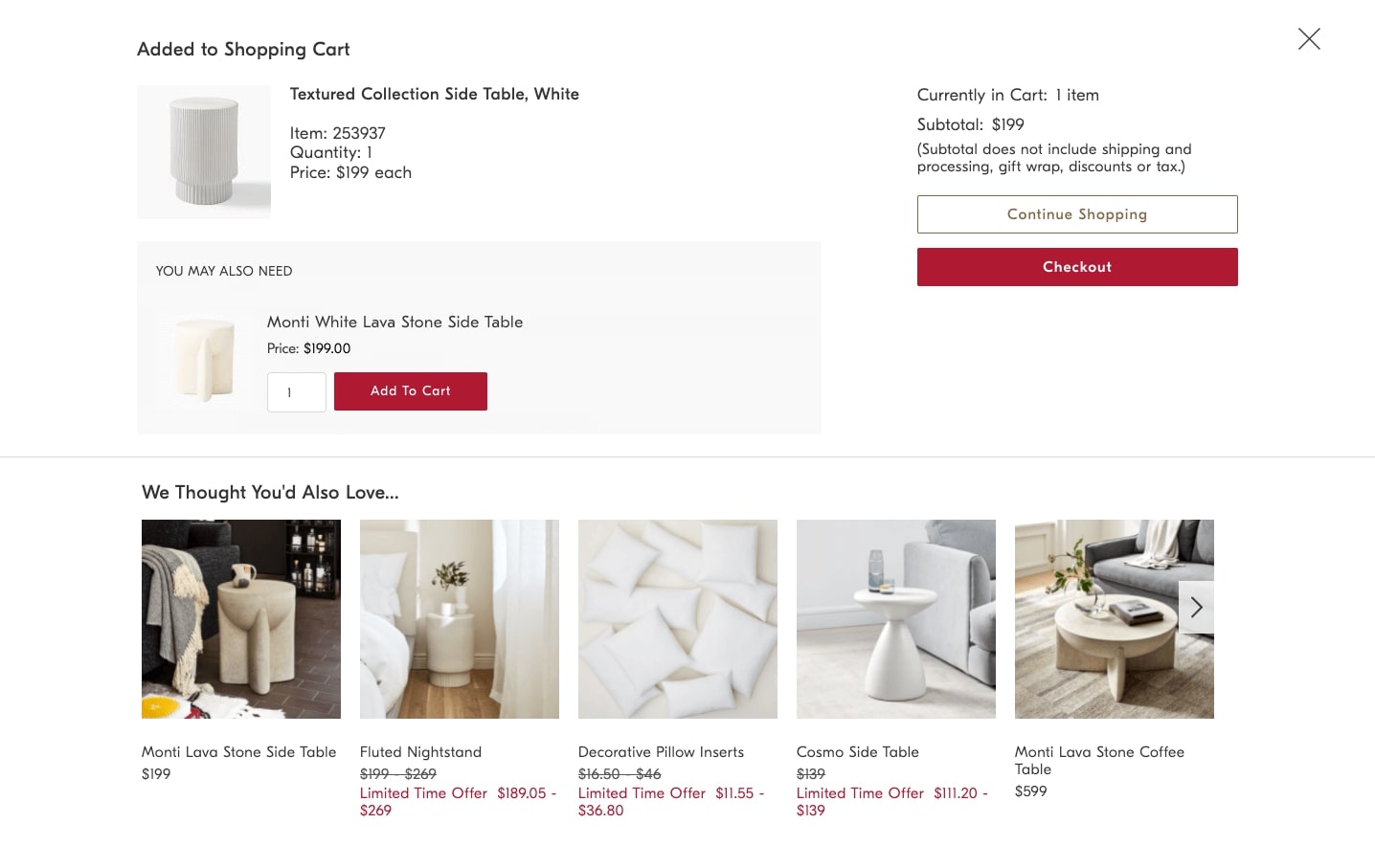 Source: westelm.com
Publish Content that Motivates Cross-Purchases
Cross-selling on product pages is a great strategy. However, it isn't always the best way to increase the AOV in your online store.
This is where a well-planned content marketing strategy comes into play.
Well-developed content is an excellent tactic to deliver value to your audience while helping you boost your profits.
By publishing the right content, you can effectively introduce the products in your offer, create logical and meaningful relationships between complementary items, and educate potential buyers about ways to solve their unique pain points.
For example, if you know that your target audience has a particular pain point that requires multiple products to solve, you can use blog content to create connections between those products. And the best part is that this strategy doesn't just help you increase AOV. It also benefits your audience by offering proven-to-work solutions and ensuring they have an exceptional overall shopping experience.
You can see this in action on this Transparent Labs blog post.
In the article, the brand provides a list of supplements suggestions for those with a mesomorph somatotype, with different product recommendations based on whether the reader primarily wants to build muscle or lose body fat. As you can see, each group is given at least two or three supplements recommendations, and they're not just encouraging readers to buy. More importantly for the CX, the article gives handy pointers on how to best combine these products to help readers achieve their fitness goals.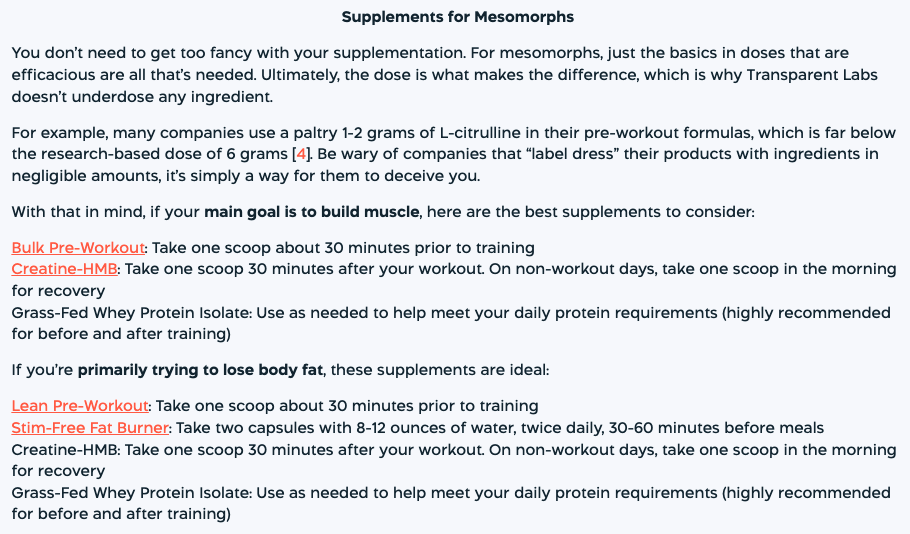 Source: transparentlabs.com
Use Price Anchoring
Price anchoring is another excellent strategy to boost AOV. This method relies on established buyer psychology, more precisely on the idea of perceived savings and value.
Essentially, people use price to assign value to products. This is, for example, why most buyers are happier to invest in a Rolex than a Tudor, even though both brands produce top-quality Swiss-made luxury watches.
But, the fact is, the average monetary value of a Rolex is tied to a price tag of $7,000-$12,000. On the other hand, the average cost of a Tudor falls just above $4,000. That's almost half the price – even though the value the buyer gets is approximately the same.
So, how can you use price anchoring to boost AOV on your website?
The best way to do so is to assign a reference price to your products. Then, allow your website visitors to acquire that same product for less than its "original" value.
You can see this strategy in action on the GetSafe pricing page. For their two more expensive price points, the company has created a price anchor in the form of a perceived discount. Right above the quoted price, the site designer placed the original price in a striking, complimentary color.
The brand also created the sense that this price is a temporary one, lodging the anchor price in the shopper's mind along with a very real sense of urgency.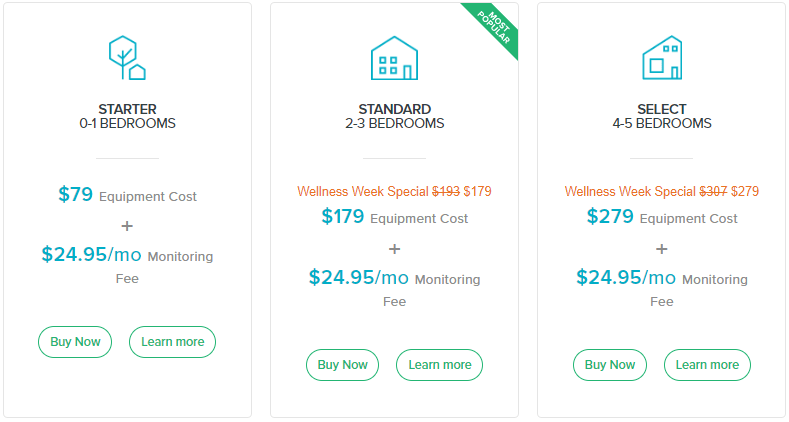 Source: getsafe.com
Make it Easy to Buy in Bulk
Another superb strategy for increasing AOV on your site is encouraging visitors to buy in bulk.
Bulk buying has been growing in popularity over the past two decades. According to some sources, this type of shopping behavior rose 26% during the last quarter of 2021, showing that consumers appreciate the benefits of:
always having staple items on hand

being able to save money by buying more at once

knowing that they're doing something good for the environment by minimizing the amount of packaging and shipping costs involved with their purchases
But how can you encourage your website visitors to buy more (and increase the amount of money they spend with your brand)?
Well, one thing you could do is offer an option for bulk pricing on your product pages, like in this example from Ozark Armament.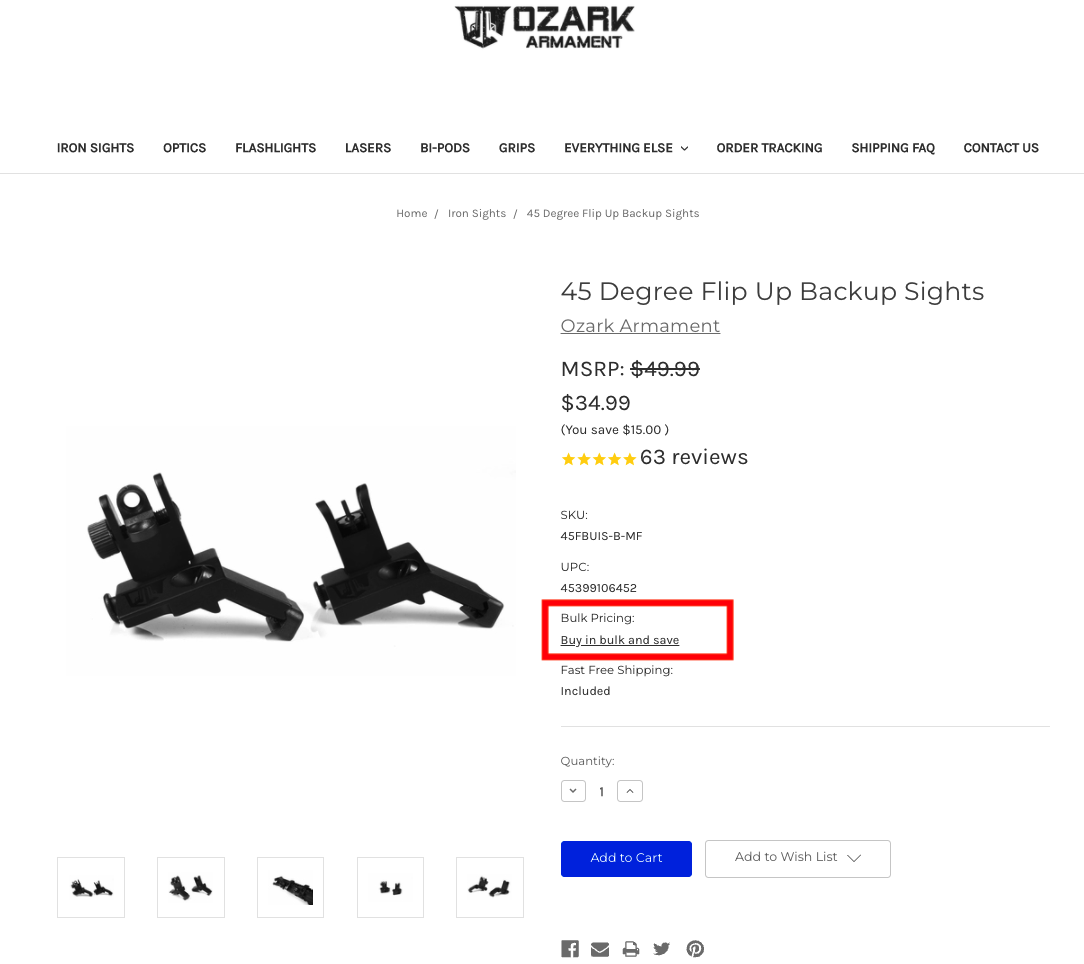 Source: ozarkarmament.com
As you can see, by clicking on the "Buy in bulk and save" CTA, potential buyers are informed about the discount rates they stand to get for each individual item when they purchase a given amount. And the handy quantity selector makes it super-easy to follow through with such a purchase, making the transition between single-item purchases and bulk orders absolutely seamless.
Simplify Add-Ons and Product Customization
Employing personalization in your ecommerce business is an excellent strategy if you want to drive growth (or boost AOV, for that matter). Just consider that 73% of online buyers expect retailers to provide shopping experiences relevant to their unique pain points.
But that's not the only reason for prioritizing the delivery of relevant CX.
Marketers also agree that achieving success in 2022 will largely depend on brands' ability to personalize the shopping process, create seamless experiences, and find ways to make their offers relevant to their target audience.
Firepit Surplus shows us another good example of a UI that draws the shopper into the customization experience. The dropdown and selection elements are easy to understand despite the numerous options. The way that the fields are laid out also makes the interaction feel like the user is completing a process.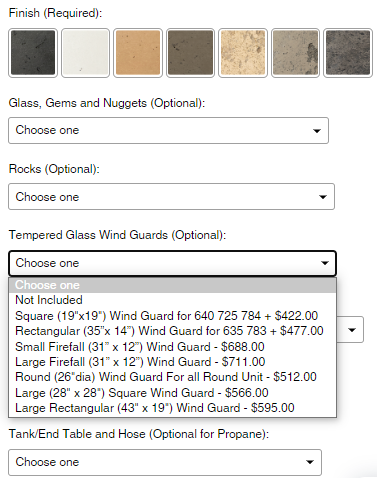 Source: firepitsurplus.com
Alternatively, you could do something similar to Manfrotto and make it convenient for people to spend more in your store through add-ons. As you can see from the screenshot, buyers who add an item to their cart on Manfrotto's site are presented with a special offer, giving them the opportunity to acquire a $30 value item for a third of its original price.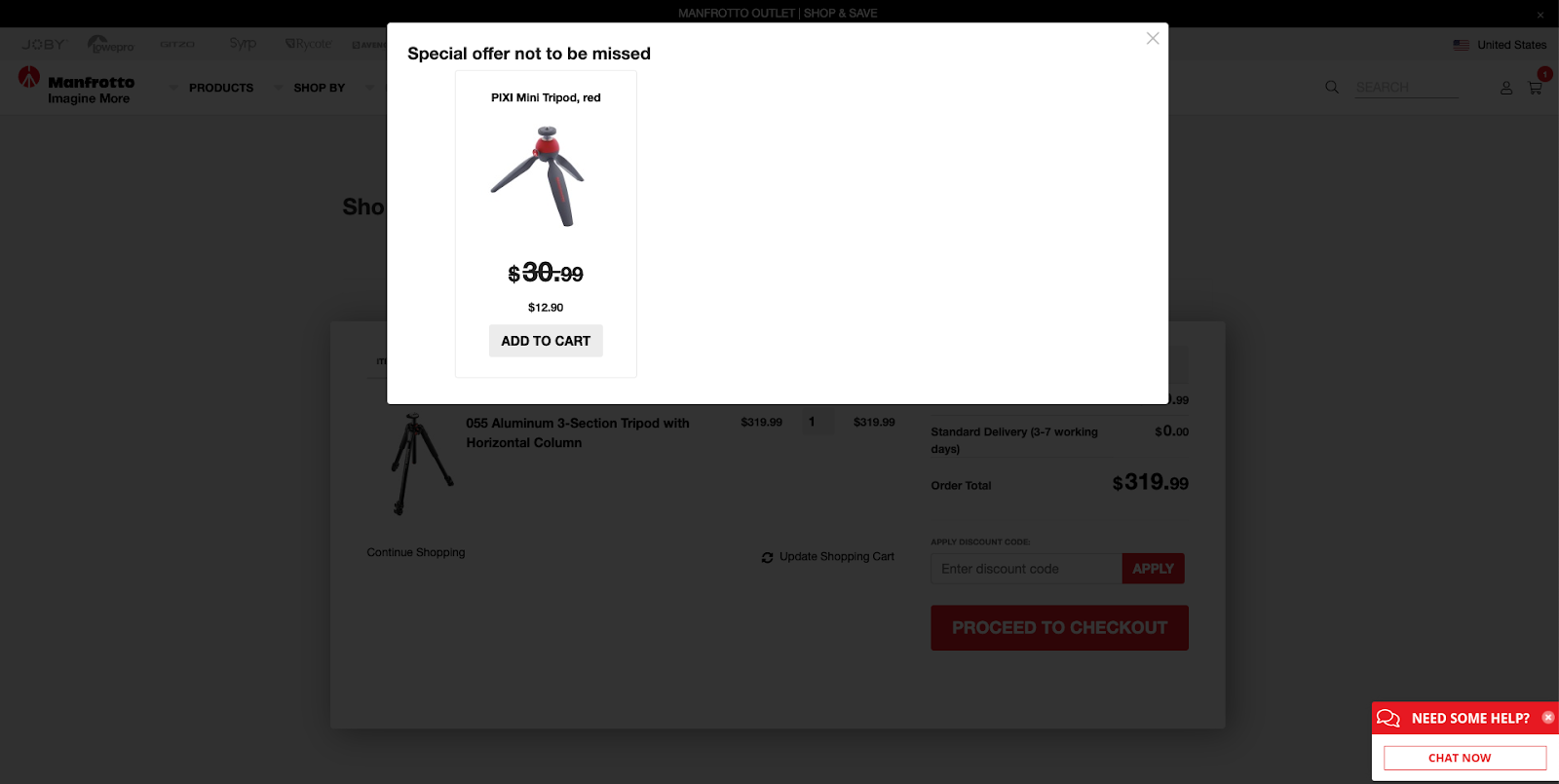 Source: manfrotto.com
Gamify Order Discounts
Another great way to motivate website visitors to spend more in your store is to employ gamification.
Why? Because injecting a dose of excitement into your online store doesn't just make the shopping experience more enjoyable for your audience. On top of that, it's an excellent way to help people see the benefits of shopping with your brand.
Fire Department Coffee is an online store that's implemented a spin-to-win mechanism on their site. As soon as the page is fully loaded, the visitor sees a stylized roulette wheel, offering a number of different discount types. These games are notoriously difficult to resist and are known to boost a site's conversion rates.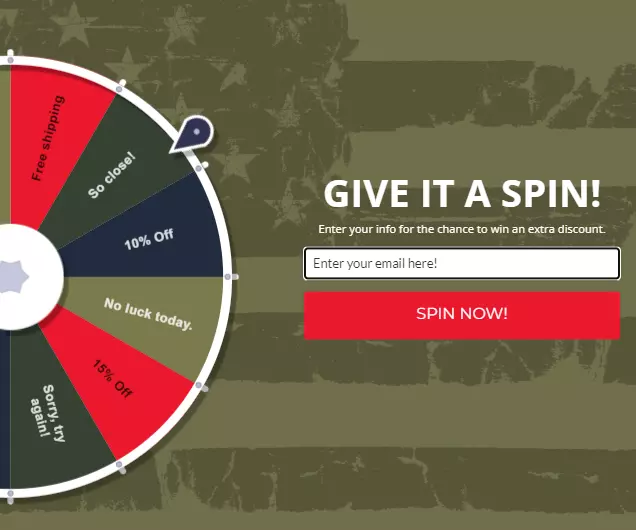 Source: firedeptcoffee.com
A discounted order means that the shopper feels that they can spend more. Since they'll be saving money on the entire order, they may as well maximize savings and add more items to their purchase.
Final Thoughts
Boosting average order values in your ecommerce store is not too difficult to achieve. Yet, it provides excellent benefits – both short and long-term ones.
Hopefully, this guide has given you several ideas on employing AOV-boosting tactics on your site. All you have to do now is choose the ones you like the most, implement them in your store, and continue measuring this metric to see how much your effort has paid off.