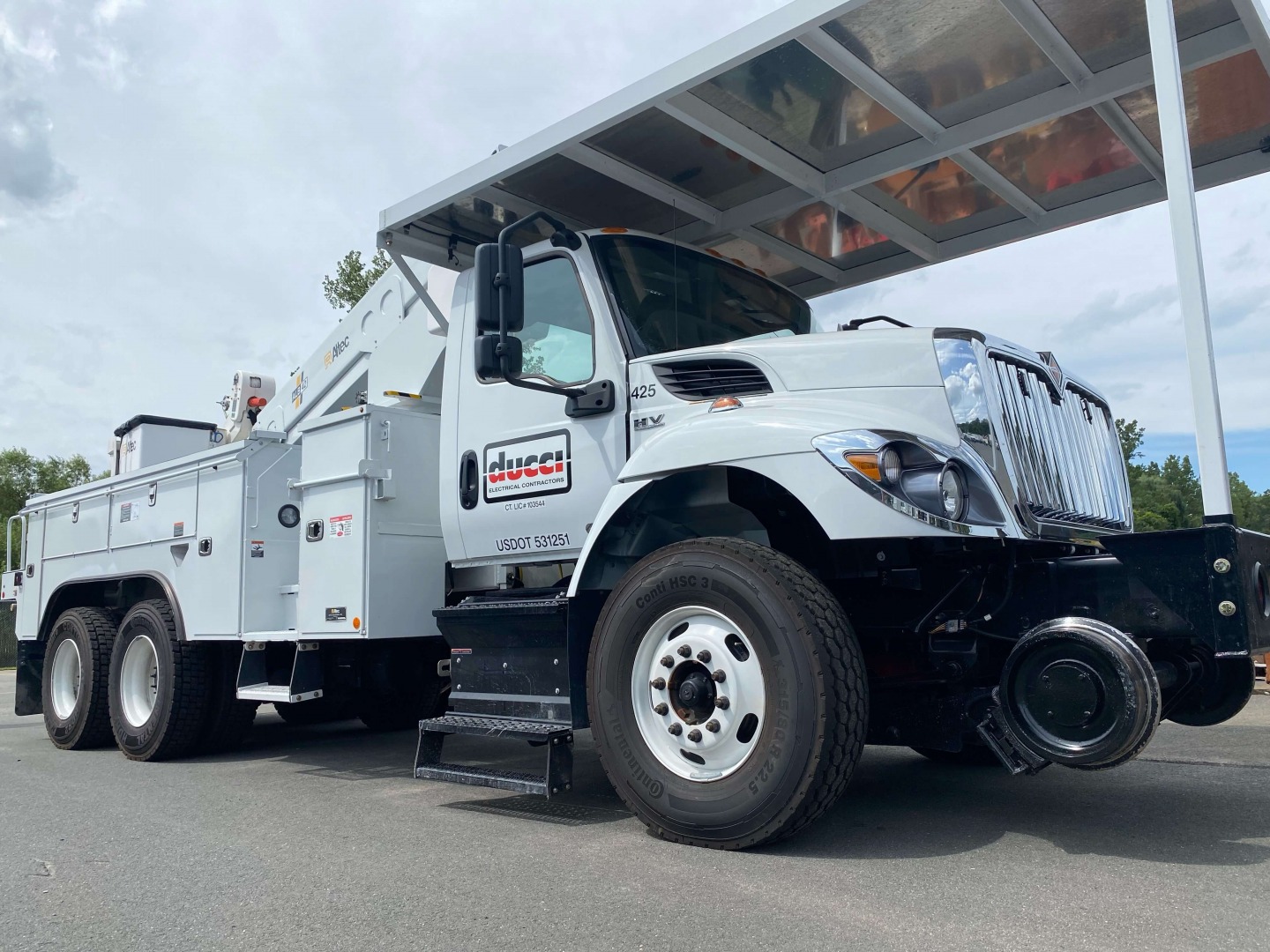 As part of its ongoing commitment to positioning itself for growth and to best serve its customers, the Farmington, Connecticut-based Ducci Electrical Contractors is investing in major new equipment and fleet management and maintenance technologies.
Ducci Electrical, while originally an electrical building contractor, has grown to where railroad, traffic and highway infrastructure projects represent approximately half of its annual business. This is work that generally is extremely equipment-intensive and whose efficiency is largely dependent on having the right (and often highly specialized) equipment properly maintained and ready for use at all times.
The company now maintains a fleet of more than 130 registered vehicles, not including dozens of excavators, drill rigs, backhoes, and other similar off-road equipment.
The purchases are also part of Ducci Electrical's strategy to stay on top of new construction specifications and to allow the company to increase the capacity and diversity of the work it can self-perform.
Among its recent equipment purchases are specialized drilling rigs that are capable of drilling massive caisson foundations in tight quarters and in loose soils or in wet subsurface conditions.
Notably, Ducci Electrical Contractors has also just begun taking delivery of four brand-new hi-rail bucket trucks. These new trucks, highly customized for railroad catenary and signalization work, are designed to expand capacity and begin to replace and upgrade its existing fleet over a dozen similar vehicles. This equipment has been essential to the company's railroad work over the past 25 years.
The largest of these brand new custom hi-rail bucket trucks weigh in at 54,000 pounds GVW, and cost in excess of a quarter-million dollars each. Ducci Electrical sees these specialty trucks as a major investment in its future work on the railroad. These purchases allow for increased productivity through full customization, increased reliability, and the flexibility to more-easily rotate vehicles out of the field for preventative maintenance and repairs without sacrificing work capacity.
Despite the considerable costs of the new equipment, Ducci Electrical officials noted that the investments are a critical step towards remaining competitive and expanding the company's capabilities. That expansion and diversification of its work is a key component of the company's growth strategy.
Commitment to Quality Tools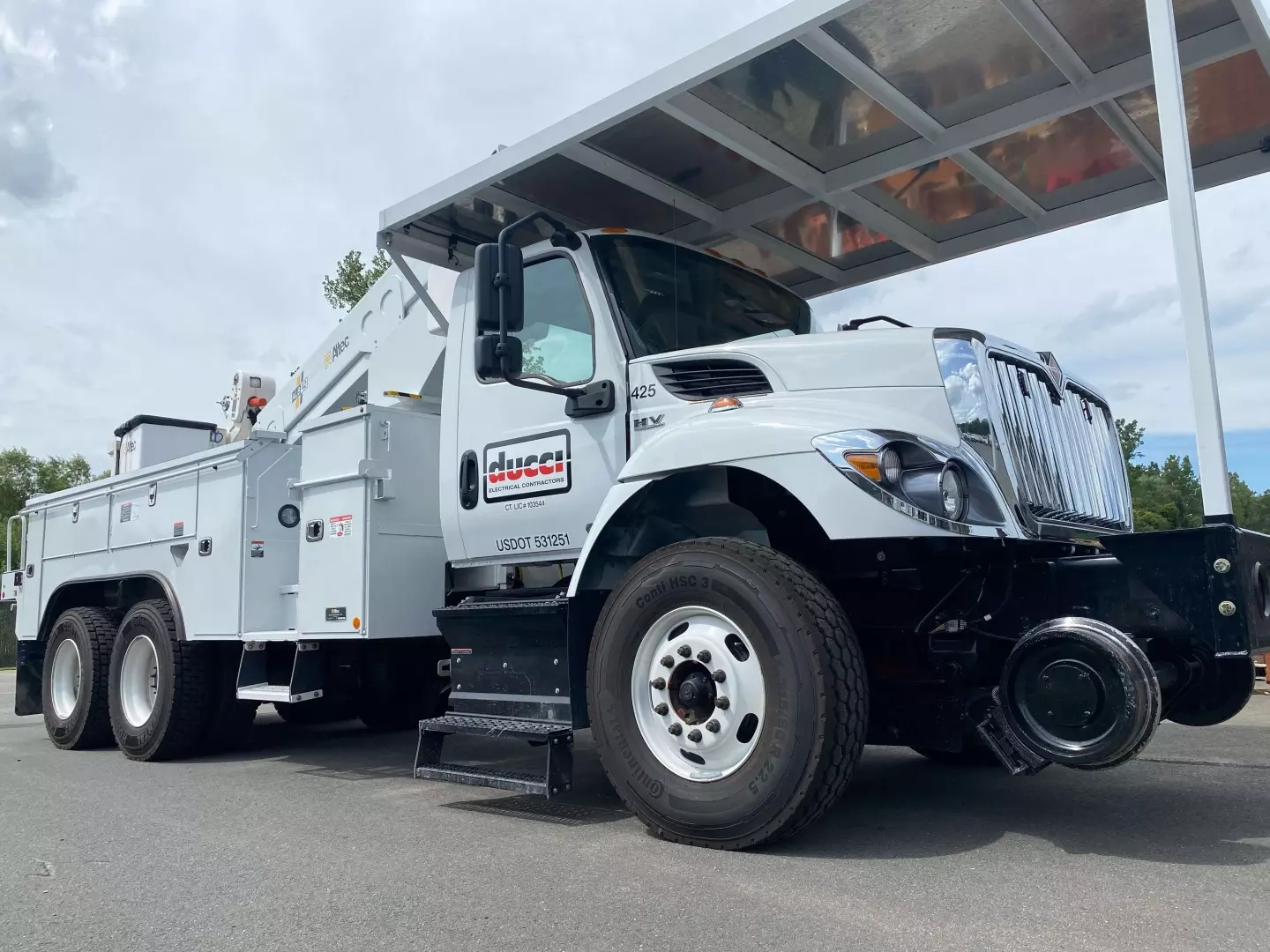 Ducci Electrical Contractors has long been a company committed to quality and pride in its work. It has a longstanding commitment to always provide its employees with the tools needed to do their job most efficiently. Providing more advanced and expensive hand and power tools, personnel lifts, and job site organization make a major difference in the efficiency and morale of its employees, as well as ensuring as safe an environment as possible on its projects. Ducci Electrical considers it a must to equip its employees in this way in order to maintain a competitive advantage, prioritize safety, and retain its best talent.
It's the same approach the company takes with its heavy equipment. The Ducci Electrical Contractors fleet of more than 130 registered vehicles includes railroad-capable cranes up to 35-ton, highly specialized hi-rail bucket trucks, dump and rack body trucks, digger-derricks, tractor haulers, box trucks, flatbeds, pickups and more. That inventory is supplemented by many other specialized drill rigs, excavators, and other non-highway equipment.
As Ducci management notes, equipment can only make money while it's hard at work on projects. That's why Ducci has put tremendous effort into developing a robust preventative maintenance program to up with the demands of its growing fleet, proactively keeping all equipment running as reliably as possible rather than reacting to problems and need for repairs as they arise. Preventative maintenance means avoiding lost time for crews by minimizing breakdowns and equipment failures.
For example, specialty railroad work often means major logistical constraints and short working windows due to the constraints of operational railroads and the need to keep the trains running. At times, a railroad night shift crew may only have four hours to perform productive work per shift once all track and power outages have been granted. A blown hydraulic line on one truck in this context can instantly render an 8-hour shift for six workers a loss.
This proactive approach to investment and maintenance of its tools and equipment is a major component of Ducci Electrical's long term strategy to expand its capabilities and be the best-performing and safest electrical contractor in its market.
Ducci Electrical's Historic Growth
Ducci Electrical was founded in 1949 by E. John Ducci, who had served as an electrician in the U.S. Army during World War II. From humble beginnings as a small contractor and appliance storefront, over time Ducci Electrical has expanded its services and now focuses on large electrical contracting work throughout the Northeast.
Today, Ducci Electrical Contractors is an industry leader, consistently named by Engineering News-Record as one of the top 75 electrical contractors and top 300 specialty contractors in the nation. The company remains privately owned and is now third-generation family-owned and run.
Ducci's work includes railroad, highway and bridge construction, and complete electrical construction of major healthcare facilities, casinos, data centers, academic buildings, power plants, high-end shopping malls, and state-of-the-art laboratories, among others.
For much of its history, the company operated nearly exclusively as an electrical subcontractor on traditional building projects. Today, in addition to having expanded greatly into transportation infrastructure work, it also regularly serves as the prime contractor, and has expanded its capabilities to self-perform much of its own civil earthwork and foundations on highway, railroad, and traffic projects.