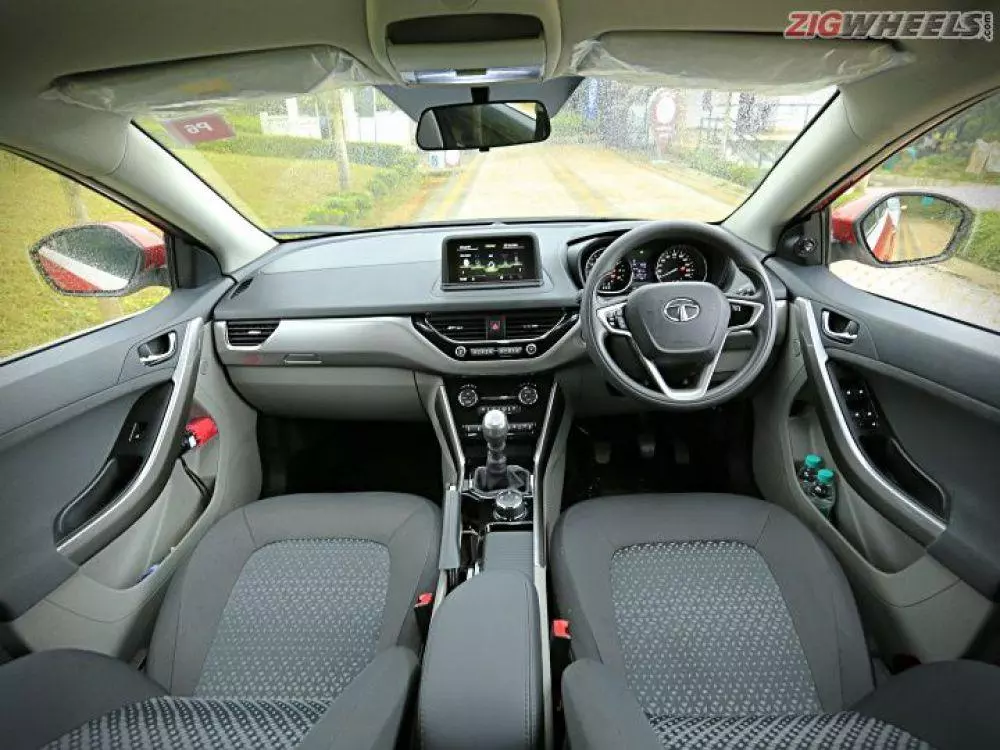 On 24 October 2016, Cyrus was in his Bombay House 4th floor office examining what seemed like a routine agenda for the Tata Sons board meeting that was scheduled to start in five minutes at 14:00 hours. Through the grapevine, Cyrus had heard that some of the board members had an unscheduled informal meeting earlier that morning. However, what they had discussed was unknown, and as such, he did not give it much further thought. The previous week had been business as usual with trips to China and Singapore to meet partners and investors.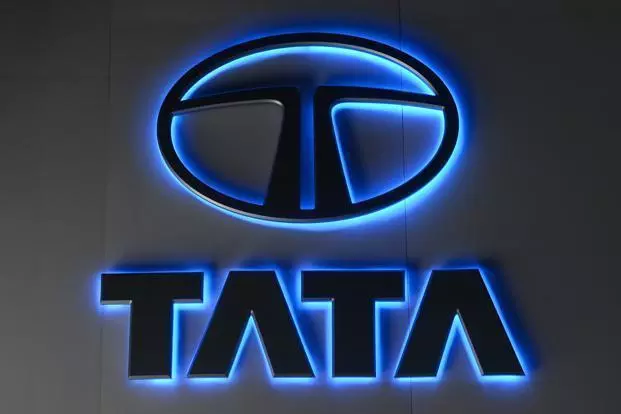 A knock on the door, and to his surprise, enter his predecessor, Ratan Tata and Tata Sons board member Nitin Nohria. Cyrus welcomes them and asks them to take the two chairs opposite him. Nitin Nohria begins by proclaiming that "Cyrus as you know the relationship between you and Ratan Tata has not been working." Therefore, Nohria continues, Tata Trusts have decided to move a board resolution removing Cyrus as Chairman of Tata Sons. He is offered the option of resigning or facing the resolution for his removal at the upcoming board meeting. Ratan Tata chimes in at this stage to say he is sorry that things have reached this stage.

Cyrus Mistry calmly responds with gentlemen you are free to take it up at the board meeting and I will do what I have to do. Nitin Nohria and Ratan Tata exit the room and walk over to the other end of the hallowed 4th floor of Bombay House, where the board room is located. Cyrus, sends a text "I am being sacked" to his wife Rohiqa, before putting on his jacket and heading to the Board Room.

THE BOARD MEETING

Cyrus takes his place on the chairman's seat, a chair that is slightly elevated and larger compared to the other chairs in the room. Mistry welcomes Ratan Tata (who had never attended a board meeting since Cyrus had become Chairman) to the meeting and informs the board that Ratan Tata and Nitin Nohria have something to share prior to considering the previously circulated agenda.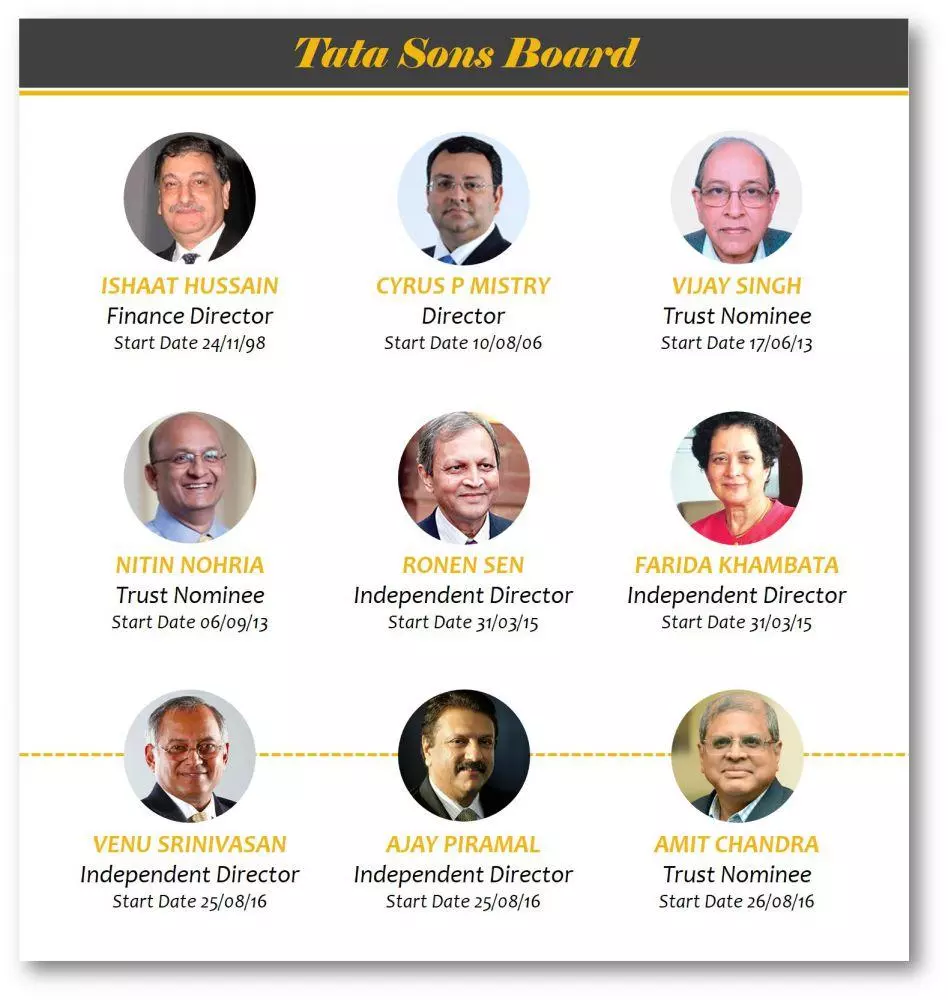 Nohria, a Tata Trust nominee and Dean of Harvard Business School, advises the board that the Tata Trusts have asked its nominees to propose a motion to the Board of Tata Sons. Amit Chandra, another Tata Trust nominee, apprises the board that at a meeting of the Trust Directors held earlier in the day it was agreed to move a motion to request Mistry to step down as Executive Chairman of Tata Sons because the Trusts had lost confidence in him for a variety of reasons. No rationale for the decision beyond this declaration was shared.

In response, Cyrus argued that the articles of association required a 15-day notice before taking up such an item for the consideration of the Board, and as such, the present action was illegal. Amit Chandra informed the board that the legal opinion obtained by the Trusts stated such a notice was not necessary. He offered to share the opinion, but none has been to date. Instead, he proposed Vijay Singh to be elected as the Chair for the remainder of the Board Meeting. Despite repeated protests by Cyrus on the illegality of events, Venu Srinivasan seconded the proposal. Ishaat Hussain and Farida Khambata said they would abstain on this motion to replace Mistry with Singh as Chair of the meeting.

Quickly, a vote was taken with six members (Ajay Piramal, Amit Chandra, Nitin Nohria, Ronen Sen, Venu Srinivasan, Vijay Singh) voting for, while Farida Khambata and Ishaat Hussain abstained. Vijay Singh was installed as Chair for the meeting.

Venu Srinivasan then proposed the inclusion of additional matters on the Agenda by moving the Resolution below, which was seconded by Ronen Sen:

RESOLVED THAT the consent of the Board be and is hereby accorded, to consider and resolve upon, in this meeting of the Board, the following matters which were not included in the Agenda circulated for this meeting of the Board:

1. Replacement of Mr. Cyrus P. Mistry as the Chairman of the Board and from each committee of the Board;


2. While the Board has adopted and put in place certain age criteria for retirement of Directors of the Company, to approve the cessation of application of the age criteria for retirement of Directors in relation to the Company;


3. Re-constitution of the Nomination and Remuneration Committee to consist of the following Directors: (i) Mr. Ronen Sen (Independent Director); (ii) Mr. Ajay Piramal (Independent Director); (iii) Mrs. Farida Khambata (Independent Director); (iv) Mr. Vijay Singh; and (v) Mr. Venu Srinivasan;


4. Appointment of Mr. Ratan N. Tata as Additional Director;


5. Election of Mr. Ratan N. Tata as Interim Chairman of the Board until selection and appointment of a new Chairman of the Board in terms of the Companies Act, 2013 and the Articles of Association of the Company;


6. To take appropriate steps in terms of the Companies Act, 2013 and the Articles of Association of the Company to appoint a new Chairman, including by formation of a Selection Committee comprising of: (i) Mr. Ratan N. Tata (Nominee of Tata Trusts); (ii) Mr. Amit Chandra (Nominee of Tata Trusts); (iii) Mr. Venu Srinivasan (Nominee of Tata Trusts); (iv) Mr. Ronen Sen (Independent Director); and (v) Lord Kumar Bhattacharya (Independent Outside Person).; and


7. Until selection and appointment of a new Chairman of the Board in terms of the Companies Act, 2013 and the Articles of Association of the Company, to vest substantial powers of management of the Company with Mr. F. N. Subedar, Chief Operating Officer, and/or one or more senior officials and/or Directors of the Company, subject to the overall supervision and direction of the Board, in such manner as the Board may decide from time to time.


Each of these resolutions was voted on in turn. While different board members proposed and seconded the individual resolutions, the voting pattern was identical across them. Khambata abstained on each, Mistry objected to each as being illegal, while the others voted for them. It was all over in minutes, no explanations and no opportunity for Cyrus Mistry to prepare a rebuttal.


THE AFTERMATH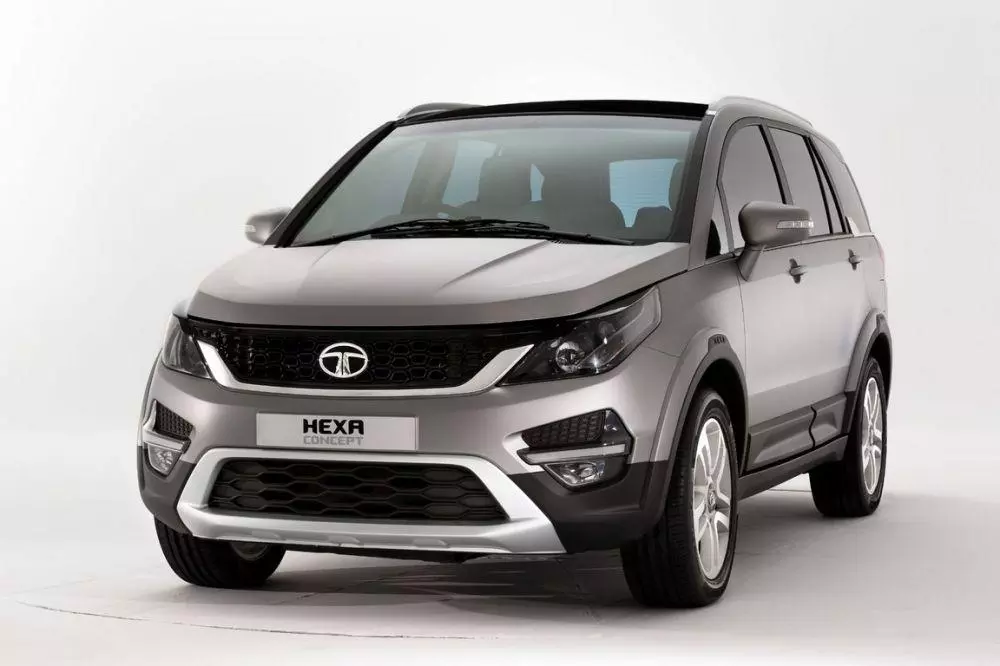 By 15:00, Cyrus had returned to his office and begun packing his personal effects. He queried Subedar on whether he needed to return the next day. Subedar checked with Ratan Tata and reported that it was unnecessary. Cyrus then called his childhood friend and top notch lawyer, Apurva Diwanji, to help him. Apurva arrived within ten minutes and asked for the Tata Sons' articles of association. Apurva realized that the press would invariably be gathering outside Bombay House making an exit challenging.

Apurva needed a safe place for Cyrus to be taken as the press would be lying in wait outside the Mistry residence. Jai Mavani from Shapoorji Pallonji, the family firm of Cyrus, was given a call to organize this. Jai knew that the Forbes, another Shapoorji Pallonji related company, had its headquarters in the neighborhood on a quiet street. Apurva exited via the side entrance of Bombay House, which was rarely used, to whisk Cyrus to the designated safe place.

The conference room is where Cyrus first got a chance to sit down, visibly shaken, and asked for a cup of tea. They knew they needed a public relations agency and a lawyer immediately. What they did not know was that Tata had already engaged six major public relations companies and booked many of the most prominent lawyers in the country in a bid to squeeze the resources available to Cyrus post firing.

At 17:00, Tata Sons released the following press statement:


Mumbai: Tata Sons today announced that its Board has replaced Mr. Cyrus P. Mistry as Chairman of Tata Sons. The decision was taken at a Board meeting held here today. The Board has named Mr. Ratan N. Tata as Interim Chairman of Tata Sons. The Board has constituted a Selection Committee to choose a new Chairman. The Committee comprises Mr. Ratan N. Tata, Mr. Venu Srinivasan, Mr. Amit Chandra, Mr. Ronen Sen and Lord Kumar Bhattacharyya, as per the criteria in the Articles of Association of Tata Sons. The committee has been mandated to complete the selection process in four months.

Immediately, the news broke across all TV channels in India and spreads like fire on social media. It was also reported that three members of Mistry's top team had been asked to put in their papers. While not the Chairman of Tata Sons, Mistry was still a board member of Tata Sons and the Chairman of the Board of Directors of most of the major group companies. The media started speculating whether Mistry would step down as Chairman of these companies. This was intriguing since the first board meeting coming up was for Tata Global Beverages Limited (TGBL) to be held on 26th October at Bombay House.

CEOs being fired is always news, despite it not being a terribly uncommon occurrence. What made the firing of Cyrus Mistry so unusual was that Tata Group had a history of only six Chairman over 148 years! Cyrus Mistry was selected after a careful process that took over a year, and by assuming the role at the age of 46, he was expected to serve between 20-30 years. In general, the Tata group is renowned for its values, which did not encompass a "hire and fire" policy. Most senior Tata executives were consummate insiders, having usually served their entire career with the Group.

The initial contract under which Cyrus was serving as the Chairman had been passed via a shareholder resolution of Tata Sons. It was due to expire on 31 March 2017. Instead of the sudden, no warning dismissal, the board could have just let the clock run out in five months. By eschewing the public humiliation of Cyrus Mistry, the bloody aftermath that followed could have been avoided. Unfortunately, instead there was the subsequent public airing of the underbelly of the Tata group as well as the deleterious impact on the reputations of Ratan Tata, Cyrus Mistry and the Tata brand. The only winners as far as one could see were the public relations companies and lawyers, who are still having a field day.


DISBANDING OF GEC

On taking over as Chairman, Cyrus had taken a year to put his leadership team in place. Called the Group Executive Council (GEC), it comprised of two old Tata hands and three people recruited from outside the group. I was hired to head strategy for the Tata group, a position that had required me to intensively interact with Cyrus as we formulated Tata's strategy until 2025.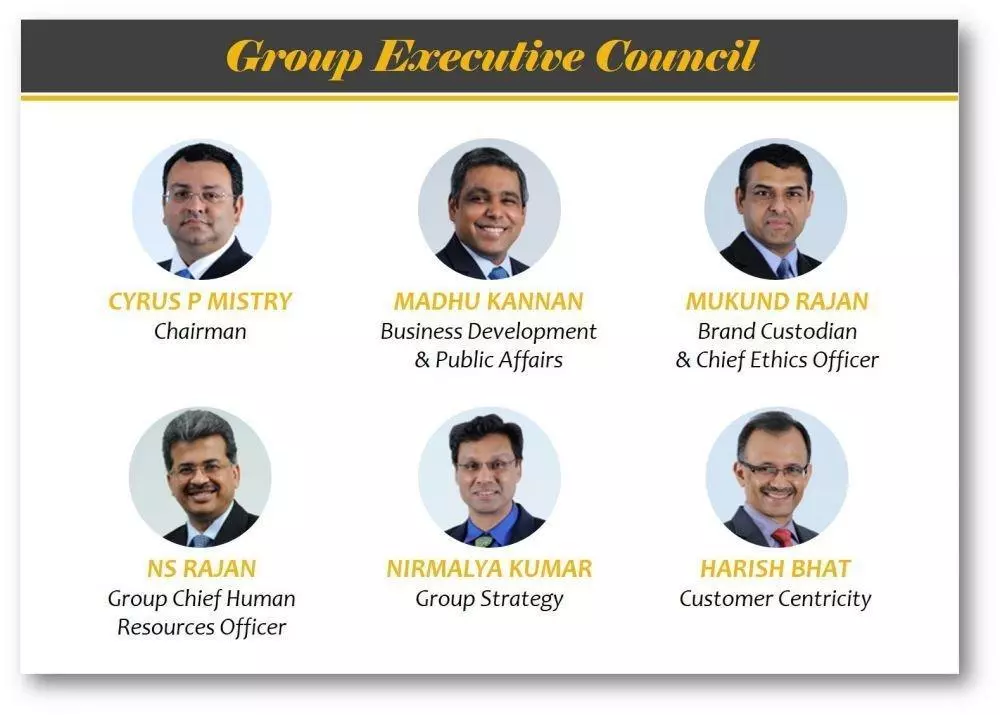 On the morning of 24th October, I recall asking Cyrus if he needed my help with the board meeting. I only attended Tata Sons board meetings to support Cyrus. This was when formal presentations on group strategy were scheduled, usually during the longer June and December meetings. Since governance rather than strategy was on the agenda, Cyrus said he could manage on his own. Anticipating this, I was scheduled with two of my GEC colleagues, Harish Bhat and NS Rajan, to be on a panel and take questions from around 100 young Tata executives on the group's big data initiative.

At 14:50, we reached the Taj Hotel President property in Mumbai where the event was being held, completely unware of the events at Bombay House. Our panel was being moderated by Deep Thomas, CEO of Tata iQ, the big data company. Enthusiastic participants were quizzing us. NS Rajan was looking at his phone and unexpectedly walked off the podium. He returned a few minutes later, ashen faced, and whispered in my ear that the Chairman has been asked to step down. My head jerked – what? But I was on a panel so kept answering the questions, but signaled to Deep that we needed to wrap this up early. NS looked very distracted and flustered so I fielded any questions that came his way as he soon left the podium and the room.

We walked out into the hall and NS Rajan informs Harish and me that his understanding is that with the Chairman, all three of the outsiders on the GEC have also been let go. I invited them to my apartment for a drink rather than return to the Bombay House until we gathered more information. Harish, as was his style, kept reassuring the two of us that firing of Cyrus and the three GEC members was very unfair. We turned on the television, and all the Indian television channels were plastered with Cyrus Mistry and three GEC members of Tata being asked to leave.

By 19:00 both my fellow GEC members had departed. I was unable to get hold of Madhu, usually my most reliable source of information. Finally, Ishaat Hussain responded by asking me for a drink at his place at 19:30. Ishaat was clear that he had no idea this was going to happen. He had entered the board meeting a few minutes late. Subedar, standing outside the boardroom, with a white face, had informed him that Cyrus was being fired.

At 21:00, I got a call from Subedar, with whom I had worked closely and got along rather famously as we were often on the same side of arguments. He came from a finance background and I being a rational business school academic, both pushed for greater capital efficiency and performance orientation. Anyway, on this call, he simply said: "it is my unpleasant duty to say your services are no longer required". No explanation. I queried does this mean I did not need to show up tomorrow morning? An affirmative reply, and that was it. Madhu and NS received similar calls.

A few minutes later, Cyrus called. His voice was even lower than the usual soft spoken tone: Nirmalya, please let us finish dinner and then can we meet at my residence around 22:00. I summoned my chauffer and told him to quickly have his dinner as we may be in for a long night.


POSTSCRIPT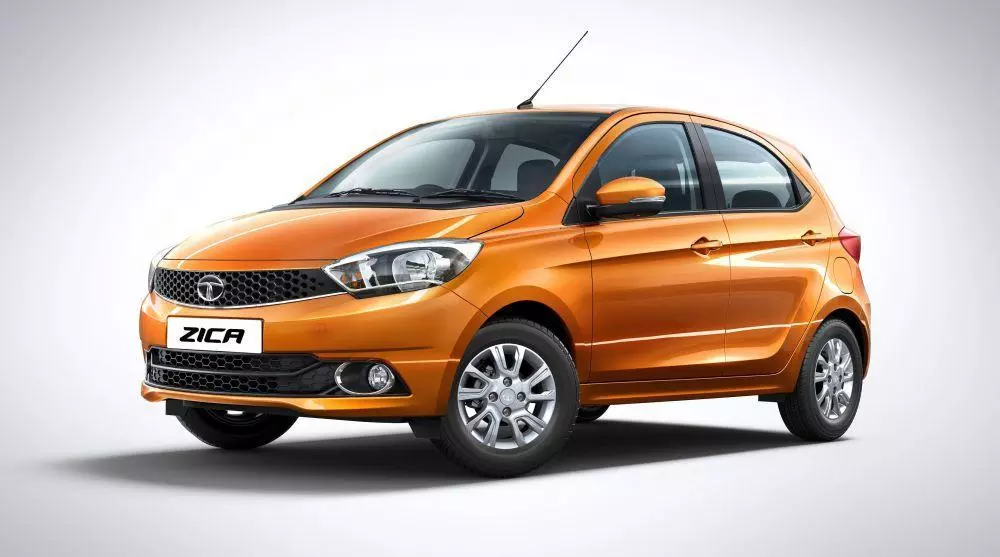 It was the start of a furious two months, where I worked harder than ever with Madhu to help Cyrus wage a battle against the enormously powerful Tata machine until it moved to the courts. Many of you have read my blog of the week following my firing entitled, I Just Got Fired!The year that has passed required me to dig deep, but that is a story for another week.

Let me just conclude that a year later, despite the best efforts of the press promoted by the six PR agencies and pressure from the internal Tata communications team, only two Tata CEOs, Bhaskar Bhat and Harish Bhat, have had anything negative to say about Cyrus Mistry in the press. And, even they, were remarkably muted in their criticism. Under the circumstances, what better performance review could Cyrus Mistry have received as Chairman of Tata Sons?

Warmly.


For more informaiton, click here.