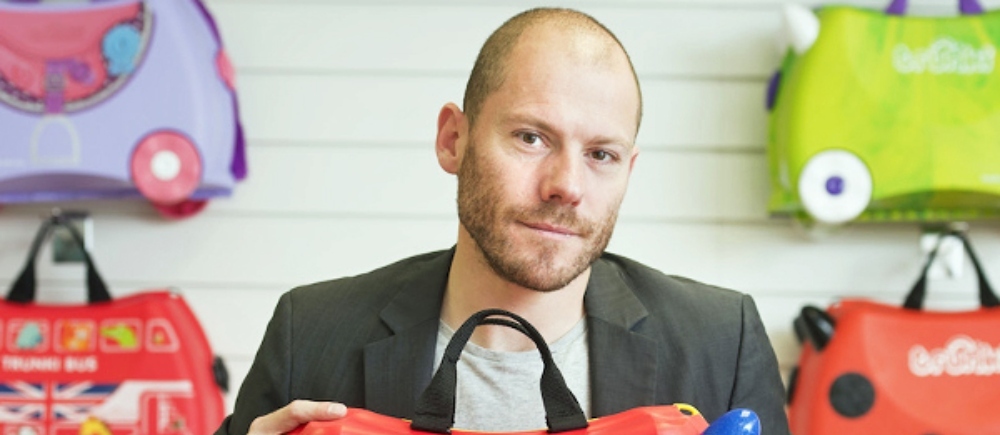 Rob Law studied Product Design at Northumbria University.
One of his course assignments in 1997 was to come up with a new design for luggage. He did some research by going to a local department store. He wandered around the suitcase section and found no inspiration but when he went into the toy department, he had a brainwave. Why not make a piece of luggage which was also a ride-on toy for children? The 'Trunki' as he called it was a classic weird combination.
After graduating he developed this idea and presented it to luggage companies who thought it was a toy. Similarly toy companies were not interested because they considered it to be luggage. He parked the idea and went travelling. When he returned to England in 2002, he endeavoured to raise funding. He found a toy company which was prepared to act as licensee, but the company went bankrupt. He was used to rejection and hardship. He had suffered from Cystic Fibrosis for all his life. His twin sister died of the condition when they were 15. Maybe this was what made him so determined and resilient. In 2002 he was successful in gaining a grant from the Prince's Trust who also provided him with a mentor and business advice. He took out a £10,000 loan and started manufacturing.
In 2006 he presented on the TV programme Dragon's Den in front of a panel of stern entrepreneur investors. His presentation started well and he asked for an investment of £100,000 for a 10% share in his company, Magmatic. But then things went downhill. Theo Paphitis, chairman of the Ryman chain of stationers, pulled off one of the straps and made fun of the product. Fellow dragon Deborah Meadon, chief of a holiday business, firmly stated that there was no market for the ride-on suitcase. Peter Jones, the aloof telecoms magnate said, "I meet people like you all the time – you think you have something. I tell you, you don't. Within seven days I could do a better job than that. Your company is currently worthless."
Commenting on the experience a year later Rob Law said, "When I went on to the programme, I was full of confidence that I was going to get the investment I needed. But they ripped me to shreds – I was absolutely gutted. They were rude and obnoxious and just focused on the strap, which was actually something that was quite easily fixed."
He went on, "I was terrified that by appearing on the programme I may have ruined my company before it had even started. But afterwards we had loads of hits on the website from people who said they thought it was a brilliant idea. Now I am absolutely delighted to have proved the Dragons wrong. It just goes to show you should never give up."
His Trunki design went on to win over 100 awards. Over 3 million have been sold in some 100 countries around the world. He observed that parents saw the ride-on suitcase as a cute container but children saw it as a friend.
Originally Trunkis were made in China but in 2012 Rob Law set up a factory in Plymouth. He now employs 80 people in Plymouth and in his office in Bristol. Magmatic has expanded to produce many different Trunki designs as well as backpacks, neck supports and fold-up bicycles. All of their products are designed in England and distributed worldwide.
Lessons for Innovators
Try weird combinations – like a suitcase and a ride-on toy. Wander into different departments and places for inspiration.
Experts often get it wrong. The Dragon's Den panel failed to see the potential of the product. The prototype will often have flaws, such as the strap which came away. But the key question is 'Will customers like this?' If the answer is yes, then the details can be fixed.
Be determined and resilient. Rejection comes with the territory.