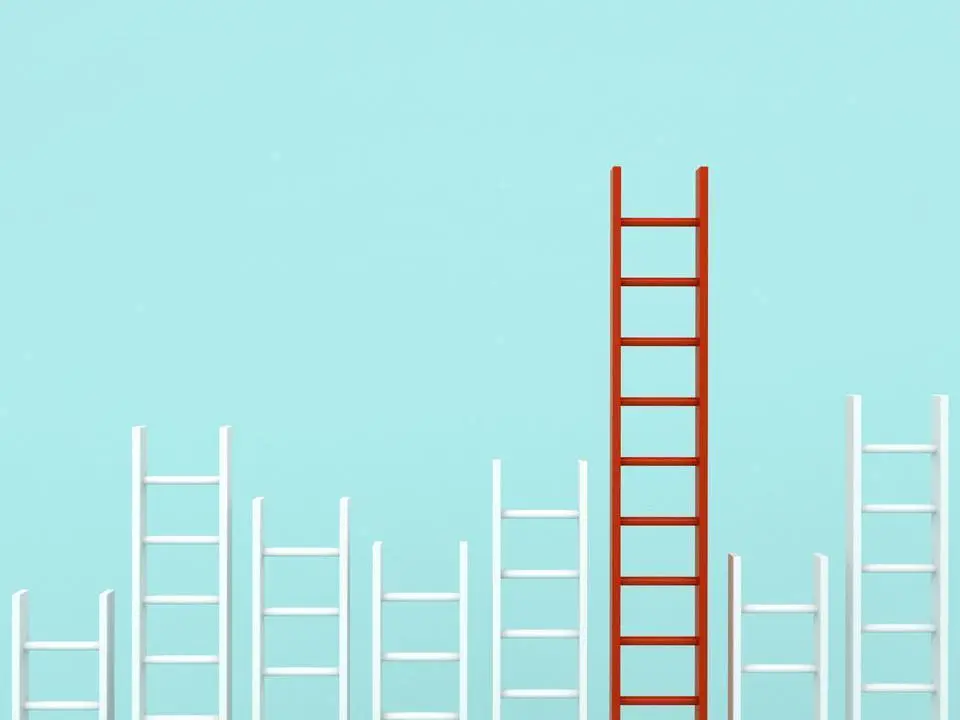 Time travel for a minute. It's 1975, and Procter & Gamble has just created Bounce laundry dryer sheets. This is a new category, so the world did not yet know what dryer sheets were. Prior to this, there was no such thing as dryer sheets. And Bounce launched this brand-new type of product with a functional benefit of wrinkle-free clothes. Because this Bounce dryer sheet contains wrinkle-relaxing ingredients, you put them in the dryer, and voilà, your clothes are wrinkle-free.
At launch, Bounce emphasized their dryer sheets' promise of wrinkle-free clothes. For several years, wrinkle-free was the functional benefit that they messaged in all of their communications. After a few years, customers readily understood that Bounce brought them the benefit of clothes that are wrinkle-free. With that functional benefit of wrinkle-free solidified, Bounce laddered up that functional benefit to the higher-order benefit of attractive clothes.
The customer hears that Bounce makes their clothes attractive. And the reason customers believe that promise is that they know Bounce makes their clothes wrinkle-free.
Notice how what was previously the promise, wrinkle-free clothes, now serves as a reason to believe in the higher-order benefit of attractive clothes. Bounce then owned this higher-order meaning in customers' minds.
Several years later, customers readily grasped that Bounce makes their clothes attractive, and so Bounce laddered up again, this time to the more emotional benefit of feeling pretty. With Bounce, you can feel pretty. Why should I believe that? Because your clothes look attractive. Why should I believe that? Because clothes are wrinkle-free.
This benefit ladder enables you a reality check of what is meaningful and believable to your customer audience, given where you are in your relationship with your audience. You need to be honest with yourself about how emotional your audience will let you be about your brand. If Bounce had launched with a promise of "feel pretty" before people even knew what dryer sheets were, it would've been confusing and disingenuous.
Use this benefit ladder framework to ensure that you're not overstepping with your customer by promising something so big they won't believe it or won't understand it. The ladder also helps you to see where you are going, how are you going to keep delivering an ever larger, ever more emotional benefit.
Why is it a good idea to keep delivering an ever larger, ever more emotional benefit? Why should you never rest on your laurels and deliver a functional benefit without pushing it upward on this ladder? There are a few reasons.
The first reason is your profit margin and sales. The larger and more emotional the benefit that you bring, the more customers you'll have and the more they will be willing to pay for your offering. People are willing to pay more to feel pretty than for a piece of electrostatic cloth drenched in Downy.
The second reason is your competitive moat. The higher on this ladder your brand's position, the more difficult it is for others to copy. It's easy to copy an ingredient, and it's hard to copy with credibility a promise of feeling pretty.
The third reason is headroom to grow. The higher on the ladder you are, the more categories you can plan, the more you can grow laterally. If you own "feel pretty," you can go into categories outside of dryer sheets. So, your room for growth is more spacious.
When you build your benefit ladder, I advise starting toward the bottom of your ladder with your functional benefit. What is that functional benefit your customer will enjoy if they choose your offering? What are the factual reasons they should believe that benefit? Now look at the next rung up on your ladder: what does that functional benefit enable for your customer at a bigger, more emotional level? Because of that functional benefit, how is her day better? And lastly, what is that highest-order benefit, that most emotional benefit that ultimately your customer enjoys because they purchased your product? Because of you, how is her life better?
Your benefit ladder can ensure that you are meeting your customer with what she needs now, at levels both functional and emotional, rational and aspirational, heart and mind. This will help you see your ever-expanding purpose, the ever-larger meaning you bring to your customer.