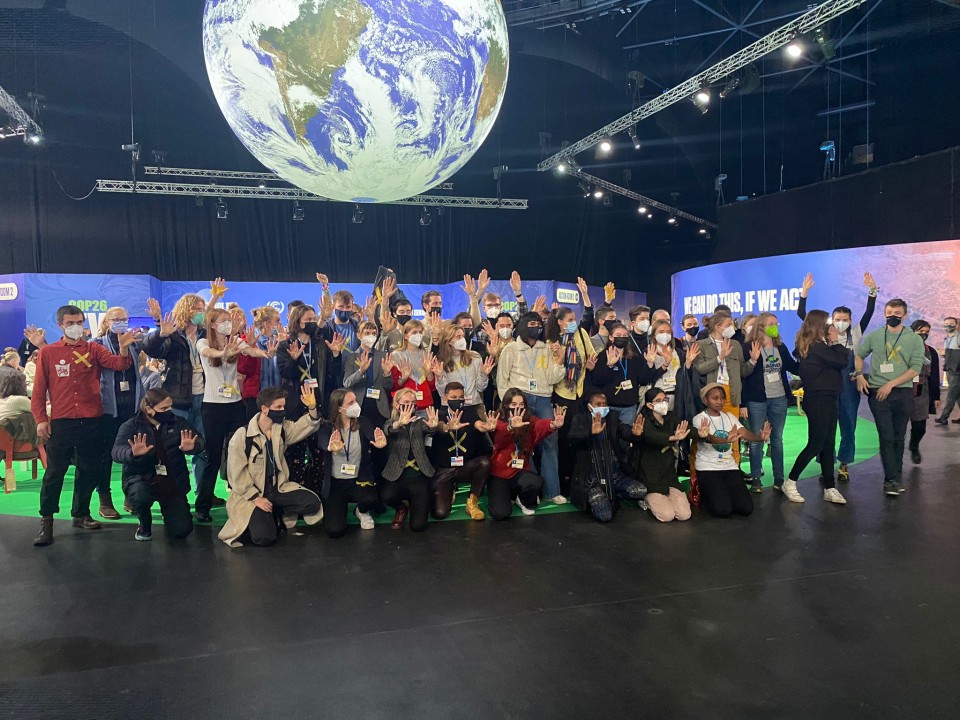 Together we can!
As the headline image showcases above, that's my overriding perspective fresh from attending COP26 and the Social Innovation Forum, and in many ways we saw Gen Z lighting the way – some incredible youth leadership on show! And this all supported by expanded awareness of key issues, for example levels of E-waste anticipated to double by 2050, a renewed global appreciation of the power of the collective, the rise of conscious consumerism, deepened focus on supply chains, reflection on individual, organizational and brand purpose, and all alongside enhanced technological solutions and convergence too …. the list of catalyst vectors just goes on! Indeed, embedding sustainability considerations by design is now an imperative to business success and competitive advantage, the very definition and actualization of you 'can do well by doing good'.
'The World Economic Forum reported in January 2021 that business' top five risks are related to the environment. 62% of CXOs said sustainability is essential to remain competitive'
So the time is now to reflect on the how of the COP26 mission "to put the world on a path to aggressively cut greenhouse gas emissions and slow Earth's warming." This takes the type of dialogue we experienced in Glasgow and virtually, bringing together different areas of society. It involves science and research, government and citizen developers, and leading business and technology players too, including IBM whose CEO Arvind Krishna recently accepted the inaugural Terra Carta Seal from HRH The Prince of Wales in recognition of over 50 years of commitment to environmental sustainability. This builds on IBM's early commitment to reduce its greenhouse gas emissions 65% by 2025 against base year 2010 and to achieving net zero greenhouse gas emissions by 2030. Related to this, a snapshot from my recent COP26/SIF interview with Sanjay Tugnait, Chief Market Maker & Global Managing Partner - Sustainability Practice, IBM Consulting is available here.
Looking beyond the importance of discussion, it's the momentum that builds and collective actions that last which are clearly imperative, and for me three key interlinked themes emerged – matters of data, its management and storage, social impact measurement, and the power of the co-creation through partnerships and open source. Let's explore each in turn!
Open Source – Call For Code
In August 2021, UN Secretary-General António Guterres' described the Intergovernmental Panel on Climate Change (IPCC) Working Group report as 'Code Red for Humanity'. Reflecting on this I have been continually impressed and indeed committed to supporting the Call for Code campaign, of which IBM is a founding partner. This movement is a catalyst for social impact innovation at scale, most recently highlighted by this year's Call for Code winner Saaf-Water: an open source AI and IoT platform that anyone can use to monitor groundwater safety around their home and in their communities. Wonderful! and an endeavour very close to heart - more on that here!
Data Storage and IT Infrastructure
Big data offers unprecedented shared value for business, lifestyle, education and impact benefits including the opportunity to advance scientific progress to help address our most pressing environmental concerns. With the volume, variety, velocity and volatility of data all increasing, achieving that 5th V of data value remains an Industry 4.0 or indeed a Society 4.0 imperative. And this is not just a case of enhancing data integration, or applying the latest in Artificial Intelligence, Machine Learning and Deep Learning tools and techniques, it is equally a case of optimizing data storage and its sustainability impact. The larger the amount of data in question, the more important it becomes to utilize the most energy-efficient means of collecting, storing and analyzing it. Indeed, a tiered storage solution, including tape storage, can reduce CO2 emissions by a staggering 87%.
As data multiplies rapidly and many organizations from SME to Enterprise are still very much navigating the rate and scale of change, a truly flexible storage solution which can grow as your business does is ideal - whether on-prem, in the cloud or both. The IBM FlashSystem Family delivers on exactly this, affording the containerization of systems and data for seamless portability and enabling agility as situations evolve. This is coupled with high-performance, high-reliability storage, superior functionality across Hybrid Cloud and equally critically, comes with sustainability advantages embedded right from design.
When consumption and waste is kept to a minimum not only does the environment benefit, so does business too! IBM Spectrum Virtualize plays a key role here by allowing upcycling which extends the useful life of existing storage hardware investments, alongside reducing e-waste to create a positive sustainability impact. And as detailed below, there is an array of additional benefits too right across data and cyber resiliency, data security and simplicity, cloud capability and maximum value, and capacity optimization.
A case in point is the electronics manufacturer Electrolux which moved its mission-critical analytics tools built on SAP HANA to IBM Power Systems, running on FlashSystem storage hardware, and using IBM Spectrum Virtualize to create easy-to-manage virtual storage environments whilst also helping optimize storage performance. This partnership has enabled the expansion of Electrolux's hardware infrastructure from two years to five years, with a 30% reduction in disaster recovery infrastructure costs, and 75% faster recovery times to protect against downtime – now that's shared value personified! And you can explore more about the IBM-SAP power partnership here and here – a great example of embedded trust and people and technology in alignment so everyone in the ecosystem benefits.
Power of Partnership and Matters of Measurement
Continuing the theme! I consider the 'power of partnership' to be one of the biggest learning lessons to emerge from the pandemic – together we can make the art of the possible actualisable, and do it at scale too! This very much aligns with the ethos of Sustainable Development Goal 17 'Partnerships to collaborate with industry and technology providers to collectively address UN's social and environmental goals'. Harnessing the power of partnerships with like-minded organizations can co-create value across the ecosystem – and indeed these very organizations can be those which may traditionally be viewed competitors.
The importance of shared values and shared mission overrides such concerns and we saw examples of this tangible co-creative action emerging from COP26 notably the Alliance for Clean Air which you can dive into in more detail in my launch video. The 10 founding partners come from industries as diverse as transport, technology and retail and are all committed to measuring and decreasing their air pollution emissions, creating healthier communities around the world. Brilliant!
Alongside this, I would also highlight the Pathfinder formation announcement which is enabling the first steps to creating a data exchange network, jointly developed by 35 stakeholders from industry including IBM, and the broader decarbonization ecosystem. This is also helping to tackle one of the most critical challenges in scaling social impact - access to primary data that is sufficiently granular, accurate and verified. Data accounting and access factors must be overcome and beyond this consistency and standardization around impact measurement is critical too. Increasingly conscious consumers must be able to make fair comparisons and ultimately informed choices across organizations and their ESG reporting and credentials.
Final Thoughts
Embedding sustainability by design encapsulates prioritisation, alignment, integration and measurement right across the organizational mission, culture, values, technology and education that underpins this. And focussing in on technology specifically, it is clear that this is a critical conduit to achieving sustainability impact that scales, with key considerations across data and infrastructure flexibility, portability, accessibility, waste and product lifespan. Above all, it is clear that the foundation of positive change is objective goals, trusted data and transparent reporting that combines commitment with accountability too, with organisations using their 'sphere of influence' to create a contagion of positive change.
And for more information on the IBM Flash Systems example see https://ibm.biz/BdfCF2
About The Author
Dr. Sally Eaves is a highly experienced Chief Technology Officer, Professor in Advanced Technologies and a Global Strategic Advisor on Digital Transformation specializing in the application of emergent technologies, notably AI, Security, IoT, Cloud and 5G disciplines, for business transformation and social impact at scale. An international Keynote Speaker and Author, Sally was an inaugural recipient of the Frontier Technology and Social Impact award, presented at the United Nations and has been described as the 'torchbearer for ethical tech' founding Aspirational Futures to enhance inclusion, diversity and belonging in the technology space and beyond. Sally is also Chair of Global Cyber Trust at GFCYBER.