In recent years, hyperautomation has brought about a revolution in various industries, including the insurance sector.
Hyperautomation in insurance can transform the way the industry works and make it much more efficient.
With the advent of technology, industries worldwide are picking up steam on the digital front, and the insurance industry is no exception to this evolution. These developments have exposed the inefficiencies of handling manual processes and provided corresponding obvious benefits to counterbalance them. Operators have been able to meet the ever-changing client expectations thanks to the resulting optimization of time, money, resources, and efforts, as well as flexible approaches and innovation. It can deliver to these changing factors without compromising the user experience.
The insurance industry has been striving to automate most of its processes for efficient functioning and automation, which no doubt is crucial for developing a streamlined consumer experience and introducing fresh goods to the market efficiently. However, the complicated, non-linear processes essential to central insurance operations are challenging for today's automation tools to handle; thus, insurers must switch to a new paradigm - hyperautomation.
With hyperautomation, a blend of AI, ML, and RPA, you can achieve higher levels of process intelligence and efficiency than automation, which is largely based solely on RPA. It can be used throughout the insurance sector, from customer acquisition to claims, saving time and money.
Hyperautomation in insurance is a systematic technique for promptly discovering, validating, and automating as many procedures as is practical. It differs from conventional automation by the way it coordinates a variety of technologies, tools and platforms, including, but not limited to, robotic process automation (RPA), machine learning, and artificial intelligence. The need for business and IT process automation is what is driving the demand for hyperautomation. The market for applications that enable hyperautomation is anticipated to grow at a CAGR of 12.3 percent to over $860 billion by 2025.
Benefits of Hyperautomation in the Insurance Industry
Any technology's success relies on how extensively it can be applied. The following are some applications of hyperautomation in the insurance industry: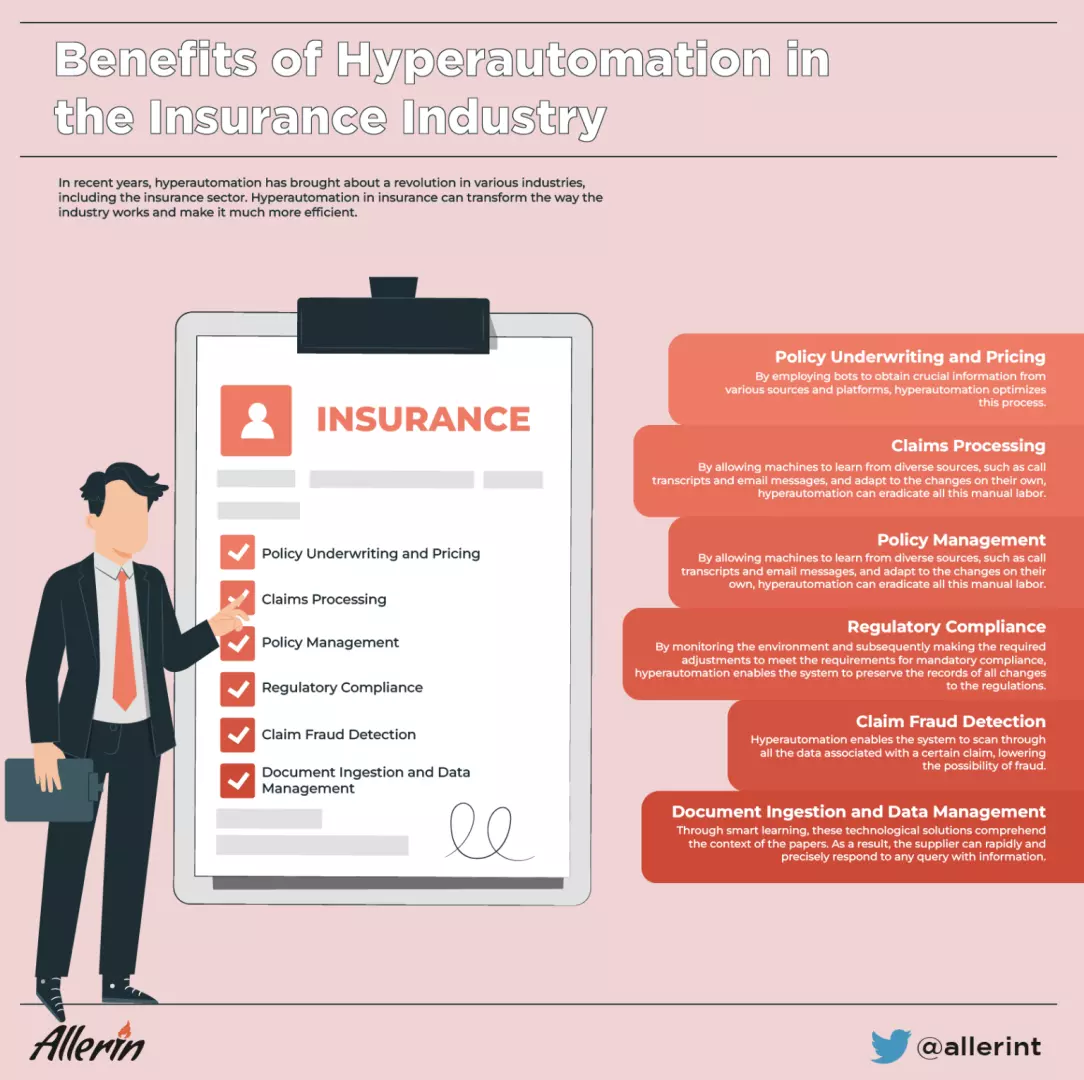 Policy Underwriting and Pricing
Policy underwriting is a procedure where the applicant's data is extracted to determine the risks connected to a particular policy. Before deciding, the data is consciously studied and analyzed. This is a labor-intensive, tedious procedure that hyperautomation could accomplish in no time.
By employing bots to obtain crucial information from various sources and platforms, hyperautomation optimizes this process. The generated data can be used to prepare reports on claim numbers and infographics of coverage data. The retrieved data is used to establish the exact risk factor for a specific client.
In order to assess a customer's risk profile and provide insurance coverage at the appropriate cost, an insurer must evaluate the customer's medical record, test results, biometrics, etc. These are the variables examined while determining the cost of an insurance policy. When done manually, this could take days, but hyperautomation speeds up the procedure.
AI will be incorporated into the pricing systems, enabling them to alter and modify the policy in accordance with client needs. It would establish the essential parameters to establish the pricing for any policy based on the added gains, the implementation cost and the sales profile.
Claims Processing
A formal request for coverage or reimbursement for a covered loss or other policy event made by a policyholder to an insurance company is known as an insurance claim. The claimant is likely to seek out a new provider as quickly as possible if the claims procedure is excessively drawn out or disjointed, prolonging their misery and uncertainty, meaning monetary losses for the insurer. Since the agents must analyze data from numerous sources in various formats, sort them, and check their authenticity, manual insurance claim processing takes a lot of time. It normally takes a few days, and occasionally there are data discrepancies.
With the integration of hyperautomation in insurance, machines may easily gather data from numerous touchpoints, such as emails, call transcripts, etc., while the bots consistently apply the necessary modifications. When a claim is submitted, intelligent bots will evaluate the submitted data and determine whether it is accurate and legitimate before approving the claim. In that case, the information is sent for manual processing. Hyperautomation can also minimize human interaction by automatically delivering the customer's claim information.
Policy Management
A lot of paperwork has to be performed before a policy can be officially issued. The agent is responsible for keeping track of the required paperwork, comparing it to other documents, corresponding with clients, and updating all data on the internal system. Every time a customer modifies a policy or any of their personal information, a labor-intensive manual process is required to make the appropriate adjustments.
By allowing machines to learn from diverse sources, such as call transcripts and email messages, and adapt to the changes on their own, hyperautomation can eradicate all of this manual labor. Smart bots can extract, sort and produce reports from the data using Intelligent Document Processing (IDP) without the need for human intervention. This would minimize manual labor and speed up processing. Additionally, this would enable the system to automatically update the customer's insurance details.
Regulatory Compliance
Compliance violations are frequently reported in the insurance industry because it takes more time to comply with different requirements. Any modifications trigger a protracted restructuring procedure. When this process is carried out manually, there are several errors that could cause major losses. The manual work could be significantly reduced by automating regulatory compliance. Customized dynamic templates could be used to apply in accordance with compliance regulations.
By monitoring the environment and subsequently making the required adjustments to meet the requirements for mandatory compliance, hyperautomation enables the system to preserve the records of all changes to the regulations. As a result, there won't be any room for error.
Claim Fraud Detection
Identifying insurance fraud is a difficult issue to resolve. False claims and internal frauds have risen dramatically in recent years as a result of the multitude of perks claimants can acquire from insurers. Handling every claim manually would be practically impossible due to their huge volume. Since these fraudsters are now highly technically sound, it is difficult for a human to spot them, but with the help of hyperautomation, all claims are put through a fully automated screening, which will spot any discrepancies by looking through a large amount of data.
Every time a claim is made, extensive background research must be done. The bots can check several platforms for any shady conduct and quickly determine whether a claim is fraudulent, which is challenging with manual labor. Hyperautomation enables the system to scan through all the data associated with a certain claim, lowering the possibility of fraud.
Document Ingestion and Data Management
Insurance companies retain a lot of paperwork. These documents come from a variety of sources with data in a range of formats. Naturally, it takes a very long time to manually read through and comprehend each of these documents. Insurance companies can effortlessly obtain, filter, and analyze data with hyperautomation. Through smart learning, these technological solutions comprehend the context of the papers. As a result, the supplier can rapidly and precisely respond to any query with information.
Through IDP, which can not only interpret data and its meaning but also extrapolate future outcomes from it, hyperautomation automates this process. As it simplifies all the information and separates it for easy data consumption, hyperautomation completes the entire process in little to no time. To put it another way, hyperautomation can assist insurance companies in getting the most out of data.
Concluding Thoughts
The insurance industry has undergone a revolution thanks to automation, and hyperautomation is ready to take it to the next level of productivity. Additionally, it gets insurers ready for the new era of linked experiences, which is expected to be a major trend in the coming years. The improved goods and services that result from this will lower operating costs, lessen risks and significantly improve customer satisfaction. As a result, the implementation of hyperautomation in insurance is sure to bring a rapid ascent toward success.