The Securities and Exchange Commission (SEC) is poised to put a damper on Special Purpose Acquisition Company (SPAC) IPOs and mergers: it deepened its investigation into potential conflicts of interest in SPAC underwriting processes, and brought charges against prominent SPACs. We witness a flood of "AI" SPAC IPOs, going public without any real AI and Data Strategy and planning, working and business model, but with fake AI SPAC's false promises.
Find below an analytical digest of the AI SPAC's state of affairs.
What is a SPAC?
A special purpose acquisition company (SPAC) is a company with no commercial operations that is formed strictly to raise capital through an IPO for the purpose of acquiring an existing company. IPO investors have no idea what company they ultimately will be investing in.) SPACs seek underwriters and institutional investors before offering shares to the public. A SPAC is a shell company that goes to the stock market for the sole purpose of a reverse merger. It has no business or operations. Sometimes, it's called a "blank check" company because investors are basically trusting its owners to make a good acquisition without knowing in advance which company will be. Once the merger is made, the SPAC's name is changed to that of the acquired company.
Again, at the time of their IPOs, SPACs have no existing business operations or even stated targets for acquisition. Investors in SPACs can range from well-known private equity funds to the general public.
Banks typically collect a 5.5% fee from SPAC sponsors for underwriting a SPAC's IPO, and can then collect additional fees from the target company for representing it during the merger process, estimating that the total dilution in a SPAC averages 50% of the cash delivered in a merger. They don't have to disclose these fees in SPAC regulatory filings. Regulators worry this creates an incentive for underwriters to help SPACs, sponsors and acquisition targets mislead investors by downplaying problems.
One of the most high-profile recent deals involving SPACs involved Richard Branson's Virgin Galactic. Venture capitalist Chamath Palihapitiya's SPAC Social Capital Hedosophia Holdings bought a 49% stake in Virgin Galactic for $800 million before listing the company in 2019.
In 2020, Bill Ackman, founder of Pershing Square Capital Management, sponsored his own SPAC, Pershing Square Tontine Holdings, the largest-ever SPAC, raising $4 billion in its offering on July 22.
If the SEC tightens rules around SPAC underwriting, it may stem the flow of SPAC IPOs. More than 300 such IPOs have taken place this year alone. As of June 8, 2021, the US SPAC IPOs exceeded $300 bn.
"AI" SPAC Bubbles: Going public without any real AI strategy, working planning and profitable business model, but with fake AI SPAC promises
AI SPACs are the most speculative actionable ideas for companies and sponsors, and an increasing number of SPAC founding sponsors are former industry executives.
SPACs are very compelling for industry executives, as the economics are as or more attractive than traditional private equity fund economics. SPAC sponsors typically receive 20% of the common equity in the SPAC for an investment of approximately 3% to 4% of the IPO proceeds. For example, in a $250 million SPAC, the sponsor typically receives approximately $60 million of common stock for a $7 million investment in warrants.
The HEIDI SPAC: Smart Energy with Blockchain Technology and Artificial Intelligence
The HEIDI SPAC provides pre-IPO investment opportunities for investors who are keen to participate in the development of smart energy technology with a holistic approach, based on blockchain technology and artificial intelligence.
Self-driving car startup Aurora is ready to go public in a reverse merger with Reinvent Technology Partners Y, a SPAC.
The merger will give Aurora an infusion of cash to develop autonomous trucks and, later, self-driving passenger cars.
Going public is not the norm for companies that don't have a working and profitable business model. And what makes Aurora's reverse IPO even more odd is that it comes at a time that the self-driving car industry is struggling with missed deadlines, shuttered projects, unsettled technical challenges, growing cash-burn rates, and loss of public trust and the greatest challenges of narrow artificial intelligence. Aurora was founded in 2017 by three veterans of the autonomous driving industry: Chris Urmson, the former CTO of Google's self-driving project before it became Waymo; Sterling Anderson, former head of Tesla Autopilot; and Drew Bagnell, former head of Uber's self-driving team.
Both Uber and Lyft have sold their self-driving units and canceled short-term plans to launch their own robo-taxi services.
Aurora develops hardware and software for autonomous driving and calls its stack Aurora Driver. The company's self-driving technology uses lidars, computer vision, and high-definition maps of roads. For the moment, Aurora is losing money at an accelerating pace ($214 million in 2020 vs $94 million in 2019), and the financial support it receives from the SPAC merger will be crucial for the next few years.
The reverse merger with Reinvent will provide Aurora with more than $2 billion in cash to continue its extremely expensive and unprofitable operations for another few years, burning investor money without making any profit. Reinvent was launched by LinkedIn co-founder and investor Reid Hoffman, Zynga founder Mark Pincus, and investor Michael Thompson. Reinvent's investors include other Aurora funders and partners, including Sequoia Capital, T. Rowe Price Associates, Index Ventures, Uber, Baillie Gifford, Index Ventures, Volvo, and PACCAR. Hoffman is also a partner at Greylock, a VC firm that, along with Index Ventures, invested $90 million in Aurora in 2018.
Why Aurora's SPAC merger is exciting and worrying at the same time
Argo AI, an autonomous vehicle startup backed by Ford Motor Co. and Volkswagen, is reportedly considering going public as soon as this year.
Argo was valued at $7.5 billion when Volkswagen Group finalized its $2.6 billion investment in July 2020.
Ford has invested $1 billion in Argo AI, which is led by former Alphabet and Uber Technologies Inc staff.
Argo, founded in 2016 by Bryan Salesky and Peter Rander, is jointly controlled by Volkswagen and Ford.
SoftBank SPAC –SVFA Artificial Intelligence (AI). The next big super SPAC will be SVFA backed by SoftBank which has investment in top private companies. SVF Investment planned to list its common stock on NASDAQ and raise roughly $604 million from the IPO.
Notable companies it had investments in are Lemonade, SOFI, Alibaba, Boston Dynamics, etc.
The primary focus of the SPAC is to acquire companies in the technology domain, including a wide range of sectors like mobile communications, semiconductors and other hardware, software, artificial intelligence and robotics, cloud computing, transportation technologies, consumer internet, fintech, computational biology, and other data-driven business models.
SVF Investment Corp is a blank check company. The Company is formed for the purpose of effecting a merger, share exchange, asset acquisition, share purchase, reorganization or similar business combination with one or more businesses. The Company has not identified any business combination. The Company intends to identify, acquire and manage a business in a technology-enabled sector but are not limited to, mobile communications technology, artificial intelligence, robotics, cloud technologies, software broadly, computational biology and other data-driven business models, semiconductors and other hardware, transportation technologies, consumer Internet and financial technology.
BigBear.ai is set to go public after the Maryland-based data analytics company announced Friday an agreement to merge with SPAC GigCapital4 Inc. GIG, in a deal that values BigBear.ai at $1.57 billion.
BigBear.ai, a private equity-backed artificial intelligence firm formed in February, has agreed to a transaction that will result in it becoming a publicly-traded company later this year.
BigBear.ai said Friday it will merge with GigCapital4, a special purpose acquisition company or so-called blank check firm, and plans to list on the NASDAQ stock market in the third quarter of this calendar year.
Currently owned by AE Industrial Partners, BigBear.ai works with government agencies and customers in certain commercial industries on taking in real-time data and applying both new technologies and techniques to make decisions in complex situations.
AE Industrial will continue on as an investor after the deal closes. That private equity firm and other existing BigBear.ai stockholders will then hold 73 percent of shares in the company, with public shareholders having 21 percent and GigCapital4's sponsors owning 6 percent.
Led by CEO Reggie Brothers, BigBear.ai was formed through a merger of two other AE Industrial portfolio businesses in NuWave Solutions and PCI.
If all goes according to plan, BigBear.ai will fetch an enterprise value of approximately $1.57 billion from the trading of its stock. The company posted $140 million in revenue last year, sees $182 million in sales this year and is projecting that number to hit $764 million in 2025.
BigBear.ai also sees its bottom line improving further over that time span, going from $23 million this year to $159 million in 2025 adjusted EBITDA (earnings before interest, taxes, depreciation and amortization).
Artificial intelligence security screening company Evolv Technology has entered into a definitive merger agreement with a special purpose acquisition vehicle, after which it will go public.
Evolv Technology, a United States company, the first to offer an artificial intelligence (AI)-enabled touchless security screening system in the market, has agreed to merge with NASDAQ-listed SPAC Newhold Investment Corp.
Latham & Watkins and Loeb & Loeb are providing legal advice to Evolv and NewHold, respectively.
The combined company is expected to have a post-transaction pro forma total enterprise value of approximately USD 1.25 billion, and a total equity value of about USD 1.7 billion.
Expected to close in the second quarter of this year, the transaction will result in Evolv's public listing on the NASDAQ, and the creation of a combined entity with approximately USD 470 million in gross proceeds, comprising USD 172.5 million in cash from Newhold, and an upsized USD 300 million fully committed common stock private investment in public equity (PIPE).
The PIPE has been secured by partners including Motorola Solutions, and institutional investors including Magnetar Capital, Eldridge, Senator Investment Group and UBS O'Connor. Well-known athletes, franchise owners and managers have also contributed, including Peyton Manning, Andre Agassi, Steffi Graf, Joe Torre, Theo Epstein, Tony Ressler, Mark Attanasio and Bennett Rosenthal.
Existing Evolv stockholders, including Bill Gates, Lux Capital, General Catalyst, and Motorola Solutions, among others, will keep their equity holdings through closing.
The proceeds gained from the transaction will fund the company's growth via partnerships and acquisitions, and expansion into international markets.
The company plans to target businesses in the artificial intelligence industry with enterprise values between $150 million and $300 million.
AI-Health App Babylon Plans $4.2 Billion SPAC—And Push Into U.S. and compete with heavyweights like Teladoc, historically the largest telehealth company by market capitalization and number of patients. With a market capitalization of nearly $23 billion, Teladoc has seen its stock price nearly double since the start of 2020.
Alkuri Global Acquisition Corp, the SPAC merging with Babylon, is led by the former CEO of Groupon and went public in February.
Babylon's claims about how well its AI chatbot diagnosed patients were challenged by outside experts, British regulators and by the company's own staff, whose testing of the app in 2017 found "that around 10% to 15% of the chatbot's 100 most frequently suggested outcomes, such as a chest infection, either missed warning signs of a more serious condition like cancer or sepsis or were just flat-out wrong."
Babylon uses an AI-powered app that "shifts the majority of member interactions to the mobile device and provides timely and targeted in-person care when needed," the company wrote in a June presentation for investors.
Big pharma has recently inked partnerships with fake AI drug discovery startups to boost R&D—likely due to difficulties hiring the talent needed to spearhead real AI projects.
AI drug discovery startup Valo announced it's going public via a $2.8 billion SPAC merger with Khosla Ventures, expected to close in Q3 2021. Valo's primary product Opal Computational Platform uses AI to identify new drug targets within a few weeks compared with the traditional process to pinpoint target areas, which can take up to one year.
[Valo Health and Khosla Ventures Acquisition Co. to Combine and Create Publicly Traded Company Focused on Transforming the Drug Discovery and Development Process
- Valo is building a fully integrated end-to-end human-centric AI-driven drug discovery platform that aims to improve the success rates for the discovery, development and approval of new drugs
- Transaction represents a pro forma market value of approximately $2.8 billion for the combined company
- Valo anticipates the pro forma cash balance of the combined company will be approximately $750 million before expenses, including existing Valo cash, the gross PIPE proceeds and the net cash held in KVAC's trust, assuming no redemptions
- $168.5 million fully committed PIPE from leading institutional investors including: a leading integrated healthcare delivery network, Khosla Ventures, NG MGG Strategic, Caz Investments, and returning investors Koch Disruptive Technologies, Flagship Pioneering, Public Sector Pension Investment Board (PSP), Invus, State of Michigan Retirement Systems, HBM Healthcare Investments and Longevity Vision Fund
- Net proceeds expected to be used to accelerate the development of Valo's proprietary technology platform and further scale its therapeutic and data strategy programs
- Valo's Opal computational platform is powered by human-centric data comprising significant longitudinal data and omic data to enable discovery, design, and development of drugs on a single platform spanning the full therapeutic discovery and development process
- Valo and Khosla Ventures Acquisition Co. believe AI and high throughput automation, melded with traditional drug development expertise, have the potential to transform the drug discovery and development industry
- Samir Kaul, Founding Partner and Managing Director at Khosla Ventures to join Valo's Board of Directors following the completion of the business combination]
We may even see a massive M&A deal forge between a pharma giant and a startup like Valo. Pharma's vote of confidence in AI drug discovery startups has made them need-to-have for drug innovation—which means a company like Pfizer or GlaxoSmithkline could scoop up a company like Valo over the next few years to bring their AI capabilities in-house.
Conclusion: Fake AI SPAC vs. Real AI SPAC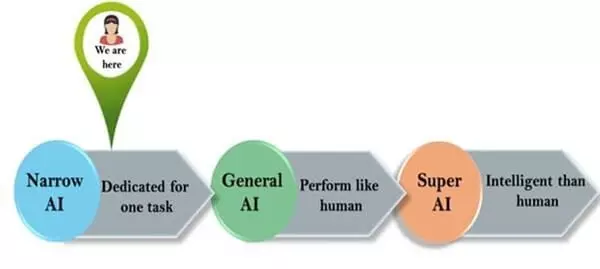 Narrow AI is just Predictive Data Analytics mixed with Predictive ML/DL algorithms, which are all about the statistical learning theory dealing with the problem of finding a predictive function based on data, which includes supervised, unsupervised, online or reinforcement learning.
The machine "learning" implies inferring the function that maps between the input and the output, where the learned function can be used to predict the output from future input. It has no intelligence, zero understanding, nil reasoning, but just simulation and imitation, playing with spurious correlations instead of substantial causation.
The Real AI SPAC, as it is described in the sources, is what the new post-pandemic global market is in urgent need of change.