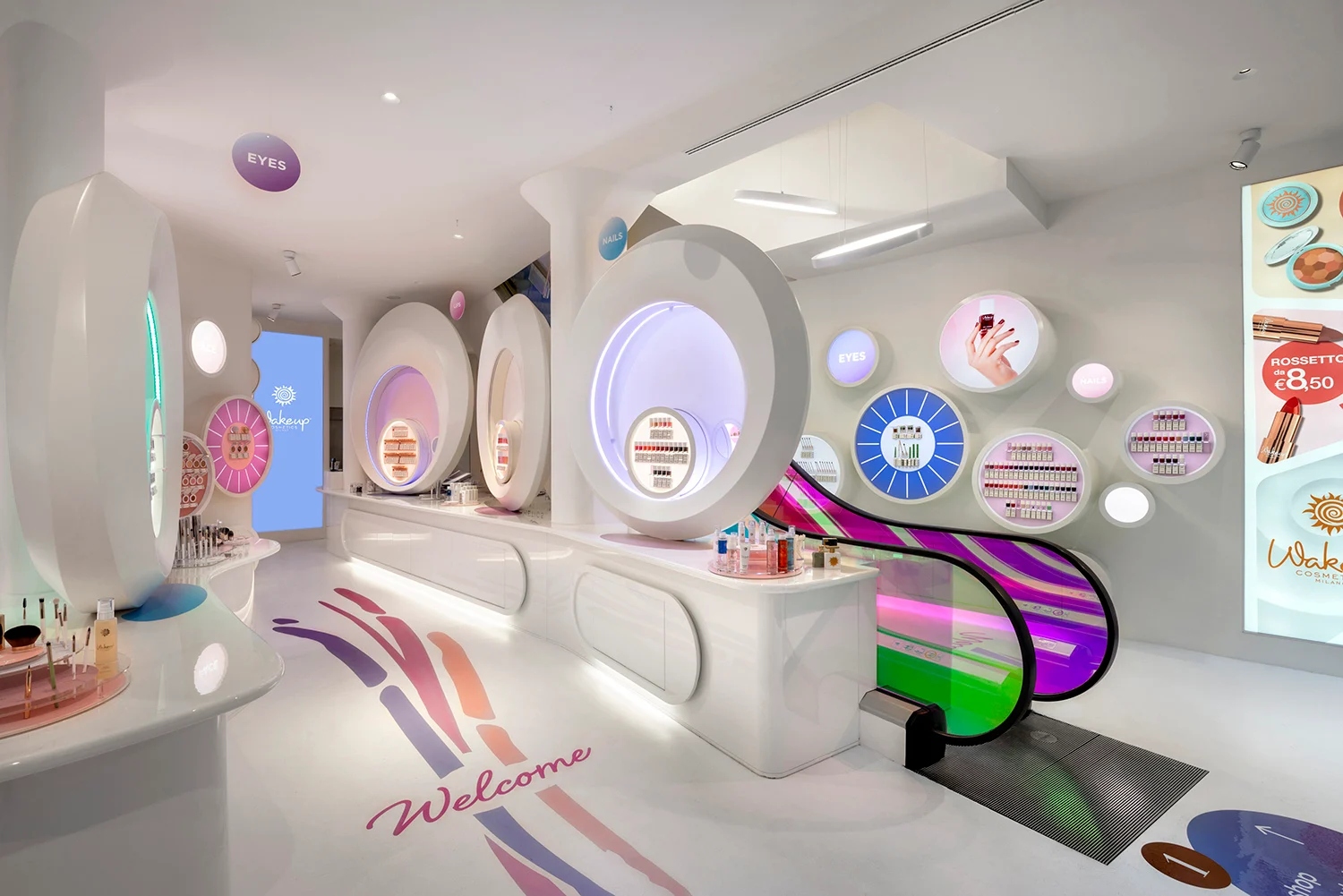 The future of retail includes embracing modern technology such as IoT, Web3, artificial intelligence and the metaverse.
When you think about brick-and-mortar retail, you may not be thinking about hyper-personalized shopping experiences, digital shopping engagement tools, blockchain-powered commerce, autonomous delivery, virtual shopping, contactless self-checkout, or supply chain visibility.
These might seem like topics for e-commerce only businesses, but that is no longer what the present or future holds.
Before I go any further, let's keep in mind that the retail industry is a behemoth in all societies. All of the goods and services we purchase as individual consumers come to us in a variety of different ways. Decades ago, we went to brick-and-mortar stores after being prompted by a coupon in the Sunday paper, listening to a radio commercial, or seeing an ad spot on television.
In the early 1990s, a technology-enabled disruption happened with the commercialization of the Web and the option to actually purchase goods or services via web pages, and eCommerce was born.
As an important side note, in 1993, I gave a speech to the annual convention of bookstore owners as I was launching my book Technotrends. In that speech I used my Hard Trend methodology to predict that within two years there would be a virtual bookstore, and before the two-year mark, Amazon was born. Obviously, Hard Trends provide visibility to future disruptions and opportunities.
It didn't take long before battle lines were drawn between brick-and-mortar retailers and eCommerce companies. But as my Hard Trend Methodology points to, we know a future certainty is that we have reached a new stage once again, one that represents amazing new opportunities for both brick-and-mortar retail and eCommerce.
E-Commerce Merges the Human with the Digital
We live in both a human and a technological world. There is a heavy human interface in the retail industry, as it is people who buy products and serve other people in both customer-facing and virtual ways.
But we also have an increasingly important technology element in retail, and exponential thinking about new technologies will allow leaders to redefine the future of retail and, most importantly, dramatically elevate the customer experience yet again.
We have more opportunity today than ever before not just to change, but to truly transform the entire retail experience. I've said it before, and I'll say it again: The good old days of retail are not behind us; they are actually ahead of us, but they don't look like the past.
This transformation is similar in size and scope to how different the landscape became when the Web transformed how we buy the products and services available to us, rather than just seeing an ad and being led to a physical store. To fully see the new landscape, it's important to use an Anticipatory Mindset based on Hard Trend future certainties to see what is headed our way, most notably digital disruptions and related transformations that require brick-and-mortar retailers to have a digital first strategy if they want to thrive in the years ahead.
Recently, I interviewed an eCommerce thought leader, Richard Berkman, who leads the global digital commerce practice at IBM. In doing so, we explored the challenges for retailers, and moreover how the next level of commerce represents the next big transformation taking place in the industry.
The Top Challenges For Retailers
When looking to anticipate where industries like eCommerce and retail as a whole may head in the near future, highlighting the biggest challenges retailers are currently facing is the ideal place to start.
We are used to talking about eCommerce as we have known it so far. As a consumer, you click and you buy, followed by a speedy delivery service. This cycle then repeats when you run out of something, an item needs to be replaced, or you have a new want or a need. And prior to 2020, the future landscape of eCommerce and the retail industry was slowly but surely shifting to what we are calling "intelligent commerce," facilitated by artificial intelligence and other digital technologies that work as our personal assistant.
When the global pandemic struck in 2020, it forced everybody on the planet to lock down and go digital. In doing so, eCommerce and over 20 other major technology categories accelerated by 10 years in less than one year! That is beyond exponential! And in light of this shift, we aren't going backward. Online retailers like Amazon certainly benefit from this massive digital boom, but what about the hundreds of thousands of retail businesses that do not? What challenges do they face thanks to the 2020 pandemic and new disruptions in eCommerce in general?
In the simplest terms, eCommerce can no longer be seen as something retailers have on their website, something that works OK and often looks like everyone else's offering. Instead, digital technology in commerce has quickly become a strategic growth driver.
Richard Berkman provided some insight into this:
"You must drive and deliver your message and your information at the preferred channel with the right information at the right time with the right content," Berkman states. "We want to empower customers with expanded business models.
"This includes marketplaces, subscriptions, B2B2C in many cases, and the only way to build this customer loyalty in a very dynamic and ever-changing world of engagement options is to have a clear focus on the experience you're delivering your customer and your capability to deliver those experiences across channels for where it is relevant that your customers are engaging."
The opportunities are there, and everyone, including your competitors, has the chance to both see and act on them. The treasure map is not a secret; it just may be written in a language you as a traditional retailer or small eCommerce business are not used to.
Berkman notes that "retailers must stay laser-focused on providing shopping experiences that are trusted, convenient, and relevant. Understanding how to best provide those in a contextual way that informs and approaches toward personalization, channel automation, visibility, and new business models are all expanding with our clients."
"Applying intelligence to commerce becomes the only way to ensure that each interaction consistently delivers on the brand promise of retailers today," Berkman concludes.
Using Intelligent Commerce as a Growth Engine
With all of the technological innovations taking place, coupled with the fact that we're in a truly transformative phase where technology is already enabling the transformation of business processes, what can retailers do to make intelligent commerce their new key growth engine?
In my interaction with Richard Berkman, there were three key growth levers in intelligent commerce as a strategic growth engine that we noted:
Experience Orchestration

Data-Driven Insights

Ecosystem Evolution
First focusing on experience orchestration, this is where physical retail stores truly suffered, prior to the pandemic. If a customer patronized a retail store like Sears, JCPenney, or Target, many times they were met with lackluster experiences or customer service. Digital technology can help in this case, even outside of eCommerce, in everything from interactive training to connecting staff to an AI application that feeds them information quickly based on a customer's question.
Secondly, data-driven insights are huge. What you don't know, and the insights that retailers are looking for, is always in the data, giving you the anticipatory edge on a silver platter.
Berkman says, "Don't try to 'boil the ocean,' as there is a never-ending list of channels, features, and functions, but that does not mean all of them are right for a specific business."
Understanding your customer, their needs, where they are, and where they aren't channel-wise comes from data collection, as well as via AI, Internet of Things (IoT), and other readily growing and available digital technologies.
"The moral here is that you don't know what you don't know, and the insight — it's all in the data," Berkman adds. "The information is there for you, and leveraging it starts with experience orchestration and understanding what kind of experiences you need to orchestrate for your clients so that you match their best experiences that they have everywhere else. It means you're leveraging data and insights effectively."
Then finally, ecosystem evolution pertains to applying the above strategies and delivering on them for your customers. Here is where the concept of omnichannel intelligent commerce comes into play, a process in which your business utilizes different forms of new technologies to provide a seamless customer experience.
As an executive at a technology company, Berkman agrees, stating, "Adequately leveraging that data and the customer insights you garnered in data collection means you have an ecosystem that can quickly and easily evolve to take advantage of new intelligence and technologies as you go forward."
This is directly related to transformational digital technologies, such as AI, IoT, and so much more. The application of these technologies should extend beyond customer-facing applications and improve your in-person operations as well, because as I mentioned earlier in this article, there is a human and technological side to the retail industry.
Looking Ahead: The Future of Retail
Change is not slowing down; it is speeding up! If you do not make digital, transformational change your best friend, it will end up being your worst enemy! You want to use it to your advantage, and one way to do this is to look at the technologies shaping the future.
One of the things that we know is something both Richard Berkman and I referred to as the "action of everything."
Berkman states, "In terms of trends and what we see in the future of commerce, especially for retailers, there's social commerce, sustainable commerce, business model expansions, subscriptions, marketplaces — the list goes on and on in terms of the opportunity that's out there. As you can imagine, whether it's 'as a service,' all of those things are creating data."
To sum this statement up: We are putting intelligence in virtually everything. It could be a sidewalk, a vending machine, or any other common item in everyday life — we are making it intelligent and able to network.
The beautiful thing is, thanks to virtualization, you don't have to own all the tools, which is where Berkman's reference to "as a service" comes into play. Whether it's AI-as-a-service, blockchain-as-a-service, or any other form of technology, you don't have to physically have it all as something that you own on premise. You can use it as a service, which means any of us can truly transform business processes going forward.
Berkman continues, "The key here is understanding that digital commerce is strategic, and it requires the full blending of business, and that means industry focus specific to you, with experience in design and technology. All three legs of those stools are needed to deliver on the great experiences that our clients' clients, customers, expect, and that you deliver on your brand promise."
The lesson, above all else, is to approach the future of retail, transformative digital technology in eCommerce, and most importantly, an elevated customer experience, with an anticipatory mindset. Too many companies implement a wait-and-see mentality, where they believe they can just wait out digital disruptions and keep the status quo intact because "that is what has worked" or out of comfort.
Trust me and Richard Berkman when we say that you should not have a wait-and-see strategy! As you evolve with the new intelligent retail landscape, you need to make sure you put digital and physical together as one commerce strategy that will provide your customers with an elevated customer experience that gives them a strong reason to shop with you.