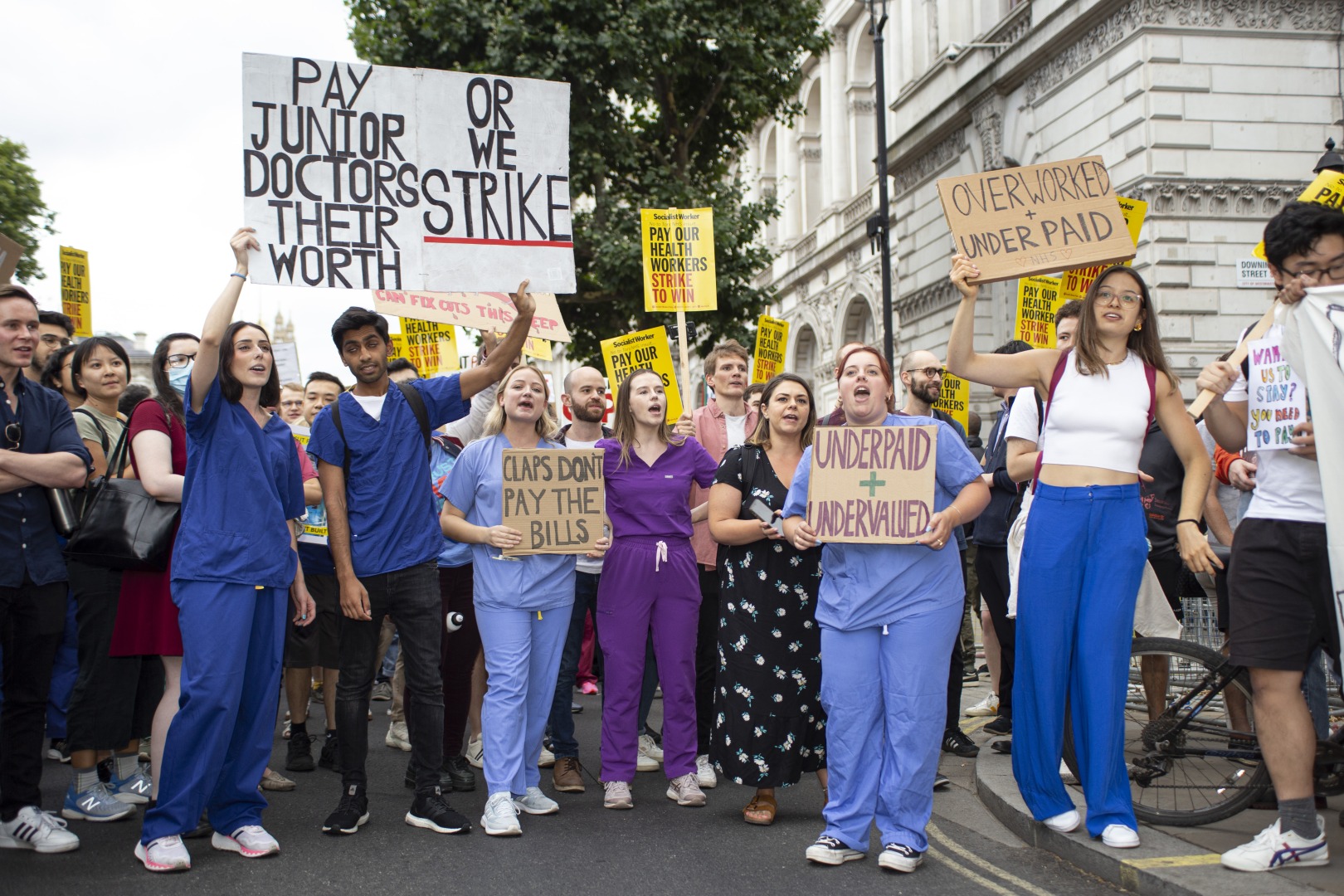 The recent 72-hour strike by junior doctors in England has led to over 175,000 patient appointments and procedures being cancelled.
Nurses, ambulance drivers, and physiotherapists have all gone on strike this winter.
The 72-hour strike, which began on Monday, quickly became the most disruptive NHS strike this year.
According to NHS Digital data, 15,000 nurses resigned from the health sector in the fiscal year ending March 2022, with 4,000 citing work-life balance as a reason for leaving.
Tens of thousands of junior doctors went on strike this past Thursday at 8 a.m. as part of a severe wage dispute with the UK government.
While emergency care was provided by consultants, many planned, non-urgent treatments had to be rescheduled, including hip and knee operations, routine check-ups for patients with diabetes, and even cancer patients. This strike has inevitably impacted efforts to tackle the Covid backlog, as there are still 7.2 million people on waiting lists for treatment in England.
The ongoing pay dispute between doctors' leaders and ministers has resulted in this strike, with the British Medical Association (BMA) calling for a 35% pay rise, which they argue will reverse 15 years of cuts. Junior doctors represent nearly half of the medical workforce in England and include those who have just graduated from university through to some with 10 years of experience. Two-thirds of junior doctors are members of the BMA.
While nurses, ambulance workers, and physios have also staged strikes this winter, they have now paused action while they consider a pay offer from the government. The BMA is set to meet ministers next week for preliminary talks, which might pave the way for more substantive negotiations.
The strike by junior doctors highlights the ongoing crisis in the NHS, as the backlog of patients waiting for treatment continues to grow. The government must find solutions that will help both doctors and patients, as doctors continue to face cuts in pay while being expected to work long hours under difficult conditions. It is important for doctors to receive fair compensation for their essential work, and for the government to provide adequate funding for the NHS to ensure that patients receive the care they need in a timely manner. The ongoing crisis in the NHS must be addressed urgently to prevent further disruptions and delays in patient care.
The British Medical Association (BMA) is expected to meet with government next week to begin wage discussions.