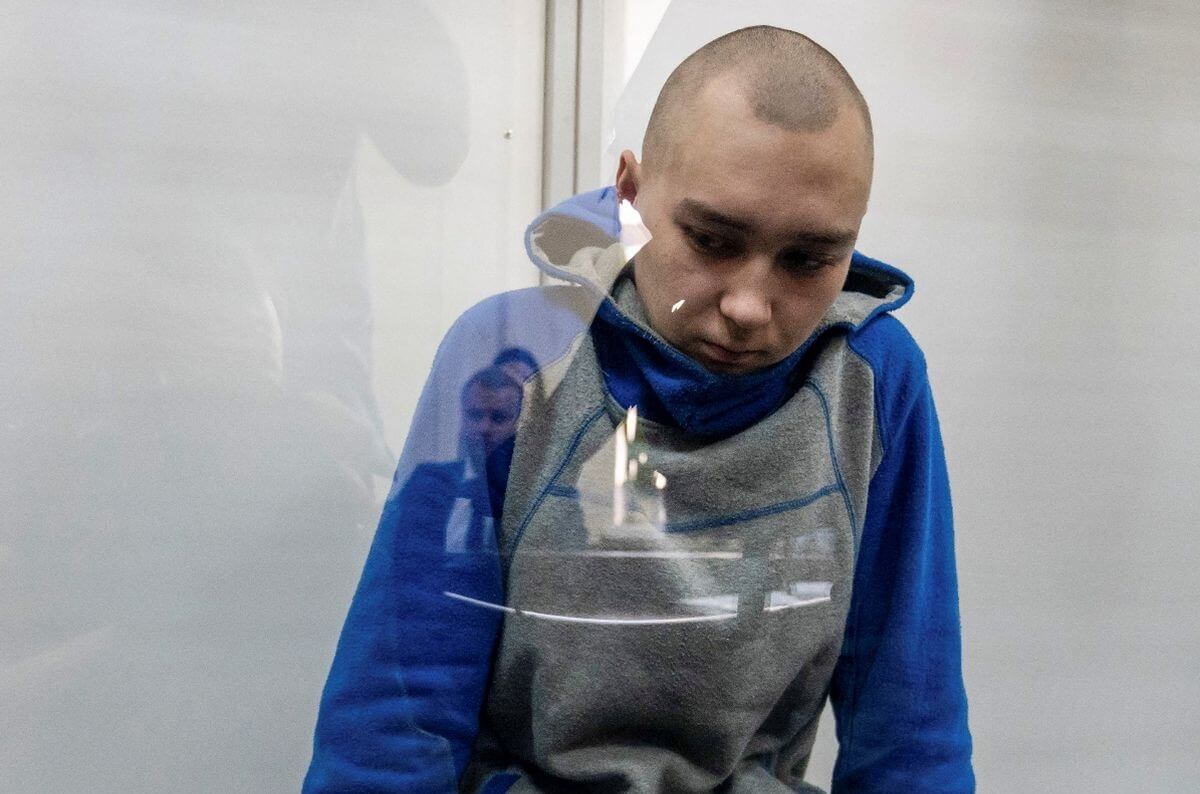 A Ukrainian court has jailed Vadim Shishimarin, a Russian tank commander, for life over killing a civilian.
This is the first war crimes trial since the start of the Russian invasion in Ukraine.
Imposing the life sentence, Judge Serhiy Agafonov said Shishimarin had carried out a "criminal order" by a soldier of higher rank.
Vadim Shishimarin, who was wearing a blue and grey hooded sweatshirt, watched proceedings silently from a reinforced glass box in the courtroom this morning.
The soldier's defence lawyer, called Viktor Ovsiannikov, told the court that Shishimarin had initially refused to fire the shots, but was given the order twice and so carried out the shooting out of fear for his own safety.
Ukrainian state prosecutors said the soldier was among four other Russian servicemen who fired at and stole a privately owned car in order to escape after their column was targeted by Ukrainian forces.
Russia has denied its troops targeted civilians during the invasion, despite a wealth of evidence to the contrary, while Ukraine says more than 11,000 crimes may have occurred.
Shishimarin was prosecuted under a section of the Ukrainian criminal code that addresses the laws and customs of war.
Captured soldier Sgt Vadim Shishimarin was convicted of killing Oleksandr Shelipov, 62, in the north-eastern village of Chupakhivka on 28 February.
The Security Service of Ukraine, which is known as the SBU, posted a video earlier this month of Shishimarin describing how he shot the man.
Kateryna, the victim's widow, said she was still coping with her husband's death.
He admitted shooting Mr Shelipov but said he had been acting on orders and asked forgiveness of his widow.
Shishimarin was born in Ust-Ilimsk in the Irkutsk Oblast. He was a sergeant and a commander in the Russian Army's Kantemirovskaya Tank Division.
At the time of the killing, he and other soldiers were travelling in a car they had seized after their convoy came under attack and they became separated from their unit.
Moscow also accused Kyiv of staging the atrocities in a bid to smear its forces.
Russia has not immediately commented on the verdict of the trial.
"The cause of Shelipov's death was a shot in the head that resulted in crushing of the skull," the court added. The sentence may be appealed within 30 days.