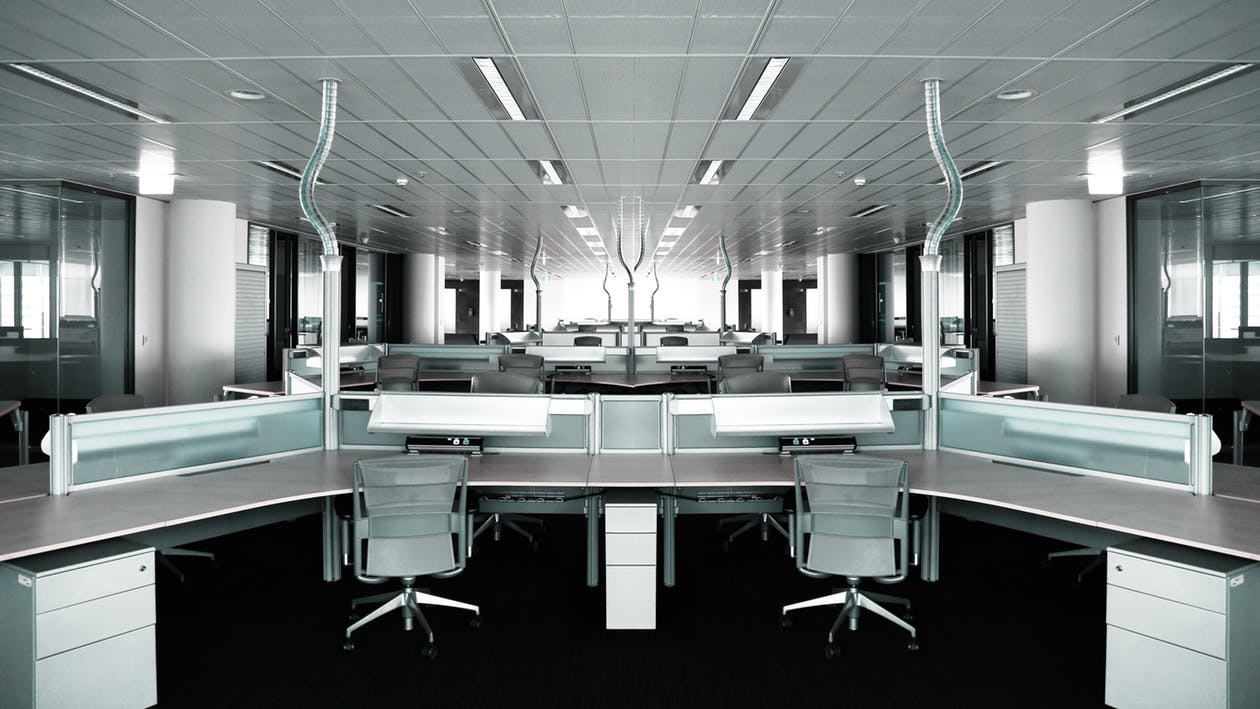 Recent study reveals the safest and most dangerous places to work in Great Britain.
New data from the Health and Safety Executive, analysed by the accident at work claims team at Express Solicitors has revealed the safest and most dangerous places to work in Great Britain. Plus, the impact of lockdowns on workplace injuries.
Additional data, charts, images, and graphs are available to support this article here.
Quick Overview
· Workplace deaths are the highest in England they have been in the last five years, despite lockdowns.
· The South West of England saw the highest amount of workplace deaths, whilst the North East saw the lowest.
· East Yorkshire is the most dangerous region to work in, followed by West Midlands, Manchester, West & South Yorkshire, Merseyside, Kent, Lancashire, and Essex.
· London is the safest place to work in Great Britain, followed by Reading, Windsor and Maidenhead, Brighton and Hove, and Bristol.
East Yorkshire is the Most Dangerous Place to Work in Great Britain
In 2020-2021 you had a higher chance of getting injured at work in East Riding of Yorkshire, than anywhere else in Great Britain. 464 accidents occurred per 100,000 employees, a 20% increase year-on-year, despite lockdowns.

Fractures, sprains and strains, contusions, and lacerations and open wounds were the most commonly occurring causes of non-fatal injuries across Great Britain.
The North featured heavily in the top 10 most dangerous places to work. This included North Lincolnshire, Redcar and Cleveland in North Yorkshire, Northamptonshire, and Northumberland.
South Gloucestershire and Thurrock in Essex were the least safe Southern areas and the only ones in the top 10.

Damian Bradley, Partner at Express Solicitors commented: "As leading accident at work solicitors in the North of England, we are well aware of the significant risks posed by many jobs that are more frequently conducted in the Northern part of the country. With more people employed in higher-risk sectors such as manufacturing in the North West and North East, it's no surprise we see high rates of accident and injury here. The best things you can do to stay safe in these sectors are to make sure you have the correct safety equipment, that you have been given adequate training, and that equipment is properly maintained."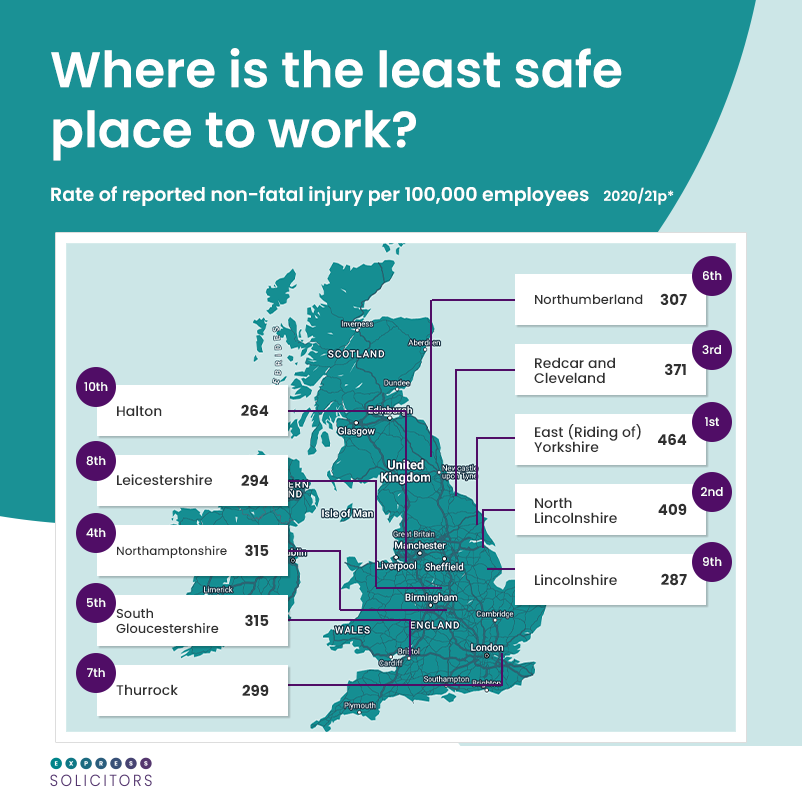 The South West is Even More Dangerous
Whilst the North of the country had the most non-fatal accidents, the Southwest had the highest amount of fatal accidents. 23 fatalities were recorded from "multiple injuries", "concussion and internal injuries" and "injuries not elsewhere classified".
This was almost double the amount of 2019/20 deaths in the region.
The Southwest was followed by Yorkshire and the Humber, with 18 workplace deaths. Scotland saw 17 deaths, whilst Wales was the safest country, with 9 deaths recorded.
The North East was the safest place with a single death recorded, the first time numbers have been this low in the last five years.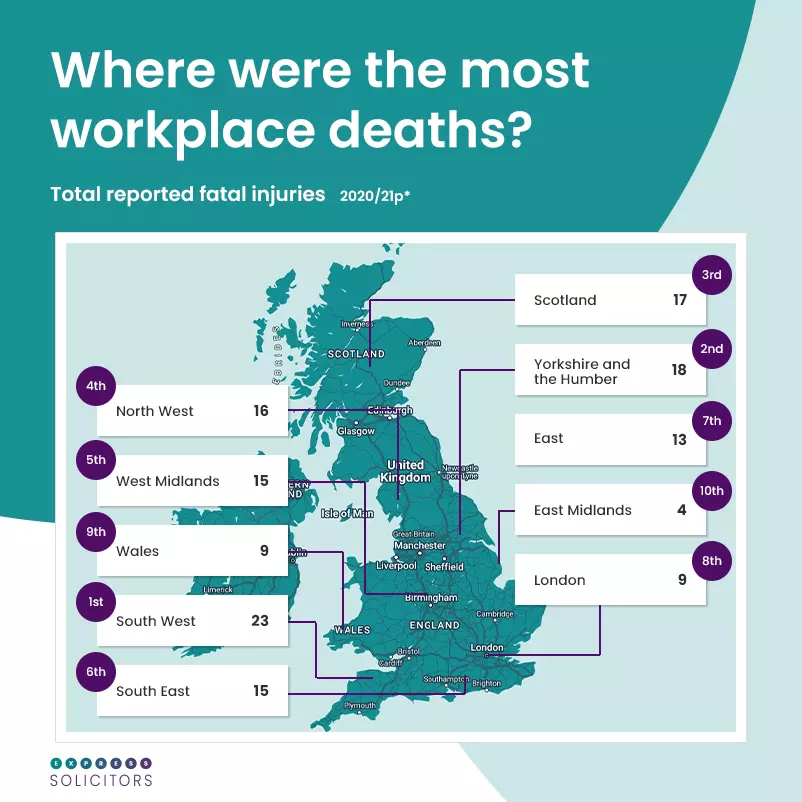 London is the Safest Place to Work
If you lived in Inner London, you had a 0.07% chance of being injured at work. This made it the safest place to work last year, with 65% less accidents at work than the average for Great Britain.
However, due to the large population, London had more accidents at work than anywhere else, with 5,065 recorded in total. If everyone injured in London in the last year were to claim for their accidents then over £55million in accident at work compensation could have been claimed, based on the average compensation Express Solicitors recover for successful claims.
Reading, Windsor and Maidenhead, Brighton and Hove, and the City of Bristol also ranked in the top five safest places to work. They had less than half the national average number of reported non-fatal injuries per 100,000 employees.
In the North, York is the safest place, whilst in the Midlands, Derby is safest.
When asked about these numbers Damian Bradley, Partner at Express Solicitors commented: "The data we've analysed is based on reported accidents, but sadly many people choose to suffer in silence without reporting their injuries. If you have had an accident, no matter how small, make sure you report it and speak to experts to see if you could be entitled to compensation.
The risk of danger should never be downplayed. We must always remain vigilant of the potential for accidents, no matter where we live. So even if you live in one of the safest places to work in Great Britain, please don't let your guard down."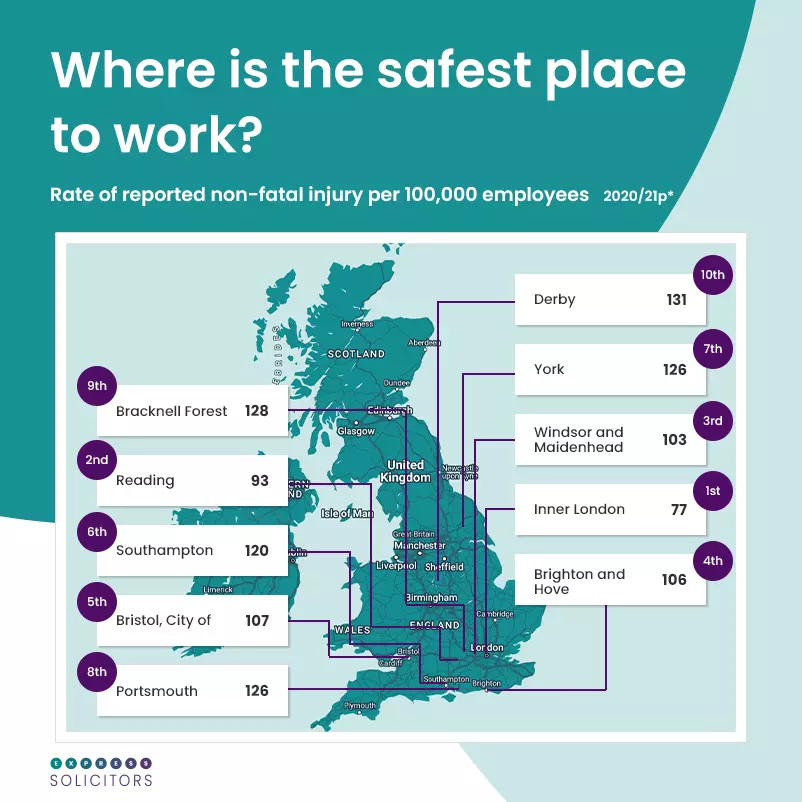 During Lockdowns Accidents Were Lower than Ever
Lockdowns and employees on furlough, led to a 20% fall in reported accidents at work from 2019/20 to 2020/21. This was "largely in line with when and where the restrictions fell" according to the HSE.
In fact, all of the top 20 regions with the most reported accidents had lower amounts of injuries year-on-year.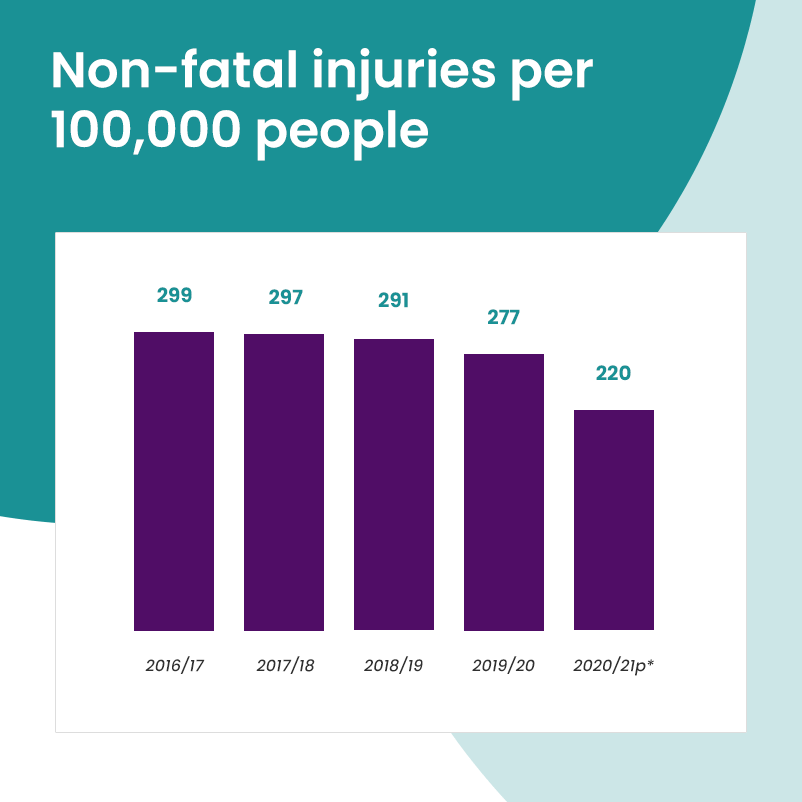 Damian Bradley, Partner at Express Solicitors, explained that working from home doesn't entirely remove any risk "This data makes a very strong argument that either employees working from home are safer, or that workplace accidents are not being reported by these employees. As we will only know the reported injuries, companies should ensure employees know that a workplace injury can still occur at home and must be reported. The safety of employees must be paramount wherever they work."
All data is based on the "Reporting of Injuries, Diseases and Dangerous Occurrence Regulations reported Injuries by country, region, and unitary or local authority" by the Health and Safety Executive.*
*2020/21 data is based on provisional data and averages are based on our own analysis of accident at work cases between September 2020 to August 2021 which is £10,892 compensation per claim.
All content is based on our own analysis of the data and does not constitute an endorsement of our analysis by the Health and Safety Executive or any other body.
Express Solicitors has over 400 employees and is ranked in The Lawyer Top 200. Its lawyers and the firm are recognised in The Legal 500 and the firm is noted in Chambers and Partners. Express Solicitors specialise in personal injury and accident claims, cycle accident claims and serious injury cases.
The partners of Express Solicitors are regularly featured in the news as leading authorities on personal injury law and the rights of injured people.
For more information, contact Express Solicitors on 0161 904 4660 or visit www.expresssolicitors.co.uk.