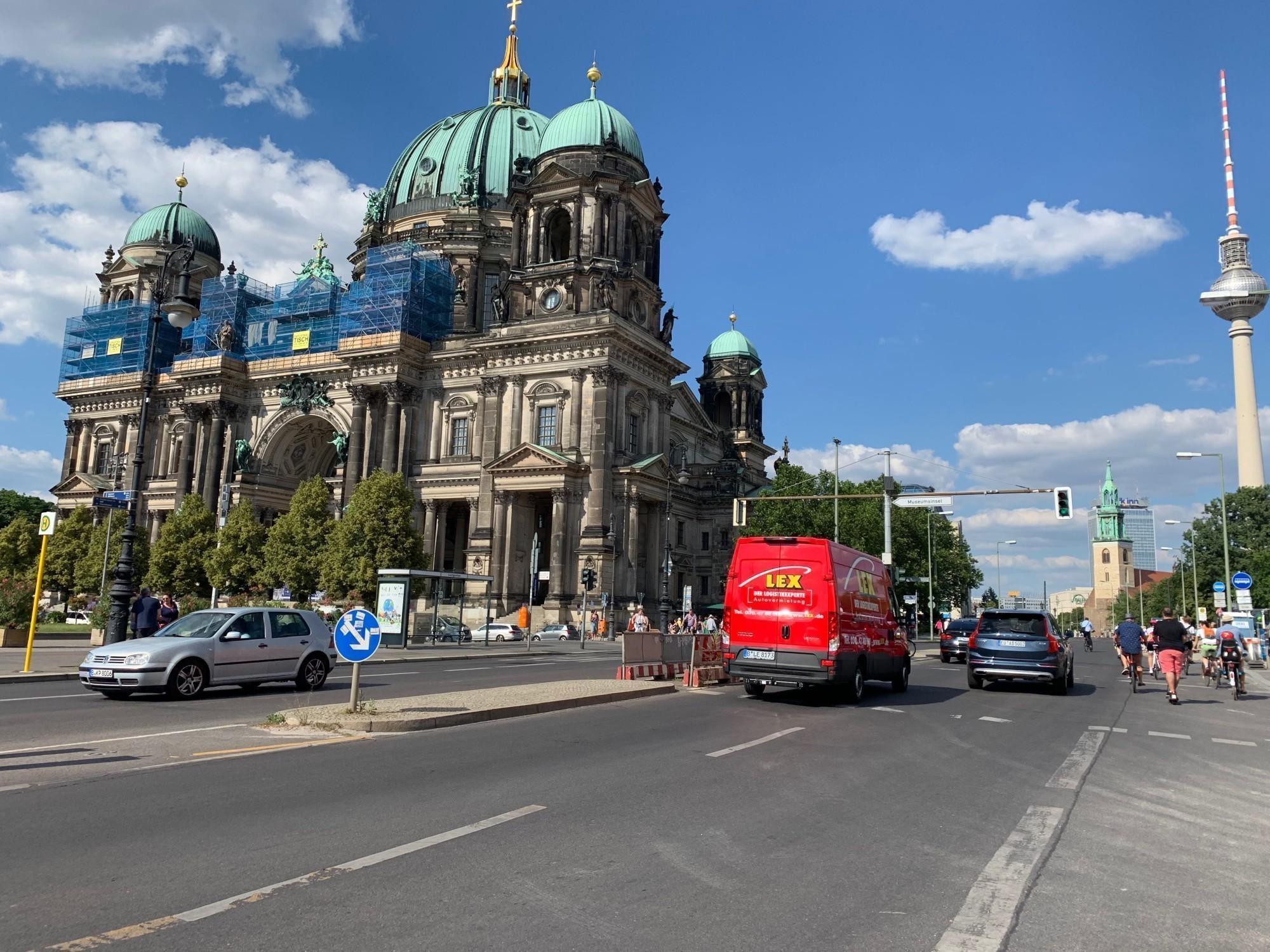 On June 18th, Lime launched scooters in Berlin and I was there to support the team. It was one of the most exhilarating and exciting times of my professional career. I had never been to Berlin, I was meeting new teammates, and I got to scoot everywhere.
Berlin was one of the most organized places I have visited, — Japan as a whole definitely wins — everyone was respectful, and the infrastructure was incredible. I took a Lime scooter 44.4 miles over the course of about 16 days. I took the train or an Uber when I was in a rush or had to travel 5+ miles.
Fortunately, I was able to use a Lime scooter as my main transportation method and was able to see most of the city. Sitting in a car or a train is not exciting. I want to ride, feel free, and get to be a part of the environment I exist in.
Berlin is rich in both culture and history and there is no shortage of places to visit. On the historical side, I was able to visit the old site of the Fuhrer Bunker, the Memorial to the Murdered Jews of Europe, and the old SS Headquarters. It is important to remember history to gain an understanding of what happened so it does not happen again, as well as deepen your empathy for human beings. We have done a lot of messed up things in our short history and we need to connect and understand each other to better our world. It blows my mind that we are the only known civilization in the world to have intelligent species and we still cannot get along.
Anyway, I wanted to share the top 10 places I went on a Lime scooter, which focuses on places that make for a great scooter ride.
1. Victory Column
If you are a history nerd like me, then you would be excited to learn that the Berlin Victory Column was erected in 1873 to commemorate the Prussian victory in the Danish-Prussian war. On the top, you have Victoria, the Roman goddess of victory.
The victory column is located in the middle of the Tiergarten park, which is absolutely beautiful. The column is located in the center of a roundabout that has four massive roads leading up to the statue. My favorite scooter ride was from the victory column towards the Brandenburg Gate, which is also located near many other tourist attractions.
2. Brandenburg Gate
The Brandenburg Gate is one of the most famous tourist attractions in Berlin. It is a beautiful gate to scoot up to after leaving the victory column. It is centrally located next to the Reichstag (government) Building and an abundance of other locations. After you stop and take photos at the Gate it is difficult not to relax for a minute and people watch. I visited the Gate at least 5 times during my trip as it was a central point for me when traveling to other destinations. One place I went to afterward was the Berlin TV tower.
3. Berlin TV Tower
At 368m or 1,267 feet, the Berlin TV Tower is the tallest structure in Germany and the third tallest in the European Union. You can buy tickets to eat at the revolving restaurant or have views of Berlin and Beyond. I thought about going to the top but I was having too much fun on my Lime scooter and going indoors was not an option.
4. Berlin Wall
Over the years I have studied WW2 fairly significantly but my knowledge of the Cold War is behind. The Berlin Wall memorial, with an information center, was a bit out of the way from the city center but well worth it. There were sections of the wall still intact and it was interesting to learn about the issues Berlin faced after WW2 and how divided the city was.
5. Tempelhof Airport
I cannot tell you how many WW2 documentaries I have seen that featured Tempelhof Airport and the many conspiracies around it. Before WW2, this airport was to serve as the gateway to Berlin. It is massive and is 300,000 square meters (900,000 square feet). I scooted through a few parks and neighborhoods to get there. This ride was different because of how out of the way it was and you truly were able to view how Berliners live their lives. The cafes, grocery stores, parks with table tennis and soccer, graffiti artists live in action, and more. Tempelhof was eventually a functioning airport but never lived up to its size or vision. It eventually became a US airbase during the Cold War, was shut down as an airport in 2008, and now hosts offices, large events, and you can even venture around Tempelhof Park, where the runway area is now accessible and there is a range of activities to take part in. I highly recommend the 2-hour tour around the building.
6. Cocolo Ramen
Foodies, commence. I am not that big of a foodie and I am a major history nerd, so that is where my content gears towards. However, Cocolo X-Berg Ramen was one of the top 5 ramens I have ever consumed — and I have been to Japan. As a vegetarian, it is difficult to find veggie ramen and Cocolo nailed it. I ate here 4 times during my trip. The ramen was rich, the noodles wavy, and my mouth waters just thinking about it. You can also hang out by the Landwehr Canal after, which is where people frequently bring some food and drinks and relax. I highly recommend you sit outside.
7. Haubentaucher
Lime hosted a festival and I took part in a "Parade" to the festival with other Lime riders. I had a blast meeting Lime users and being able to ride as a squad through the streets of Berlin. About 200+ of us rode to the venue together and I felt a sense of community. It was cool to see everyone smiling, having a good time, and respecting the road. The Haubentaucher was a really sweet venue that had food, drinks, frozen yogurt (which is apparently a big thing there), a massive pool in which I definitely took a swim, and a live DJ. The environment was fun and these activities take place regularly and I highly recommend relaxing here on a hot day with your friends.
8. Reichstag Building
We still have a little more history to talk about. The Reichstag Building was meant to house the German government. In 1933, the building suffered from severe fire damage and mostly went unused until the 1960s and was fully refurbished in the 1990s. You can tour the building, but, unfortunately, it was sold out the day I had time to visit. I looked at photographs and the inside of the building looked beautiful and rich in history. I still want to visit and one day I will. At the very least I enjoyed the landscape view from a distance of the building in the photo above.
9. Mitte
One of the coolest and hippest neighborhoods in Berlin is Mitte. Many of the locations I have mentioned above are located in Mitte. However, I want to tell you about a specific experience. One night I was scooting around the Brandenburg Gate and by this point, I knew Berlin well enough to get around without a GPS — using tourist attractions as my markers. I decided to scoot west until I found a restaurant I felt like eating at. It was a beautiful night and being Italian, I can never turn down caprese or pasta. Therefore, I stopped at a restaurant called Due Fratelli. It was pretty good Italian food, but I would not go out of my way for it. I sat outside on a bench facing the street, drinking a beer, and taking the neighborhood in. This experience was both freeing and relaxing. I then took my scooter roughly ~3 km to my hotel and called it a night. By this point, I am sure you know I took the Victory Column path. I always did.
10. East Side Gallery
The East Side Gallery is an open-air gallery in Berlin. It consists of a series of murals painted directly on a 1,316 m (4,318 ft) long remnant of the Berlin Wall, located near the center of Berlin, on Mühlenstraße in Friedrichshain-Kreuzberg. It was cool to see a historical moment turned into an art installation. There are many provocative photos in the Gallery and some friends and I walked our scooters as we looked at each mural.
Overall
Berlin is an incredible city to visit and I had an absolute blast. I truly appreciated the directness of the locals, the welcoming culture, and the overall vibe of the city. I felt very safe, it was easy to get around, and there is a ton to do and see. Hopefully, this is not my last time in Berlin and maybe I will see you there. Feel free to email me with any questions.
Disclaimer: Brendan Barbato is an employee of Lime and his views do not represent the company and are solely his own.
About the author: Brand Community team at Lime, took a small family business from $50k to $1m in revenue in 3 years, have a failed startup under my belt (lot's of lessons), winner of the MIT Global Entrepreneurship Bootcamp, Babson College '17 graduate who lived in eTower (houses top 21 entrepreneurs on campus, alumni have raised $500m), partnered my startup with Microsoft while in school, Kairos and Forbes fellow, and played competitive Call of Duty in high school and led my team to six championships.
#tips #tech #technology #lime #mobility #transportation #motivation #leadership #