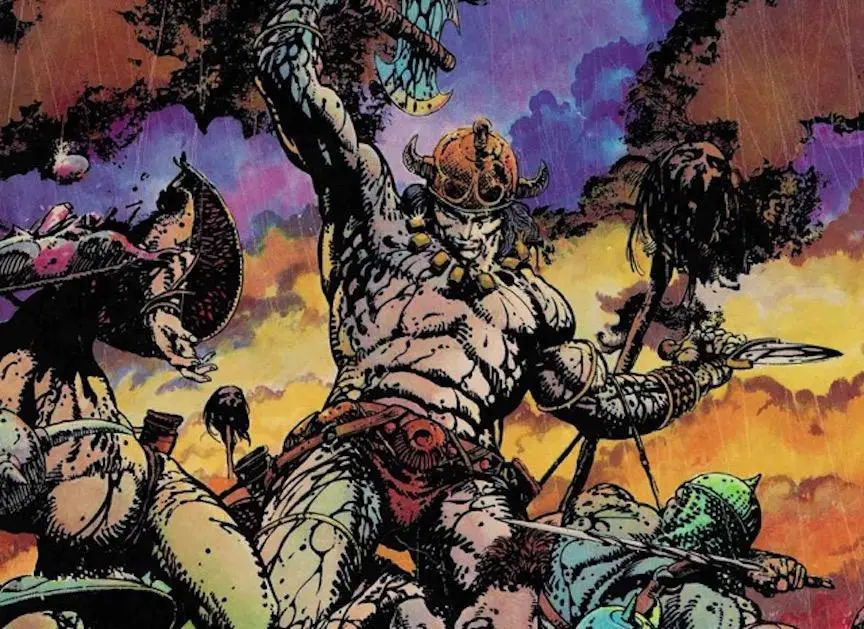 The late pulp magazine writer Robert E. Howard (1906-36) and veteran Marvel writer/editor Roy William Thomas lived decades apart, yet remain inherently connected by the legendary Cimmerian, warrior-king character Conan the Barbarian, and by two new literary biographies. Both are engrossing stories and published by Pulp Hero Press — "The World's Most Dangerous Books" as the publisher Bob McLain quips.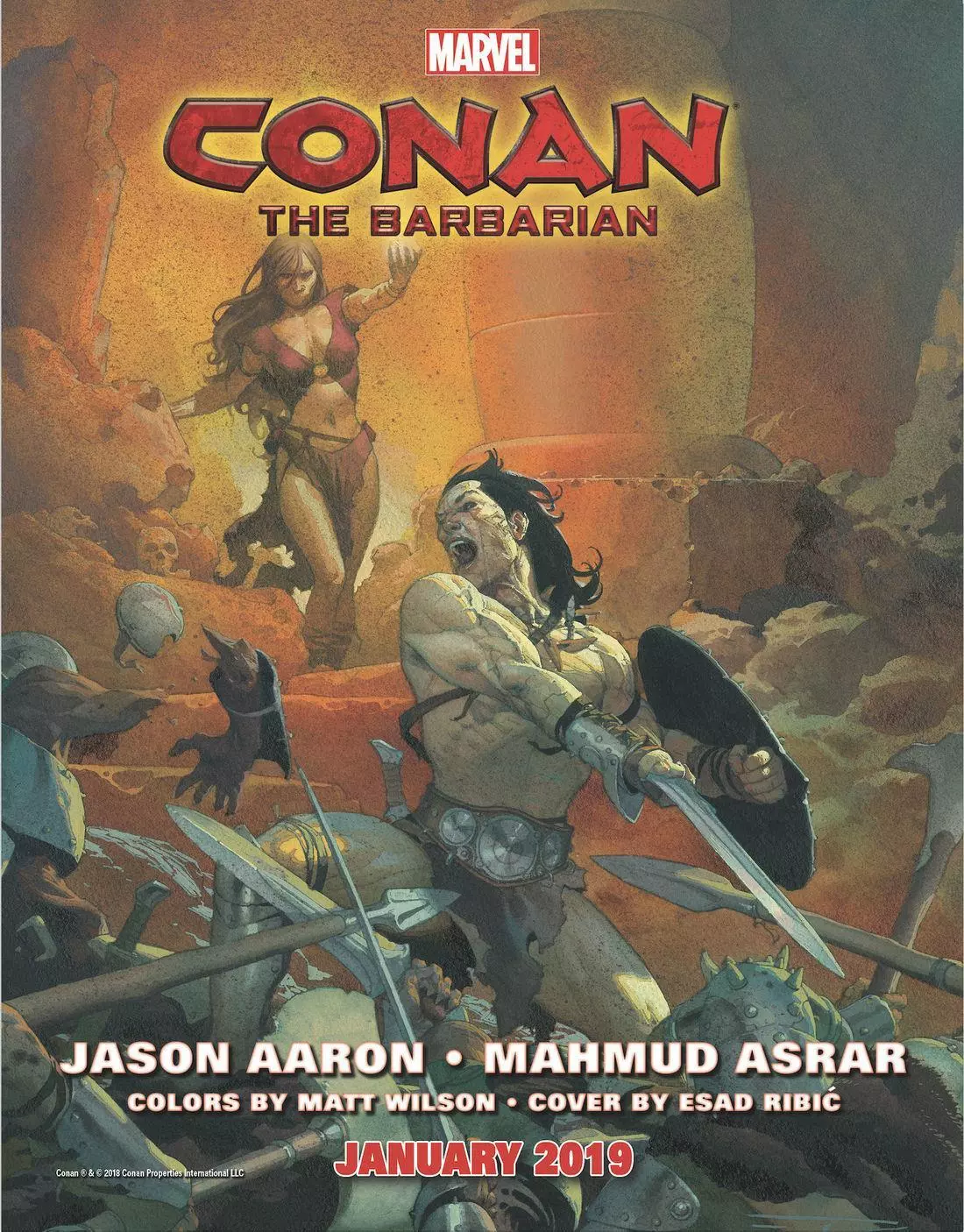 Conan the Barbarian a new ongoing Marvel comic book series


Conan the Barbarian was created by Howard, who also became known as the originator of the sword-and-sorcery genre in the 1930s. Howard's Conan first appeared in pulp-fiction magazine, Weird Tales, in December 1932 and became such a hit that Howard placed 17 Conan stories in the magazine between 1933 and 1936.
The first comic book adaptation of a Conan story by Howard appeared in a Mexican anthology in 1952. Then Marvel Comics introduced Conan the Barbarianin 1970, with artist Barry Smith and written by Roy Thomas. Shortly after this introduction, Thomas became Stan Lee's first successor as Marvel's editor-in-chief. Conan the character became a mega hit, and spawned more comics, books and several films (starring Arnold Schwarzenegger and Jason Momoa), TV programs (cartoon and live-action), video games and other media.
Now, Howard's original creation will be returning to Marvel Comics after a time being published by Dark Horse. Conan the Barbarian #1, a new ongoing series featuring the legendary fantasy hero, will drop in January 2019.
So, Howard's warrior-king saga continues on apace with avid interest. But the real-life authentic stories of Howard and Thomas in the two new "literary" biographies are just as engrossing: Robert E. Howard: A Literary Biography, by David C. Smith; and, Barbarian Life: A Literary Biography of Conan the Barbarian (Volume 1) by Roy Thomas.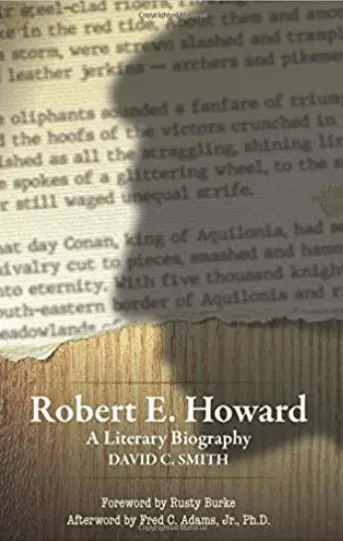 Robert E. Howard: A Literary Biography by David C. Smith


David C. Smith, a recognized author of fantasy and adventure fiction, has written a book that peers over the shoulder of Howard, a consummate professional, observing how Howard developed his sense of storytelling while working within the realities of the publishing world of his time. Smith also suggests that "young writers could learn a great deal from Howard's very practical approach."
Author Smith proposes:
"It is long past time that Howard be taken seriously as an important writer of popular American fiction. The period in which he flourished, from the 1920s to the postwar era, saw an explosion of popular storytelling in genres that were new and helping to define entertainment and thought in the mid-twentieth century — Westerns, detective and suspense fiction, science fiction, fantasy. This was the period that gave us the work of Ray Bradbury, Dashiell Hammett, H.P. Lovecraft, Raymond Chandler, James M. Cain. Howard is part of that historically important cadre of writers. He has been somewhat overlooked because he was apparently viewed as a one-dimensional writer, able to craft only violent adventure stories. But now he is being reassessed."
Smith's book delves deeply into this new critical assessment.
As for Howard's mythical creation, Conan, Smith offers:
"Conan is an archetype, and as such, he has enduring appeal. He's like a Sherlock Holmes or a James Bond, able to be revised according to the times. But his essence — and this is why we Howard fans always return to the original stories — is that he is a strong character who knows himself and, no matter what, endures. He gets everything thrown at him, but he comes through it. The appeal of this sort of character is universal. In pulp adventure fiction per se, the sort of dangers Conan faces can be very large or elemental, from monsters to court intrigues and treachery to sorcery that is very dark and unhuman. These elements work because they are so fundamental, like nightmares or the creatures Odysseus faced. We all carry these around in us. Conan lets us deal with them, at least, imaginatively."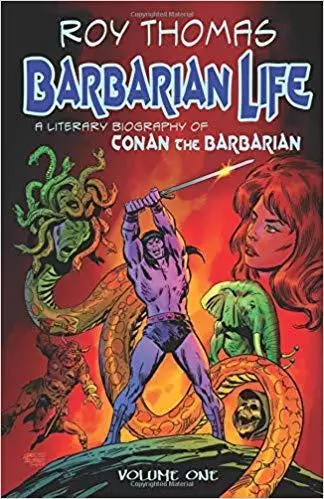 Barbarian Life: A Literary Biography of Conan the Barbarian by Roy Thomas


In Volume 1 of Thomas' book, the comic book legend, also explains why Marvel became initially interested in turning Howard's creation into a favorite for fan boys and girls worldwide:
"Both our readers and I liked the genre called sword-and-sorcery — the readers more than I, and sooner than I...I'm a Robert E. Howard fan. After I had read and digested some of REH's stories, I found myself fascinated by this rough character, and by the world REH created for him. As for the ongoing interest, A good character in the 1930s who was also a good character in the 1960s and 70s and beyond is a good character today. He is nearly as much an archetype as Tarzan or Superman. (Along the way) each artist I've worked with brought something a bit different to the table, and Conan is as open to artistic interpretation as Tarzan, Superman, Hercules, or any other fantasy hero. I hope they'll appreciate the work and care and thought that went into the early issues of 'Conan the Barbarian,' and the attempt we made to bring our own version of Robert E. Howard's creation to life, with due respect both for the original character and for the audience."
Another Howard/Conan related book published by Pulp Hero Press is Savage Scrolls: Scholarship from the Hyborian Age (Volume 1) written by Fred Blosser. This work covers Conan but also delves into much-needed coverage of Howard's other square-jawed heroes, including such equally bold but lesser-known adventurers as Kull, Solomon Kane, Bran Mak Morn, Black Vulmea, and Kirby O'Donnell. In addition, Blosser examines Howard's wide oeuvre of pulp fiction, from horror and western tales, to his less successful detective yarns.
Pulp Hero Press is a sister imprint of McLain's Theme Park Press ("The Happiest Books on Earth") which is reportedly the world's leading independent publisher of books (close to 300) about the Disney company, its history, its films and animation, and its theme parks.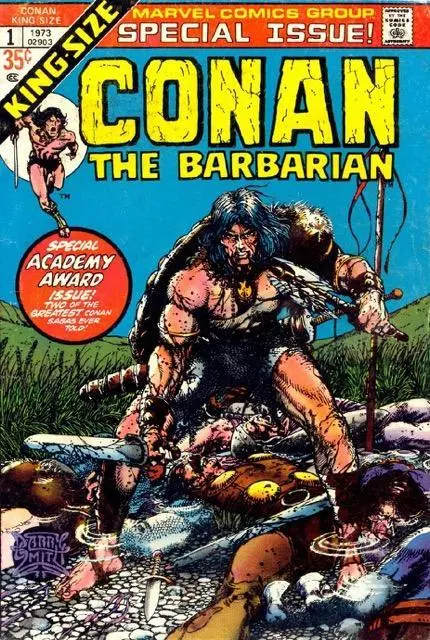 Original Conan comic book artist Barry Smith – Special Issue

Author Smith says of working with McLain, "I'm enormously pleased to be working with Bob and Pulp Hero Press. It was Bob McLain's idea originally that I write a biography on Howard, and that seems to have worked out well. We've also discussed reprinting most of my books that are now out of print — the Oron series, The Shadow of Sorcery, a collection of short stories — all of which will get the same respectful treatment as the Howard biography has. And we have some other irons in the fire, as well — some of them, I hope, dangerous and very creepy."
Yes, we do indeed like dangerous and creepy!
In the meantime, Howard's iconic character Conan lives on, weaving his way through sword and sorcery tales that enthrall us, taking us into worlds full of "the wars, the wenches, and the wizardry that bedeviled the Cimmerian."
To satisfy your Conan fix, drop in on Amazon for Robert E. Howard: A Literary Biography, Barbarian Life: A Literary Biography of Conan the Barbarian and Savage Scrolls: Scholarship from the Hyborian Age (Volume 1).