Securing your internet of things (IoT) devices is vital before your organization begins actively involving the technology in business operations.
Endpoint IoT security is as important as the end-to-end cybersecurity measures organizations take to safeguard their cloud databases and other networks. So, what are the tools that can be used for securing all the devices in your IoT project?
End-to-end IoT security tools make sure that all the devices—every single one—is protected from external cybersecurity threats. End-to-end IoT security, also known as endpoint IoT security, is essential for ensuring data security and data privacy in IoT networks. As we know, IoT is being adopted by a greater number of businesses as time goes by. As the number of IoT applications in different industries as well as the number of connected devices in an IoT network keeps increasing, so does the number of cyber threats. An IoT network can be vulnerable to several types of cyber threats. For high levels of end-to-end security in your organization's IoT networks, you can use the following tools: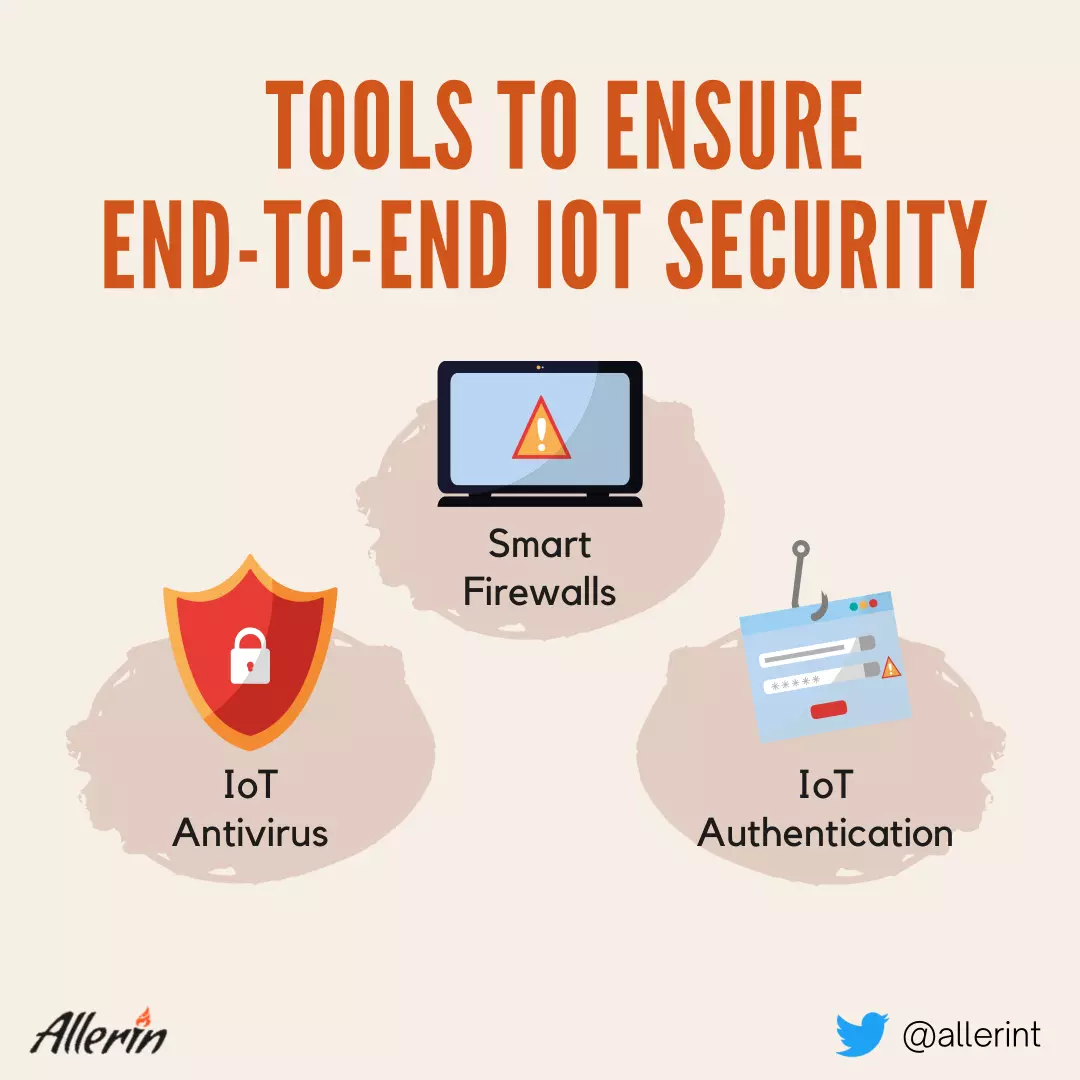 1) IoT Antivirus
The working mechanism of an IoT antivirus tool is slightly different from a regular one. IoT devices, such as CCTV cameras, thermostats and smart TVs, do not possess enough computing power to run antivirus software. Therefore, unlike normal antivirus applications that provide threat protection to devices such as mobile phones and laptops, IoT-based antivirus tools provide cyber-protection to IoT devices via continuously monitoring for threats at a network level via deep packet inspection (assessing and filtering IoT network traffic), intrusion prevention (preventing unwanted network intrusion by unauthorized entities) and anomaly detection (detecting and addressing suspicious events).
2) Smart Firewall
Smart firewalls are hardware tools in contrast to regular software-driven firewall applications. Similar to IoT antivirus, smart firewalls also monitor the network traffic relentlessly to detect malicious threats or other suspicious activities. Once detected, such firewalls block the threat before letting the IoT network administrator know about it. Smart firewalls are very common in modern-day organizations. Perhaps most importantly, such hardware tools do not necessitate heavy-duty training and practice to handle as most of the settings are pre-configured. As a result, the tool can carry out its work once it is integrated into your IoT infrastructure.
3) IoT Authentication
These tools can be applied for network users to authenticate individual IoT devices with the help of passwords, multi-factor authentication (MFA), digital certificates, and biometrics. Apart from device authentication, these tools and devices can also be used to manage users using a single device (such as a connected CCTV camera). IoT authentication can be carried out for IoT networks with minimal to no human intervention. While selecting cybersecurity tools or services, you must ensure that they cover all the devices in your IoT network. In other words, you must ensure that they provide end-to-end IoT security. Any cybersecurity tool that does not meet that requirement is not good enough to protect your IoT networks.