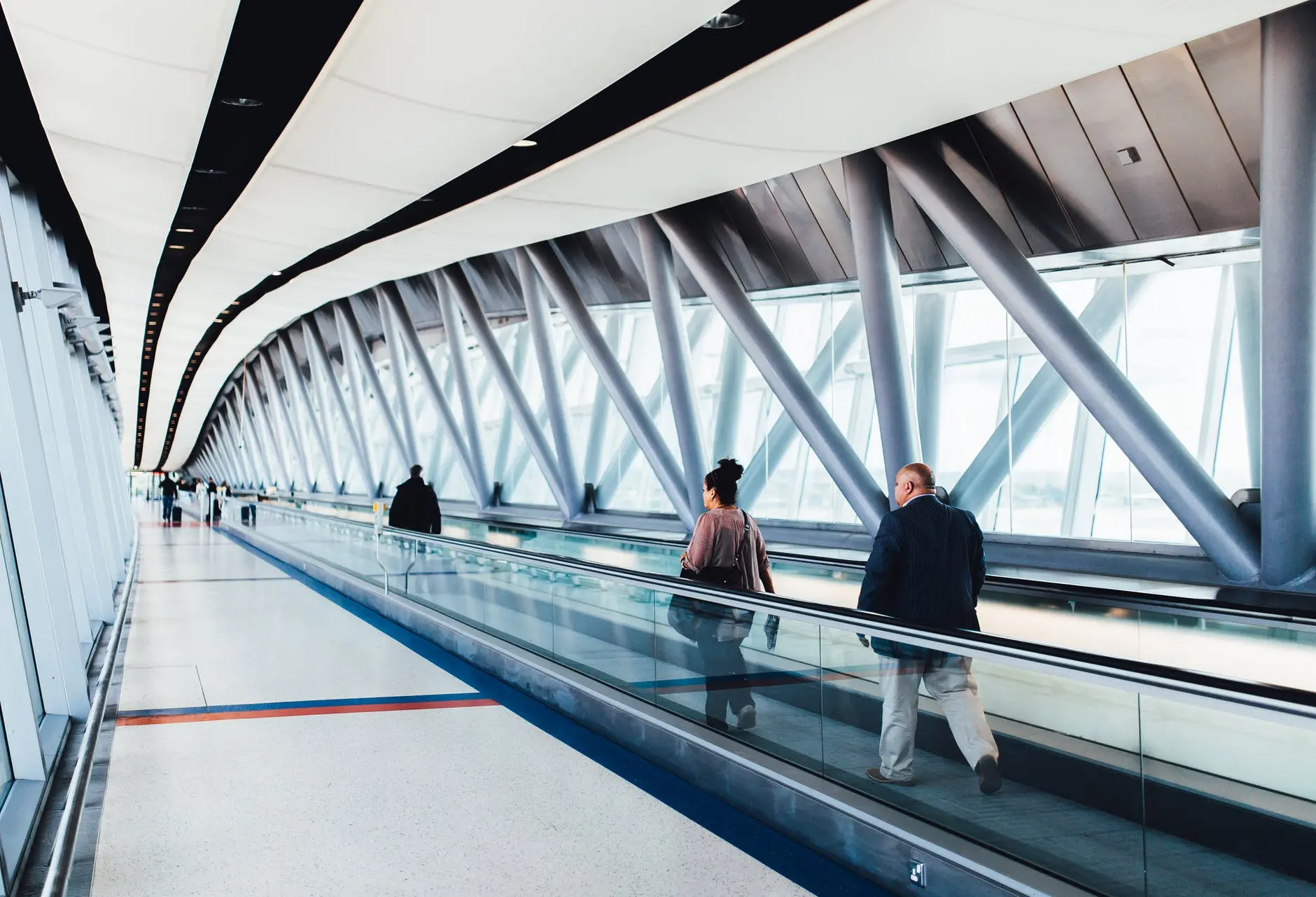 Anyone else hate flying? I'm not talking about the fear of flying. I mean the arsing about for 2 hours at both ends. I mean the tedious faffery that inevitably accompanies a journey - whether 1 hour or 24. I mean the soul-sucking seven course 'meal' comprising: taxi, security, Pret A Manger, gate, seat, passport control, taxi.
Well I hate it. And I reckon I know how to make it better.
Let me tell you this: I was on return flight from London to Munich recently. As the wheels hit the tarmac I was relieved that after:
1 hour journey to Munich airport

20 minute queue through security

90 minute wait airside

30 minutes delay

20 minutes of stowing luggage and finding of seats

1 hour 30 minute flight
...that I was finally on the home stretch.
But one hour after we'd touched down, I was still in Heathrow. There was no airgate available to allow passengers to disembark, then there was the 20 minute trek through corridors, and finally a 30 minute queue at the biometric passport gates. And this was before I'd found my Addison Lee driver. On a Friday night.
OK, so it's a first-world-problem. And believe it or not, I'm not looking for sympathy. Genuinely.
But it did make me think: It's 2018. Shouldn't air travel be better? Faster? Slicker?
With passenger numbers set to soar and the cost of air travel plummet, it feels as if the aviation industry is in dire need of a dose of ideas, innovation and disruption. That's being polite. If I was being impolite, I would say it needs an enema up the tail-pipe.
The Challenge
So ladies and gentlemen, consider this a Crowdsourcing Thought Experiment, thrown to the greatest minds in the industry [hint: that's you!].
If we were to improve air travel, how should we approach our thinking?
What do we take for granted that can be challenged and changed? What traditions should be discarded? Which taboos tackled? What things were true, but have ceased to be true?
If we could start again, would we start from this point?
Whilst in that Addison Lee taxi, I had a few thoughts myself. They ranged from nudges, twists and tweaks to established processes, all the way through to pseudo-sci-fi solutions.
I am acutely aware that many of the following concoctions will not be possible for a host of technical reasons - or may be in the process of being addressed anyway - but in the spirit of the experiment, I am pleading ignorance on purpose; it may be the only way to answer these challenges.
Thought-Starters
Here's what I'd do. What would you do?
Speed Up & Standardise Security Procedures: At security, UK airports require everything out the bag - laptop, toiletries, phones. But at JFK they want everything IN the bag, leading to much quicker passage. Why the difference? Providing it met the correct levels of safety, I'd like to see a uniform adoption of fastest, safest method of passing through the metal detector.
Also, certainly in UK airports, disrobing and piling the contents of your case into grey buckets is a time consuming affair - and there's usually only enough space for one or two people to do it at a time. Yet after passing through the metal detector there are acres of tables and seats for you to put yourself back together. Why not have a larger area for multiple people to dismantle their kit in advance?
Geo-Tracking Of Passengers: Again in the spirit of leaving no taboo unbroken to spark new solutions, I would ask how many flights are delayed by passengers who are still oafishly meandering around duty free, blissfully unaware of their fellow travellers are buckled up and waiting to go. I suspect the standard two-hour check-in window is an attempt by the airlines to get visibility on passengers numbers as early as possible to help with fuel calculations and security checks.
But imagine if an airline's smartphone app could geo-locate passengers the moment they stepped into the arrivals hall, or even whilst on the Heathrow Express, say, they could get a heads-up on what travellers are in which stage of their journey. It could even be linked in to third party apps - like Uber and Trainline - to give a more complete picture of the flow of human traffic into the airport and allowing them to plan better. I know, I know. Big Brother. But the box. Thinking. Outside.
Pre-Allocated Slots in the Overhead Compartments: Unless you're flying Ryanair [and I know many, many people do], it's highly likely you've been allocated a seat. Yet not a luggage space. I am still seeing occasions where, because of space issues, people are forced to stash their luggage 14 rows behind where they are sitting - thus causing them to shove against the tide of disembarking passengers after the aircraft has touched down. Is it beyond the wit of man to redesign the overhead compartment so each seat has a corresponding section of compartment? Oh, and coats. Coats don't need to go up there. Fit a coat loop or peg on to seats as standard.
Reinvent Aircraft & Airports: If all the aforementioned nudges and tweaks don't work, we could always attempt to reinvent the wheel. Or wing. Part of the clamour and panic in airports is fuelled by the fear you may miss your flight - and that to reschedule could involve another £1000 and / or a night in a hotel. In response, the industry appears geared to getting on you on that flight at all costs, funnelling you through the airport in a carefully-managed, multi-stage process.
So what if aircraft were more like buses? Smaller, quicker and more frequent, and landing at a ring of smaller, regional airports. Would that relieve airport bottlenecks? Spread the load? Of course, this is impossible today. Concerns over the environment - pollution, noise, destruction of natural habitat - are, rightly, a barrier. Also, no technology currently exists that would allow the 'fewer but often' solution to be profitable for airlines, or manageable for air traffic controllers.
But things are changing. Elon Musk has already hinted he's investigating transposing his electric engine tech into aircraft. There have been great leaps in material science with graphene, and of course a mastery of 3-D printing, directly addressing the thorny problem of power-to-weight ratios. Yes, it's pure sci-fi, but if we started talking about the aviation industry the way the auto industry is already talking about cars, we may actually be able to kick-start a root to tip reappraisal of the whole set-up.
The above comes from a position of calculated naivety. I'm deliberately being provocative in the hope it may spark off some smaller, smarter more modest solutions.
But I think it's needed.
So. Over to you.
What will we change? And how will we change it?
...and, no, you are not allowed to use the analogy Blue Sky Thinking. Really.