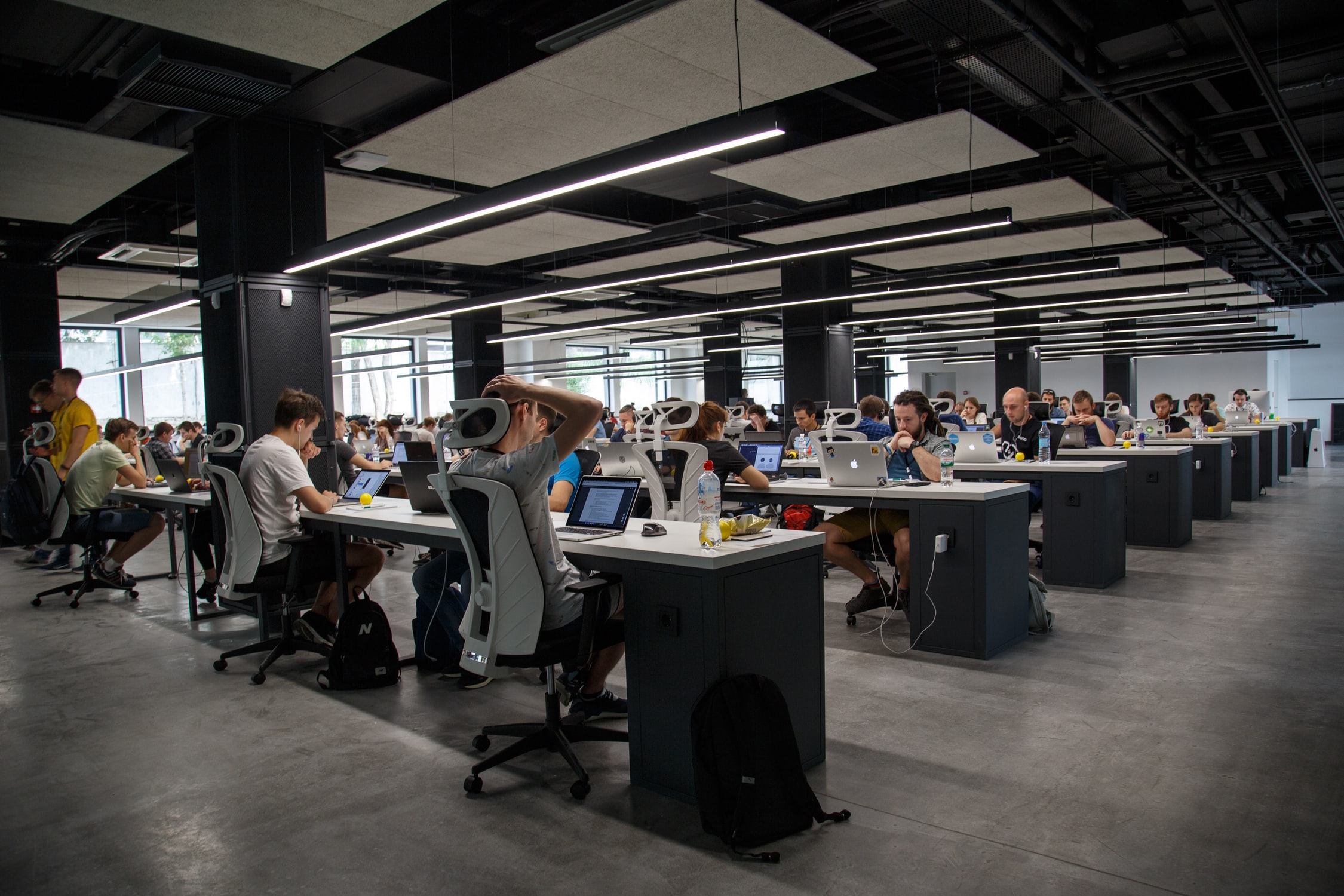 As a business owner in charge of a team, you can feel an element of responsibility to ensure that the working environment is a positive place to be.
Not only for yourself, but also for the productivity levels of your workforce. However, there are certain aspects of the working environment that can be forgotten. Whether you have a small or large business indoor or outdoor, here are some of the biggest improvements that you can make to your working environment in order to improve the mindset of your employees and increase productivity.
Image source - pixabay - CC0 License
1. WHEN YOUR BUSINESS IS PREDOMINANTLY INDOORS
Many businesses work from an office environment, which often means that you will have staff working at various different levels under one roof. As a manager of the operation, or the business owner, you have a duty of care to ensure that you make the right improvements to ensure that staff can do their job, while maintaining a positive environment. Here are some of the things to think about.
You Need The Right Technology To Do the Job
One of the first things to think about would be to ensure that the office has the right technology for you to do the job. It can often be the small things such as a working computer, decent internet connection, which are all functional things for your business. You might want to think about having the right sort of systems in place to ensure that your staff and employees can perform their job roles effectively.
Use A Quiet Area or Breakout Room to Encourage Positive Mental Health
A small change that you could make to your business and working environment when you work indoors is to create a quiet room or a breakout area that staff and employees, including yourself, can go to relax and gather your thoughts. This is going to be free from the distractions of work and even their personal lives. Helping them to improve their mindset and have a positive attitude for their work and job role.
Encourage Flexible Working Options
You might also want to implement things such as flexible working options for your staff members. That might be working from home or condensing their hours into longer days. An improved working life can help your employees work life to thrive because of a simple change that you made.
Image source - Pixabay - CC0 License
2. WHEN YOUR BUSINESS IS PREDOMINANTLY OUTSIDE
There are some businesses out there that only require you to stay at your desk, on your phone or attached to your laptop. Working away through the digital spectrum or speaking to customers, to then sell a product and service and have it shipped out. Job done. But some businesses are a little more physical than that. They require building work or manufacturing. Here are some of the things to think about.
Foster Health and Safety of Employees
One of the first things that you need to consider as a manager is to make sure that you take into account health and safety. Not just for you, but for anyone working with you on site. The working environment may be a bustling yard. Perhaps the business you are in is one of selling houses, for example, or buildings in city centres. Health and safety is going to be of the utmost importance, as not only do you have less control of the surroundings, but you also need to make sure that people are safe. This is because the environment outside of the office might be more dangerous. Such as using different equipment or machinery, for example. Having a decent policy in place can help you ensure that this is covered.
Have the Right Equipment
Of course, whether your project is a big one, or something on a smaller scale, you will need to ensure that you have the right level of equipment there ready and waiting. So you need to ensure that you have the right equipment for the job. Whether that is the right sort of crane, fork lift trucks or excavators, ensure that the people you have employed to do a job can do it to the best of their ability because you have supplied the right level of equipment for the job.
Lead by Example
As a manager, you need to ensure that there is some form of plan in place to follow. This could be building plans, blueprints that are seen as guides, or even things like meetings so that people know what is expected of them. As a manager, you need to be able to lead. So you may want to ensure that your leadership skills are on point. It could be that you need to be more assertive with things, or ensure that your presence on site is seen and adhered to. Small changes could make a big difference.
Be Flexible
It is so important to be prepared for every eventuality when off site and not in the office surroundings. You have less control over outside factors such as the weather. So things like the right level of footwear and clothing should be worn, to ensure safety. It could be things such as foreseeable problems, being discussed and then actions and plans put in place to help overcome them. Be prepared for every eventuality, so that you are never second guessing your next move.
Image source - Pixabay - CC0 License
3. USEFUL TOOLS FOR WORK ENVIRONMENT
No matter what your business is, be it outside, in an office, out on the road, specialist or working from home, the workwear you have and the tools that you use are two vital elements to making improvements for staff and employees. Or even your own work ethic. Often the small focuses such as uniform, workwear requirements and having the right tools for the job can be the only elements that give a staff member, including yourself, the confidence to get the job done. Depending on the type of business you have, here are some of the improvements you can make in this area.
Working Outside
Working outside could appear to be the dream job during a heatwave in the Summer, but how about when it's winter like now, and the temperatures are plummeting? Working outside often means that you don't get an escape from the elements, and so you need to be dressed appropriately to protect your body and also keep warm. If you can, you may also want to think about a wooly hat and a scarf and glove set to keep your head, neck and hands warm. Your fingers can often feel the cold the most, and if you need to be hands on in your job, it could be a saving grace to have them covered.
Working outdoors can often mean that workers will be using specific tools to take on jobs and tasks. So ensuring that a health and safety check takes place and you supply what that person needs to complete the job is important. You also need to think of the general well being on the staff members that are working. So small things such as an onsite toilet could help to create a decent working environment outside. Thankfully, you can find construction site online and you may also want to consider hiring wellness areas and breakout rooms where workers can enjoy a warm drink and rest out of the elements of the weather. This could be especially helpful in winter.
Working in an Office Environment
An office environment can often mean that your appearance needs to be smart and presentable. Whether you are customer facing or not, many employers prefer to have this sort of dress code as they feel it better aids productivity. There is some truth to that as mentally you feel dressed for the occasion of work, instead of in some clothes that are comfortable and relaxing to you. Most commonly people who work in an office or customer facing environment would wear a suit and smart attire.
Working from Home
Finally, working from home means you get to decide the dress code. You could work in your pyjamas and nobody would be aware of it. But you have to think about your productivity levels and your mindset when working from home. So it is a good idea to treat the day as if you were heading out to work, that means dressing appropriately. Of course, you don't need to be wearing a shirt and tie, but dressing smarter could help your work rate increase.
You might also want to think about joining up with applications like Skype and Zoom so that video conferencing and communication can be made easier for anyone that is working from home, including yourself. Email access, text messaging services and even taking advantage of cloud based software systems can help people who work from home to be fully able to complete tasks and perform their jobs.
We hope these tips will help you when it comes to making improvements in your working environment.