One of the challenges, I have when I work with executives and their teams is the lack of time. Or how they manage and prioritize their time. Time management is an issue that we need to address in many of our sessions and to prepare for an upcoming one, I have compiled a list of insights that can be used for discussion and exercises.
If you also have time management issues, I can suggest a simple exercise. First, do a quick read of the articles, I have compiled. Next, make a list of the three actions or insights that you like the most. Then, choose one of them and put relate this into your situation by framing it in 100 words or less. This is a reflection exercise that brings you to the last point; consider what specific actions you can do to change things.
Enjoy the insights.
Making Time Management the Organization's Priority
You are not alone!
This is a snippet from a McKinsey study: "When we asked nearly 1,500 executives across the globe to tell us how they spent their time, we found that only 9 percent of the respondents deemed themselves "very satisfied" with their current allocation. Less than half were "somewhat satisfied," and about one-third were "actively dissatisfied."
A key reason for time issues is the overload of new initiatives
"The myth of infinite time is most painfully experienced through the proliferation of big strategic initiatives and special projects common to so many modern organizations. The result is initiative overload: projects get heaped on top of "day jobs," with a variety of unintended consequences, including failed initiatives, missed opportunities, and leaders who don't have time to engage the people whose cooperation and commitment they need. Organizations often get "change fatigue" and eventually lack energy for even the most basic and rewarding initiatives."
An interesting overview of time spent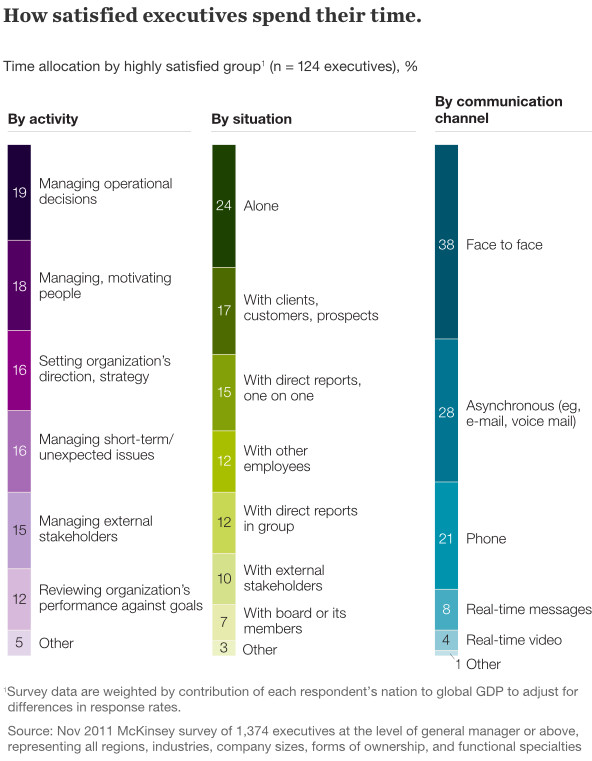 10 Time-Management Tips for Busy Executives
Give yourself extremely short deadlines... and stick to them. Remember this key phrase from Sheryl Sandberg: Done is better than perfect. If you're a perfectionist, it's guaranteed that you're getting in your own way. You won't turn out shoddy work (it's just not in your nature, is it?), you'll actually turn out results. Give yourself deadlines that are shorter than you think you can manage and stick to them.
Don't multi-task. All the studies show that multi-tasking is ineffective. (Take my word for that--you don't have time to go look it up.) You will be more efficient and productive if you focus on one thing at a time.
Delegate everything that is outside your Area of Genius. Focus your time and energy on profitable activities. If you don't know how to delegate, read this article on how to delegate effectively. Read it, implement it, and go do something important.
Have a high-performance team and empower them to function at their best. Micro-managing is unpleasant for you and everyone else involved. Don't do it. Hire people who are smarter, better, faster, and more experienced than you, and you'll be glad you did.
Hire a coach or mentor to keep you accountable. A good coach or mentor will keep you accountable, provide support where you need it, and help you see when and how you're sabotaging yourself. We all need help, and none of us can see ourselves 100% objectively. Hire someone you trust who will hold your hand AND kick your behind when you need it. Both are necessary.
Time: How to Manage Our Most Precious Resource for Better Innovation
The 80/20 Rule (also known as the Pareto principle) also can be applied to time management. Using this rule, we can say that 80 percent of effects come from 20 percent of the causes. In other words, 80 percent of your results come from 20 percent of your efforts, which means we all spend a lot of our time and energy on doing things that don't move us closer to our work or personal goals.
There are three key things to keep in mind about effective delegating:
You should ONLY be doing things that are profitable and that only you can do;
Systems and checklists keep quality high and maintenance low;
Clear and precise initial training plus periodic reviews save time and minimize long-term headaches.
How 10 CEOs work smarter, manage better and get things done faster
Don't work on airplanes. Phil Libin, chief executive of the note-taking and archiving software Evernote, told PC Magazine that he gives himself a break by not working in the air anymore. "Like everyone else, I used to just work on airplanes—I'd use that as a time to catch up on things," he said in a video interview with the publication. "And I stopped. I basically said when I'm on a plane, I won't work. I'll read, I'll play video games, I'll sleep, I'll watch movies, but I don't work. It makes me look forward to flying. I can get off a long flight, and actually be kind of relaxed."
How the World's Top CEOs Manage Their Time
Simplify. There's probably not a job description in the universe that doesn't call for multitasking. And yet, the trend that is taking hold in many quarters is single-tasking. Instead of trying to be all things to all people, successful executives are streamlining their work and seeking Zen-like focus. Take, for example, Carlos Ghosn, CEO of Renault and Nissan. He has streamlined the way meetings are administered, allocating a maximum of one hour and 30 minutes for single-topic meetings. Eric Schmidt, Google's executive chairman, is also a believer in keeping focused on a few overriding priorities. "I keep things focused. The speech I give every day is: 'This is what we do. Is what we are doing consistent with that, and can it change the world?'"
Carve out time to think. Should employees spend time thinking when they have actual--and actionable--work staring them in the face? Ask one of the smart guys, like Jeff Weiner, CEO of LinkedIn, and he'll tell you that carving out time to think, and think alone, is invaluable. It puts you in the driver's seat, where you can see the big picture and proactively set your course rather than react to every little crisis. It helps Weiner decide where to invest his energies, and to engage in sound, clearheaded decision-making. "You're not only thinking strategically, thinking proactively, thinking longer-term, but you're literally thinking about what is urgent versus important, and trying to strike that right balance."
Two-Way Time Management for Senior Executives
Eisenhower's urgent versus important principle, elaborated on by Stephen Covey, yields this matrix:

Most know to do urgent and important things first and less urgent, less important things last. The challenge is in choosing between important, but less urgent and urgent, but less important things. Sometimes this means choosing between doing things yourself and teaching others to do them. While the former is often easier over the short term, teaching others works better over time.
The breakpoint comes when deflecting requests from others becomes a significant time drain on its own. That's when you should stop trying to manage your time on your own and get others to help you. This requires 1) clear delegation to people who 2) accept accountability for the things you delegate to them and 3) help you manage your specific role on any particular task.