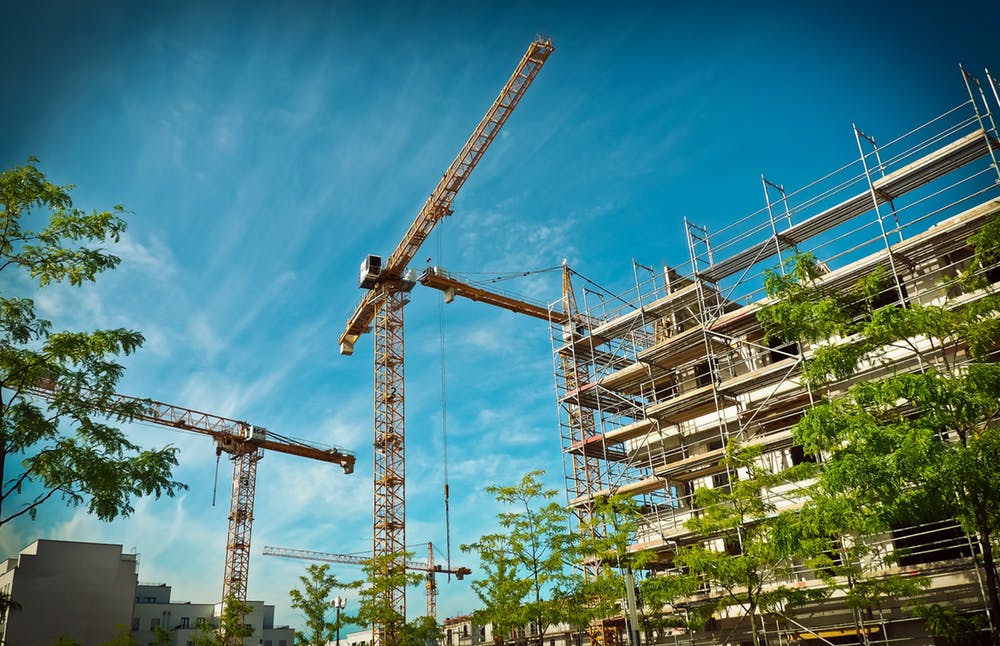 The construction industry will always be exciting. It changes and evolves to meet the needs of businesses, politics, and people. There have been some significant movements of focus on things like sustainability and green energy. Technology has impacted the industry too. Many of the trends will continue to make the construction industry stronger and more efficient - but that doesn't mean they won't be difficult to implement, or that they won't take time to adjust. Uncertainty is also an issue that City Hire discussed recently - political climates and changes can be far-reaching.
Photo by Pop & Zebra on Unsplash
Here are a few more trends that make big waves in the construction industry:
Sustainability
Of course, it stands to reason that one of the biggest industries will need to make significant changes. People and corporate companies want to see better and greener builds. A lot of what makes excellent buildings and construction project 'people-approved' is excellent PR. This is made more achievable when both companies and contractors are all using sustainable materials, green energy, and improving process all around.
Software
Project management software has been making a significant impact on the construction industry. The change in PMS has seen it have massive improvements and specialised programmes designed too. There are programs to work with the design of buildings, to helping with the running of the site overall. There is a lot to be said for how the software can improve processes. It gives everyone involved more accountability, efficiency and transparency are phenomenal. The correct application of the software means that better decisions can be made more quickly.
Technological Integration
Due to the nature of construction, and it is very people-powered, you may think that technology would have less of an impact. However, with the vast improvements of things like 3D printing and drone usage, it makes sense that the construction industry would embrace some more tech. The great thing is that implementation of many tech items will mean that there is more knowledge about the site before people get on there, the materials will all be a perfect size and weight and perhaps building information modelling will become more widespread too.
BIM makes it easier to communicate information between the hundreds of people who are working on a project. It improves collaboration possibilities, and may just be the future of project management.
Material Costs
There are a few costs that have been rising in the construction industry, and material costs are one of them. Skilled labour is another. Construction companies are often pressed to spend more in order to keep the work coming in. Using the tech to become more efficient and cut costs, frees up money for staff and materials. Prices are expected to be rocky during the impending political changes throughout Europe, and the impact may be widespread - although, it remains an unknown.
Safety
While people have never assumed construction to be the safest job, there are far fewer accidents and fatalities than there once was. There is an increased level of care and safety required. Which is great news for staff. Risk management teams, better equipment and workwear has been instrumental in making these changes possible. The scrutiny that was placed on the construction industry has forced technology to be designed with the sole purpose of creating a safer environment. Both employees and companies adhere to safety measures.
Modularization & Prefabrication
There was a stunning example in Dubai, where a 3D office building was printed in 17 days and assembled in only 2. The entire project cost 140,000 dollars - which is a snip of the cost of some projects of a similar size. It is believed that we will see a rise in the number of projects that are completed using only 3D printing technology in the coming years. In fact, the Dubai 3D Printing Strategy is aiming for 25% of all buildings being printed by 2030.
ArtificiaI Intelligence
VR has been making big strides, but the future is in AI. Augmented reality will give companies and people the ability to 'experience' buildings and entire projects in a different way. Although there will be a hefty price tag attached, being able to let people' walk' through your entire building will mean planning and happen before ever stepping foot on a site.
The construction industry will continue to grow, but maybe not at the pace it once did. Moving into more data-driven decisions, more technology-based management systems, and improving the safety of workers continuously. There is no denying it is an exciting place to be.