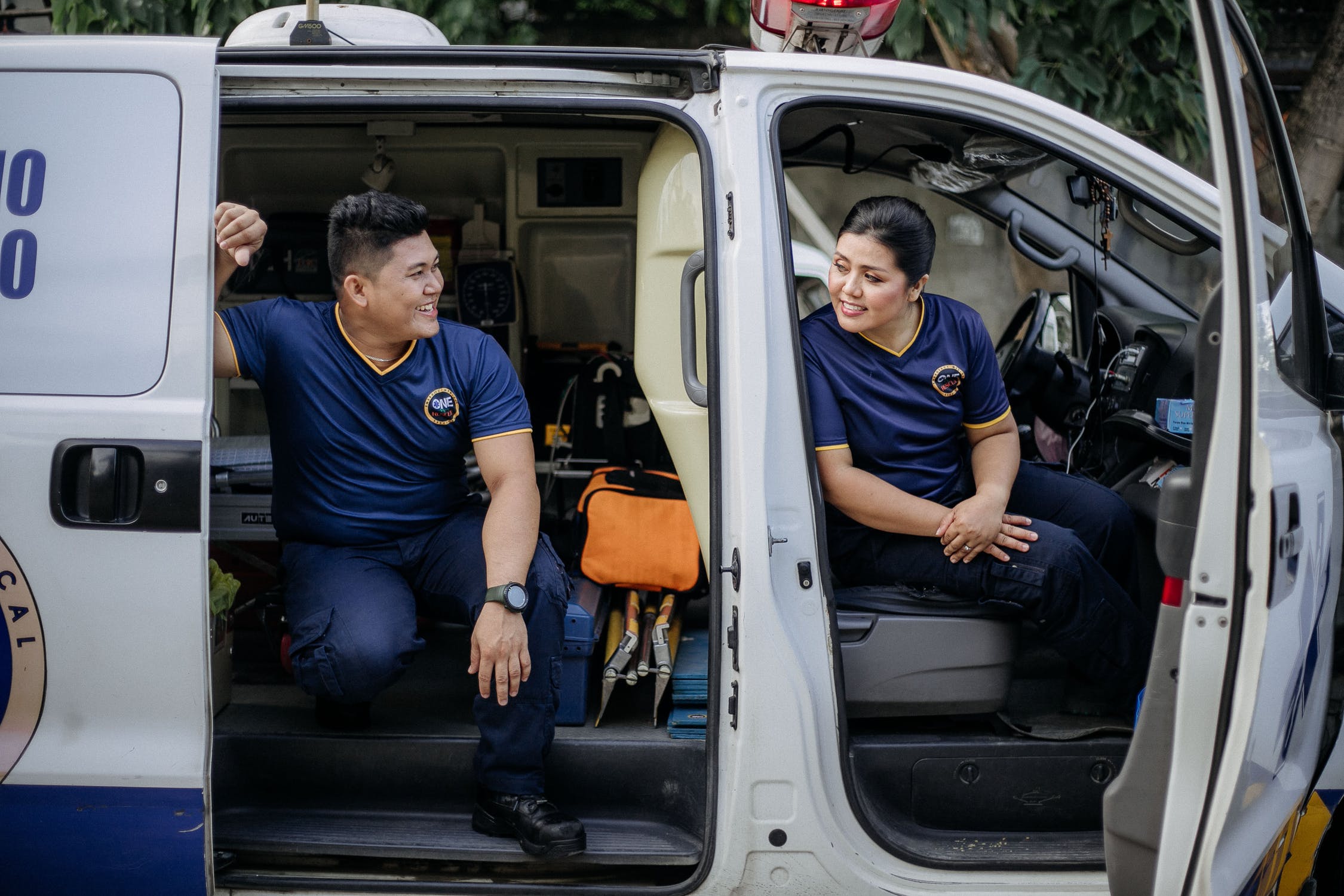 This is the next article in the Mastering Leadership through Collaboration Series. In this article, we are proud to be collaborating with Tony Walker who is the Chief Executive Officer of Ambulance Victoria.
We reached out to Tony and asked him to share some of his experiences in humanising organisations through the use of media. Tony has had great successes with both social and traditional media strategies - creating the television series 'Paramedics' which has enabled the wider community to better understand the challenges and triumphs of Ambulance Victoria as they serve their community each day. Tracy Churchill and Emma Versluis are co-authors of the series and also share their experiences of using media to humanise individuals, teams and organisations and create connections in a digital world.
Humanising Yourself Through Media
Emma – I am introverted by nature and one of the challenges I have had throughout my career is to connect on a personal level with staff. It can take time for me to build trust, but once built I am a loyal and supportive colleague and friend. Early on as a leader I focussed on the 'things to do' and my clinical rounding would be specifically focussed on quality outcomes and patient care (as it should be), however what I failed to see was the value in making and sustaining personal connections. Learning this came as I matured as a leader. Building trust and maintaining connections with your team keeps people safe! Staff will escalate to you quicker when they trust you, they will confide in you earlier when they are having issues and personal connection makes being at work much more joyful (IHI have a great white paper on this which you can access here). Through ongoing reflection and by seeking feedback I have come to realise that this is an ongoing challenge for me. One strategy I have employed to address this, and to grow in this area is to proactively be vulnerable and transparent through my LinkedIn articles and posts. I have found this approach rewarding professionally whilst it has supported my personal growth. I have connected with so many people, whilst allowing me to stretch and grow way outside of my comfort zone. My personal challenge to invest in connection will be further tested when I move from my current remote working environment back to my frontline support role in the coming months. Challenge Accepted!
Humanising Your Team Through Media
Tracy - When reflecting about the teams I have worked with and led I am continuously astonished by the level of resilience, comradery and compassion they show each other and our patients every day. Working with these teams means I have the privilege of seeing everything- the coaching conversations a senior nurse has with a junior, the human touch as we hold the hand of someone passing over, the rage of loved ones when they experience loss and the confusion of many who had other (better) plans for their Saturday night than being brought to an Emergency Department. Being on the hospital end of caring for people, I have witnessed the same level of kindness and strength by our paramedic peers. We all have days where we know we made a difference, days where we wonder if we have, and days where we (wrongly) believe we haven't.
In the department I recently managed, I was well aware of the sensationalised media stories which came out about health, and most were not positive. Noticing the impact this had on me and on our team, we came up with a plan. Looking at the internal and external locus of control, we could see that we had no control over what was published with the media. But we could control what we shared about our team on social media. We chose to put out positive stories, stories that reflect the passion and dedication that our staff show every day. Our goal was simple. One positive piece per month. We chose three words we wanted to be known for and judged all of our social media post ideas by that standard. Did it reflect those three words? Our goal was to highlight the great work our team, and members of it were doing.
Initially, we did this for ourselves to improve culture and satisfaction and recognise the hard work the team was doing every day - but we saw far reaching consequences of this strategy. Our staff could share these stories. They were proud of them. Other nurses saw these stories and wanted to come to work with us. It attracted quality staff! And when we shared the innovative ideas, we were working on other hospitals were interested in learning about how to implement these ideas. So, we could share our knowledge and work with them. One day, a senior staff member came up with the idea of doing a dance challenge- and our team picked it up. We put this online and it went viral! The local community used this opportunity to share positive and heart-warming experiences at our service, which the staff all read with appreciation. All of these things helped us and those around us to see that we were people too. Learning through trying it out was something that taught me a lot about how powerful the media can be. And it is even more powerful when it is a tool utilised by the CEO of an organisation!
Humanising Your Organisation through Media
Tony - At Ambulance Victoria our workforce are key to our engagement with the community. There is strong community trust in paramedics and our ambulance service. This is reflected in the feedback we receive, our surveys (more than 98% of the community are happy with the service they received) and paramedics being recognised as Australia's most trusted profession.
Most people have interacted with a paramedic who has provided care to them or their loved ones and this interaction at their time of need leaves a lasting impact. As I often say, we have almost 6,000 ambassadors in our paramedics and first responders and everybody seems to know one! This provides a unique opportunity to tell our stories through their voice and experience, rather than through a corporate lens. This works well as it builds on this connection the community have with our people at an emotional level.
Through our Paramedics TV show and the stories we share on social media we give insights into the people behind the uniform through their voice. We learn what motivates and challenges them, we learn their back stories and hear about their vulnerabilities. And in doing so we allow them to share the important messages around paramedic mental health, the challenges being faced with Occupational Violence and the difference they can make in a way that would never be possible through more traditional means. Strengthening this connection with the community also encourages feedback on how much they are valued which is an important protective factor in supporting their wellbeing. During the pandemic we have taken the opportunity to use this trusted voice to help push important public safety messages and leveraged off the diversity of our workforce to reach culturally and linguistically diverse members of our community as well. And we've been prepared to have some fun along the way such as our very popular viral clip with Sharon Strzelecki (aka Magda Szubanksi).
Managers and executives also have the opportunity to use social media to humanise their organisation, however to be truly successful they need to be prepared to also be vulnerable and open up about themselves and what makes them tick to help create those connections. I am active on a number of platforms and actively look for opportunities to share the great work of my organisation, largely through the stories of my people, and the opportunities are endless.
Some Key Points
1. Know Your Intention
Ask yourself, why am I doing this? What am I trying to show here? If someone else saw this what would they be learning? Putting up posts for the sake of posting takes up unnecessary space and can detract from your message.
2. Have a Plan
Think about when you will post and what you will say. If you don't have one, it is unlikely to happen. Plan it in advance. Even just one post a month can be an easy way to start. When your team know you are looking for positive things to showcase, they will be sure to let you know!
3. Communicate Clearly
Why say in 100 words what you can say in 10? The less wordy your message is, the clearer it is for other people to understand.
4. Show Struggles as well as Wins
It is tempting to put only our wins on social media. But does that humanise your organisation? No. Sharing only our wins does not humanise the company. To be human is to make mistakes, to have bad days and to struggle with a challenge. Not every day has sunshine. When we face a challenge- what are we developing? Strength, resilience, teamwork? Focus on that. Even in dark times, we can find something to be grateful for. That is what you can focus on for your media releases.
5. Be Sincere
When we mean what we say, it is easy for our words to align with our actions. Sincerity is something that can be felt by the reader. Having a tone of sincerity in every post, whether it be happy, reflective or hopeful will help what you publish be felt from the heart.
Showing your human side and being vulnerable not only can empower your team and build trust at your workplace with your peers, but it can build and maintain trust at an organisation and community level. Using media in a positive way to showcase the vital ways in which we serve our communities not only builds trust, it also allows staff and consumers to show the pride in the services we offer. Showing the human side of the 'job' allows for connections that no amount of memos or policy statements can match.
About the Author
Tracy Churchill is a Nurse Manager and LinkedIn Top Voice 2020. She shares her insight and expertise as a nursing leader during a time of tremendous upheaval for frontline health care workers. Her articles cover topics such as the loneliness facing COVID-19 patients as they isolate from their loved ones; the small acts of kindness that nurses provide to their patients; and how hospitals are managing nurse burnout, such as with four-day workweeks. She also writes about leadership and management from a nursing perspective.
If you struggle with writing job applications, then check out this free mini course to help you succeed. It is packed with practical tips to help you refine your application, mistakes to avoid and other tips on how to stand out! I hope it will bring you one step closer to your next job.