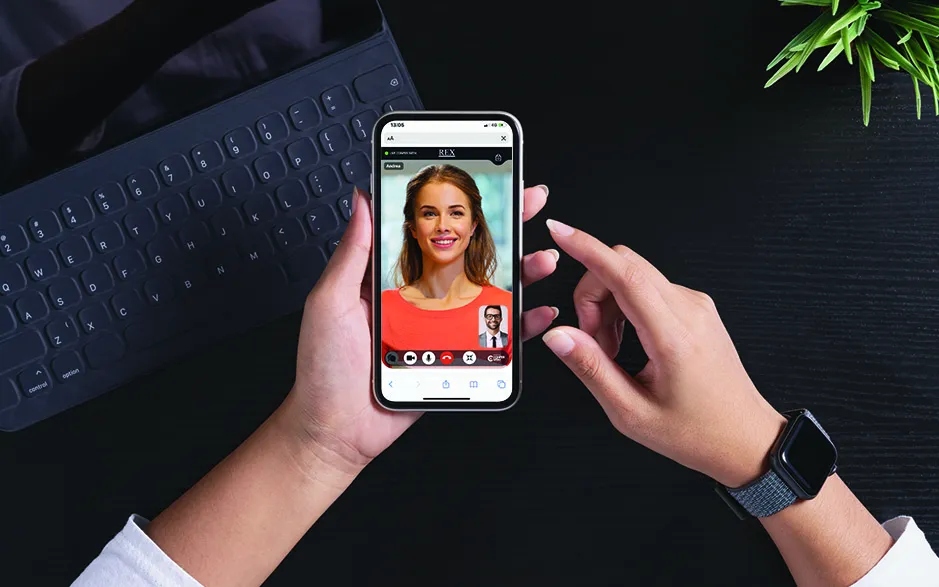 New e-commerce trends are emerging post pandemic including live streaming shopping.
Social commerce, live commerce, and voice search commerce, provide a more interactive and engaging shopping experience to win over customers, boost sales and beat the competition.
This brings us back to TV shopping. Remember shopping channels on TV, also known as teleshopping? If not teleshopping is a specialized TV channel that focuses on selling mainly fashion, clothing, jewelry, or home merchandise that is sold primarily through phone ordering or later online. It is an outdated concept but has similarities to the new version: Livestream shopping.
The shoppable-everything and social shopping trend have merged purchasing directly with marketing, from shoppable media such as social media posts, images, videos, or ads, to online magazines-turned e-commerce- businesses, or now, Livestream shopping.
Live commerce seems to be a modernized version of TV shopping - with the exception that everything has been made even more accessible and even more convenient for the customers to make those impulse purchases.
In this article, we will clarify what Livestream shopping is, go through its recent growth statistics and trends, and bring out some of the recent examples of brands and retailers leveraging Livestream shopping in the US and Europe.
Livestream Shopping Statistics: A Trend That Started in China
In 2016, China's e-commerce behemoth Alibaba launched Taobao Live on their online shopping app Taobao. Consumers can learn about new product trends through influencers or key opinion leaders (KOLs) and make purchases directly on the app.
The launch of Tabao Live marked the start of a new chapter for e-commerce. Alibaba pioneered Livestream shopping by linking online Livestream broadcasts directly with e-commerce stores, allowing viewers to make purchases directly while watching the stream.
And the Covid-19 pandemic accelerated this trend even further - sales assistants of shuttered retail stores became key opinion leaders (KOLs), and even farmers took to the app to sell fresh produce - the next level of shopping innovation!
Taobao Live has transformed China's e-commerce scene - in a 2020 survey, two-thirds of Chinese consumers said they had purchased products via live stream over the past five years.
What is more, in 2020, Taobao Live generated over $61 billion in GMV and became a professional marketing tool for brands and retailers to generate more sales. According to McKinsey, live stream shopping took a 10% sales share of the total e-commerce sales in China in 2020 and grew an astounding 280% between 2017 and 2020.
There are signs it will become the next big thing in Europe and the US - while retailers in the West are still lagging, social media platforms and major brands are picking up on the trend.
What is Livestream Shopping?
Livestream shopping is a mixture of live streaming and social commerce. Typically, a host is an influencer of a key opinion leader (KOL), who presents the products to the viewers, highlighting the details and unique features of the items sold.
Viewers can then ask questions in real-time during the stream through chat, share feedback and opinions with other viewers, or make a purchase directly. The audience is encouraged to engage through likes, reviews, and comments to increase engagement and sales.
Livestream shopping can also be referred to as online live shopping, live commerce, shop streaming, Livestream e-commerce, or video shopping. This trend is highly driven by impulse purchases, which is why products sold are primarily in fashion, clothing, jewelry, make-up and beauty products, and luxury items.
Video shopping events can be hosted through specialized Livestream shopping platforms such as ShopShops or Talkshoplive, social media platforms TikTok, Instagram, Facebook, or even on Amazon Live, or hosted on owned channels.
Advantages of Livestream Shopping
With the focus on increasing customer engagement and boosting sales, live commerce has quickly become a significant part of the rapidly growing e-commerce industry. There are three clear advantages to Livestream shopping for retailers and brands alike:
Increase awareness and engagement: As live commerce is entertaining, it can keep viewers engaged for longer, increasing conversions. What is more, if a customer drops out at any live stream stage, customer data is still collected; this enables consumer targeting through personalized marketing ads to encourage purchases.
Boost sales: due to the immersive nature of live streams, hosts can guide customers directly through the whole customer journey from awareness to the purchase phase, encouraging engagement and increasing conversions and sales. So if you are struggling to boost short-term sales, Livestream shopping could be the solution.
Offer a better online shopping experience: in a physical retail environment, customers can be shown products in real life, and sales associates can direct consumers through the customer journey, face-to-face.
As this can't happen online, Livestream shopping can act as a great alternative. For example, brands based in one part of the world with no physical presence in global markets can grow their customer base also in other countries.
Livestream Shopping Examples
Here are some of the best examples of recent Livestream shopping events:
1. Walmart and TikTok "Holiday Shop-Along Spectacular" Event
In an attempt to catch the attention of the younger consumer, Walmart partnered with social media platform TikTok to launch their first-ever Livestream commerce event. It was called "Holiday Shop-Along Spectacular" and was aired on the 18th of December, ahead of the holiday shopping season.
During this Livestream event, TikTok users could shop for any items featured by 10 TikTok influencers without ever leaving the app; it was led by host influencer Michael Le who has not acquired over 51 million followers. Due to the huge success of this event, Walmart has hosted several Livestream events since.
Source: Walmart.com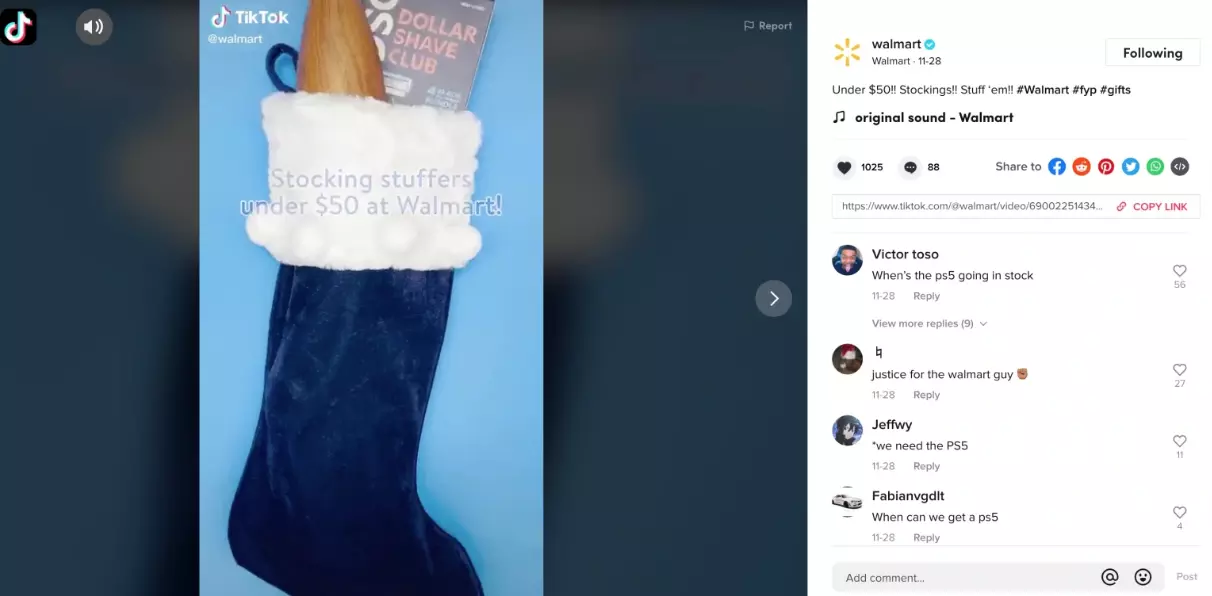 Source: TikTok
2. Samsung and Smartzer
Samsung used a specialized live streaming service tool for shopping events called Smartzer to launch their shopping event in 2021. Instead of celebrity influencers, the hosts were Samsung sales representatives who demonstrated various products to viewers, who were also offered event-exclusive discounts during the event.
Viewers could communicate with the hosts via chat, creating a personalized shopping experience and an in-person, physical retail shopping experience. Similarly, thanks to the success of this event, Samsung has held more live shopping events using the Smartzer platform since.
.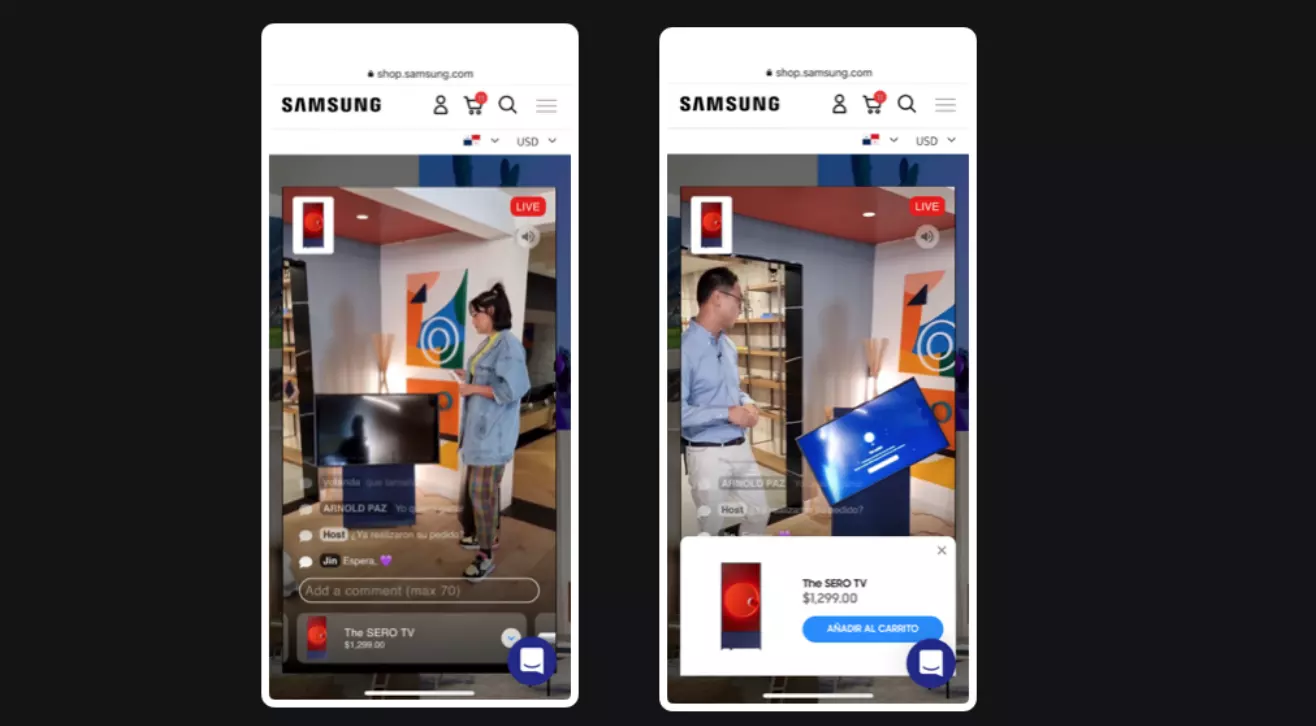 Source: Smartzer.com
3. The Honest Company and Amazon Live Livestream
Jessica Alba's The Honest Company holds regular Livestream shopping events on the Amazon Live live stream platform. As a part of an end-to-end funnel marketing campaign in 2019, they aired an Amazon Live live stream event with the founder Jessica Alba on Amazon's homepage.
During the event, she talked about the brand, presented some of the products, and talked about their features, which could then be purchased in a shoppable carousel next to the video stream. Similar to the other live stream examples, they have been hosting regular events since.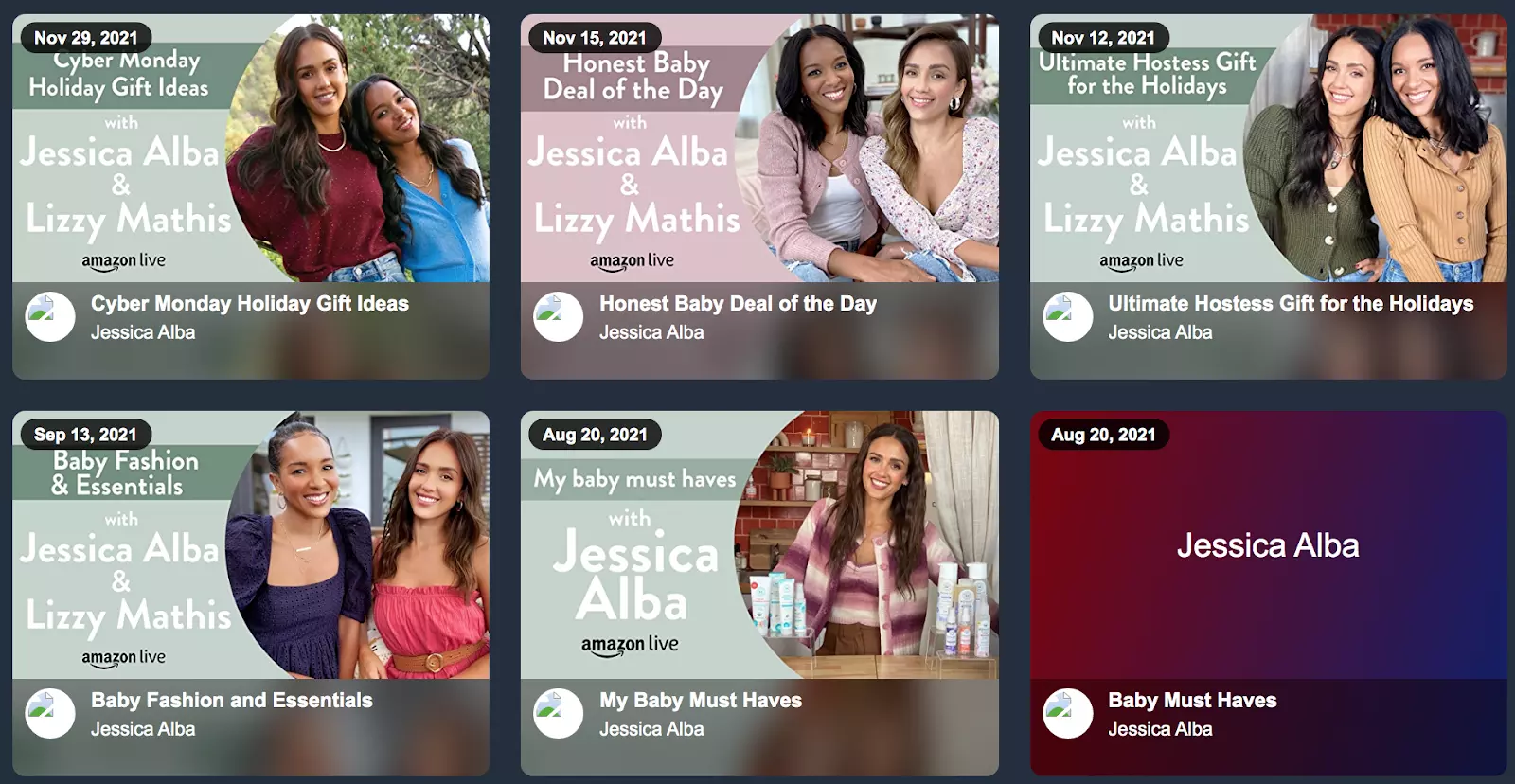 Source: Amazon.com
Summing up
Live commerce is growing fast - and the number of live-streaming apps and platforms is also increasing. Brands and retailers can use it as a tool to increase their sales, and customer engagement, attract new customers and stand out from the competition.
What is more, even though retail is indeed moving online, the need for human interactions won't disappear, and instead, it will focus on the omnichannel experience. Emerging innovative solutions and new technologies will continuously evolve to improve the online shopping experience.
Live shopping events connect customers directly with the brand. They are a fast and convenient way to imitate the same human connection as one would get from face-to-face interaction in a physical retail store, making them a worthy addition to your marketing strategy.