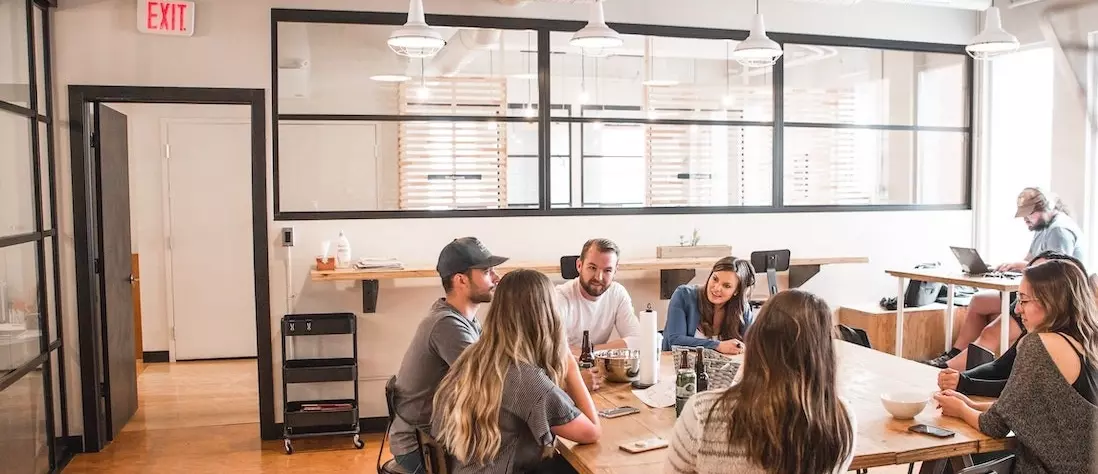 Here's a question. Do you spend all your time in meetings?
Hour after hour and day after day? And despite all this meeting time, you feel like nothing is moving forwards? This is pretty common.
We often sit with clients and work out their OKRs and key priorities. That's the easy bit. Once they're agreed, they look at us and say, 'When in our current business cycle do we fix any of these?' They need a fundamental re-think of when and how they meet.
Meetings are important, don't get me wrong. But if they default to endless reporting on work done and acres of PowerPoint, you'll lose the will to live. Anyone would. Worse, you're not allowing any time to focus on the future.
If you're ambitious for growth, you need a regular drumbeat of carefully timed and structured meetings. These should be diarised, set in stone and stuck to without fail. Everyone in your business needs to get behind them. Based on my experience scaling three companies at speed, I suggest the following.
Have a Meetings Amnesty
First things first. Review your current meeting pattern. We suggest a meetings amnesty, where you remove all meetings from people's diaries. Only re-introduce a meeting if everyone agrees it's necessary.
As part of this exercise, get clear on the missing things from your current meetings. Often when we introduce OKRs to clients, they try and fit their OKR reviews into their normal meeting cadence. Then they forget or don't allow enough time. When they come back to the Farm to see us, they haven't made the changes they wanted. The other thing that's often missing is strategy time. Work out the things that will push the dial forwards and prioritise them as part of your regular new meeting rhythm.
Quarterly Not Annual
Time and again, I've seen how a 90-day rhythm can build alignment in a business. Staff feel most engaged when they know what's expected of them. If it's made super clear to them, they'll know that what they've done has made a difference and been meaningful. It's far easier to see the link between what you do today and a quarterly theme as you can see and make sense of a nearer horizon. Quarterly off-sites for an Executive Team are a perfect opportunity to review and recalibrate longer-term goals.
Annual rhythms don't work. The horizon is too far away. A quarterly cycle is much more effective, both in terms of performance development and goal setting. Take annual appraisals (my pet hate!). If you're thinking of introducing them, don't! Get rid of them if they already exist in your company. They're useless. Who can remember what they've done over a whole year? What's the point of telling someone they've underachieved for 12 months? This is a massive waste of precious time that could have been spent on fixing the issue.
Daily Check-Ins
If you're going to change one thing, then bring in short, succinct daily huddles. I'm often met with incredulity from clients when I suggest this. There's a perception it's far too big a commitment. 'It's going to disrupt the flow of the day,' they tell me. 'People will be off-site or with a customer.' There are always a hundred reasons why it won't work.
'Trust me,' I reassure them. 'This small change will make a monumental difference to your business'. And it does. Every time. Committing to this single act will give your business the momentum it needs for scaling up. They don't have to last long. 15 minutes tops. A daily opportunity to review KPIs and OKRs, remove any stucks and check everyone's on track. And this short meeting will save you so much time in the long run. You can even organise them so that information cascades down through the business.
Weekly Level 10s and 1:1s
For effective execution, we suggest teams meet weekly for 90 minutes using a Level 10 format. These are opportunities to RAG rate your progress on the OKRs, review scoreboards and come up with lists to fix tactical stuff in the business. Then every month, or six weeks, take a deeper dive into these stats with a half day to ensure you're still on track to meet your quarterly targets.
We recently worked with a company that realised they needed more KPIs in their weekly management meetings. So they're running a big KPI project and getting their Finance team to pull all the data.
Weekly 1:1s are opportunities for every staff member to check in with their manager. These often drop off the radar, but they must be set in stone. They're too important for motivation and productivity to be allowed to slip. This is your performance management process and should be owned by the individual who sets their KPIs with their manager.
Strategy Sessions
Some of our clients alternate their Level 10s with Strategy meetings. Great idea! It embeds time for strategic thought into your regular rhythm. After all, strategy is next year's profit.
Think carefully about who comes into these sessions. Using 'Working Genius' terminology, execution requires working at 500 feet. Here you need people with 'Enablement' and 'Tenacity' who love detail. Your strategy sessions will take people up to 50,000 feet. They need 'Wonder' and 'Invention' to be comfortable at that level.
Make sure your strategy team has a goal. We worked with a client recently who recognised they needed innovation in their company to drive incremental revenue. They've already developed a concept of 'moonshot' businesses, creating an investment structure that stands outside the rest of the organisation. These moonshots are their 2023 bets. Their new strategy group will look further ahead to 2024/5, working out likely bets and the resources needed.
Regular Comms Meetings
If your business is scaling fast, there's loads of change. And that's during a period of high economic uncertainty. One thing's for sure. You're going to need to up your comms. I'm waiting for a company where the staff complain there's too much communication! It's not happened yet. Communication is always the first to slip when things get busy.
At a bare minimum, ensure there's a monthly All-Hands in everyone's diaries. You may need to do these more often if there's lots going on. We worked with a client who had grown from 35 to 150 staff in nine months. No one knew who the CEO was (he was quite happy about this!) They switched to fortnightly all-hands meetings at our suggestion, and he said to me, 'Dom – I can't get any work done because people keep stopping me in corridors to chat!'
Another suggestion is sending out vlogs. Get executives to interview each other to explain new initiatives. Also, a weekly email from the CEO to say thank you can work wonders for motivation.
Board Meetings and Customer Sounding Boards
Do you have regular board meetings? Again, these can fall by the wayside as life gets busier. Whether monthly or quarterly, they need to happen in a regular pattern. Consider creating an advisory panel if you don't currently have a structured board. Then you don't have to take out directors' insurance or register people with Companies House. Meetings can be quarterly or six-monthly – not too onerous but enough to help you steer the right course and plan for three years instead of one.
Last but not least, consider setting up core customer sounding boards. They're a great way to build emotional connectivity between customers and your executive team. If it results in less churn, it's time well spent. At Peer 1, we took our top 20 core customers and asked them for their perspectives and insights. We'd also discuss what they bought from other suppliers that they could buy from us—a valuable opportunity to maximise revenue.