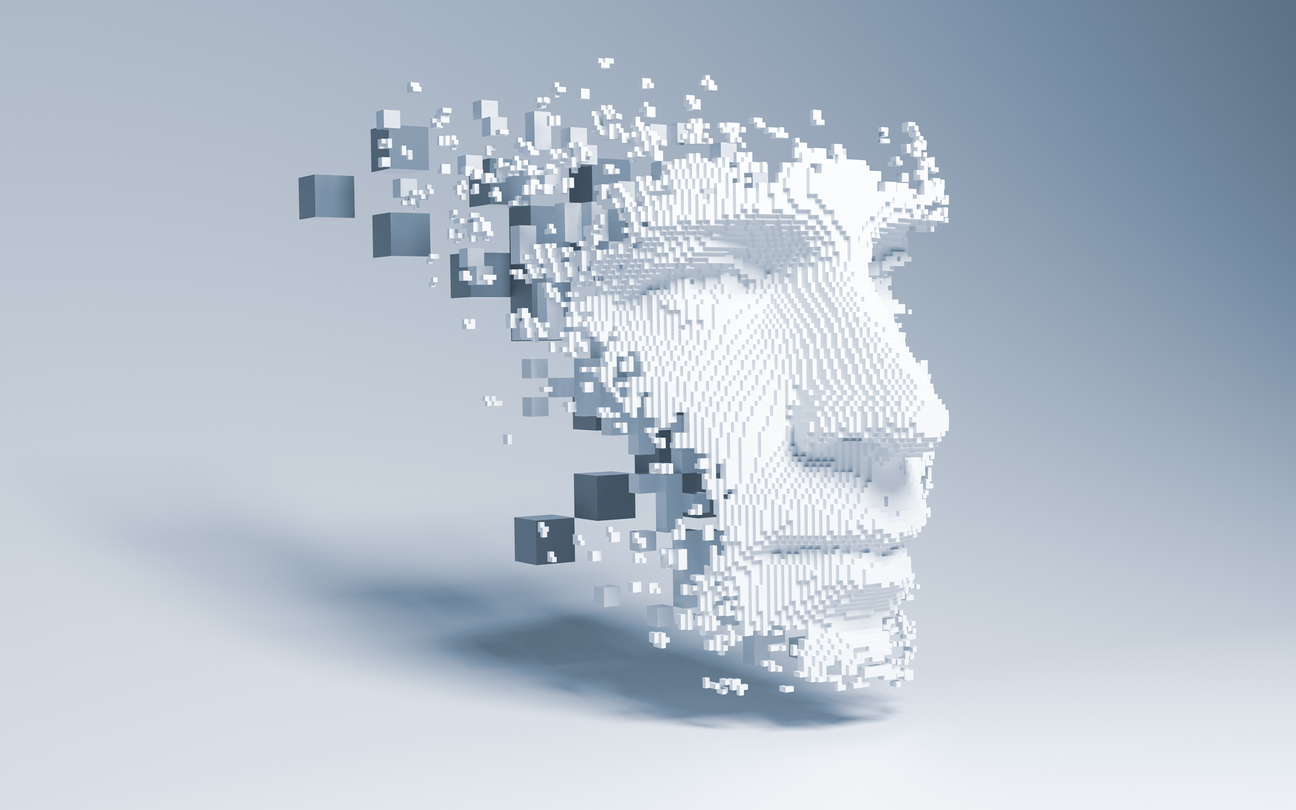 The involvement of citizens, governments, policy makers and organisations to have a say and help shape developments is crucial in the progress of AI in Germany as well as the European Union.
Germany is a leading country when it comes to artificial intelligence research and innovation.
Trust in artificial intelligence (AI) is growing in Germany, but parts of the population still have reservations.
Every citizen in Germany should be well informed about the importance of AI and the opportunities and challenges it presents to do away with prejudices and demystify AI.
The earlier the groups or institutions directly or indirectly impacted are involved, the better they can feed their knowledge, experience and needs into the process, helping to ensure that the positive potential of AI is fully harnessed.
Germany is responding to current developments and high-priority topics – in particular the COVID-19 pandemic, global warming and climate protection issues, by creating links to the rest of Europe and beyond.
The Federal Government has many ambitious projects focused on current hot topics including five main areas: professional expertise; research; transfer and application; the regulatory framework; and society.
Advantages of Germany's Artificial Intelligence Strategy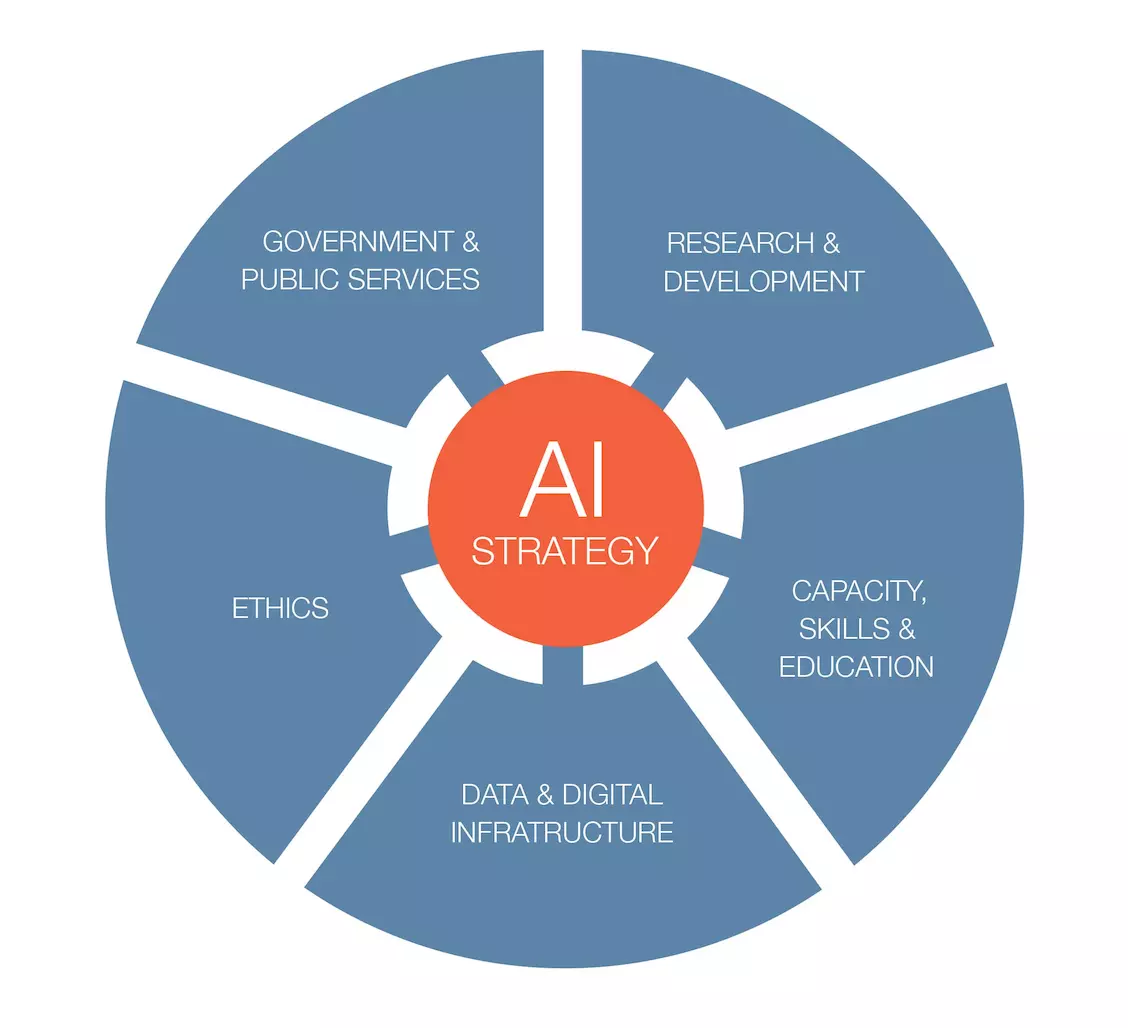 Artificial intelligence (AI is a key technology which harbours great potential for additional economic growth and productivity gains - in Germany, Europe and worldwide. To promote and use this potential, the Federal Government developed a framework for action and adopted far reaching measures in its Artificial Intelligence Strategy (AI Strategy). These measures help shape a holistic policy for responsible research, development and application of AI in Germany for the good of citizens and the environment. The Federal Government is basing this on a broad societal dialogue designed to enable societal actors to also contribute to shaping AI, and on active policy making.
Germany's artificial intelligence strategy focuses on several policy reforms and initiatives for formal training and education, with special focus on the formation of educators, trainers and the general public in order to guarantee a high-quality level of education in AI.
On top of formal education and training reforms, Germany aims to expand and upgrade AI-related skills of the workforce.
Germany has launched numerous reskilling and upskilling programs:
The National skills strategy to promote advanced vocational training in digital and AI-related aspects among others. The Mittelstand 4.0 centres of excellence for SMEs has successfully deployed and expanded AI trainer programmes to support skills development for businesses.
The creation of further education and training programmes in AI and data science methods for researchers such as the Helmholtz Information & Data Science Academy;
The launch of INVITE (Digital Platform for Continuing Vocational Training) innovation competition projects for the design of an innovative, user-oriented and coherent digital continuing education and training area;
The formation of regional Centres of Excellence for Labour Research studying and organising labour in an AI working environment and imparting the necessary skills to management and the workforce;
The expansion of AI education programmes such as the online course on Elements of AI (with governmental patronage).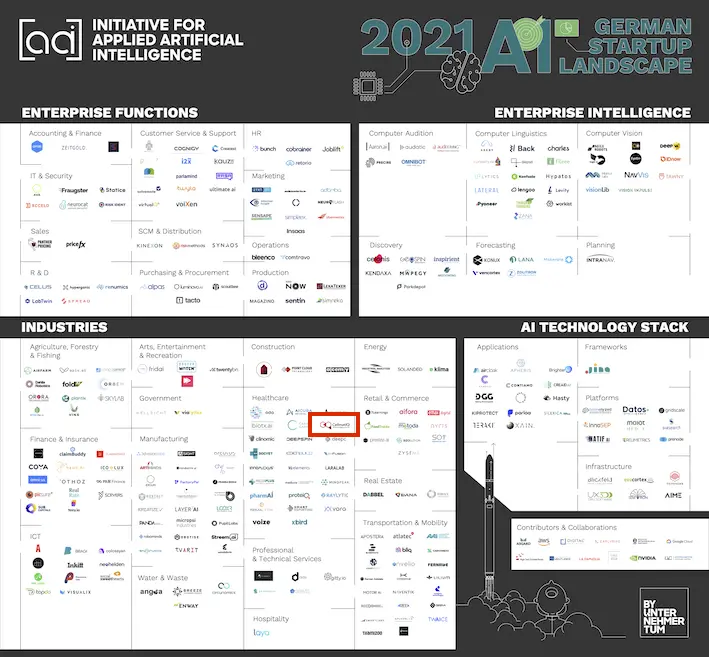 Challenges of Germany's Artificial Intelligence Strategy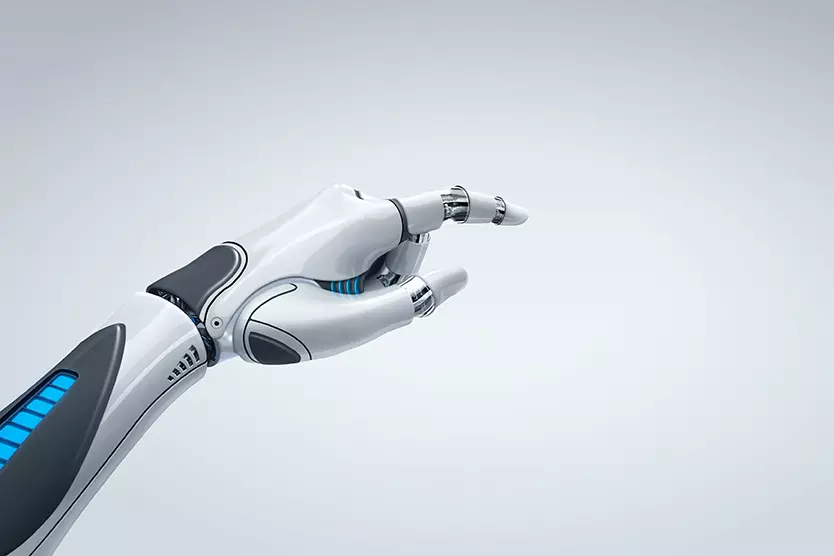 The use of AI presents new challenges in regulatory areas such as employee data protection and co-determination, but also for the social partners. The use of AI at businesses and companies can mean larger amounts of personal data being processed. Here, the opportunities of using AI must be weighed up against the risks of additional data processing. On employee data protection, the Coalition Agreement of the governing coalition states that the optionality clause in the EU General Data Protection Regulation should be used and the possible creation of a separate Act on employee data protection examined.
The use of AI-based products and services also gives rise to changes, and in some cases new requirements for evidencing functional safety. Established safety requirements from the areas of machine safety and occupational health and safety regarding mental and physical hazards must not be weakened taking into account human-machine interaction. The regulatory framework varies a great deal from area to area, making it necessary to incorporate standards as well as any potential regulations early on in the development of AI applications so as to accelerate the subsequent approval process and in turn market access.
A great deal of attention needs to be paid to the aspect of information security. The Federal Government will work towards IT security standards for AI systems (for instance in the area of critical infrastructures), which will vary in accordance with the respective use purpose. Ensuring the confidentiality, integrity and availability of certain AI systems over their entire life cycle is key here. When developing AI systems, the detection of attacks therefore also needs to be included in any risk assessments. When using AI, effective protection against discrimination, manipulation or any other misuse needs to be ensured. The more social diversity is reflected in the teams developing AI applications – including above and beyond gender aspects - the more likely it is that bias and discrimination can be prevented from the very outset. The Feder
Importance of the European Union in Germany's Artificial Intelligence Strategy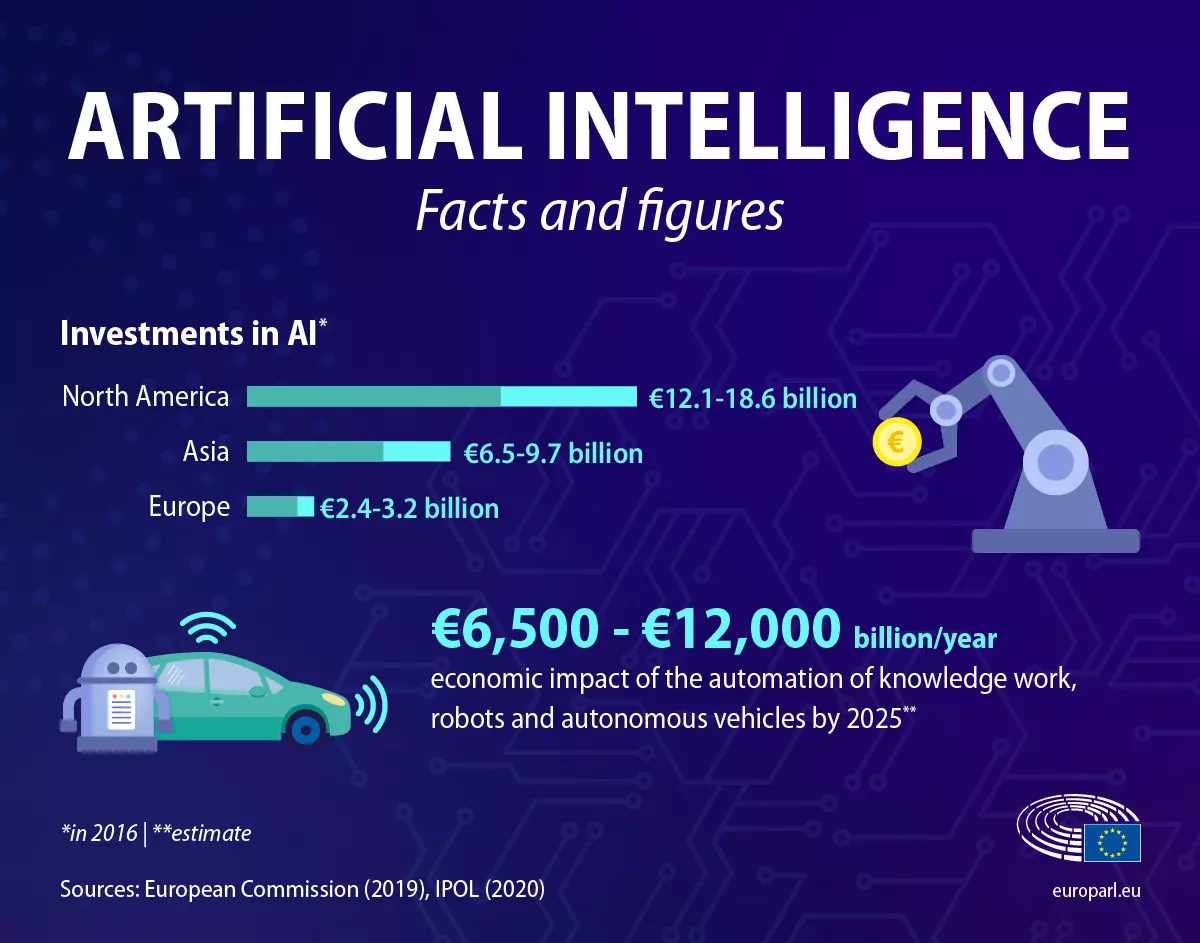 The guiding principle behind the AI Strategy is a European AI ecosystem for innovation that enhances the competitiveness of European research, business and industry, promotes a wide range of different uses of AI in all areas of society in the interest of citizens and is rooted in common European rules and values. When it comes to the development and use of AI, we will put the benefits for people, the common good, the environment and the climate at the forefront. The AI ecosystem consists of actors of different sizes across different sectors, connected across national borders, and enables everyone to participate. This includes not just science, research and business and industry, but also civil society as a whole. The AI ecosystem is designed to significantly enhance the appeal of Germany and Europe as an internationally competitive centre of research and business. Germany and Europe have the potential to create the world's largest data space for machinery, operational and mobility data. Furthermore, the AI ecosystem will be based on a secure and sovereign data infrastructure, thus ensuring competitiveness. The aim is also to give citizens the skills to be able to deal with AI applications confidently in all manner of situations.
The Federal Government will continue to foster the internationalisation of AI research and aims to develop a globally leading European AI network under the master brand "AI made in Europe". The EU is the largest AI think tank in the world. The Federal Government will also support the European Commission with partial funding to expand existing excellent structures and to pool existing expertise in a European AI network with international reach and provide substantial funding true to the maxim of "strengthening strengths". The Federal Government aims to bolster European networking and to mobilise European expertise across the board so that the EU can assert and establish itself as the world's leading pacemaker (AI made in Europe) and trailblazer - particularly when it comes to establishing clear ethical guidelines, in basic and applied research in the medium and long term.
From the Lab to the Market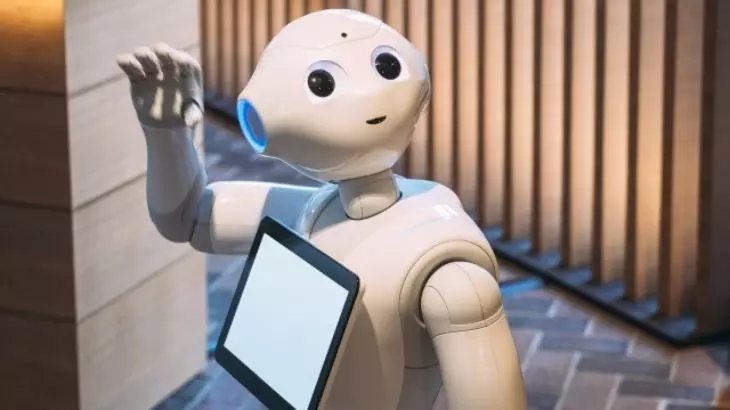 Funding schemes and support initiatives to foster research in the field of AI comprise among others:
Creation of Competence Centres for AI Research: The German Federal Government has established multiple national competence centres for AI research to strengthen excellence and competitiveness and to become a leading centre for AI research. To support their expansion and their development into a national research network on AI the ministry has doubled the funding of the competence centres until 2022.
The launch of a Reality Lab for Artificial Intelligence in Civil Protection: operated by the German Federal Agency for Technical Relief (THW). This living lab is meant to offer an interface between the Security Research Community, AI researchers and industry. It will also link AI research and developments with practitioner needs. The lab aims at testing and developing solutions that make AI based technologies accessible and usable for practitioners. Another core task is the development of data collection concepts, for which specific tools and equipment will be created to enable future AI applications. The THW living lab is funded through special funding of the German Federal Government from 2019 to 2022;
Gruender platform: online platform to support start-ups – including AI ones – from initial research to concrete AI applications;
Industrial Collective Research programme fostering joint business and science research on collective AI projects in order to close the gap between basic research and industrial applications;
Advisory and funding services to foster the growth of AI start-ups (e.g. EXIST programme focusing on university spinoffs) through for instance venture debt (e.g. Tech Growth Fund). This can also include policies to promote company formations in the field of top-rate research in human-machine interaction.
Germany manages to pull well above its weight when it comes to AI research.
Factors Behind the Success of Germany's Artificial Intelligence Strategy
The Federal Government has been promoting and funding AI research in Germany for over 30 years now. As a result, Germany is well positioned internationally: German AI researchers are cooperating with the most prestigious research institutes worldwide and publishing their work in the most prestigious journals.
In order to further strengthen Germany's position as a centre of research, the Federal Government will continue to actively push forward the expansion of the six existing centres of excellence for AI research and linking these at regional, national and international level. The aim is to establish a research and teaching network at German universities that pools different types of AI expertise locally, fosters innovation with local businesses in the regions and in association with application hubs, and is reputed at international level as a prestigious network, too.
AI offers huge potential not just for businesses but also for public administration. Using AI is an opportunity not only to provide information and services in a more targeted, tailored and more easily accessible way within the administration and for the business and scientific communities, but also to support the goal of a climate-neutral federal administration by 2030.
Here are the key factors behind the success of Germany's artificial intelligence strategy.
1. Leading Position in the European Union: Germany has a strong network of partners within the European Union. Although they are the biggest contributor, it pays off in the end as German companies being technically advanced play a dominating role in the market.
2. Export Oriented Economy: Every district has one or two small/medium size companies which are world leaders in their categories. The German market is very fragmented with many, many small companies serving as the growth engine of the economy. Development is not limited to big cities but percolates to small towns and villages. Germany is not very large in area which means the whole country is like one big Special Economic Zone (SEZ).
3. Innovative Culture: Most Germans are patient, punctual and follow rules. Nobody is expected to work out of office hours and holidays are plenty but work is taken seriously. People take good care of their health and are fit even after retirement, freelancing their expertise to companies.
4. Good Geographical Position - One of the western/central European countries, Germany is extremely lucky to have such a good neighbourhood where every country around it is developed.
5. Skilled Labour - Most people are highly skilled at their job. It takes years to become an artificial intelligence researcher. A higher position in a job comes with greater responsibilities but not significantly higher salary. Hence not everyone is motivated for promotion. This leads to people doing the same work over years making them experts. Managers remain technically oriented.
6. Safety Net - Germans pay a huge part of their salary as tax, pension, health insurance etc. However, in return they get full security which makes them less worried about their future. If someone loses his or her job, they still get approximately 60% of their salary, enabling them to peacefully search for the next job.
7. Less Corruption & Bureaucracy - People complain that everything works at snail's pace in government offices. However, there is virtually no corruption. Things go slow but in the right direction. It is very easy to start and run a new company. A superb example of a functioning German bureaucracy is its public funded state healthcare.
Conclusion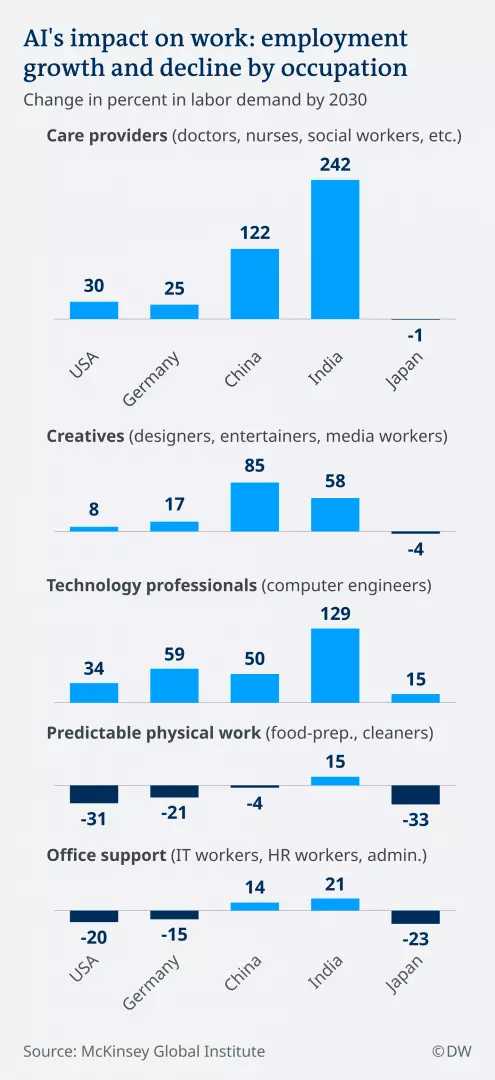 Germany aims to attract and retain more AI specialists by establishing powerful and internationally visible research structures and, in particular, providing internationally competitive cutting-edge AI and computing infrastructures.
The Federal Government is establishing AI ecosystems with an international reach, based on excellent research and transfer structures, in order to foster research results being applied in business practice, especially in the SME sector or Mittelstand, and to boost start-up dynamics.
The country is expanding its infrastructure into a system for safe, secure and trustworthy AI on the basis of an appropriate regulatory framework.
Germany is also supporting civil society networking and its involvement in the development and use of AI that serves the common good.