The name's Craig, Daniel Craig.
And, the actor who's played the iconic character over a 5-movie arc, starting with Casino Royale in 2006, through Quantum of Solace, Skyfall, and Spectre, and now concluding with the new No Time To Die mega-thriller, is excited for fans to finally view the Covid-delayed new movie. He's also content that he returned after completing Spectre in 2015 when we last saw "James and Madeline driving off into the horizon, albeit, London in November and not much sun!"
After Spectre, he had said he was done with the Bond franchise. But he changed his mind. He now says that while he has loved his time as the world's most famous secret agent—only seven men have played 007—he admits, "I was a lot more involved in this movie, working on it for two years, including an 8-month shoot. That's a big chunk of my time away from my family, but I will miss Bond."
English-born but now New York-based Daniel Craig, whose wife is Oscar-winning actor Rachel Weisz, talks to us about Bond being a complex character and how the movies "celebrate masculinity but not in a threatening way, as they can be silly and fun."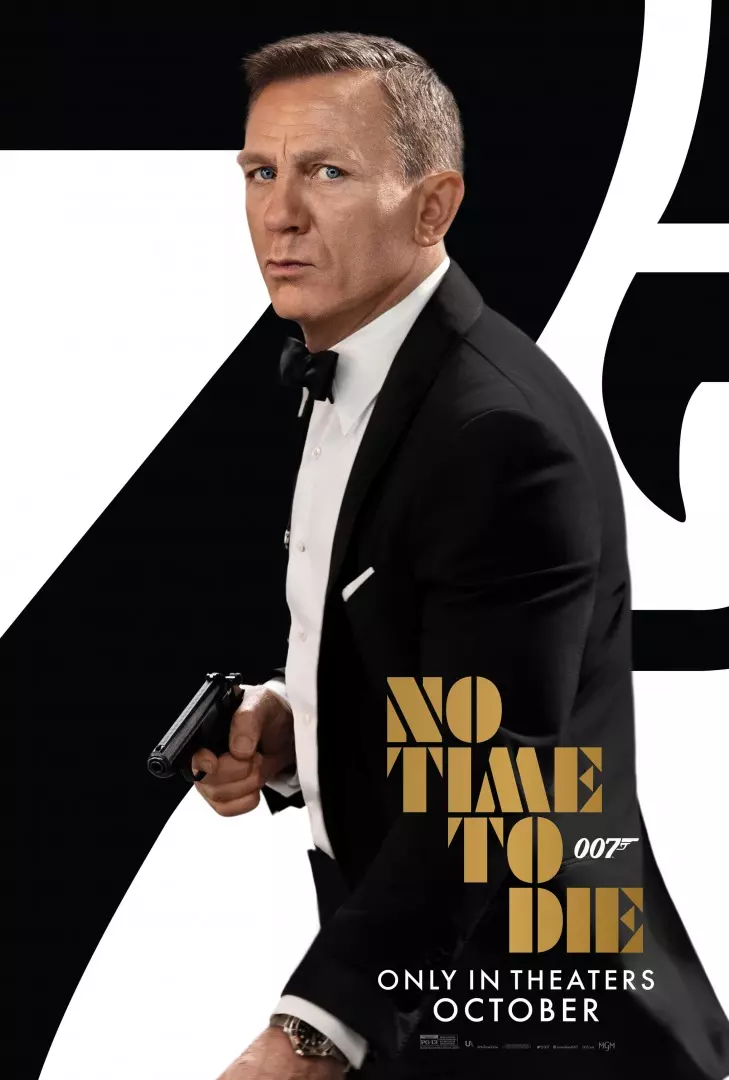 How did the Bond job first come to you, Daniel?
I liked and was entertained by the Bond movies but they weren't ones I really wanted to do. But then my dear late friend and great casting director Mary Selway, who'd taken me under her wing after drama school, was a big friend of Barbara Broccoli from the franchise. I did get a phone call to share a cuppa. But I wasn't interested and got on my high-horse a bit, as I wanted to see a script. But then the script arrived on my doorstep, and it was opposite of what they had been doing. I couldn't pretend to be Sean or Roger or Pierce, and I wanted to do what I wanted, to strip it back, even make it humourless, in some ways. I can't raise an eyebrow or that wink-wink nod-nod thing. For me, things have to be based on truth. So, I took a year thinking about it, and I knew it would turn my world upside down and it did. But, I also told Barbara that the only way I could walk onto the set, was that they'd have to allow me to be part of it. I wanted to be involved, and I have been."
Why does James Bond still resonate with millions worldwide?
It is a worldwide phenomenon. Bond is compelling and heroic. But because he's a flawed character, he's more relatable with a sort of humanity to him, and that endears him. Bond movies also usually include something up-to-date from today's world. But they have one foot in the past with all this history and 25 films. Everyone around the world wants to go see these movies.
How does this new movie fit into the storyline of the 5 Bond movies you've done?
There has been a through line to these movies that started with Casino Royale. But there were a lot of unsaid things at the end of Spectre, that kick-started this new film. Then the movie explodes from that, involving and connecting all the storylines of the main characters. The new film is about relationships, and extended families, and it's also about love.
All 13 James Bond novels were written in Jamaica by author Ian Fleming, so what was it like actually filming in the author's backyard?
Yes, we filmed partly in Jamaica where Ian Fleming started this opus. It was wonderful to get to stay at Fleming's gorgeous GoldenEye estate. It did feel like we were back at the spiritual home, even though it still has to feel like a Bond movie. Sitting at the desk where he wrote, looking at the sea and where he created this iconic character, was amazing.
Did you flippantly suggest you'd rather slash your wrists than play Bond again after finishing Spectre?
I'd given the work everything I could and I truly needed a break, to get my heart and head away from it. But now I'm ecstatic to have come back after Spectre to do one more, to tie up loose threads. The story didn't feel complete but I just wanted that break and after that we began talking new storylines and where we could take it, and I just said, "Okay, I'm in, let's do one more."
Is it true you and your adversary Rami Malek shared a playful smooch after one long rehearsal?
[laughs] Thing is, it just breaks the ice, so I kiss all my leading men. In truth, we had this complicated scene and were rehearsing it for director Cary Fukunaga, and we'd been sitting for hours, throwing ideas back and forth. Until we finally cracked this really challenging scene, and I picked him up, as Rami's a little guy. And, we don't know who initiated the moment, but a spontaneous smooch happened, And Rami was so quick, quipping, "So, does this make me a Bond girl?"
How did you get Fleabag's Phoebe Waller-Bridge to help add some of her awesome writing skills to the movie?
I watched Killing Eve, after her Fleabag, and thought her work was spectacular. So, I just kind of phoned her, cold. She could only say no. As a result, I feel one of the reasons this Bond will be one of the best is that I got Phoebe to spice up the dialogue and create some alternative ideas.
Do you remember when you finally got the call to be James Bond?
I had the day off from filming with Nicole Kidman in Baltimore, and Bond producer Barbara Broccoli phoned me and said, "Over to you, kiddo!" I was over the moon but couldn't tell a soul. I was in a grocery store, left the food and went to the liquor section. Okay, I'd never mixed a martini, and never had a proper one, either. But I wanted to give it a go, so I bought some vodka, vermouth, shaker and a glass, and gave it a shot.
But you did tell someone, right?
Come on, you got to tell your mum. Generally, she was always very tight-lipped with my work and life. But she got a call from a big UK paper and they kind of tricked her, saying, "You must be very proud." Of course, she admitted she was proud. And then it was the headline, "Daniel Craig's mum confirms he's the new Bond." Although, in the big picture, it was a cool way to announce it.
How much pressure did you feel with your first Bond movie, Casino Royale?
Mads Mikkelsen, who played my adversary Le Chiffre, called it the crown jewel of English movies. Oh, yes, I felt the pressure, it was always on my mind. But I also felt, If I get away with doing one, I'll be fine. So, I guess I did pretty well.
Anything you won't miss as Daniel Craig playing James Bond?
People used to send me a martini, even in the morning. Yes, I love a martini, and I always appreciated the gesture, but not at nine in the morning.
You've said you prefer to be invisible when off the set, right?
Being a celebrity has always made me a little nervous. You can sort of disappear in New York, which is great, because I feel people's private life is something private, and that's that.


Check out the trailer for No Time To Die.