Long time co-host of The View, Whoopi Goldberg, has been married three times but suggests that trying to snag a millionaire as a husband is "too much work."
But, the Emmy, Grammy, Oscar and Tony award winner quips, "All kidding aside, some people are just not meant to be married and I guess that's me. It's wonderful for many people, but I am committed...to my own family." Indeed, Goldberg, who has one daughter (Alexandrea), three grandchildren and a great-granddaughter, is totally committed to her children and her still bustling career. She has recently appeared in the thrilling new miniseries adaptation of Stephen King's The Stand, a story she says "reflects modern times." Goldberg admits being blessed, saying her "whole ride has been awesome and ridiculous," but also suggests that during the pandemic "comedians are very important in this time."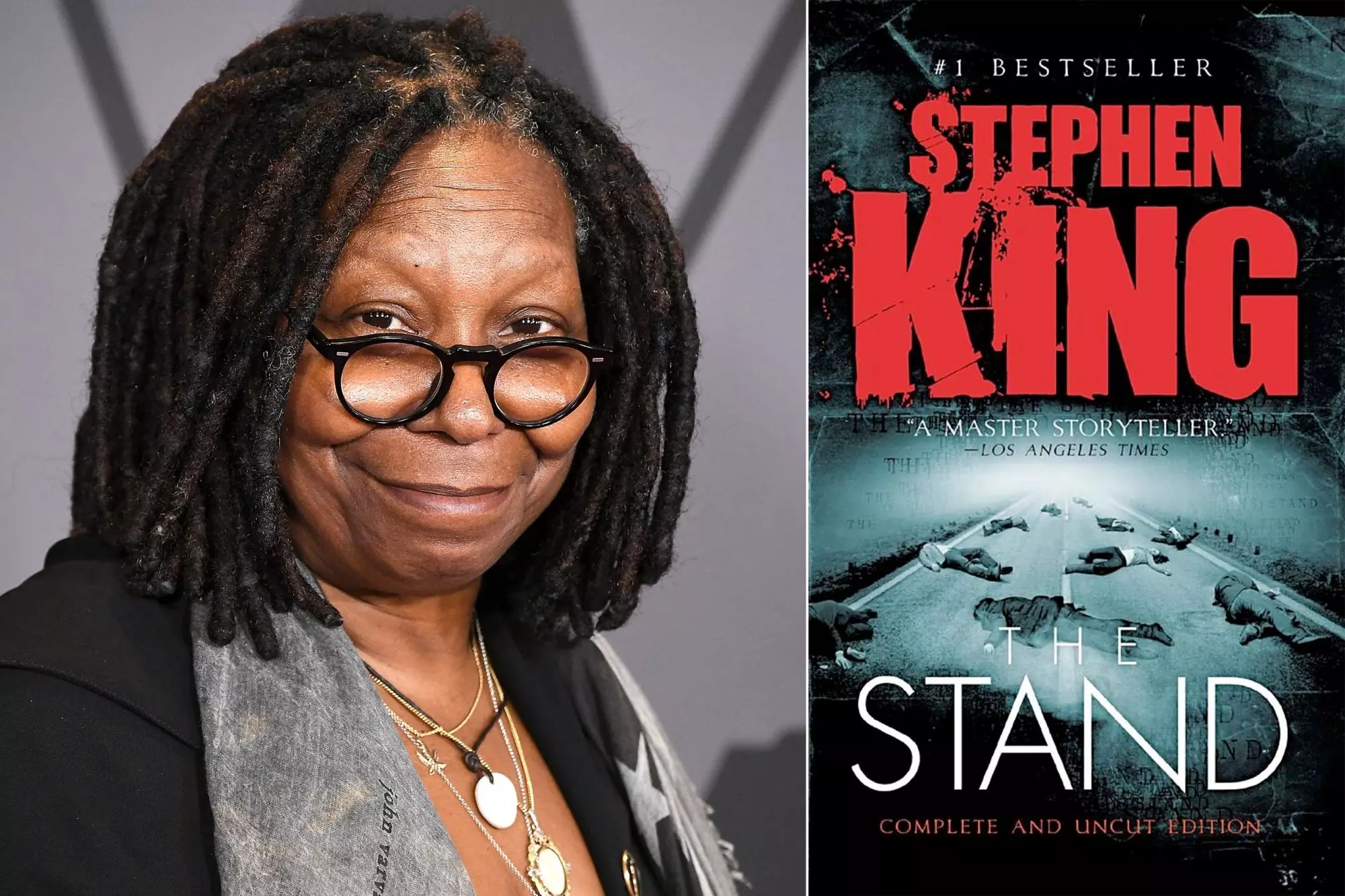 What Attracted you to The Stand?
It's great, with a super cast, and a great story. But importantly, you don't find a lot of people of colour in King's work, so Mother Abagail is a terrific role. By the way, Stephen has been very hands-on, even writing the final episode.
Why Do You Feel It Represents Things Today, Even Though the Original Story Was Written by King Decades Ago?
Well, the world of the story has been impacted by a horrible plague, where many have died, much like today with Covid-19. So, there's something about this story that reflects all that's going on with us right now. And there's something about it that will draw people to it.
But There's a Deeper Story Right?
Yes, you come to realize there's much more going on than just a killer plague, which is bad enough. And, like in many great Stephen King stories, it's a bigger battle between good and evil. And the bad guy is Alexander Skarsgard. As Mother Abagail, I represent the good side. My character is over 100 years old, so she's been around, and has seen things.
Weren't You Being Considered for the 1994 TV Miniseries Starring Molly Ringwald?
I wanted to be in it when King first did it but I was in the middle of shooting another movie. However, I realize now it was probably fine that I didn't do it, as I was in my thirties, not the type of wise character they may've been looking for—the great Ruby Dee played the role. But when I heard they were doing it again, I asked, "Can I be in it, pretty please?"
Did You Have to Audition?
Over the years, I thought I'd missed the opportunity because it had been done brilliantly. But then a friend, the show's creator. Josh Boone, said he was doing a new adaptation and said, "Yeah, we were actually going to call you. You come when you're ready."
You've been Married Three Times, So What's Your Take On Marriage?
[Laughs] Thing is, if you don't marry well, you have to keep working. If you don't marry some millionaire, your butt has to work. Actually, you got to look out for a billionaire, today, because a millionaire is not what it used to be. But the thought of working so hard to snag a billionaire is not so attractive, so I'd rather just do it on my own.
You've Been Moderating and Co-hosting The View since 2007, What Keeps it Exciting For You?
I love the show. It's fun but also a lot of work. You got to have a point of view on a lot of different topics, every morning. Often I don't immediately have a strong point, but I'm interested in issues and that's my job, to give an opinion. The key is to keep the conversation going. Hey, not everyone loves us. But we welcome their thoughts.
Tell us About Becoming a Great-Grandmother?
[Laughs] I was a grandmother very young, and it's funny that when my own daughter, Alexandrea, became a grandma herself, she was saying how her life was passing by so quickly. I looked in her face and said, "I have no sympathy for you because you made me a grandma when I was 33, kiddo!"
Was There One Really Fun Job You'd Always Wanted To Do?
I'd wanted to be in a Teenage Mutant Ninja Turtles movie (2014) since my daughter was little, as she loved them as a child. Then my grandkids wanted me to be in the movie as well. Now, I have a great granddaughter who's into them. I played Bernadette, who was April's (Megan Fox) boss, a role that used to be a man, so I was happy about that.
Do You Consider Yourself a Standup Comic Who Has Segued Into So Many Other Roles?
Well, I don't tell jokes. I'm not a standup really, even though I started out that way. But I have to tell stories, that's what I love, that's what I mostly do. I could mess up a straight-ahead joke better than most. But I feel I am good at storytelling. I mean, I was lucky to study under brilliant acting teacher Uta Hagen in New York.
Do You Remember Those Early Days Doing Comedy?
I used to look up to and watched the legends live like Rodney Dangerfield and Richard Pryor, who was slaying it, doing what he did from his wheelchair, that was a-mazing. I got very lucky to get a shot at The Comedy Store on Sunset Boulevard as Mitzi Shore put rising female comics upstairs in the Belly Room. When my one-woman show (The Spook Show) really took off, she gave me the room to perform for as long as I wanted, to work new material out, it was an ideal platform.
How Did You Meet One of Your Inspirational Mentors, Director Mike Nichols?
He was a mentor and friend, and ultimately helped me take my show to Broadway. He first came to my show in downtown New York. He was doing three plays at the same time but he found time to come to see me perform. "Ms. Goldberg, how are you? I'd like to work with you," he said in his proper voice. My mom was whispering, "Wow, that's my Mike Nichols." He was a true inspiration for me.
We Hear You Love Great Sweets?
And, so do my kids. When I go visit my great-granddaughter and bring a Magnolia cupcake or something rich like that, she's like "Oooo, sugar!" she loves it.
Author/blogger Ashley Jude Collie's new sci-fi, dystopian novel, REJEX, is available on Amazon (US) and Amazon (UK), and Amazon worldwide. Part of this interview was previously published in Hello! Canada.