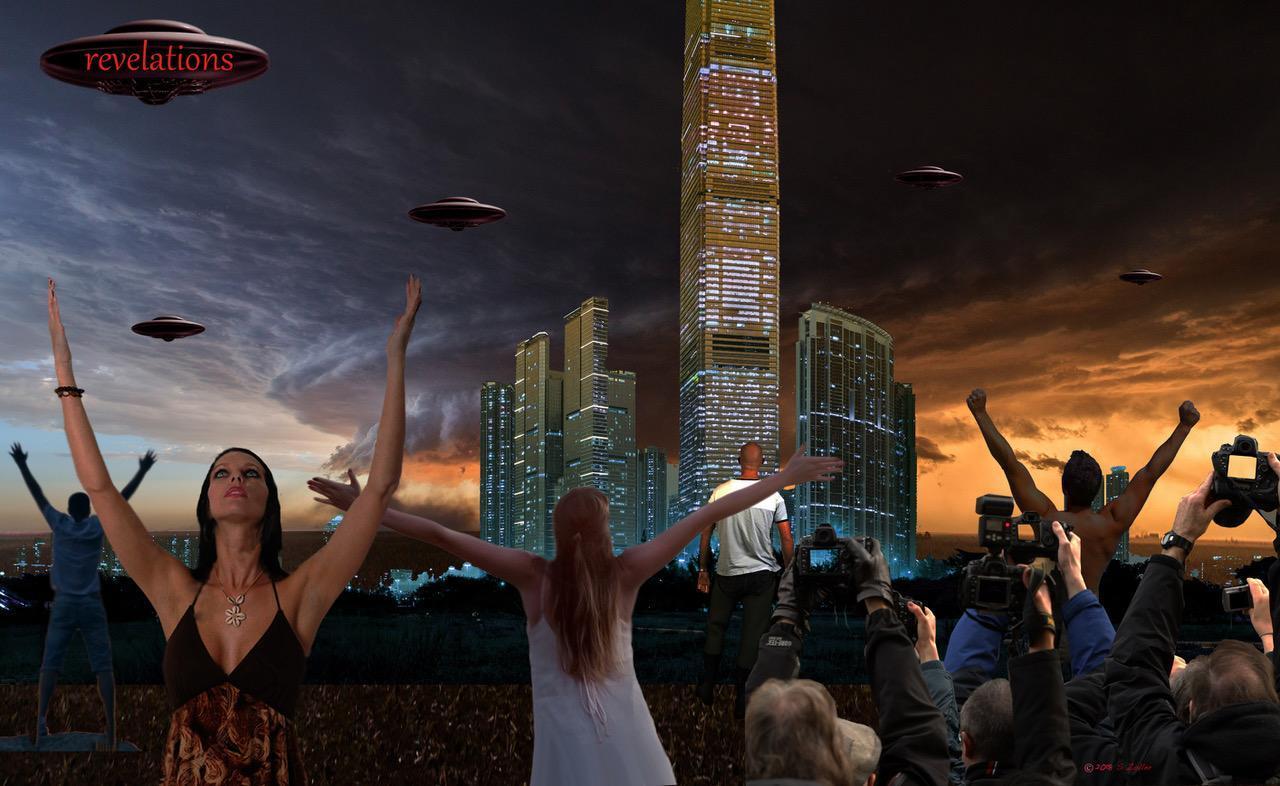 Even while admitting that one can read almost anything into Nostradamus' verse, the New York Times once wrote a story suggesting "certain lines are said to have predicted Napoleon's rise, Hitler's fall, Hiroshima, the arrival of the Kennedy brothers, the death of Diana, Princess of Wales, and September 11, among hundreds of other events."
Now, with the Amazon rainforest burning as we speak, when listing the "Top 10 Nostradamus Predictions for 2019," another source suggested: Nostradamus had predicted a climate catastrophe to suddenly burn the Earth over years, if not months. The visionary warned that "the King will rob the forests" (uncontrolled deforestation?) and that "the sky will open and the fields will burn up from the heat."
Then there was this headline this week: "Unprecedented devastation in the Bahamas."
But, even if you're a devoted skeptic of the Renaissance seer, many others today are predicting similar catastrophes. A recent report from an independent Australian think tank, called Breakthrough National Centre for Climate Restoration, outlined an apocalyptic scenario for humanity that if we don't start dealing with climate change, by 2050, we could see irreversible damage to global climate systems resulting in a world of chaos where political panic is the norm and we are on a path facing our end times.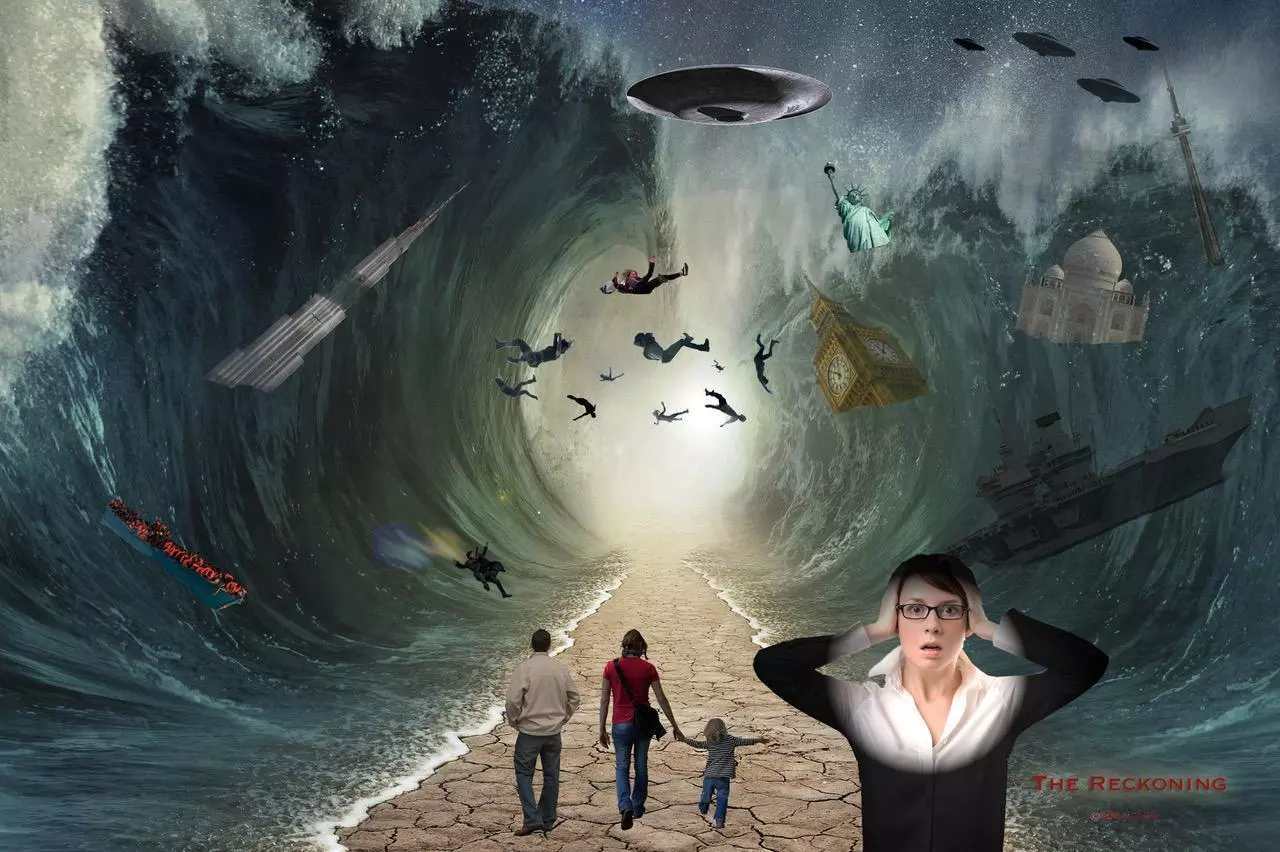 Still not convinced. So, let's ask the people. In 2015, 23% of the general UK public believed the apocalypse was likely to occur in their lifetime, and an earlier survey found that 22% in the US believed in the same occurrence.
The provocative 2008 remake of the classic sci-fi movie, The Day the Earth Stood Still, updated its threat from man-made nuclear destruction to man-made climate destruction, with emissary Klaatu's message being: Planets capable of sustaining life are so rare that the aliens cannot allow us to destroy our Earth.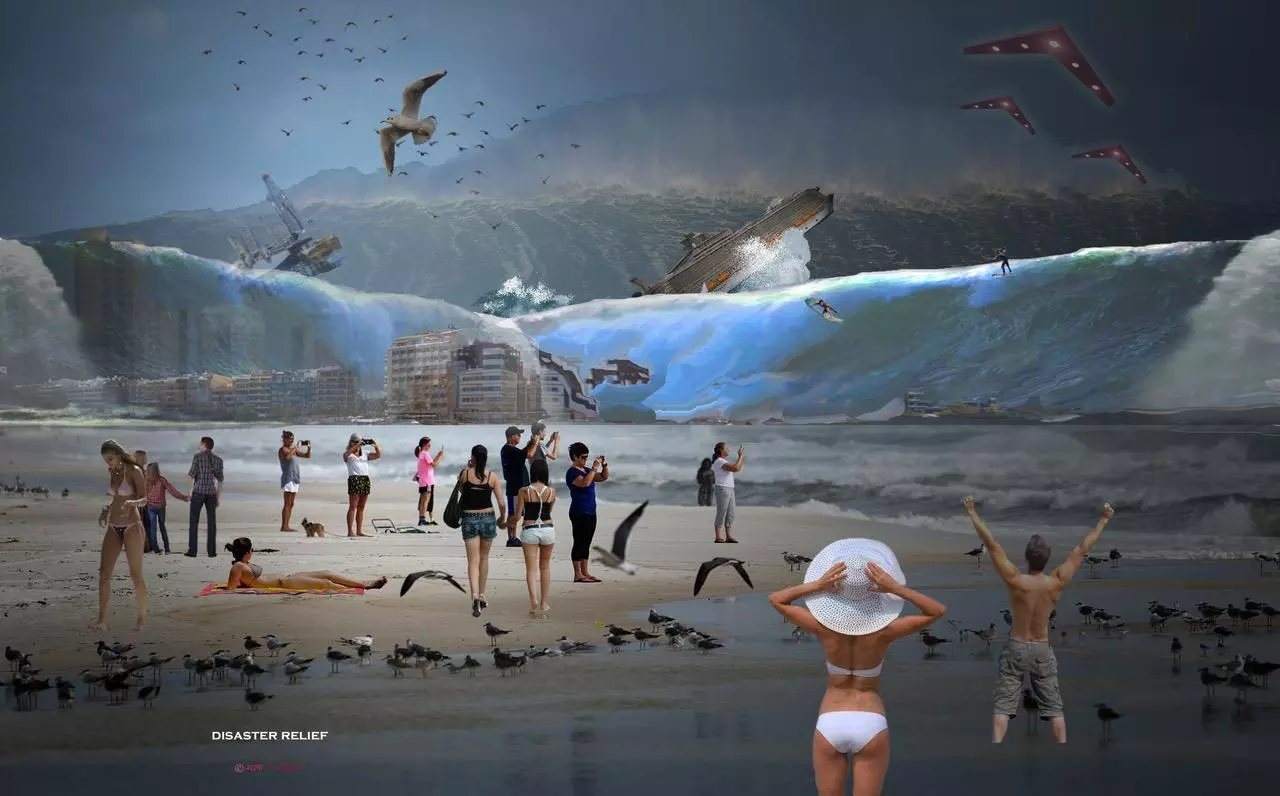 Which brings us to our new installment on UFOs and the Futurians. Once again, I've asked Ufologist/digital artist Stephen Zoller to speculate on UFOs, climate change and possibly averting Nostradamas' apocalypse.
Q. Last time you suggested that the train has left the station on the climate crisis.
A. It's moving much quicker than anyone predicted with the Greenland glacier disappearing 70 years ahead of projections. I don't think those who choose to remain ignorant are prepared for the accelerated pace and ferocity of the natural disasters headed our way—just witness (category 4) Hurricane Dorian's destruction, with September wildfires in the Western US primed to explode. The Biosphere is the regulator of all four ecosystems on Earth. The lithosphere, geosphere, hydrosphere, and atmosphere. It maintains the equilibrium needed to keep the system healthy and functioning properly. When things get out of whack — that is, the egregious amounts of greenhouse gases we humans continue to pump into the atmosphere every day — it can exert powerful elemental forces to try and bring it back in line.

Q. So, what's imperative of us to do?
A. Slam the brakes on emissions but instead we're polluting at record levels. China and India have now joined the top tier of climate offenders but the greatest are the Americans as they have been for over a century. In three maddening years, Trump's Administration has dismantled every environmental and conservation law the U.S. had in place — signaling to the rest of the world to screw Nature and science because profit beats common sense and facts. The way he's idolized by Evangelicals makes some think he's a good candidate to be the Anti-Christ.
Q. He'd probably love the notoriety! So you think we're nearing something that resembles "The Last Days," as prophesied in the New Testament?
A. Even though I'm an avowed atheist, I'm starting to believe that scientist Robert Jastrow's theory about mystics and scientists climbing the same mountain of knowledge is morphing into a reality right before our eyes. The mystics are people who, no matter which religion they follow, commune with God under an altered state of consciousness. So I'll throw it out there: isn't it possible that some of the prophecies and predictions found in the Bible may have originated from contact with early time travelers?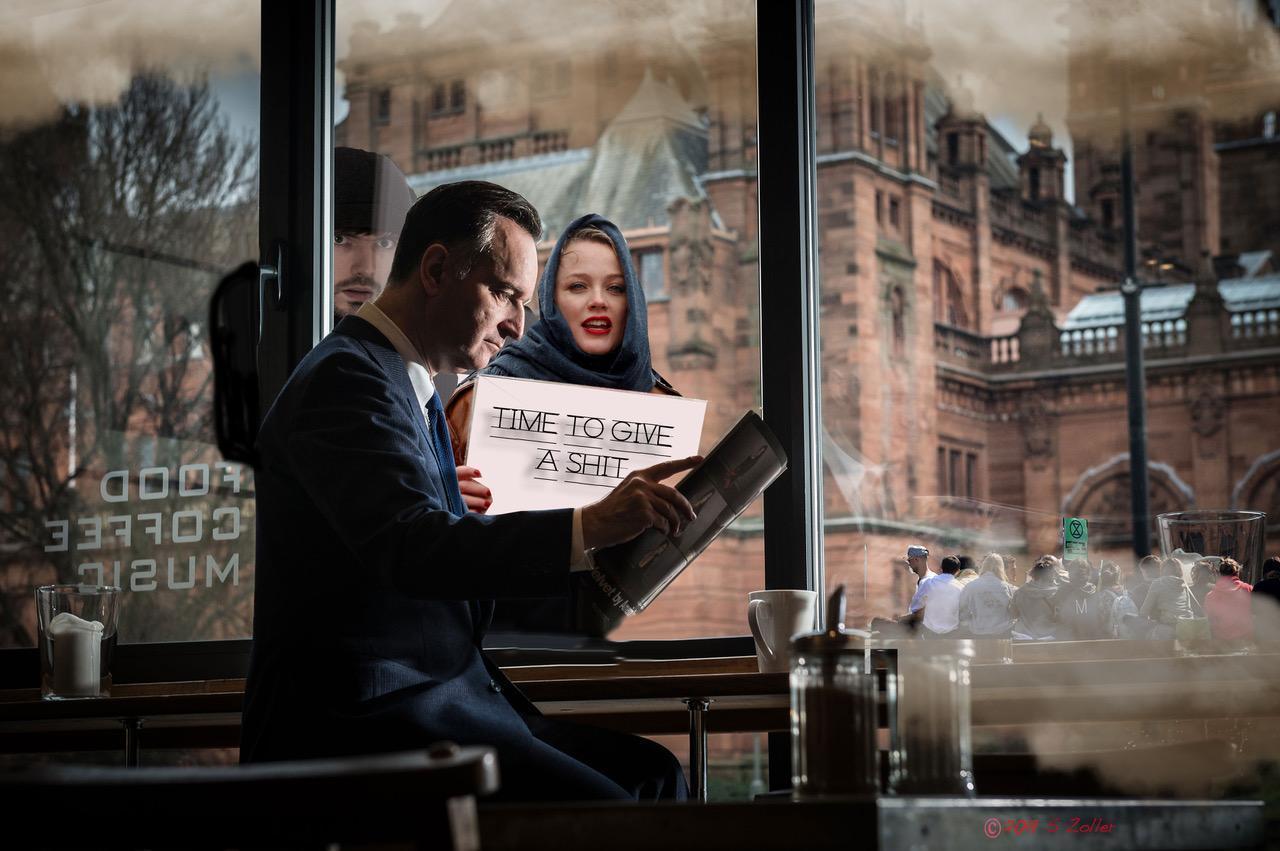 Q. Author Erich von Daniken pushed that idea in his best-selling Chariots of Fire books. So, you really think we're headed toward an Apocalypse?
A. I not only think, I'm positive. On the same day this past July, there was a record breaking heat wave across Europe with Paris reaching 45 C degrees or 115 F — while Guadalajara, Mexico experienced a flash ice storm with hail the size of baseballs. Half the planet is deluged by torrential rains, while the other half is on fire, including the Amazon. So, yeah, the signs are there for whoever wants to pry open their eyelids.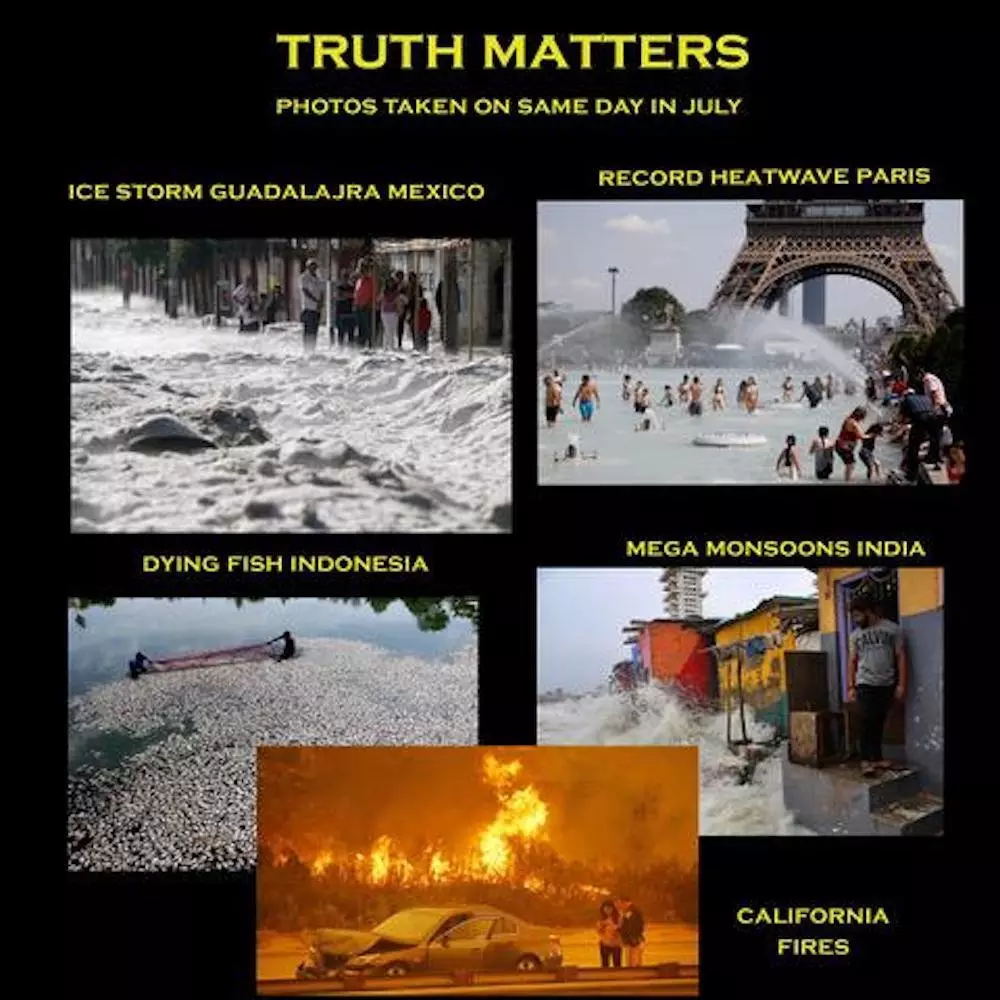 Q. Wow. You must be the life of the party wherever you go?
A. (Laughter) Luckily, I don't get invited to many. But seriously the apathy shown by the public, especially here in North America, is astounding. Instead of joining climate crisis demonstrations as Europeans are doing in increasing numbers, too many here are fiddling like Nero. Where are the "We are the World" and "Live Aid" type relief events that were broadcast worldwide in the 1980s? The crisis we now face overshadows any we have faced in the past.
Q. Okay, but what does all this have to do with the Futurians you've spoken of — humans from our future?
A. The rise of UFO sightings since the end of WWII suggests that they're here to observe the decades leading up to some big game changing event. Call it the convergence of catastrophes — the rising sea levels are already boosting seismic and volcanic activity due to all that extra water plying pressure on the tectonic plates. The weather is clearly moving towards extremes and will force mass migrations at off-the-scale levels.
Q. And since Futurians can't intervene in the timeline, it means we're all screwed?
A. Now you're being the pessimist. Maybe not all of us are screwed. Maybe the convergence will open a window in the timeline and allow them to rescue a few million — maybe even tens of millions, lucky souls, and take them back to their future.
Q. Have you, perhaps, been sipping some of that Evangelical Kool Aid?
A. Hey, I was a science fiction writer before I turned to UFOlogy, so indulge me. But if you take stock of the evidence, there's a strong possibility that were are dealing with a time travel scenario.
Q. But some believe that an extraterrestrial race is behind the UFO phenomenon and they're preparing for an invasion — even Paul Hellyer, a former Canadian government defense minister, is on board with that.
A. Invasion? A civilization as technologically advanced as the makers of those craft we've previously talked about, wouldn't need to invade anything. They have at their disposal limitless energy without any excess heat or pollution. It would provide them with the means to terraform a planet and make it habitable. No, these futurians, hiding in plain sight, are our descendants but they've evolved to reach levels that we can only dream of.
Q. Aren't you making them out to be some sort of gods?
A. For all intents, that's what they are. Once you possess the technological means to genetically engineer life, the next logical step is to improve upon it. Like, removing the predatory genes that govern our animalistic propensity to kill, not only animals, but our own kind. We became so good at killing that, despite our physical limitations, we climbed all the way to the top of the food chain. The industrialized slaughter of animals so that we can satisfy our ancestral urge for meat is mindboggling — about 75 billion animals a year worldwide. It's criminal.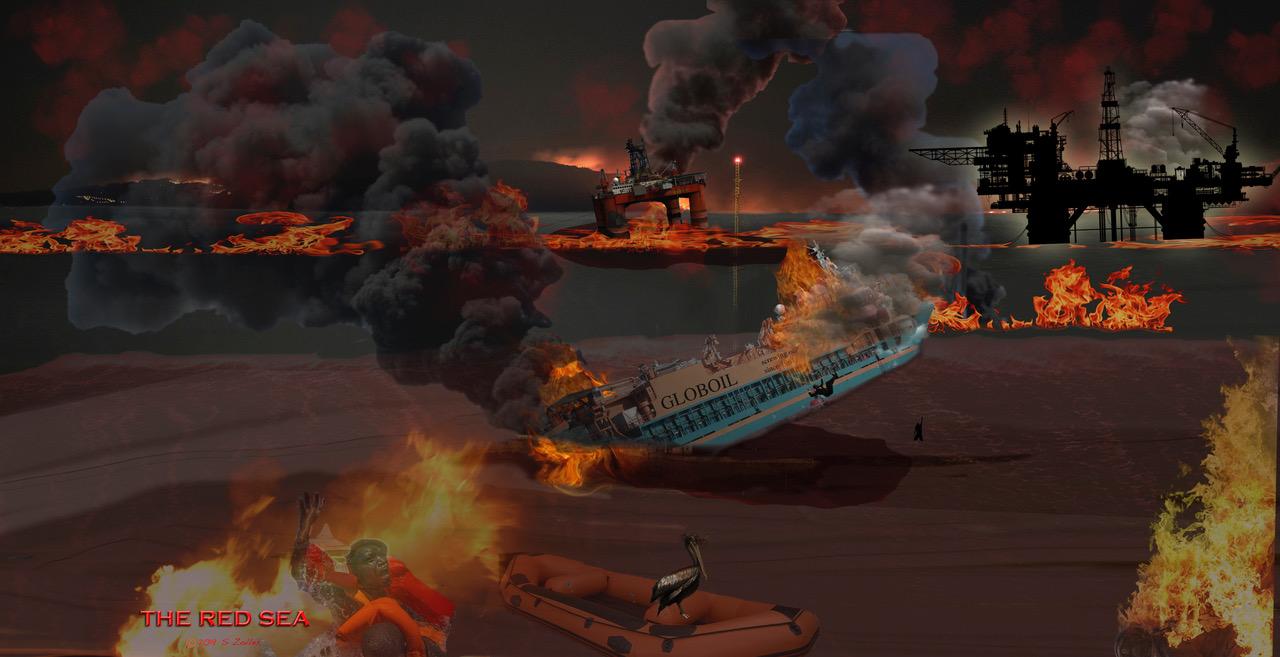 Q. Does it not also contribute significantly to the deterioration of our environment?
A. Absolutely. An advanced civilization would choose to be more moral than we are. They would create "synthetic" foods that would make the slaughter of animals obsolete. They would eradicate disease and aging, and, most of all, they would eliminate the "procreation drive" in our genes which is at the root of our overpopulation crisis. It's estimated that a population of 1.5 billion is the limit for sustainability. We're at 7.6 billion and counting. Common sense tells you this can't continue. Anyway, back to the Futurians. Since you no longer need to procreate, you then make yourself gender neutral. I'm not sure but I think it was Travis Walton who observed exactly that during his interaction with the "aliens."
Q. I can see many people recoiling in horror at the Brave New World you describe.
A. Yeah, well, I recoil in horror at the war-torn, over populated, polluted world we have created.We don't have any justification to flout our "humanity."
Q. So you think the Futurians live in some sort of Garden of Eden?
A. Yeah. Look, it may well be wishful thinking on my part but I'm not the only one. There's a global movement of people who call themselves Transhumanists. They believe that we should be spending our financial resources to integrate ourselves with A.I. It would enable us to create a better place. Those who claim that A.I. will lead to our extinction have it half right — yes it will lead to extinction but in an evolutionary way, and for the better.
Q. Let's return to the idea that the Futurians may rescue a few million of us. It sounds Noah's Ark-like?
A. I find it more believable than an invasion.
Q. So, who do you think will get to go?
A. Certainly not the rich ruling class. Let's just say anyone who owns massive fossil fuel stocks or works for the military industrial corporate complexes of the world should make alternate plans. You prospered and profited from the systematic poisoning of the biosphere. I can't see an advanced civilization looking kindly at that.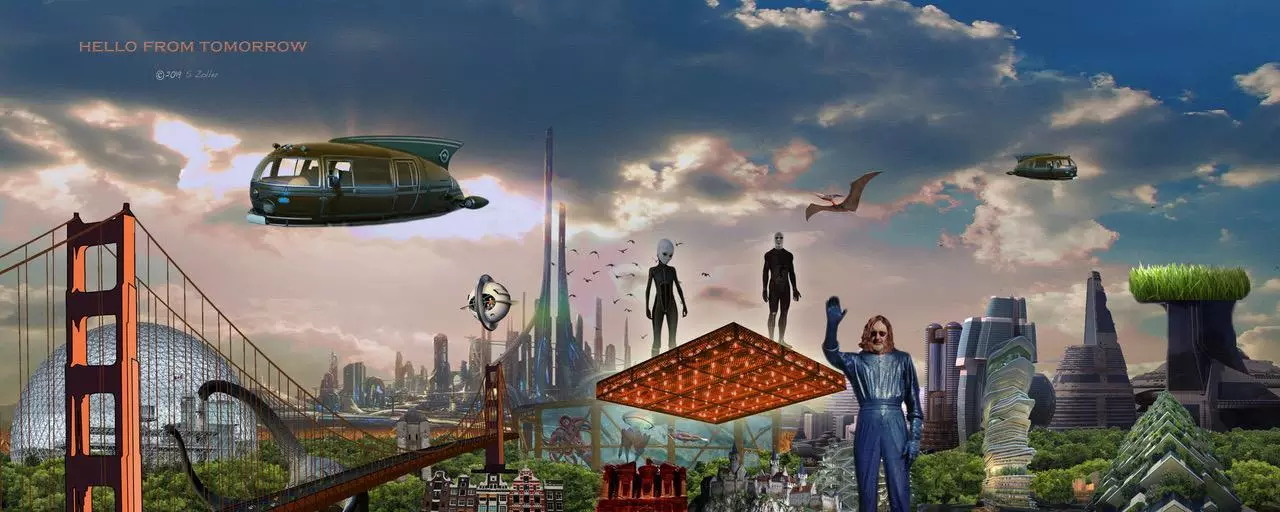 Q. You think they may give you a nod?
A. I'm no environmental angel by any means, but in all my years I've never owned a car. I've maintained a frugal, minimalist lifestyle. My carbon footprint is miniscule compared to most. Even when I lived in Los Angeles I didn't own a car.
Q. Same here. I rent one when needed. And I don't eat meat.
A. (Laughs) Then you're in for sure.
Q. Any last words for our readers?
A. Join a climate crisis group then hit the pavement and demand change. Let's prove Nostradamus wrong.
Q. Thanks for doing this, Steve, and for contributing those awesome digital collages. If someone wants to contact you or see more of your work?
A. I'm on Facebook, Stephen Zoller, and on Flickr. And remember, Keep Your Eyes on the Skies!
All graphics by Stephen Zoller. Author/blogger Ashley Jude Collie's new sci-fi, dystopian novel, REJEX, is available on Amazon (US) and Amazon (UK), and Amazon worldwide.