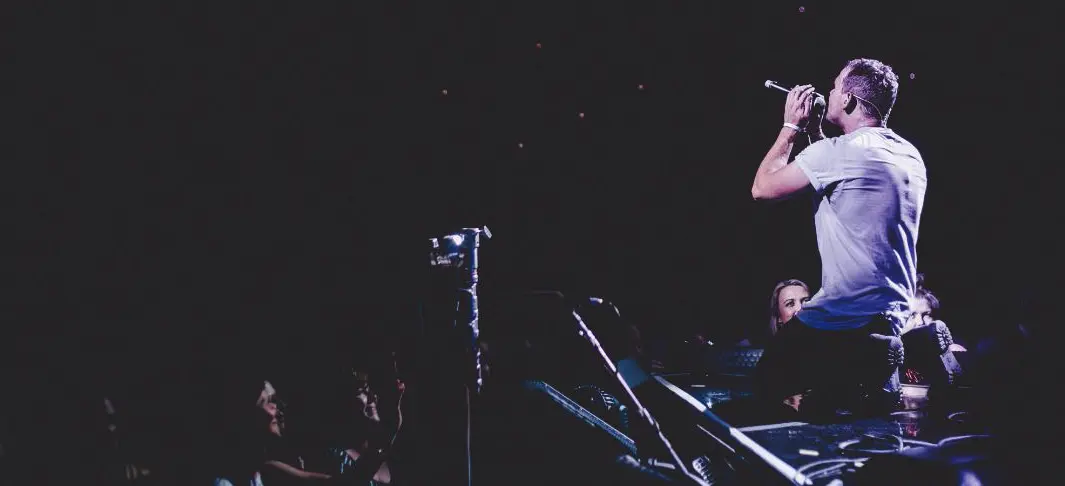 What does Aussie band Buchanan opening for Keith Urban, legendary band Hunters & Collectors, and Kanye West's Grammy-winning producer (Anthony Kilhoffer) all have in common?
Firstly, they're all part of the dynamic Vampr app story which began in 2016 as a sort of "Tinder" and then a "LinkedIn" for musicians.
Secondly, Vampr has now grown to become a professional networking platform that has connected 1 million musicians and creatives globally, and in the process it has: helped artists give birth to over 220,000 original songs between people who've met on Vampr; helped deliver these creatives a combined 62.5B streams on Spotify, Apple Music, TikTok and Soundcloud, with significant royalties of $162M flowing directly into users' pockets, according to Josh Simons, co-founder of Vampr.
Above all, it's only just beginning, because when Vampr re-launched in August 2020, Simons reports, "While introducing other tools and services, we quietly opened up the platform to allow users from additional creative verticals to play in our soundbox—to test the demand out there. And the results have been nothing short of eye-opening with over 20,000 skill types now registered on Vampr."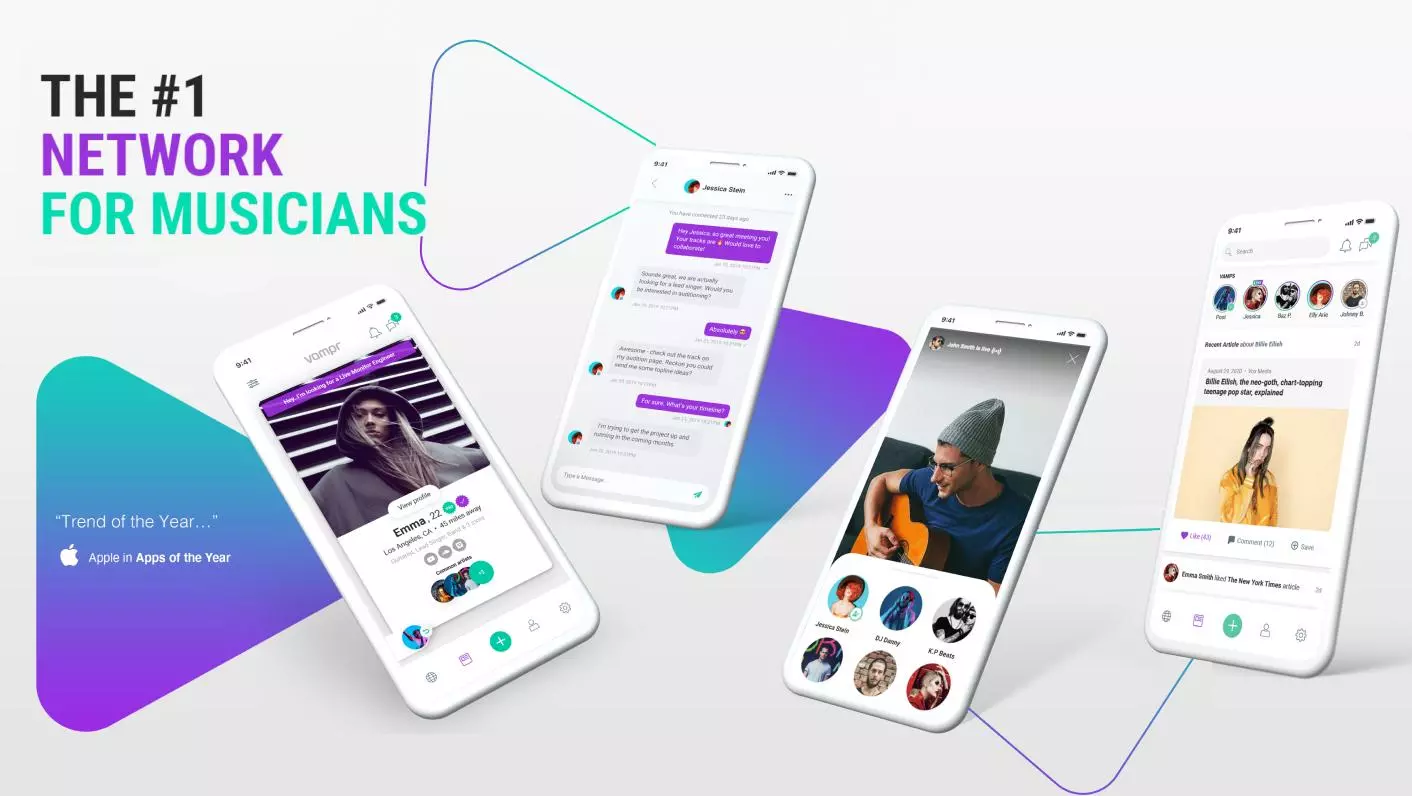 Moreover, in less than 5 years, Vampr has earned its way onto Apple's Best Apps of the Year list. won the SF MusicTech Summit award, and recently got nominated by Music Week for a Consumer Innovation Awards, alongside TikTok, Spotify, Amazon Music, Deezer and PIAS. And, soon, just imagine a world where Vampr users from all artistic fields are part of a massive tribe who are creating and collaborating via the swipe of a finger.
Discover. Connect. Control.
Meanwhile, back to the Vampr story. Stoked Simons was frontman for Buchanan when they opened for country rock legend Keith Urban in the summer of 2016. One of the songs he performed was "The Beep Test" which he'd recorded with producer Anthony Kilhoffer, of Kanye West fame. At the time, Simons was already working on co-developing Vampr with tech entrepreneur Baz Palmer, who was also the multi-award-winning songwriter and guitarist with Hunters & Collectors.
Indeed, Simons and Palmer had come to understand that "connecting with other musicians can be difficult, especially when moving beyond your immediate group of friends and locale." Jump ahead 5 years, San Francisco-based indie band Carpool Tunnel overcame this challenge, by using and praising Vampr: "Well four of us just happened to have swiped right. Yes, we actually met on an app Vampr—basically Tinder for musicians. Soon after we connected we met up to jam and found that all of our musical interests really went well together." Now, they have a recording deal and are going out on tour.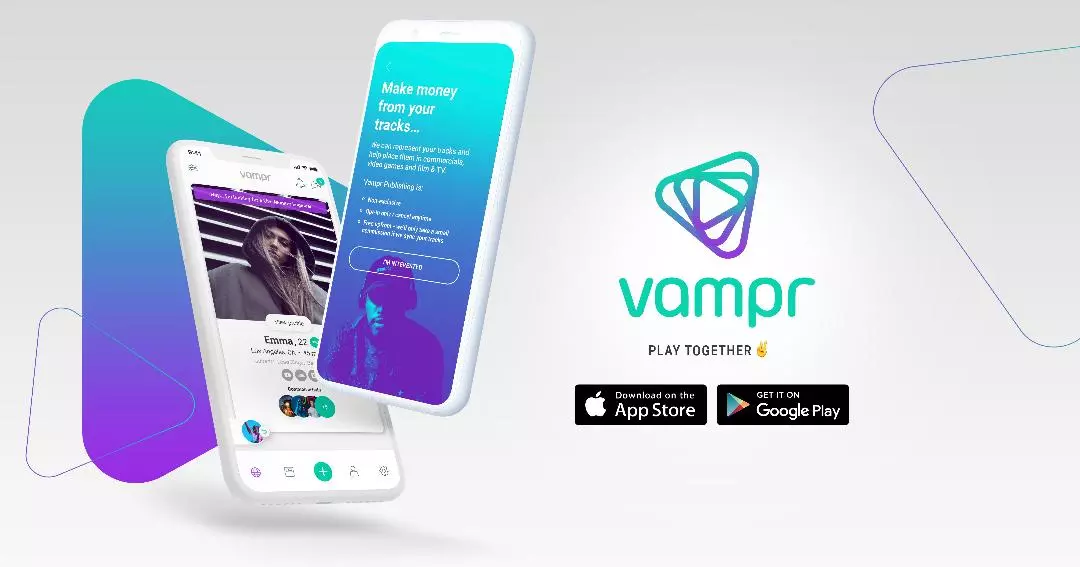 Most importantly, BBN Times caught up with affable Josh Simons, now based in Los Angeles, to chat about how a simple swipe on one's phone has earned the trust of those 1 million users:
Josh, what does a one-million user benchmark mean for any start-up network?
It's a big milestone for any social network—it's proof, if nothing else, that we've moved well past the concept stage and that clearly our platform and the services we offer are resonating in the wider market. In our niche category there are probably only a handful of companies who have made it this far from a user based perspective.
How has Vampr evolved from "Tinder" for musicians to a "professional networking" platform?
As the number of people signing up to Vampr grew, so too did the demand for a product like Vampr to service people outside of strictly musical skills. And that makes logical sense: music and sound serve as critical components to virtually every creative expression which exists. As such, this evolution felt extremely natural to us.
Tell us about your music tech start-up's relaunch in August 2020?
We had been planning a major overhaul as far back as summer 2017. We learned so much from those early years and understood how our product could deliver a far richer experience to far more people, but we needed a whole new framework with which to build upon, and we also needed new capital to execute on that vision. When we were finally ready to ship this new version of Vampr to the public it only felt right to simultaneously update our branding and treat the entire affair as a relaunch.
How has Vampr's last successful funding helped grow the company by helping to create new services/tools?
When looking at almost any metric, you can judge a company by, we've either doubled or tripled our progress since our last fund raise. We've also been able to add significant value with things like: Vampr Publishing, a music catalogue which now features 45,000+ tracks and growing 14% MoM; or Vampr Pro, which is a premium subscription service offering things like music distribution and additional connection opportunities. There are also social initiatives and features geared towards engaging the entire user base, including: the Happy Hour initiative gives users access to unlimited swipes at 5pm in their local timezone, encouraging unlimited collaboration between users and allowing talent across the industry to thrive; and, Vamps (live streaming tools), that have proven to be both incredibly popular and effective at improving retention and the amount of time people spend on the platform.
How are these enhanced services key to serving your users?
I've learned that the most valuable services are the ones we can offer which are indispensable to the target market—and the way to learn what those things are is by doing a lot of listening, and thankfully we are blessed with a large enough user base that consensus is found pretty quickly. All of the services we've mentioned here were designed in response to overwhelming feedback we'd receive, such as, "how can I connect with more people at once?" or "how can I make money from my music?" There's still a way to go in terms of perfecting these features but we make steady progress each and every week and attempt to ship updates every fortnight.
Could you expand on that anecdote about how Vampr has worked for someone?
I am incredibly fond of the Carpool Tunnel narrative. They formed their band on Vampr, then met a Grammy nominated producer on the app, and have since built a phenomenally loyal fanbase with over 50K monthly active listeners on Spotify and have just recently signed a recording deal with Pure Noise Records. They're living the dream and their story is the epitome of why Baz Palmer and I built Vampr.
With a new round of funding coming up, why is Vampr a wise venture for investors, including everyday ones?
In terms of funding round sizes and how they've progressed, Vampr has followed a fairly typical Silicon Valley model, with the big difference being we've opened up the investment opportunity to everyday investors. This is cool because retail investors generally don't get access this early to a social tech venture growing at the rate we've been enjoying, however the key reason for doing this and what makes it really special for us is being able to give ownership of the company back to our users—the people who get the most value out of Vampr. With this next funding round we will similarly open a portion of the raise to our users for participation.
What does your expanding network of brand partnerships reveal, and what's in it for these partners?
I think it sends a fairly clear signal that we're open for business and that our focus is expanding. We're fundamentally committed to generating future revenues by bringing additional tools and services, and thus value, to our incredibly well-defined audience of musicians and creatives. And we're just getting started.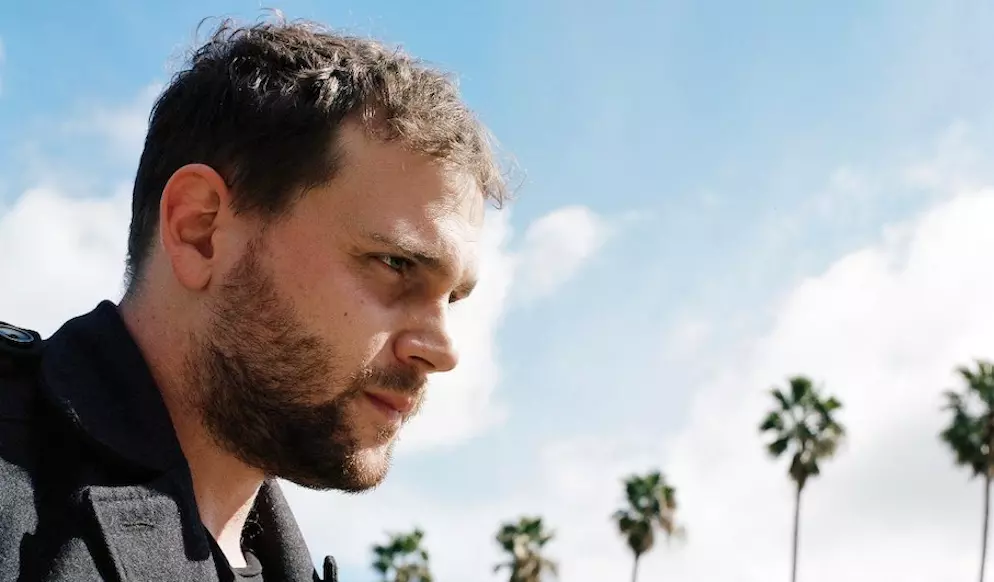 Indeed, Vampr is just getting started. Drop in to the Vampr website, and start swiping. Check out the Vampr Blog which offers useful strategies, and also look in on Vampr on Instagram, Facebook, Twitter, and LinkedIn.