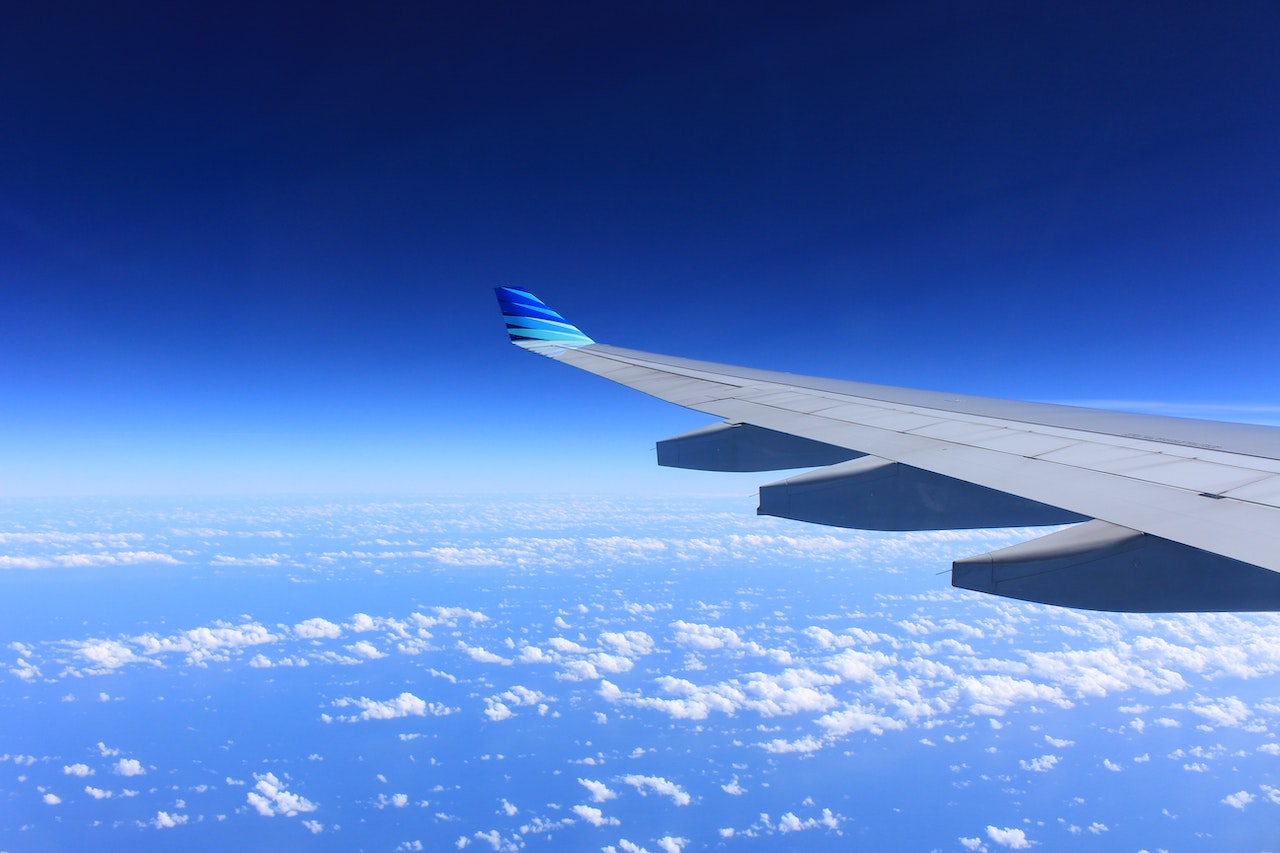 AI is revolutionizing modern air travel management in aviation.
Through AI-driven recommendations, airlines can make informed decisions, improve efficiency and deliver personalized services, shaping the future of air travel.
In the modern age, air travel management has become increasingly sophisticated. With the help of advanced technologies such as artificial intelligence (AI), it is now easier than ever for airlines to provide passengers with a personalized experience that meets their needs and preferences. AI-driven recommendations are used more frequently to optimize flight operations and improve customer satisfaction. This article explores how modern air travel management should include AI in aviation in order to ensure an efficient journey for all involved.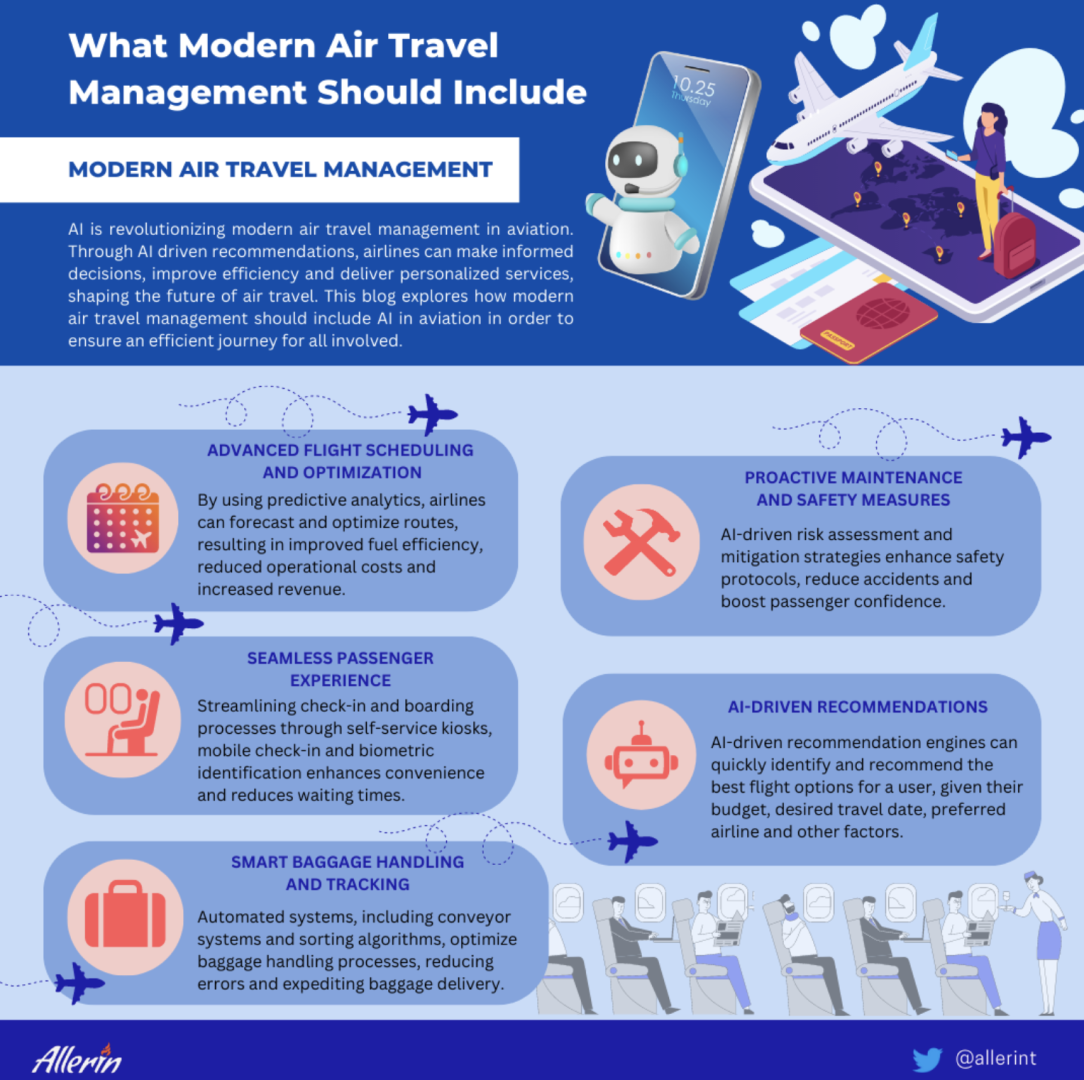 Advanced Flight Scheduling and Optimization
Efficient flight scheduling and optimization are vital for maximizing operational efficiency and minimizing delays. Modern air travel management should leverage AI algorithms to optimize flight planning, as it considers factors such as weather conditions, air traffic and aircraft performance. By using predictive analytics, airlines can forecast and optimize routes, resulting in improved fuel efficiency, reduced operational costs and increased revenue. Real-time monitoring and adjustments allow for proactive management, ensuring optimal resource allocation and minimizing disruptions.
Seamless Passenger Experience
Creating a seamless and enjoyable passenger experience is a cornerstone of modern air travel management. AI-powered chatbots have revolutionized customer interactions, providing instant responses to inquiries and offering personalized assistance. Streamlining check-in and boarding processes through self-service kiosks, mobile check-in and biometric identification enhances convenience and reduces waiting times. Integrating biometric technologies, such as facial recognition, expedites security procedures and improves efficiency and passenger satisfaction.
Smart Baggage Handling and Tracking
Efficient baggage handling and tracking systems are crucial for a hassle-free travel experience. Modern air travel management should employ RFID and IoT technologies to track baggage accurately in real time. Automated systems, including conveyor systems and sorting algorithms, optimize baggage handling processes, reducing errors and expediting baggage delivery. Providing passengers with real-time updates and notifications regarding their baggage enhances transparency, minimizes anxiety and improves overall customer satisfaction.
Proactive Maintenance and Safety Measures
Maintaining the safety and reliability of aircraft is paramount in air travel management. AI-based predictive maintenance analyzes sensor data to detect potential issues before they escalate. This proactive approach minimizes downtime, ensures flight safety and reduces maintenance costs. Remote monitoring and diagnostics enable real-time identification and resolution of issues, further enhancing operational efficiency. AI-driven risk assessment and mitigation strategies enhance safety protocols, reduce accidents and boost passenger confidence.
AI-Driven Recommendations
AI can be used to generate personalized flight recommendations based on customer preferences. By leveraging machine learning and natural language processing, AI-driven recommendation engines can quickly identify and recommend the best flight options for a user, given their budget, desired travel date, preferred airline and other factors. These recommendations can be presented to the user in a dynamic, intuitive format that makes it easy for them to compare and choose the flight option that best meets their needs.
Conclusion
The use of AI in aviation is paving the way for more efficient and enjoyable travel experiences. From optimizing flight routes and improving booking processes to revolutionizing passenger experience, AI is transforming the air travel industry. By leveraging advanced technologies such as AI-driven recommendations and automated decision-making, airlines can ensure their customers get the best possible experience. Ultimately, this could help them stay competitive and better prepared in an ever-changing market.