SCAMPER provides a structured way of assisting innovators to think out of the box in order to enhance their knowledge.
The SCAMPER technique was originally introduced by Bob Eberle to solve problems and ignite creativity during brainstorming meetings.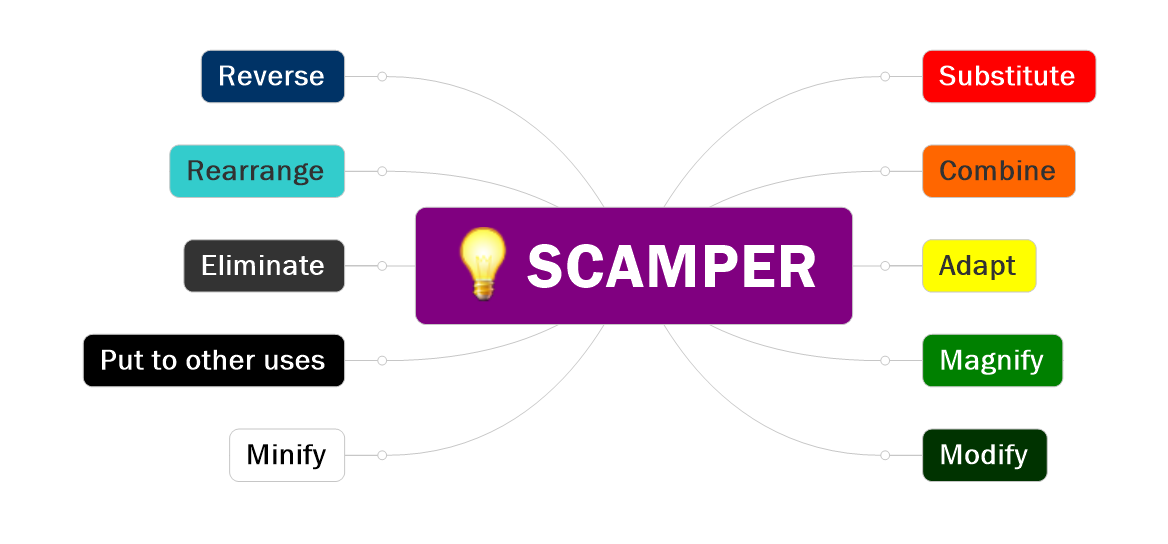 It is an effective and versatile technique for generating innovative ideas for your product or service. It forces you to look at your offering from seven different perspectives. Ask the following types of question when you use this tool:
SUBSTITUTE – What elements of this product or service can we substitute?
COMBINE – How can we combine this with other products or services?
ADAPT – What idea from elsewhere can we alter or adapt?
MAXIMISE OR MINIMISE – How can we greatly enlarge or greatly reduce any component?
PUT TO OTHER USE – What completely different use can we have for our product?
ELIMINATE – What elements of the product or service can be eliminated?
REARRANGE OR REVERSE – How can we rearrange the product or reverse the process?
Start with an existing product or service and then take one of the verbs from the list above. As an example, think of "SUBSTITUTE". Brainstorm ways in which we could substitute any part of the product or service. Brainstorm how your organization can substitute something for the entire product or service. Generate as many ideas as we can and then we move onto the next verb.
Here are some examples of how the SCAMPER verbs work for innovation. If you were making spectacles then you could substitute plastic lenses for glass (incremental innovation) or you could substitute contact lenses for spectacles (radical innovation). A mobile phone was combined with a camera and then an MP3 player. The roll-on deodorant was an idea adapted from the ballpoint pen. Restaurants that offer all you can eat have maximized their proposition. A low cost airline like Ryanair has minimized or eliminated many elements of service. De Beers put industrial diamonds to other use when they launched engagement rings. Dell Computers and Amazon eliminated the intermediary. McDonalds rearranged the restaurant by getting customers to pay first and then eat.
If the session is well facilitated and you work each verb hard then you will be sure to generate some excellent incremental and radical innovations.