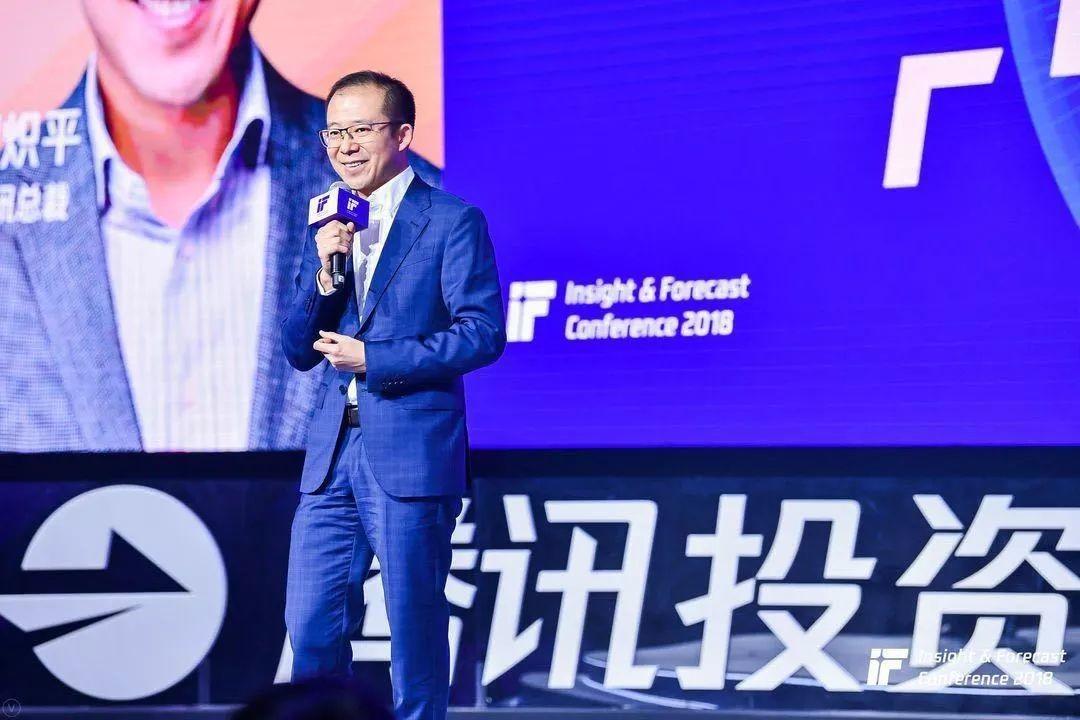 Below is my abridged translation of a short speech given by Tencent president Martin Lau at the Tencent Investment's 'Insight & Forecast Conference' held in Beijing. The speech not only reveals some very impressive statistics on Tencent's investment track record it also gives some insight into the organization's overall investment philosophy. Finally, it provides some color regarding the wider market sentiment amongst startups and investors that China is entering a winter period.

Martin Lau, Tencent President - Jan 24th 2019 | Picture Credit: Tencent Investments


Tencent investment last year celebrated its 10th anniversary, we've achieved some good results over this time. In the past ten years, we have invested in more than 700 companies. Among the 700 companies, 63 are now listed, and 122 are unicorns with market capitalization or value of more than 1 billion US dollars. Moreover, the combined total market capitalization of companies in which we hold more than 5% now exceeds $500 billion. It is now obvious that we have established a relationship with a larger ecology than Tencent through investment. This is a very exciting thing for us.
Looking back on 2018, it can be said that it was the best year. Why do I say this? Because 16 of our invested companies became listed, which beat all previous records in the past. But then things turned sharply, as from the heat of summer to the cold winter. I personally think that there will be even greater challenges in the short term in 2019.
There was certainly a bubble before, and even if everything else remains the same, the bubble popping will make things already worse a little. Secondly, the entire external environment, the macro environment will be even worse, this is a double blow.
However, after every major crisis and bursting of a big bubble, the companies that are reborn will become the best and most promising companies. Therefore, I myself look at this matter and feel that the short-term pressure will be getting larger and larger, but I am still very optimistic about the long-term.
Many people asked us if we are going to reduce our level of investments this year? I tell everyone right now. We will not do this.
Investment is a core strategy of Tencent. Why do I say this? Before we started investing, we wanted to do everything and anything. Some horizontal expansions were a waste of overall manpower and we weren't the best in many of these areas. The core of our investment strategy is to allow us the choice to do the most important things, and at the same time give the things that we can't do well to the invested companies to do. By investing, we can now collaborate with a larger ecosystem with a variety of expertise. Over the years, investment has allowed us to enter many new areas, not through ourselves entering, but through investment in companies, which has given us new opportunities.
Of course, in 2018, we have been questioned a lot regarding investment. Some people said that with prioritizing investment, 'Tencent has no dreams'. I personally think that if we want to control everything and want to do everything ourselves, this is not a dream. This is a delusion. Instead, when we can choose what to do and what not to do, we can truly make our dreams and let the dreams of all the entrepreneurs here also be realized.
After Tencent started doing investments, some people asked had we turned into an investment bank? I think that question itself is unprofessional. Firstly, investment banks are intermediaries, investment banks do not invest; more importantly, they do not see the essence: through investment, we and our partners form organic complements.
Investment allows us to focus on our platform and business, and when our platform and business are stronger, we can provide better services for partners and invested companies. The game industry is a very clear example. We did our own research, operations, and investments. In the end, we found we'd done a good job on each of them. Many of the companies that we invested in have also achieved extraordinary results. In the field of film & video and through our investment in literature, we have cooperated with many excellent content production companies. Tencent Video has finally become an industry leader, and in the process has helped achieve success for many of our partners; In the field of payment, through cooperation with many partners, WeChat Pay, from online to offline, has become an application used by all. At the same time, this allows every entrepreneur in the room a chance to make a choice with transactions, which is very important for the whole industry.
Over the years, we have been thinking about how we can create more value for investment companies and provide more help. First of all, as a strategic investor, I feel that the most important responsibility is to create an open and fair platform in our business so that everyone can achieve the highest value through their excellent ability. This is one of our most important responsibilities and missions.
Secondly, we are also thinking about how to make this kind of thinking work better. In the past year, we have organized restructuring and established a business group of cloud and smart industries, referred to as CSIG. Its mission is to enable us to better serve our partners. We hope to use CSIG to more efficiently package many cloud and internal technical capabilities, data capabilities, security capabilities, AI capabilities etc. For example, smart retail, if a retailer comes in and says I need AI and data services to make my marketing more efficient, I want AI vision technology to make my entire store's traffic flow better, I hope to use mobile payments and mini programs to connect well with the offline users so they can better access ordering online, I hope to let my staff members efficiently guide customers to buy through WeChat enterprise version, and so on. If a team has a unified and efficient service for this series of needs, then it can bring more value to our partners.
Finally, I would like to share with you, under these circumstances the whole economy is relatively weak and the industry is cooling down, what kinds of things do we suggest everyone to do. Simply put, it's more necessary than ever to do the right thing. What is the right thing?
The most important thing is user value. We have seen that in the provision of user value, many companies have begun to develop horizontally after doing the initial layer. We should be cautious in this matter. To truly provide users with a unique value, we either have to be more creative, or have better technology to solve the user's problems. In short, continue to develop in depth, and deepen our own value. In an industry where we're seeing more and more entanglement and overlap, if each point can provide more core value, I think this may be more correct than simple horizontal development.
Second, build a team. The final decision of the team is the key to success. Many times, this is easy to be ignored when a company is developing rapidly. It's very important to build a very strong cohesive team and have good values and culture, especially in times when the company meets trouble but afterwards can go higher.
Thirdly, when a market is being nurtured early on be careful about pitfalls. One of them is "how useful are promotions and subsidies?" On this issue we have seen many companies take a detour. Many times you find that the customer you are getting is not the customer you really want. Once the subsidy disappears, the rate of return is immediately reduced. In addition to wasting resources, the bigger blow to the company is that when you see the superficial growth, you are likely to be fooling yourself and not focus on the things that really add value to the user.
Fourth, choose your investors carefully. I saw that in times when the market become heated or unrealistic, investment became a game. A game of who could get the most financing and the highest valuation. Your investor should be one of your most important partners throughout the entrepreneurial process. In the end if an investor is simply adding to the price value, rather than their insight, decision-making ability, or can give you some help, I think this kind of thing we should be particularly careful about.
Finally, we need to manage our own mindset. When the market is relatively heated or unrealistic, there will be a change in the mindset of entrepreneurs. Some entrepreneurs have no way to control their own mindset and put their own interests above the value of the work and the value of the team, over the value of the user; but some entrepreneurs can manage themselves. This may be the difference between the winner and the loser. Therefore, I hope that in times of difficulty, we need to be more conscious of managing our own mentality.
Finally, I want to tell you that although Tencent is a strategic investor throughout the investment process, what is different from the general strategic investors is that we will always focus on the invested company's interests, not on our own. This is our commitment to you. When the environment is difficult, I promise everyone, we must be the ones delivering coal when it's snowing (雪中送炭 a Chinese idiom). we must be the ones standing next to you when you are making the most important decisions. At the same time, we believe that at the worst time, it is actually the best temper for the excellent team. We will always accompany you in experiencing these trials. Through long-term companionship, we'll wait until you get your breakthrough. Therefore, I hope that everyone will also give us confidence and support.
Thank you everyone.
--- About the writer: Matthew is a keynote speaker and session host for executive groups on the topics of WeChat and Tencent. For speaking availability: info@chinachannel.co
Want to catch up on the latest news about WeChat, Tencent and China tech? Follow Matthew on LinkedIn, Twitter or listen to the Podcast.
This article first appeared on the China Channel blog.