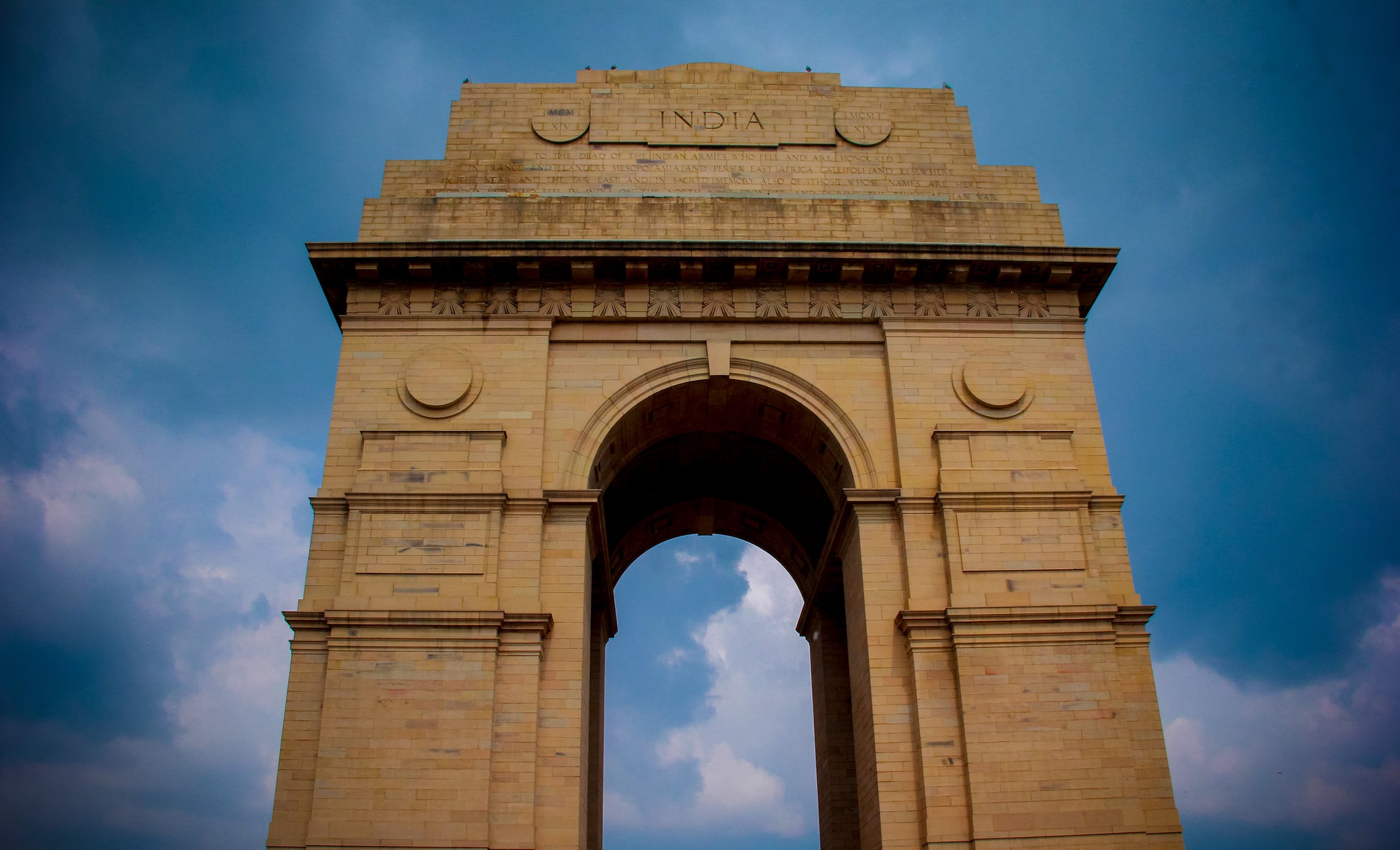 In my previous article on 23 March 2020, I highlighted importance of "Janata Curfew" (voluntary curfew) in India.
Through the "Janata Curfew" the administration was measuring response of the citizens to deal with deadly COVID-19 (SARS-CoV-2). Over last couple of days' time Corona infections intensified in the European Union, US, and Middle East. As on 25 March 2020, total number of COVID-19 infections reached 423,670 with human causalities escalating to 18,923. The United States, Spain, Italy, Germany, and France are emerging as the hotspots of growing COVID-19 infections.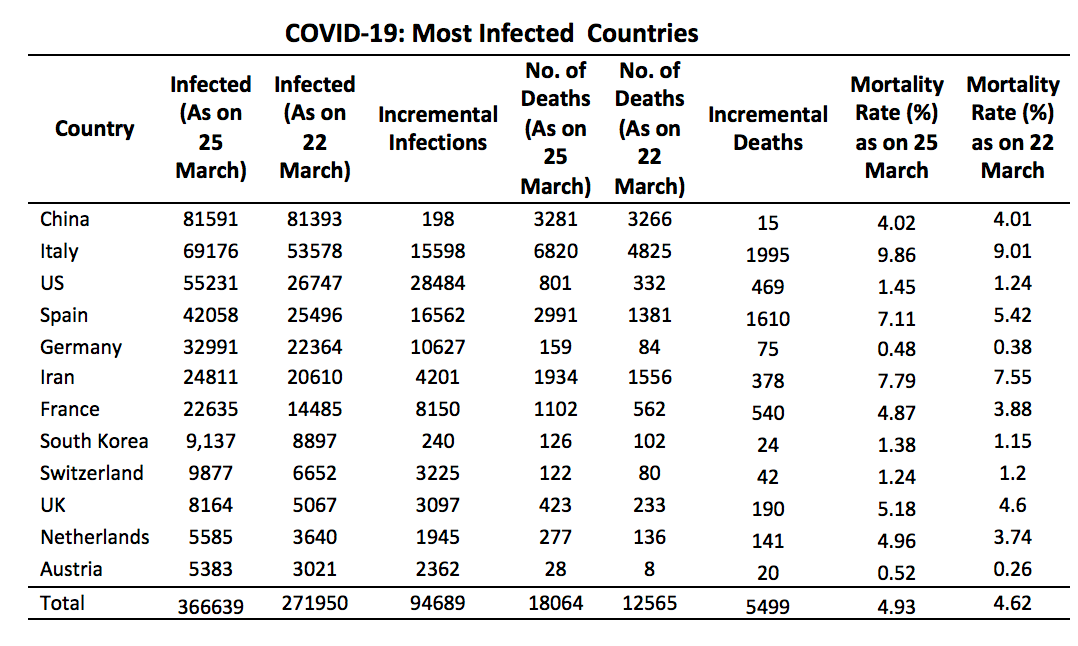 India keeps COVID-19 infections down to manageable level; currently 512 active cases reported. With meticulous planning, timely appeals for social distancing, and stringent enforcement of lockdowns India controls spread of COVID-19 infections. One of the readers of my previous article posted a pertinent question on: availability of testing kits, masks, sanitizers, and ventilators in India to deal with threatening spread of the pandemic. Fortunately, at the moment India is better placed to tackle the shortage of the testing, protection, and treatment gears. There is no doubt about massive shortages above mentioned products across the globe. It would be unfair to raise questions about unpreparedness of any government to deal with massive and global scale viral attack. At the current moment no state would like to be in a position like China/Italy/USA/Spain.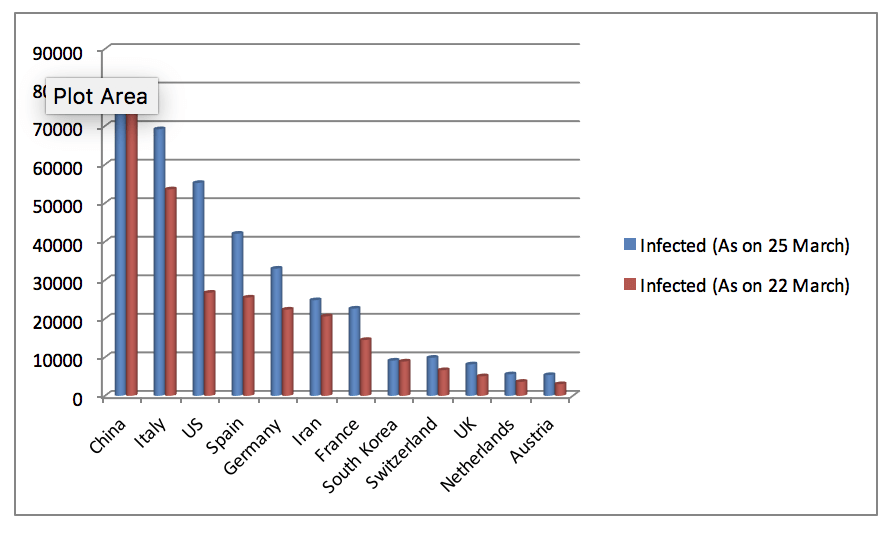 Figure 1: Rising Number of Infections
Government India in coordination with States and Union Territories (UTs) has taken sufficient measures to increase supply of Ethyl alcohol/ethanol/extra neutral alcohol to the manufacturer of hand sanitizers. Further, waiver of 300 percent of excise duty on ethanol for manufacture of sanitizer may facilitate higher and cheaper production. Actions have been taken by the administrations to procure more ventilators, develop hospital beds, and prepare isolation wards to deal with any emergent situation.
On 24 March 2020, Prime Minister Modi announced 21 days lockdown till 14 April 2020 to break the chain of COVID-19. The Central government with complete support of all states/UTs takes all precautionary and preventive measures to protect all citizens. Colossal lockdown which results in shutdown of domestic flights, Indian Railways—lifeline of the country, public road transport, and all other forms of public transport doesn't intend to create discomfort.
PM Modi stressed on the most important message "stay at home and stay safe" to fight COVID-19. The government gave the liberty to 'stay at home'; people of the country must appreciate the intent and value of such a move.
Due to lockdown millions of the labour forces at the bottom of the pyramid will suffer temporary job loss but them to keep their family running. Temporary loss of employment for such a working class is a serious socio-economic concern. To compensate temporary loss of income of the needy section; some of the states like Uttar Pradesh and Delhi have announced financial packages for the concerned working classes.
Those workforces who probably needed a short break to get out of work-related stress and spend quality time with family must appreciate the opportunity. Even those who are confined to work from home can still positively contribute to the nation's progress and prosperity. As highlighted by PM Modi there is an urgent need for understanding far reaching consequences of Corona spread.
Indians are always better prepared for the turbulent and challenging time. I am sure; all Indians will come together with the global fraternity to collectively fight and defeat COVID-19. We must intensify collective, cohesive, and wholehearted fight against negative impact of COVID-19.
The doctors and paramedical workers are working tirelessly without thinking about themselves and their families. Cases have been reported that some of the residential societies & house owners are treating these doctors like culprits –– because they feel "doctors and health workers closely working with COVID-19 patients can spread the disease". Generally, these trained health workers are sufficiently protected while treating patients. So, I appeal to all such owners and residential societies to give due respect to the doctors and paramedical staffs for discharging their duties. They are the backbone of any healthy nation.
Announcement of nationwide lockdowns created panic situations for a short while as residents perceived that many daily needs may vanish from market. However, the Prime Minister, Modi already assured all citizens that there will be no shortage of food and essential commodities during the lockdown. Hoarding and panic buying must be avoided.
Access to essential services like healthcare, baking, use of ATM, insurance, telecommunication, media and broadcasting continues. Also, delivery of all essential goods: food, pharmaceutical, and medical equipment through e-commerce is allowed.
India is not the first country to adopt lockdown strategy at this time of global health emergency. China adopted a brutal lockdown strategy to control spread of COVID-19; the action brought positive results. Other countries like France, UK, Italy, Spain and South Africa have adopted lockdown to contain COVID-19. Hopefully, India's lockdown strategy brings desirable results with minimal disruptions.
Government of India has been executing a micro model plan for containment of local transmission of COVID-19. India is ramping up COVID-19 testing facilities across the country. A total of 119 government laboratories are approved by Indian Council of Medical Research (ICMR) out of which 104 are operational and 15 are under the process of operationalization. Further, on 24 March 2020, ICMR approved 25 private laboratories in Delhi (4), Gujarat (3), Haryana (2), Karnataka (2), Maharashtra (8), Tamil Nadu (3) and Telangana (3) to the existing list of government facilities to strengthen testing capacity. India has capacity to process up to 60,000 samples per week for COVID-19 test. Probably, the country doesn't reach that stage.
Let's pay tribute to all the doctors, paramedical workers, and service providers of essential commodities to keep the system going. Concerted efforts from scientific community, policy makers, political class, and citizens all cross the globe are going bring a logical end to spread of COVID-19.
Stay-at-home and stay safe – maintain social distance – take other necessary measures as advised by World Health Organization to safeguard yourself and others from COVID-19 infections.