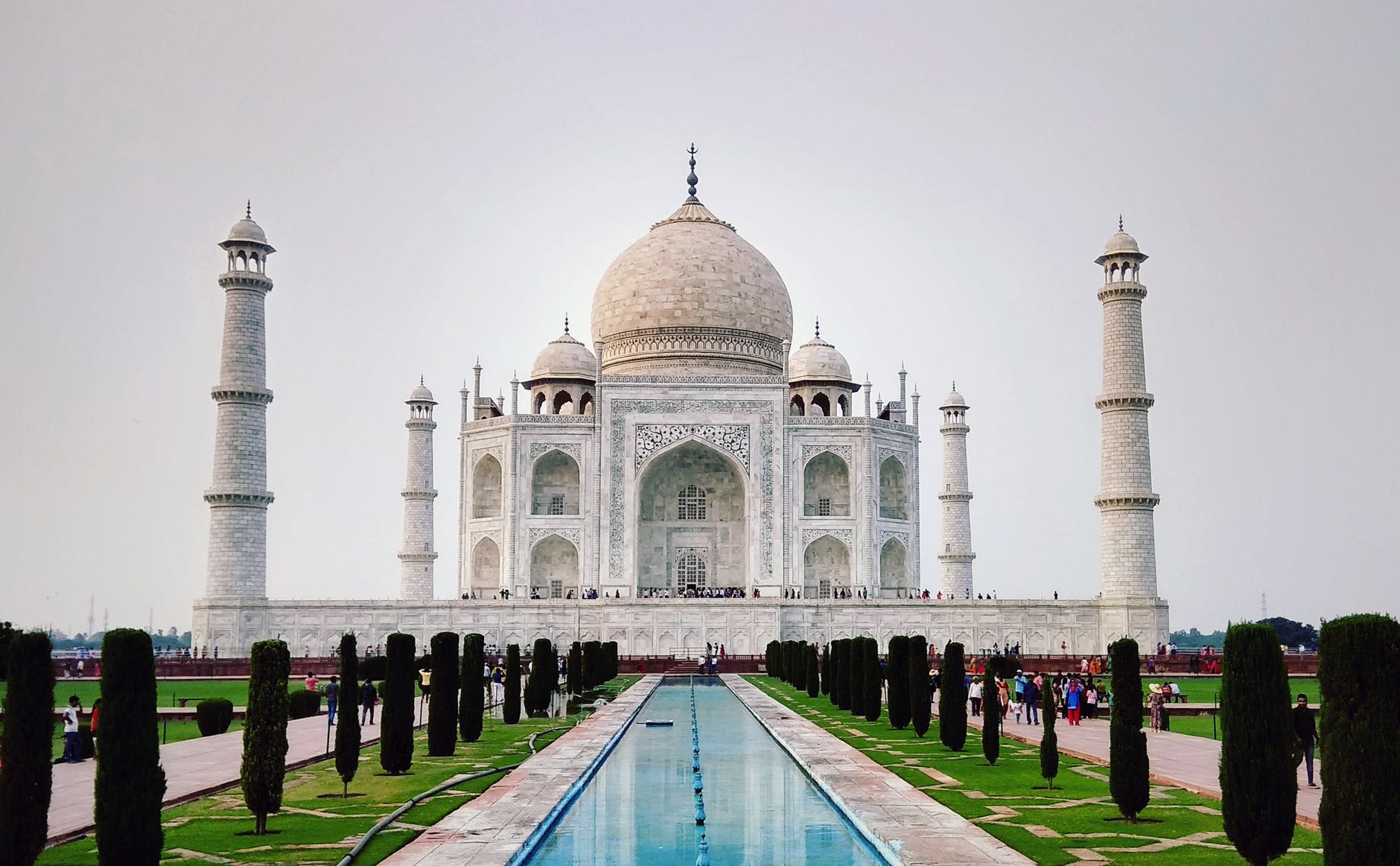 Global trade dynamics are changing much faster than expected; protectionism leading to retaliatory measures is increasingly becoming part of WTO member's strategic actions. The Trump administration has been pressing the tariff button resulting in massive anguish and displeasure at a global level. The US has been striving hard to correct existing trade imbalance with multiple trade blocs or nations including China, India, and the European Union. The changing global order forces many nations to reassess their trade policies, revisit trade agreements, re-negotiate terms & conditions, and prepare fresh strategies to tackle emerging challenges.
Since 2007, India-EU free trade agreement has been under re-negotiation; after 16 rounds of talks trade negotiations are far from reaching any agreement. The last round of re-negotiation happened in 2013 without much success; since then a static phase persists and chief negotiations on both side failed to clear the impasse.
The EU-India Summit serves as a facilitating forum to bring re-negotiation process on track. EU-India Summit held in 2016 even failed to create any momentum; however, it decided to prepare a roadmap for reviving strategic trade partnership by 2020.
Resuming negotiation seems to be a big task than arriving at point of agreement. Both parties understand that delay in finalizing the trade agreement doesn't help economic prosperity on both sides. With massive untapped trade potentials at stake both parties are willing to resume talks and explore zone of possible agreement.
During 2008-18, India-EU total trade climbed up to reach close to US $110 billion in 2011-12 and fallen down next four years (Fig.1). Despite growth recovery in the last two years, India-EU total trade is a clear under achiever.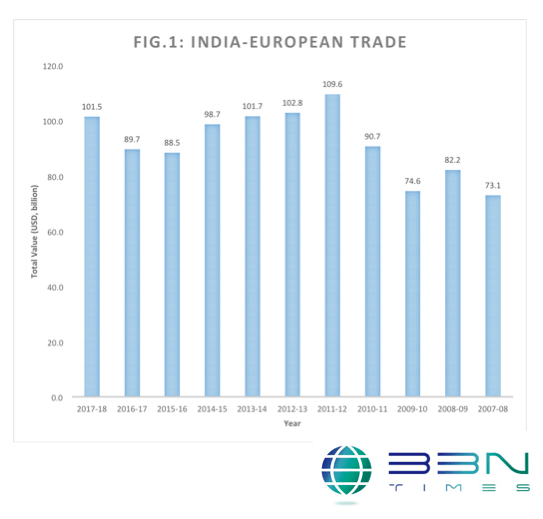 There may be multiple reasons behind the underachievement but the prime reason could be ascribed to lack of bilateral free trade agreement. Needless to mention, India-EU bilateral trade and investment agreement (BTIA) could be critical to strengthen bilateral trade and investment. In absence of 'free trade agreement' concerns at both end remain unresolved, therefore defense measures are in place to protect each side's interests.
As estimated by the European Parliament successful execution of such an agreement would help expanding EU's GDP by 0.14% and India's GDP by 1.3% a year.
It pertinent to highlight that European Union used to be the biggest trading partner of India. However, recent bilateral trade statistics suggest that the EU has been losing its ground. Northeast Asia has been marching ahead as the largest trading partner of India (Fig.2).
The rise of China's trade with India may bother the EU. On many areas China is vastly competitive compared to rest of the world. China's trade surplus with the US and India—is a very good indicator of China's rise as trading superpower. The European Union-India must strive hard to strike deals and cooperate to expand bilateral trade. India has a very good relationship with most of the members of European Union; therefore bilateral agreement at State level looks far more promising. However, India-EU level free trade agreement would have higher impact.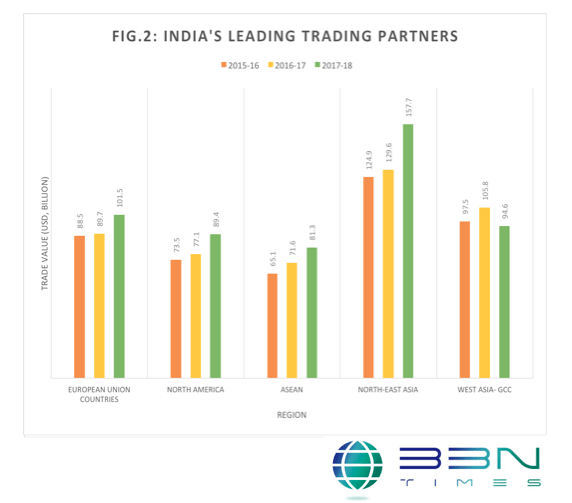 I feel both India and EU may not be very happy with the developments; therefore continuous efforts should be made to bring desired changes. Efforts made at both ends so far produced no visible solution to long-standing problems. India's Trade & Commerce Minister Suresh Prabhu has shown a strong inclination for resumption of talks to address several outstanding and controversial issues. At least India is willing to break the stalemate and find actionable solutions.
The European Parliament observes that "discussions on deregulating the insurance and public procurement sectors have been particularly complex", so concrete steps should be taken at the earliest.
Enhanced market access for goods remains the core component of any free trade agreement. Therefore, the EU presses India to reduce its taxes on alcohol and dairy products, and the duty on automobiles. India may find it difficult to concede, especially on dairy products and automobile; because these sectors may need handholding before becoming globally competitive. Among the others the EU wants India to liberalize professional services and strengthen intellectual property right (IPR) regime. India may consider liberalizing professional services but changing existing IPR regime may have critical impact on pharmaceutical and generic drug industry. India's concession means pharma companies from European Union stand to gain and their Indian counterparts may have lesser scope.
On the other side, India eyes for 'data-secure status' from the European Union. India's rise as a country with English speaking technical talent pool means India's professionals need easy access to job market in the EU. Besides, tariff reduction remains as an important part of trade negotiation. Chief negotiators from both sides must try to create conducive environment for exploring mutually beneficial alternatives and choosing the right ones.
India offers excellent investment opportunities to European firms by providing easier market access. Furthermore, the European Union can wholeheartedly participate in initiatives such as "Make in India", "Digital India", "Skill India", "Smart City", "Clean India," and "Start-Up India", creating more market opportunities, hence higher bilateral trade. The India-EU relationship must move forward rapidly to resolve outstanding issues. Both sides should sign free trade agreement at the earliest.