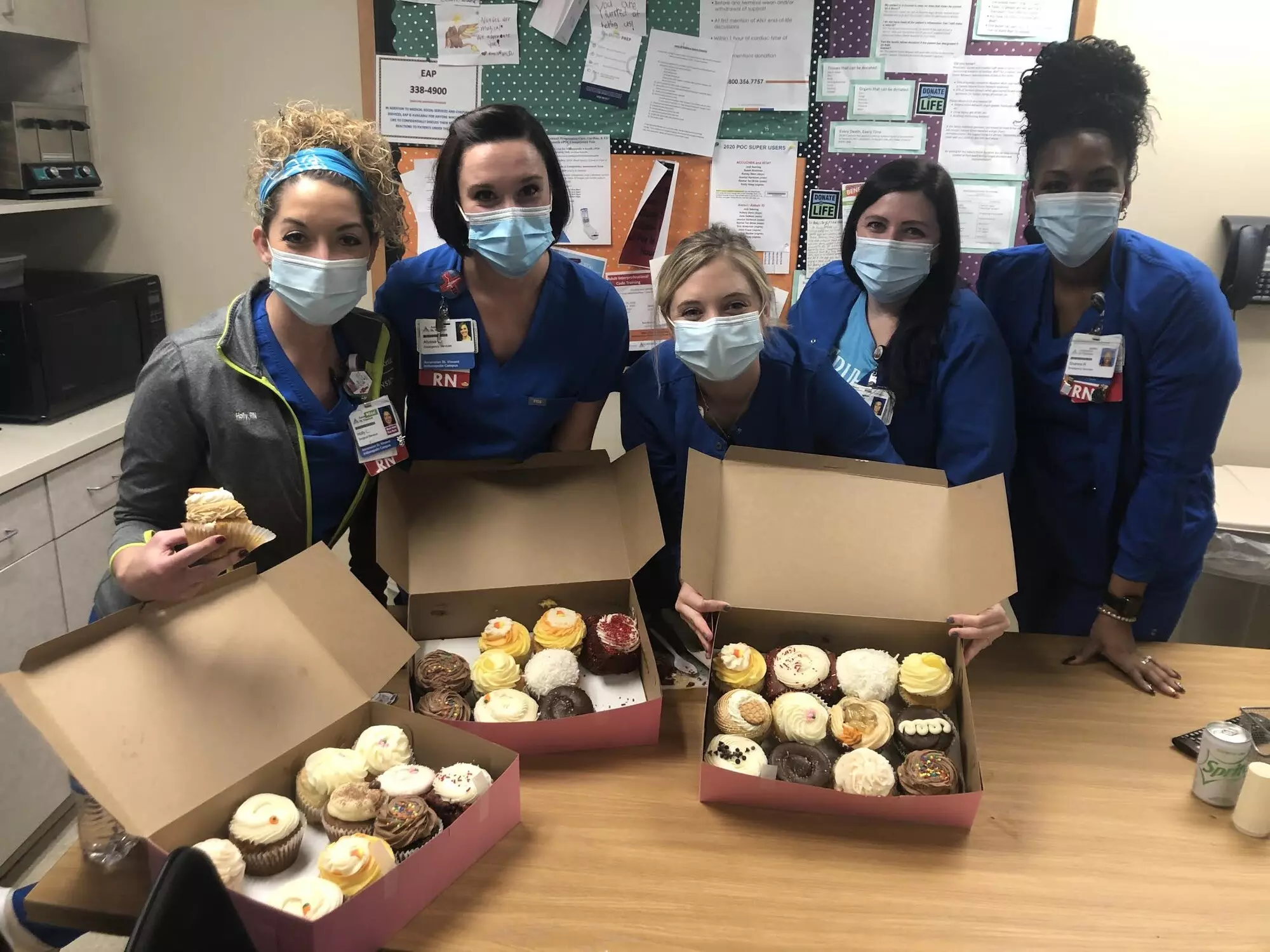 EHOB (a pressure injury prevention company) brought us cupcakes to the ER.
A ton of them, covered in chocolate and caramel and sprinkles, every topping and flavor an overworked doctor or nurse needs to temper the misery of caring for the continued stream of patients dying of COVID-19.
They didn't expect me to shout them out on social media (but I did) or put some flyers up saying they came from them. They wanted nothing in return. They simply just wanted to do something nice.
EHOB follows me on LinkedIn. They've also had me as a guest on their podcasts and thought it would be a welcomed gesture of support, something to ease the pain of the daily stress of the pandemic. And by the looks on the faces of our exhausted staff as they dove into these butterfat and sugar-drenched delectables capable of giving diabetes to a sperm whale, you would have seen that their thoughtful purchase was an absolute success. And it got me thinking.
It's time to bring back the drug reps and all the free lunches that come with them.
I came up in a time of medicine when drug reps were a staple of the hospital environment. They'd bring pens, and calipers, and reflex hammers, and pen lights, and a pile of sub sandwiches, gyros, or pizza—they'd wax a bit poetic about a drug or therapy, we'd politely nod, pretend to listen, and be interested in something other than the toys and the food they would bring with them. We understood, along with them, that the motto "Patient First'' ruled supreme and everything else was a menagerie of education and advertisement. A means by which pharmaceutical companies could spread the word to the masses and actually save lives in the process.
It's a tried-and-true recipe, no different than the countless advertisements that dot the airways and grace the pages of damn near all medical magazines, or are piled up on tables in the exhibit halls of every medical conference in America.

Along the way, we'd pick up tidbits of useful clinical data in our interaction with them—materials that compelled us to read more, spurned interest in new clinical pathways, and educated us as to what was on the horizon. The same bits of data that flow through a variety of clinical platforms like UpToDate or Epocrates or the CDC website and other online medical resources that are front and center on most EMR platforms in hospitals across this country.
I never looked at these interactions as having that much sway on me. Perhaps I'm less malleable, but supposedly, according to the people who study this stuff, "it might . . ." and that was enough for them. So over time, scores of hospital-based "Pharma-Karens and Pharma-Kens" decided that physicians did not have the mental aptitude or, even worse, the "strength of character" to filter the "pomp and promises" of a new drug from the "sensitivities and specificities" of a new therapy, and drug reps were no longer welcomed. A position that at its core is patronizing to those literally putting their lives at risk during this pandemic.
This Kafkaesque script was imagined by a group of overreaching hospital hall monitors that plotted a pathway of kickback and conspiracy from Big Pharma to the tastebuds and stomachs of the doctors and nurses that would make the Illuminati proud. Sounding an alarm that somehow out of the billions of dollars a pharmaceutical company spends on R and D to bring a drug to FDA approval, a fraction of a percentage of advertising dollars spent on stress balls, mugs, and a tin of fajitas somehow makes those drugs unaffordable to the masses.
Suddenly, almost overnight, a loaded cheesesteak, or a slice of thin crust, or waffle fries and a chicken cutlet was lumped in as being as much a threat to the wellness of a hospital as methicillin-resistant staphylococcus, tuberculosis, clostridium, and COVID-19 combined. A health care cancer all wrapped up in a to-go box replete with plastic fork, a side of ranch dressing, and a free disposable penlight.
It's simply not true. It's time to use some common sense and climb down off the conspiracy horse. Bring back drug reps and reassign those administrators who feel they are an existential threat to the way we practice medicine. We physicians are smart enough to filter out the hype on our own.
Save the money and purge these anointed "guardians of corruption" from the hospital. Their tasks are tasks of bygone days, a time where clinical pathways were not available at the click of a mouse.
Gently take their badges, and sashes, and notepads, and their violation logs and toss them into the stupid-things-hospitals-do-because-they-seemed-right-at-the-time waste bin. Move on to tasks like infection control, PPD acquisition, the hiring of more nurses, and freeing up more beds so we can move patients out of the ER to the floor. Do not waste one more second of administration time policing drug reps unless it involves making sure there are enough folding tables for the chafing dishes.
Because right now, whether you want to believe it or not, health care is at a breaking point. Your doctors and nurses and countless team members are overworked, understaffed, over-regulated, and showing up every day to do a nearly impossible job. They barely have a chance to take a piss, let alone grab a bite. The drug reps are friendly faces, many of them are our friends who we have known for years. They are partners in an alliance to provide quality care and education and they add value to our work and food to our stomachs. They are an indispensable team member who some have unjustly come to marginalize and treat like an enemy.
Their jobs are important; they support not only their own families but countless local small businesses through meal purchases. Meals that are an incredible and welcome diversion for some of the hardest working people in health care.
Get out of their way and get out of our way. We can deal with them on our own. Be a true trailblazer in administration and let them back in the hospitals. You have enough to worry about.

True hospital leadership finds voids that need to be filled. I've highlighted some of these leaders in previous articles. They work tirelessly to create an environment more conducive to patient care, one in which the employees are valued beyond placards and platitudes expounding "Health Care Heroes Work Here." So you might want to listen when we tell you, morale is at an all-time low. I know this, being a bit of a voice in social media, my inbox is filled with thousands of emails asking me to highlight these issues. I also know that cupcakes and cheesesteaks and gyros may not be the answer.
But they certainly don't hurt.
Dr. Louis M. Profeta is an emergency physician practicing in Indianapolis and a member of the Indianapolis Forensic Services Board. He is a national award-winning writer, public speaker and one of LinkedIn's Top Voices and the author of the critically acclaimed book, The Patient in Room Nine Says He's God. Feedback at louermd@att.net is welcomed. For other publications and for speaking dates, go to louisprofeta.com. For college speaking inquiries, contact bookings@greekuniversity.org.