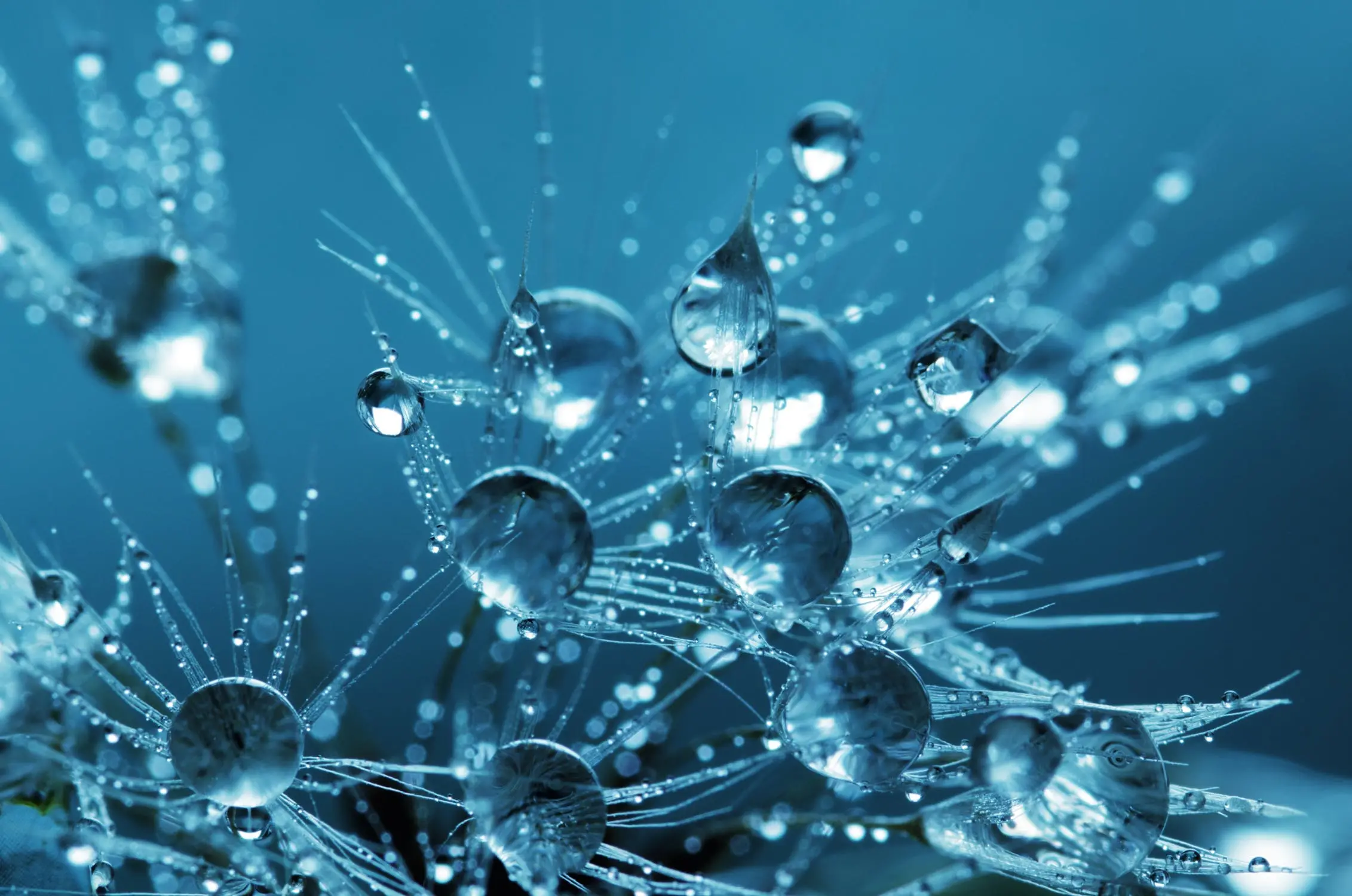 Synthetic biology is a relatively new field of science that includes both the design and formation of entirely new biological systems or components, and the redesign and production of natural biological systems.
According to Allied Market Research, the worldwide synthetic biology market will reach $38.7 billion by 2020. The factors contributing to recent breakthroughs in synthetic biology include the falling cost of genomic sequencing, the improved ability to sequence larger genomes, the advancement of the analytical power of sequencers, the availability of gene sequencing from third-party providers, and the democratization of gene editing due to CRISPR-Cas9 technology. CRISPR-Cas9 has not only improved the ability of researchers and scientists to target, edit, and activate or deactivate genes, but also to rewire complex biological circuits and systems.
"Humans are decoding biology. Life itself is becoming programmable." — Bryan Johnson, Founder of Kernel, OS Fund and Braintree
Synthetic biology is an emerging field with a relatively short timeline history. In 1828 German chemist Friedrich Wöhler synthesized inorganic ammonium chloride and silver isocyanate to create urea, an organic compound. The term "synthetic biology" was coined in 1910 by French biologist Stéphane Leduc in Théorie physico-chimique de la vie et générations spontanées. Many of the major historical milestones in the timeline of modern synthetic biology were achieved in the United States after 2001. Recent breakthroughs include:
2001 — Peter G. Schultz, Brad Herberich, Ansgar Brock and Lei Wang publish Expanding the Genetic Code of Escherichia coli
2002 — Eckard Wimmer, Aniko V. Paul and Jeronimo Cello publish Chemical Synthesis of Poliovirus cDNA: Generation of Infectious Virus in the Absence of Natural Template
2003 — Hamilton Smith and team at the J. Craig Venter Institute develop φX174 bacteriophage from synthetic oligonucleotides

2004 — George M. Church and Xiaolian Gio create a multiplex DNA synthesis method

2005 — Leon Y. Chan, Sriram Kosuri and Drew Endy publish Refactoring bacteriophage T7
2006 — Jay D. Keasling and team publish Production of the antimalarial drug precursor artemisinic acid in engineered yeast

2007 — J. Craig Venter Institute announces a chromosomal bacteria genome transplantation method that changes one bacterial species into another by genome replacement

2008 — J. Craig Venter Institute creates the 1st synthetic bacterial genome

2010 — J. Craig Venter Institute produces the world's 1st synthetic life form, a single-cell organism that self-replicates called the Mycoplasma mycoides JCVI-syn1.0

2016 — Tobias Erb and team at the Max Planck Institute for Terrestrial Microbiology develop a synthetic metabolic pathway to convert atmospheric CO2 into organic molecules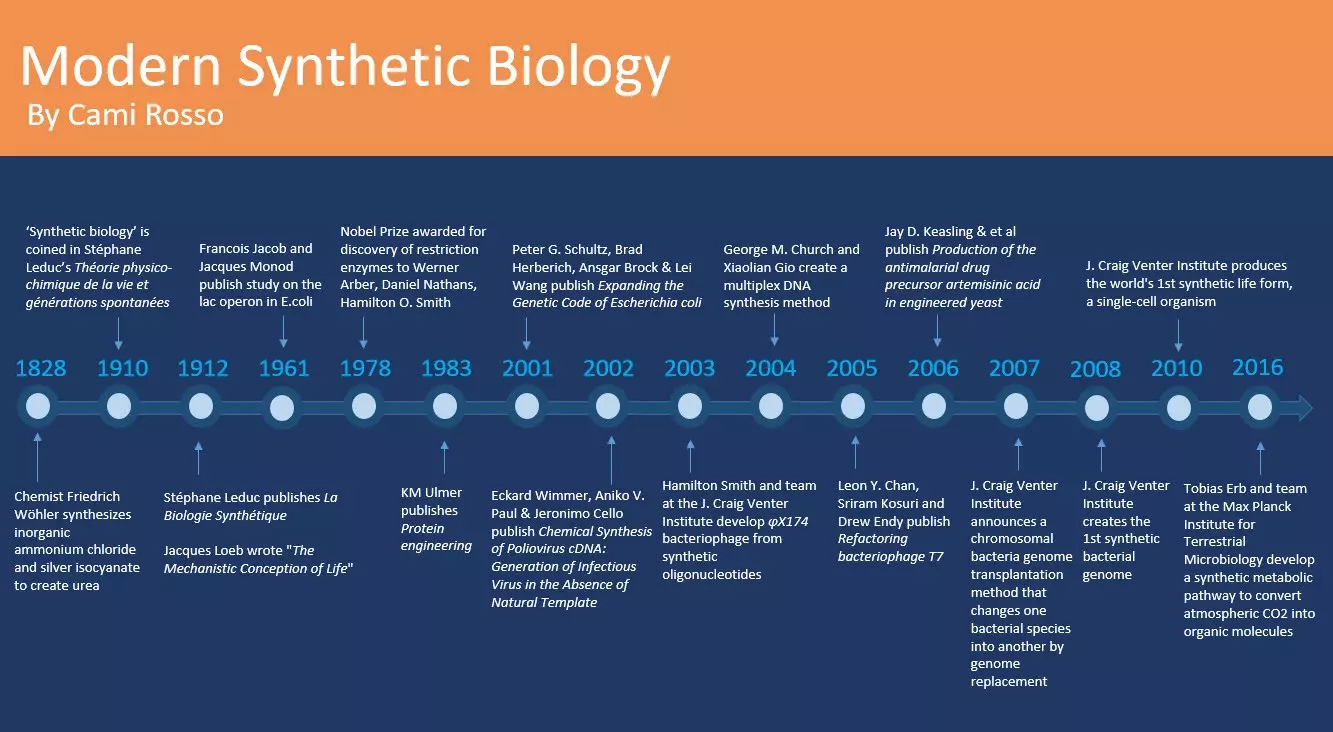 In 2016, investments in synthetic biology companies was nearly $1.3 billion, representing a 31% increase from the prior year, according to CB Insights. Today, synthetic biology has a wide range of commercial uses. Examples of current applications of synthetic biology include DNA synthesis, agriculture, pharmaceuticals, plastics, biofuels, biomaterials, industrial enzymes, biochemical, biosensing, flavor, fragrances and scientific research. Future advances in synthetic biology could increase the human lifespan with innovations in the prevention, diagnosis and treatment of disease with novel drugs, antibodies and vaccines.
"Synthetic biology can help address key challenges facing the planet and its population. Research in synthetic biology may lead to new things such as programmed cells that self-assemble at the sites of disease to repair damage." — J. Craig Venter, Founder, Chairman and CEO of J. Craig Venter Institute (JCVI), Co-founder, Executive Chairman and Co-Chief Scientist of synthetic Genomics, Inc., Co-Founder and Executive Chairman of Human Longevity, Inc.
Progress in synthetic biology may one day convert atmospheric gases into life-sustaining products to enable space colonization. Elon Musk, billionaire entrepreneur and CEO and CTO of SpaceX, has ambitions to colonize Mars. In 2016 Musk announced plans to send a million humans to Mars to form a self-sufficient civilization. Two years ago, a team lead by Tobias Erb at the Max Planck Institute for Terrestrial Microbiology developed a synthetic metabolic pathway to convert atmospheric CO2 into organic molecules.
"It's important that we attempt to extend life beyond Earth now. It is the first time in the four billion-year history of Earth that it's been possible, and that window could be open for a long time — hopefully it is — or it could be open for a short time. We should err on the side of caution and do something now." — Elon Musk, CEO and CTO of SpaceX
Synthetic biology is an emerging field of science with the potential to disrupt multiple industries and improve the human condition. Advances in synthetic biology is only limited by man's ability to reimagine the future.
Copyright © 2018 Cami Rosso All rights reserved.