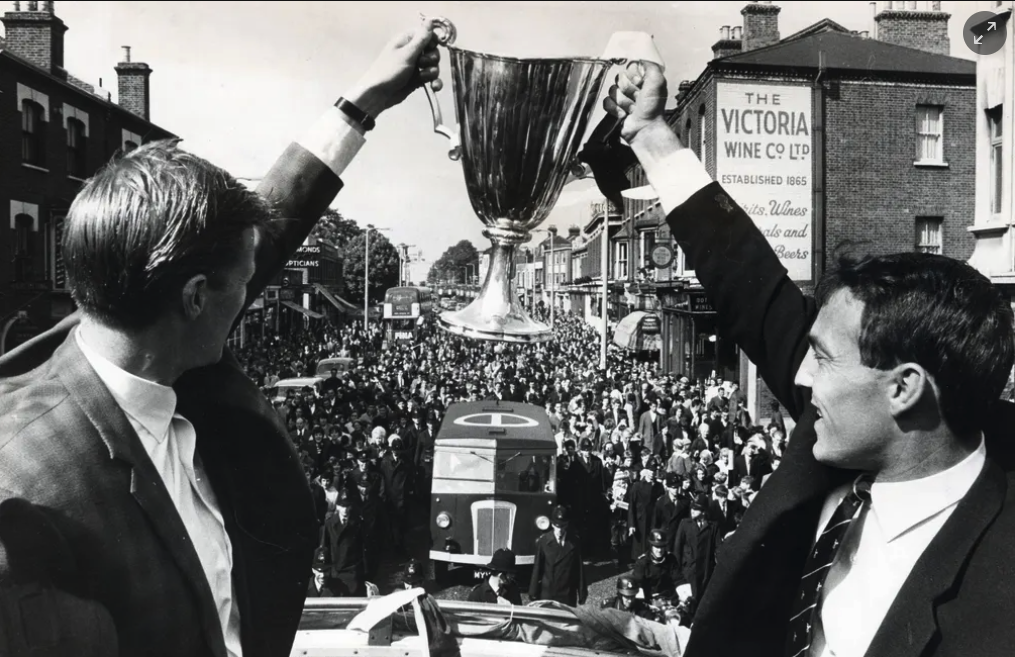 Left foot. Right foot. Header.
Sounds like the former Barca and now PSG #10 when he scores. But Jimmy Greaves scored like that for Chelsea, England, and mostly Tottenham long before Messi, the greatest modern-day player, was even born.
My dear sweet mum, Nancy Agnes Collie, knew her footy. When I was a nipper living in South Wales in the 1960s, watching and mostly reading about English football from afar, mum would whisper to me to watch out for Tottenham's mercurial young forward, Jimmy Greaves. As Ashley Sr. was an inveterate Manchester United fan, with such great players as Best, Charlton and Law, mum had to be quiet about her admiration of Greaves—about the way he scored, and the way he always had a mischievous twinkle in his eye when he did interviews. She also loved the way that Greaves and all-conquering Spurs wore dazzling white uniforms on their European match nights.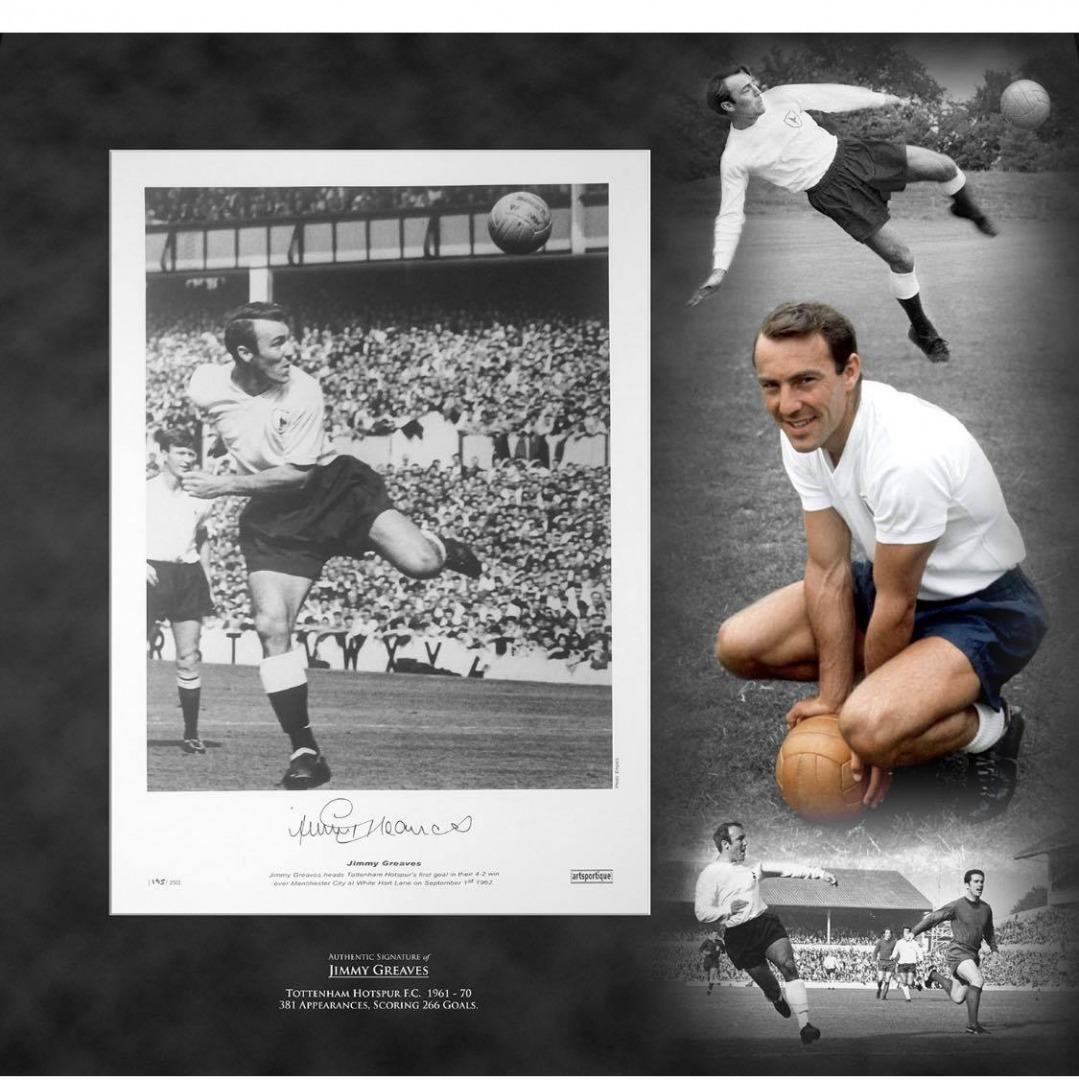 Like many young lads in Britain, who became Spurs fans, Greavsie was our boyhood hero. When we'd play park or street football, I'd try to emulate my hero: "And, Greavsie fakes out the goalie, puts him on his behind, then strolls the ball into the net. Goal!" Because that's how our hero did it—check out his YouTube highlights like on the Jimmy Greaves Story. Indeed, my first pet was a blue/white budgie (Tottenham's colors) who I named Jimmy.
I even met my hero in person, getting his autograph both times—once in Cardiff when his national team England came to play Wales, and another time when his Spurs played Glasgow Rangers in a friendly, a game in which Greaves scored a hattrick. I also got a prized photo of me with Greavsie, when my dad stopped him in his tracks, held up his camera and asked for a photo for his son's footballing hero.
Later, as a celebrity and sports journalist, I have met the biggest of stars including: Oscar winners like Matthew McConaughey, Anthony Hopkins, Jennifer Lawrence, and William Friedkin; to superstar musicians like Bruce Springsteen, Paul McCartney and Pete Townshend; to the NFL's Tom Brady and NHL's Wayne Gretzky—but Greavsie tops them all for me.
Greavsie, who passed away in September 2021, hadn't played first class football for 50 years, but he had blazed a comet-like path of brilliance. Born in Essex, he was a peerless English goalscorer. His stats speak for themselves: scoring a record 357 goals in the old English First Division (mostly for Spurs but also for Chelsea and West Ham); 220 league goals for Tottenham and a total of 266 for Spurs including cup goals. Harry Kane, Tottenham's present goal-king, is over 40 goals behind the all-time club leader. Greavsie also scored 44 goals in just 57 games for the England national team, and belatedly earned a 1966 World Cup winners medal for being part of the England squad.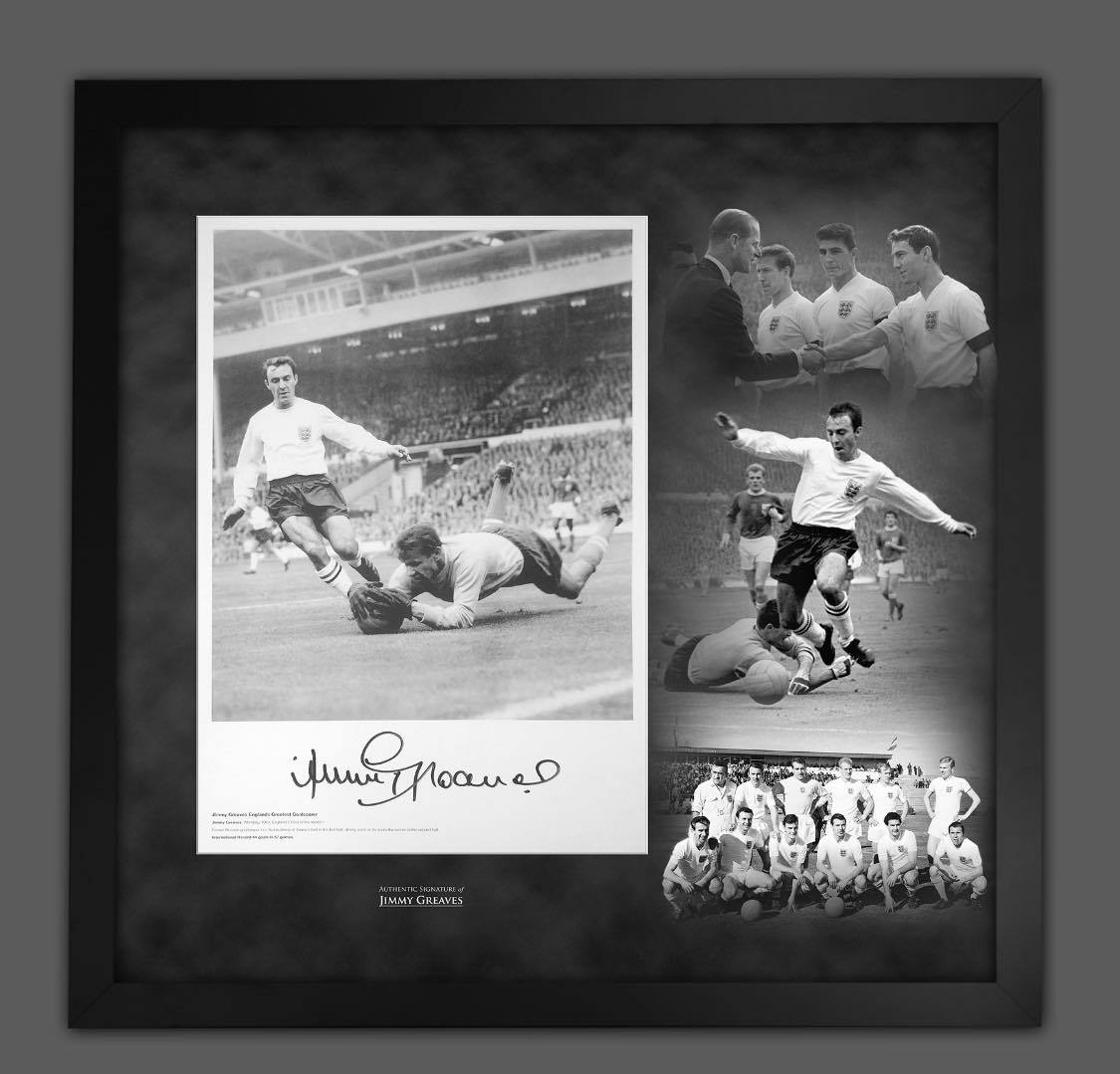 He scored them in every which way. Left foot. Right foot. Header.
The one thing for viewers, who saw him play live, was the economy and grace of his movement. Not blessed with blazing speed, he had balance to shrug off defenders, and acceleration to leave them behind, and then he added trickery with his ability to fake out defenders and goalies, often putting them on their backsides, before casually rolling the ball into the net.
As the Guardian newspaper noted: "Even for those who know him only from archive film it is striking how modern Greaves looked even as a teenager: slim-hipped and dapper, swaying through the heavy-booted defences of the early 1960s like a visitor from some elegantly appointed version of the near future."
After he retired, the ITV show Saint and Greavsie turned this double act (Ian St. John and Jimmy Greaves) into a insightful, mirthful and irreverent sports broadcast, revolutionizing the way we are entertained by sports celebrities and pundits.
Terry Baker, who was Greavsie's friend and speaker's agent for many years, writes with a saddened heart:
"The saddest news today. My lovely mate JIMMY GREAVES, the greatest English goalscorer that ever lived passed away in the early hours of Sunday morning (September 19). Not only was he my hero as a child, he was my greatest friend for the twenty years we worked together and beyond. We laughed more in theatre dressing rooms before shows talking all sorts of nonsense than I ever laughed in my life…
"Heartfelt Condolences to Irene, His wife of over 60 years and all of the family. To those of you that have always supported our projects over the years, thanks for the love you have shown towards Jimmy, the 1000s of you that came to our shows over the years know that he was the greatest raconteur of them all and you shared some of the fun.
"Rest in Peace dear Jim. We will never forget you. Football will never see anyone like you again."
And, Norman Giller, the veteran author/journalist who ghost-wrote many of Greavsie's books and who was also best pals with Greavsie, writes in "Farewell to the Greatest of them All" on Spurs Odyssey:
"I struggled to handle the passing yesterday of Jimmy Greaves, though I had been expecting it for several years, ever since his paralysing stroke of 2015 robbed him of any decent quality of life. It was torture watching my close pal of nearly 65 years become the prisoner of a wheelchair, and it got to the point where our conversations when I used to visit him in his elegant Essex bungalow centred on how I could assist him in leaving this mortal coil…
"What I will do for those too young to have seen him play…is point out that when you are watching Lionel Messi, it is like an action replay of Jimmy at his best. The way Messi runs at defences (cunning running, I call it), the way he changes pace and direction, and above all the way he finishes—passing the ball into the net—is pure Greavsie…
"Messi has been even more prolific, but he has never had to experience the violent interruption from defenders like 'Chopper' Harris, Norman 'Bites Yer Legs' Hunter and 'Anfield Iron' Tommy Smith…
"We were so lucky that Jimmy Greaves passed our way. Rest easy, master."
I'll conclude this story with an excerpt from YouTube, with Greavsie passing hilarious commentary on a goal he scored against Liverpool, when everyone on the pitch was going on about a free kick just outside the penalty box. Jimmy steps up, and comments: "They're all arguing, and I thought this is a waste of time. While they're arguing, I said, Well, let's get the ball in the back of the net and we'll worry about it afterwards."
And, he did shoot the ball into the net. The outlandish cheek of it all, Mum would've loved it!
RIP, James Peter Greaves.
Always remembered. Our hero. Greavsie.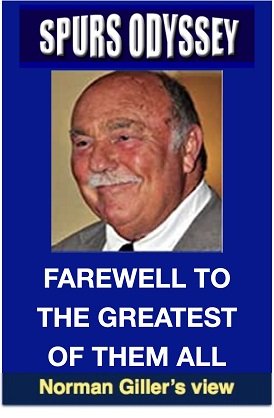 PS Jimmy Greaves books with Norman Giller at author's book website. Poster compilations available from Terry Baker, drop in on official Greaves FB page.