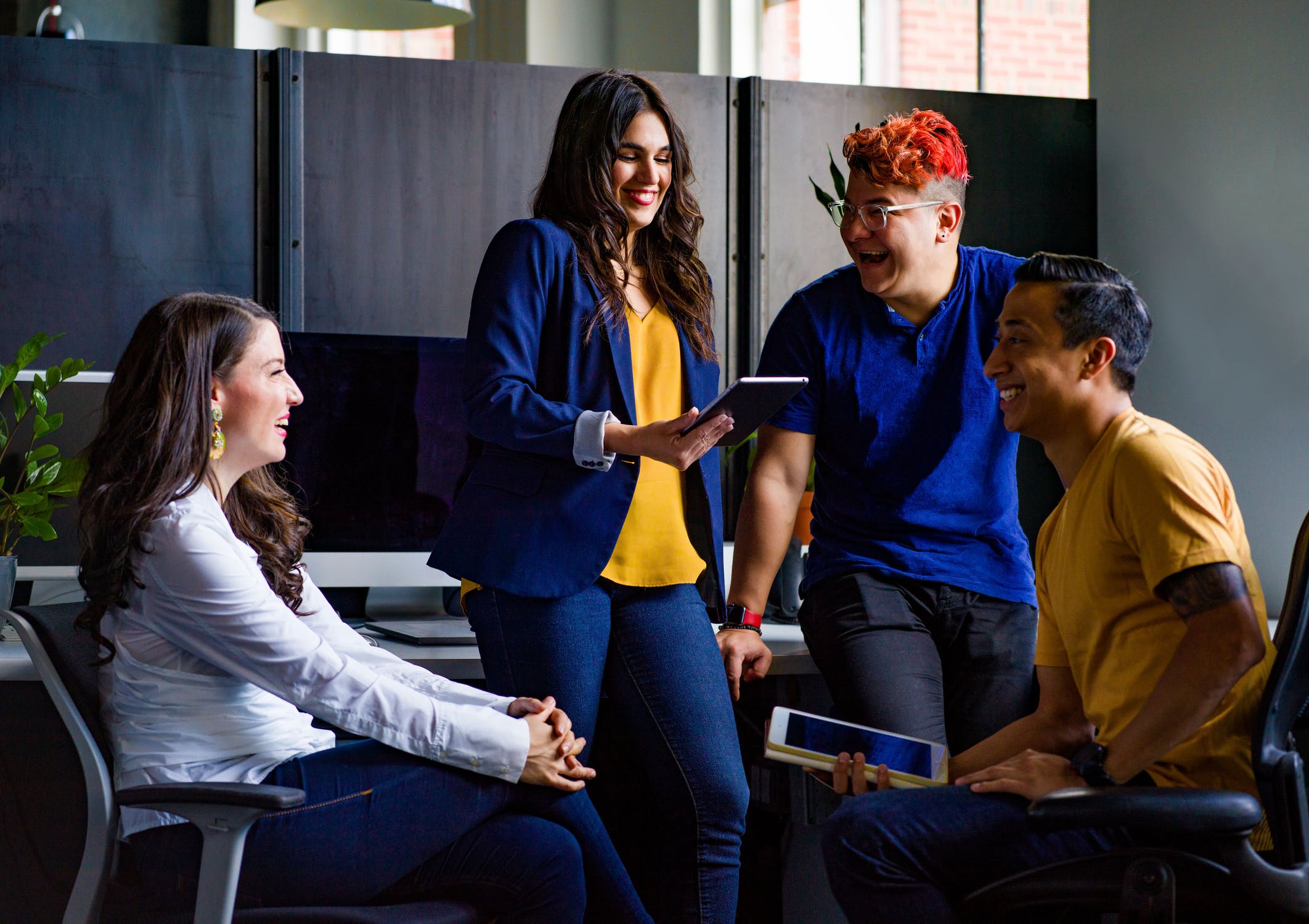 Managing projects can be chaotic.
You need to keep track of deadlines, budgets, work progress, ROI, and more. Even the best project managers can struggle to keep up with the workload. That's where project management tools can come in handy.
With project management software solutions such as pmo365, you can easily allot tasks, track time, collaborate with other team members, and do much more. They can also help you mitigate risk by helping you discover the shortcomings of any project.
The Best Project Management Tools for Your Business
So, which is the best project management tool out there?
It totally depends on what you're looking for. To help you out, I've compiled a list of the top project management tools for your business:
Project Management Tool #1: Dropbox
Dropbox is a cloud-based project management tool that enables you to share files with your team members for better collaboration. It allows you to access your data from anywhere on your computer, tablet, or phone.
Best Features
You can recover deleted files (within a limited time period).
Save and restore various versions of your document.
Its advanced sharing enables you to grant sharing access to only certain important files within a folder.
Share large media files easily with anyone with a shared link.
Protect your shared links with passwords for increased privacy.
It seamlessly integrates with other popular apps like Slack, Zoom, Okta, and others.
Pricing
Dropbox has different plans for individuals and businesses, starting from $9.99 and $15 (per user) per month, respectively.
Project Management Tool #2: Microsoft Project
Microsoft Project comes with an intuitive design that helps you manage your daily tasks and organize your projects. It comes with both cloud-based or on-premise options. It is easy-to-use and comes loaded with some powerful features.
Best Features
Assign tasks to colleagues and add scheduling when needed.
Get the flexibility to customize your project view. You can choose between boards, visual timelines, and grids.
Access pre-built reports to track your progress on multiple projects, portfolios, and resources.
With timesheets, you can capture the total time you've spent on invoicing, payroll, and other purposes.
Work as a co-author and collaborate easily with your stakeholders.
Build interactive and visual roadmaps for your projects.
Pricing
Its cloud-based solutions are priced between $10-$55 per user, per month. Its on-premise project management solutions start from $649.99.
Project Management Tool #3: Trello
This visual tool by Atlassian has a drag-and-drop dashboard that allows users to move tasks through the production process easily. It is perfect for startups and small organizations that don't have a big budget for project management.
Best Features
Access your data in the Cloud, even on your phone.
Integration with over 100 popular apps, including Google Drive, Dropbox, and others.
Add due dates, comments, and attachments directly to your Trello cards for easy collaboration.
Add labels and tags for better organization.
Get alerts and notifications when your deadlines are near.
Automate repetitive tasks with Trello's Butler.
Pricing
The basic plan is free. Its Business and Enterprise plans are priced at $9.99 and $20.89 per user, per month.
Project Management Tool #4: Jira
Among Atlassian's suite of project planning products, Jira is a powerful tool designed for agile teams. Particularly popular among software companies, Jira can help you with flexible planning, transparent execution, and more.
Best features
Customize your workflows
Customizable Scrum boards and Kanban boards
See the big picture clearly with roadmaps
Automate certain processes with its robust API
Create custom filters using Jira Query Language
Integration with multiple apps
Pricing
Its basic version is free. Their Standard and Premium versions are priced at $7 and $14 per user per month, respectively.
Project Management Tool #5: Asana
Asana is an excellent project management tool that is designed to help you manage all aspects of your project. With Asana, you can stay focused on your business goals. It helps you to keep track of your projects and eliminate all the roadblocks along the way.
Best Features
Build a Gantt chart in just a few minutes
Automate your routine tasks and streamline your processes
Monitor your work progress in real-time
Integration with apps like Adobe Creative Cloud, Salesforce, and others
Share your portfolios with stakeholders
Pre-set rules for popular processes
Pricing
Asana's packages start from $10.99 per user, per month.
Project Management Tool #6: Basecamp
With Basecamp, you can divide your work into different projects. Each of these projects comes with all the tools that you need to improve collaboration and boost productivity. It includes real-time group chats, to-do lists, schedules, and more.
Best Features
Share your docs, images, and spreadsheets easily and organize them in folders
Create automatic check-in questions for follow-ups
Identify problems in your project with Hill Charts
Pause your notifications to minimize interruptions while working
Subscribe to events in Outlook, iCal, or Google Calendar
Get control over what your clients can see in your projects
Pricing
Basecamp Personal, which is great for light use, is free. Basecamp Business is priced at $99 per month.
Project Management Tool #7: Wrike
Wrike lets you stay on top of your progress, project deadlines, resource planning, and more. It comes with a simple drag-and-drop interface, which makes it easy to work on. It is designed to help organizations boost their efficiency and productivity.
Best Features
Monitor your progress and resource utilization in real-time
Customize your workflow
Get pre-built templates to standardize your processes
Integration with apps like Salesforce, Tableau, Jira, and others
Choose between different views, such as Reports, Dashboards, and Calendars
Pricing
Wrike's pricing plans start from $9.80 per user per month.
Project Management Tool #8: Smartsheet
Smartsheet is designed to help you eliminate silos, streamline your workflows, and manage your projects effortlessly. Using this project management tool, you can track your budget, manage your resources, allot tasks, and do much more.
Best Features
Get reports with real-time updates
Create customized forms to gather data from users on any device
Visualize tasks and switch seamlessly between Gantt, calendar, grid, and chart views
Get automated reminders to keep your teammates on schedule
Seamless integration with G Suite, Outlook, Workplace Chat, and other apps
Work on the go with Smartsheet's mobile app
Pricing
To get pricing details, get in touch with their sales team.
Project Management Tool #9: Podio
Project managers spend a lot of time sharing emails and sharing files. With Podio, you can communicate and collaborate with clients and vendors on different projects from a single platform.
Best features
Communicate faster with its built-in chat feature
Integration with Google Drive, Dropbox, and other apps
Keep track of your progress and updates with Workspace dashboard
Add comments to communicate with team members
Modify the app to suit your needs
Get instant notifications on your mobile app
Pricing
Their basic plan is free. Paid plans start from $9 per user per month.
Project Management Tool #10: Workfront
Workfront gives you a 360-degree view of your projects. Right from the conception phases to completion, this project management tool allows you to manage the complete lifecycle of your projects.
Best Features
Get real-time updates
Automate various processes and project steps
Integration with Jira, G Suite, Slack, and other apps
It supports regulatory requirements for data privacy, information security, and compliance.
Use AI-powered technology to allot work based on skill, priority, and availability
Seamlessly toggle between Agile and Waterfall views
Pricing
Contact their sales team for pricing information.