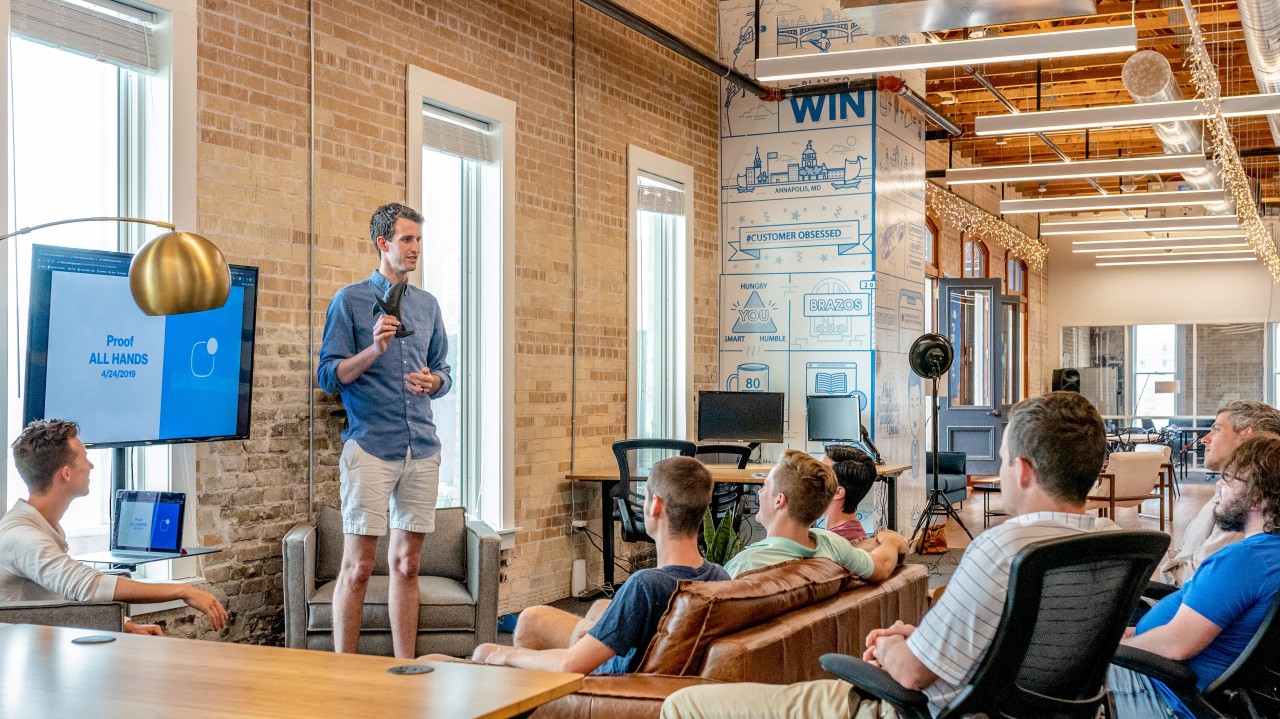 Unless you generate quality leads, there is no point in having a great product.
That's the only way to scale up your business and make it sustainable. But lead generation is easier said than done.
It involves more than just inviting passive users to your site. Lead generation is all about building a database of users who have shown some interest in your service. To get them to engage with you, you need to invest time in designing high-converting landing pages.
In this article, let's take a look at GetResponse, a lead generation and email marketing software program that can make the process easier for you.
What is GetResponse?
GetResponse is a B2B marketing tool that can help you generate more leads, maximize your ROI, and boost your sales. The tool offers different features for lead generation including email marketing, marketing automation, landing page creation, Autofunnel, and more.
From creating engaging emails and web forms to designing surveys and lead magnets, you can do it all from a single platform. Whether you're an ecommerce store owner or a service-based agency, this lead generation tool is a great way to grow your business.
For increased functionality, this lead generation platform also offers integrations with Etsy, WooCommerce, Salesforce, BigCommerce, Shopify, and other popular apps so you don't need to shift between apps to keep track of your prospects and conversions.
How to Generate Leads with GetResponse
Now let's take a closer look at how you can use GetResponse as a lead generation platform.
1. Design Engaging Landing Pages
Whenever a user clicks on your social media ads or PPC ads, they are redirected to your landing page. That's what they first see. So, the way you design your landing page can directly impact your conversions and sales.
According to the Email Marketing Benchmarks report, the average conversion rate across all industries is approximately 5.86%. Your goal should be to ensure that you at least manage to reach this rate.
With GetResponse, you can create stunning landing pages for all of your lead magnets. This lead generation tool comes with a landing page editor, which is super easy to use. You don't need any coding experience to use it.
The landing page creator gives you customization options. You can easily move, crop, resize, reshape, and change the color of any element on your landing page.
Their built-in image editor comes with a library of over 5000 high-resolution images from Shutterstock. To add in a fun and animated element, you can also pick GIFs from Giphy.
Don't have time to design your landing pages? No problem!
You can choose from their ready-made landing page templates that are designed for responsiveness and to optimize conversions. Even without any design experience, you can create landing pages quickly using these templates.
For those who don't have their own website, this lead generation tool has a special feature. You can create your page with the help of a GetResponse free domain.
To grab your visitors' attention, you can also add signup forms, countdown timers, and pop-up forms. This can help you highlight a discount offer, a lead magnet, or an event that you're hosting.
2. Create Lead Capture Forms
Lead capture forms are crucial because they are the last thing your leads see and engage with before they convert. Let's be honest: nobody likes filling out online forms. Some people don't want to put in the effort while others are wary about sharing their personal information.
How can you encourage visitors to fill out your lead generation forms?
Create optimized forms that are visually appealing. Nearly 66% of all email addresses have a length between 15 and 24 characters. So you must ensure the text box you provide has enough space for visitors to enter their email addresses.
That's where GetResponse's Form Builder comes in handy. This lead generation tool enables you to design customized forms that meet the specific needs of your business.
They have different template categories for newsletters, sign-ups, free downloads, free course sign-ups, feedback forms, event sign-ups, and seasonal sign-ups. If none of these match your needs, you can choose the blank form.
You don't have to be a pro at HTML to design attractive forms. This lead generation platform's List Builder Wizard comes loaded with over 500 professionally designed templates. To make sure your forms include your brand colors, you can use the Color Magic Feature. It enables color-matching with just one click.
By adding advanced custom fields, you can analyze your audience and their preferences. To maximize your conversions, you can leverage the A/B test feature for your lead capture forms.
It's a lead generation platform that also makes your work easier and smoother. You can also integrate GetResponse web forms with business tools like WordPress, Joomla, Facebook Web Form App, etc.
3. Use the Autoresponder
Did you know that 43% of email marketers send simple autoresponder emails to their subscribers? This makes it the third most popular type of email marketing communication.
So, what are autoresponders?
They are messages that you can automatically send to your subscriber list. Essentially, they help you automate your email marketing campaigns. With autoresponders, you can save a lot of time and effort. At the same time, you can keep your audience engaged.
GetResponse also offers you the ability to create your own autoresponders and manage them. Using this feature, you can send an autoresponder cycle. You can send these messages at particular intervals or in a sequence.
This lead generation tool comes with an easy drag-and-drop message management system. Using it, you can manage your autoresponders and make changes as required. For better organization, you can even view your cycles in a calendar view.
GetResponse's Autoresponder allows you to select the timing and the days of the week when you want to send your messages. So, even if your target audience lives in another time zone, you can reach them easily.
The best part is you can also check message status and statistics to keep track of your lead generation efforts. To make the most out of your email autoresponder sequence, ensure that the sequence is short. With longer cycles, the open rates and click-through rates tend to drop.
4. Use Marketing Automation
According to Forrester, the global market for marketing automation is expected to reach $25.1 billion by 2023. If you don't have enough time to manage your email marketing campaign, you can leverage GetResponse's Marketing Automation feature. Using this lead generation feature, you can build intuitive workflows and create events based on user behavior.
For instance, if a user abandons their shopping cart before checking out, you can send them an email reminding them to complete their purchase.
On the other hand, you can showcase complementary products to someone who has recently made a purchase. For every action, you can trigger a different response with marketing automation. With the help of this lead generation feature, you can also add conditions and apply filters to target your message in a more focused manner.
GetResponse offers strategically designed workflow templates, so you don't have to do the work. They have different templates for every part of the customer journey. You can use their marketing automation templates to win new customers, welcome them, retarget them, and engage with them.
5. Create Online Survey Forms
Not only is GetResponse an excellent lead generation tool, but it is also a great platform for market research. Using their online survey forms, you can find out what your customers really want and use these forms to get valuable feedback on your products.
With GetResponse, you can create your own online surveys and add questions based on your requirements. The lead generation tool has different question types:
Multiple Choice: You can choose if you want to allow a single answer or multiple ones.
Text: You can choose between single-line answers and paragraph answers.
Subscription Form: You can use this survey form to add users to your mailing list.
With GetResponse, you can add up to 50 pages in a survey. Even after you've published a survey, you can make changes to it later. To improve your brand awareness, you can add your brand's logo to your online survey forms.
Lavito, for instance, used GetResponse's online surveys for market research to gain insights into their customers' preferences. Within a month, 1017 people took the survey, which helped the company personalize their offerings further.
6. Host Webinars
Nearly 95% of marketers in a study said that webinars formed a key part of their marketing strategies. Additionally, 75% of them said that webinars helped them extend their brands too.
Webinars can be a powerful lead generation tool if you know how to leverage them. GetResponse is the first email marketing provider that offers a solution for webinar marketing. Using this feature, you can live stream your webinar on YouTube and Facebook.
Creating or scheduling a webinar on GetResponse is super easy. All you need to do is go to the Webinar section, click on "Create Webinar," and add details like name, date, and time.
You can also choose whether or not attendees need to register for the webinar. For those who have registered, you can send them reminders.
For increased privacy, you can add a password for entry to your webinar. Then, only those who have the correct password can join your webinar.
You can add all of your attendees to a list and send them autoresponders. The last steps are to choose your agenda and thank-you pages. The whole process of setting up your webinar takes less than five minutes!
With GetResponse, you can also use on-demand webinars to generate more leads. These are webinars that your audience can start watching on their own time, whenever that may be. The best part about these webinars is that you don't need to be present to conduct the webinar; it can be pre-recorded.
At the same time, you can use it for lead generation because the viewer will have to fill out the form before the webinar starts. This can help you make the most out of your webinar even after its live session is over.
7. Create Social Media Ads
In the early days, social media marketing was mostly about posting content on your profiles. Since then, a lot has changed. It's no longer only about expecting your followers to see your posts. You need to focus on building a customer journey and getting people to make a purchase.
That's where social media ads can help you. They can increase your reach, engagement, and even traffic. This is the reason why the global social media advertising spend is expected to be $102 billion in 2020.
The GetResponse Social Ads Creator is specifically designed to help you with your lead generation efforts. Using this tool, you can create engaging social media campaigns and promote your products.
It comes with over 200 predesigned, animated templates that can help you save time and effort. All you need to do is add product names, photos, and prices. Also, the lead-generation tool automatically creates branded videos and slideshows.
To make the content creation process easier, the tool also allows you to import your photos from Etsy directly to the Social Ads Maker templates. They also have a mobile app, so you can work on your social media ads on-the-go!
How to Use GetResponse Autofunnel as a Lead Generation Tool
GetResponse Autofunnel is the ultimate lead generation tool. It is a ready-made automated sales funnel generator.
It integrates all of its powerful lead generation features into one comprehensive platform. It can help you keep track of your online sales and streamline your processes from one platform.
Autofunnel is often confused with GetResponse's Marketing Automation feature. However, they are not the same. The marketing automation feature is designed to help you improve the overall work experience by assigning workflows.
It revolves around a set of filters, conditions, and actions that you can put together to stay in touch with your audience.
On the other hand, Autofunnel makes it easy for you to combine list building with sales processes. Inside your funnel, you can create new landing pages, Facebook Ads, run social media campaigns, track your conversion rate, and promote your products.
To boost your sales, you can also send follow-up emails to your target audience.
There are three categories of Autofunnels that you can choose from:
Sales Funnel: This funnel focuses on getting new leads and finalizing your sales processes. If you want to find potential buyers, sell your products, and promote them, you should opt for GetResponse's Sales Funnel. You can redirect traffic to your site's sales page through the two-stage Quick Sales Funnel. To nurture leads with automated emails, use the Full Sales Funnel.
List Building Funnel: With this type of funnel, you can build a massive database of customers who are interested in your products and services. Greet them with welcome messages and get them to subscribe to your newsletters to boost conversions.Using this funnel, you can generate new leads and engage your audience with follow-up emails and sign-up pages. This funnel also allows you to send automated messages to your audience.
Webinar Funnel: If you're looking to schedule a webinar, this is the funnel to help you get engagement. Get qualified leads for your free webinars or use this Autofunnel to sell tickets for your paid webinar.GetResponse is also launching a Lead Magnets funnel soon, which will help you create attractive lead magnets in a matter of minutes. It will also allow you to upload your own lead magnets.
Upsell Pages
Another unique feature of the Autofunnel lead generation tool is that it allows you to upsell your products. To increase your sales, you can also offer one-time deals to your customers with Autofunnel upsell pages.
If a customer is buying a particular product, you can offer deals on a complementary product. For instance, if you are selling a whiteboard, you can upsell whiteboard markers along with it. In this way, you can earn additional revenue.
For each funnel, you can add three upsell pages. It is a step that appears between your confirmation page and sales page. You can even add upsell pages to the funnels you have previously created.
Conclusion
If you want to stay ahead of your competitors and get more leads, you need to leverage technology. GetResponse is a powerful tool that comes loaded with features to take your lead generation strategy to the next level.
From automating your workflows to creating engaging survey forms and landing pages, you can do it all with this lead generation tool. If you haven't tried it yet, it's time to give it a shot. Go ahead, you can try GetResponse free for 30 days.
Do you have any questions about the above-mentioned lead generation features of GetResponse? Please let us know in the comments section below.
Photo by Austin Distel on Unsplash