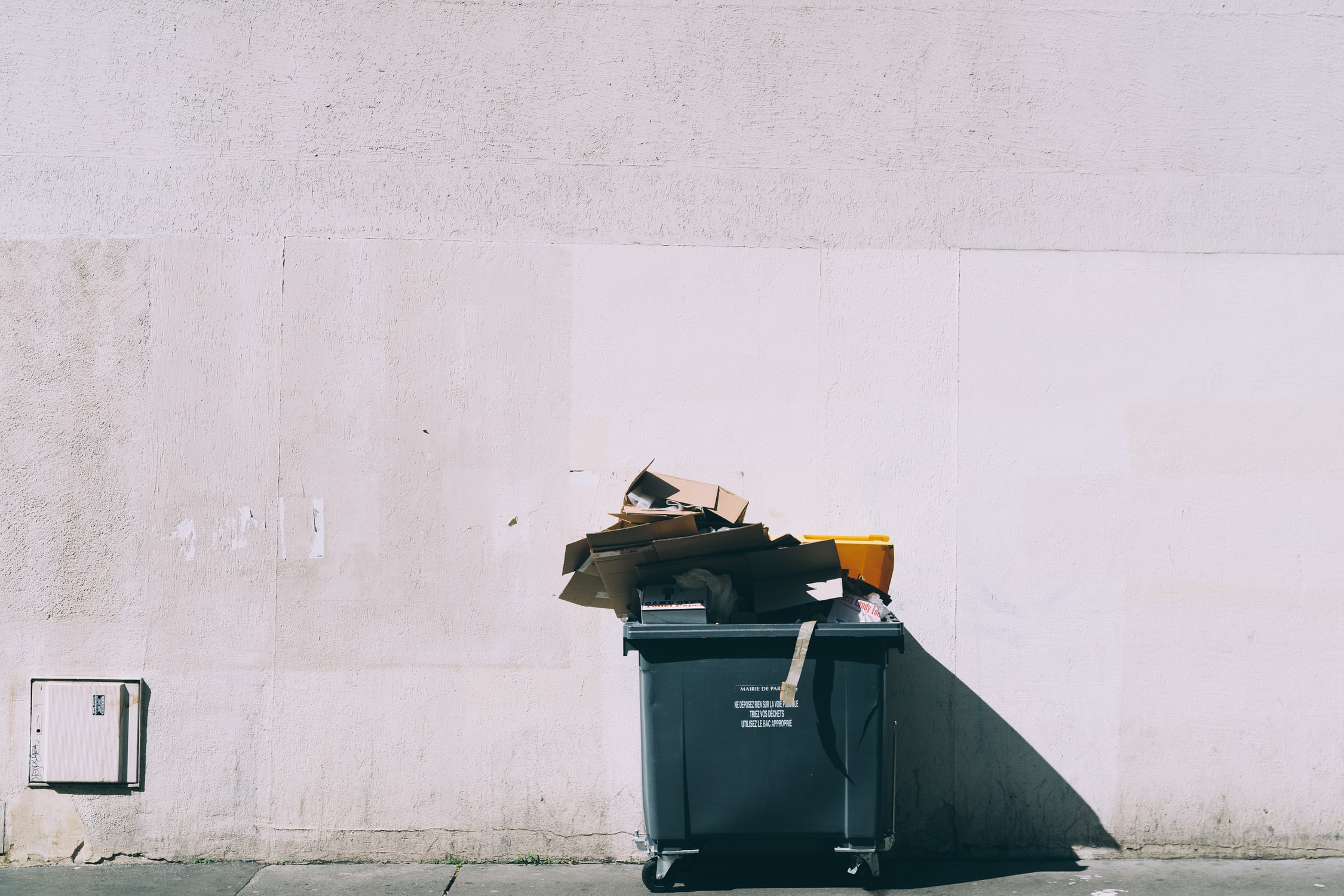 Before we dive into the topic, let's look at a few graphs to get the up-to-date idea of what this is all about.
Check Google's popular tool for data on trends to get a feel of the big picture. If we look back at the time of the last economic crisis started over a decade ago. We see the birth, rise, and steady growth of consumer interest for zero-waste ethics and practices: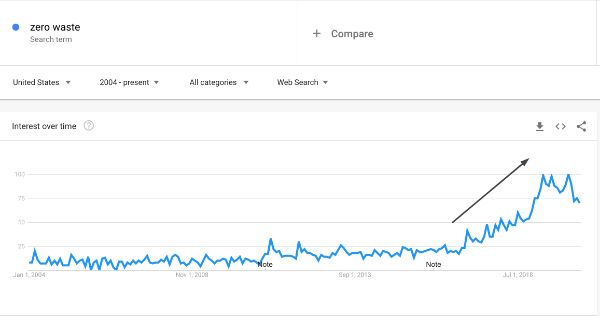 And here's the growing trend on the side of business & supply: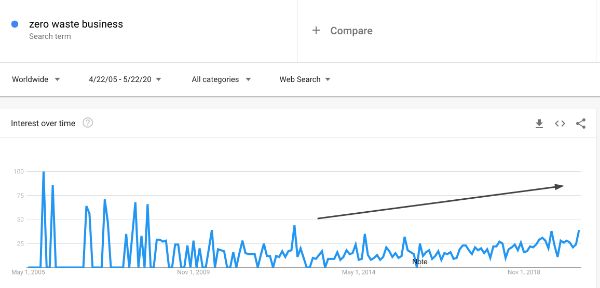 As you can see for yourself, escaping pollution and rubbish make lucrative sense for businesses of all types and sizes. That's why companies big or small should and aim at investments in zero-waste solutions or at least zero-landfill (picture the graph and come back to it when you get the full guide).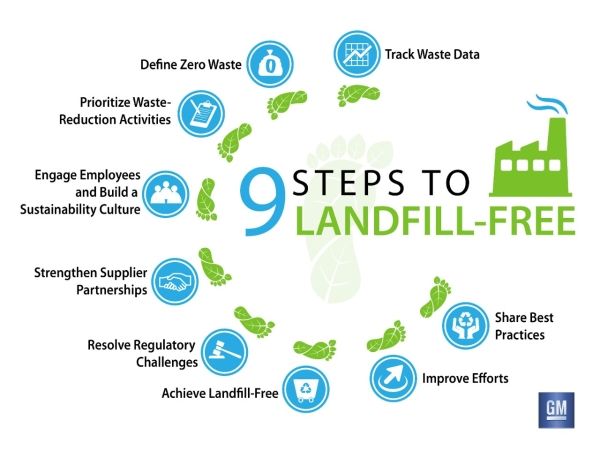 We'll get back to this in a minute.
First, What is a Zero-waste Business?
The zero-waste business design is to function without the systematic production of waste and toxic materials.
The main goal of any company should be to conserve and reuse resources, thus achieve sustainable processes and growth. A business with zero-waste policies eliminates discharges to land, water, and air that are a threat to the ecosystem, wildlife, and human population. Gains expand to both nature and turnover, comments dumpster professional Luke Hancock from Bin There Dump That (USA).
So, Should You Run a Zero-waste Business?
To run a zero-waste business comes with a huge range of benefits. It cuts down your costs of waste disposal, taxes, and complications connected with the regulatory release of harmful emissions generated by waste.
Zero-waste companies brand and market themselves as "Green Businesses", which raises both the value perception of products or services offered along with strong customer service grown to experience. This is not only eco-friendly but nourishes strong customer loyalty, often up to advocacy.
Most people won't but many look for actual proof of "green" operations for a business they are open or want to support.
It's a fact that sustainable companies earn the trust of customers, partners, and support from local communities. According to zero-waste enthusiast Antonia from Escape Waste, investment in eco-friendly and zero-waste activities can play a role bigger than traditional marketing campaigns.
Zero-waste to Zero-landfill
Besides "zero-waste", there is the concept of "zero-landfill". Let's take a look: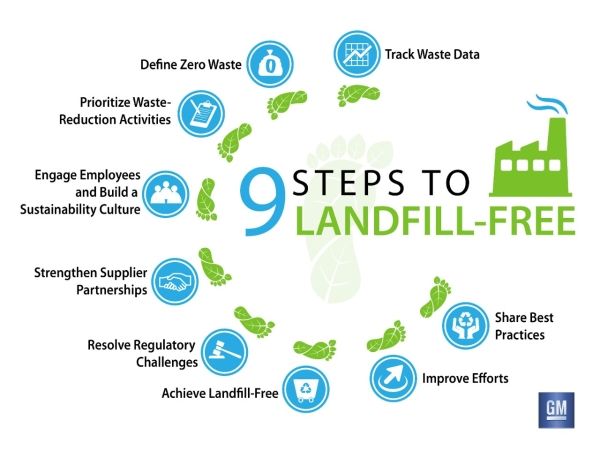 If a company achieves it, zero-landfill can give a cutting-edge advantage over the competition. If a company eliminates the output of waste in a production process and thus improve material flow, you will lower the overall cost for business, not to mention opportunities for an integrated strategy for both production and marketing - a combo set for growth!
How to Achieve Zero-waste Offices in Few Simple Steps
Consider the following steps if you want to achieve zero waste in your business:
Analyze the Current Stream of Waste & Disposal
Appoint a Waste Management Employee or a Team of The Month
Start Slow and Gradually Build Momentum
Set out Specific Waste Reduction Goals
Engage Employees in Zero Waste Goal Achievement System
Establish Strategies for Waste Prevention and Reduction
Now let's have a granular look at each step:
1. Analyze the Current Stream of Waste & Disposal
To begin with, you must set up a baseline to track future progress. To do so,
Analyze the current waste generation in the company.
Figure out the volumes, types, and sources of trash in your business and if your employees handle them the right way.
Make sure you have more bins for recyclable materials and position them for optimal waste diversion.
For example: if a trash bin is conveniently closer than a far away bin for recyclables, workers are more likely to throw away recyclable materials into the garbage.
The idea here is to better understand the waste flow that your business generates.
2. Appoint a Waste Management Employee or a Team of The Month
Based on the size of your company, experts recommend assembling a team or have a designated employee that monitors the company's current state, sets goals, and implements plans and tasks.
Such teams are effective and improve communication and dedication in medium to large businesses. To be certain that the initiative is on track, use a project management approach.
Related: How Artificial Intelligence Can Revolutionize Waste Management
3. Start Slow and Gradually Build Momentum
After you analyze the waste flow, the first step is to sort out which waste items to take out right away. Discuss with your staff which materials they throw away. Check if they are reusable, recyclable, or compostable and if so divert them immediately.
Another easy step towards a greener business operation is to reduce energy consumption:
Switch off unused lights;
Upgrade to more low energy bulbs;
Look into energy saving solutions for HVAC, heating, ext.
4. Set out Specific Waste Reduction Goals
Have in mind that some goals take more time to realize than others. Request from your suppliers to switch towards eco-friendly, reusable packages and help prevent waste build-up.
Have in mind it might take a few months to coordinate and achieve. It could take much longer to change your production line to include refurbished and recycled goods.
Read also: Top Ways That You Can Make Your Business More Environmentally Friendly
5. Engage Employees in Zero Waste Goal Achievement System
Set goals for you and your employees and follow strategies to help people cut waste. When implementing new policies, one of the most important steps is to engage employees. The point of view should switch from waste reduction to conservation of resources. You should encourage employees to take a stand.
A key factor towards a zero-waste transformation is to raise employee awareness alongside preparation and resources.
Challenge employees to design a poster to raise awareness.
Implement gamification to praise people that find new ways to take the company a step closer to sustainability.
Organize out-of-office initiatives, like planting trees, or cleaning nearby areas from pollution.
6. Establish Strategies for Waste Prevention and Reduction
Now that you have goals for waste reduction, apply the right plan of action to achieve them. The three most important steps to undertake are waste prevention, waste diversion, and waste reduction. Some mentioned are hard to achieve and require combined efforts between your business and the suppliers you work with.
Below are a few proven waste reduction techniques:
Reduce carbon footprint and increase energy efficiency: Take measures to reduce energy consumption. Switch off equipment or lights that are not in use and install motion sensors. Consider the use of green energy providers or install solar panels for clean energy production. Upgrade door and window seals. Switch off HVAC when no staff is not present to optimize efficiency and electrical waste.
Put reusable packages into use: Packaging materials have a major role in waste generation throughout the globe. Contact your suppliers and switch to reusable alternatives.
Anaerobic digestion and composting: These methods play a major part in zero waste transformation for many businesses. Anaerobic digestion and composting are beneficial for a lot of companies that look to redirect waste generation from lunchrooms like paper towels or leftover food.
Define recycled or natural content: Through the use of natural and recycled materials, a lot of companies promote zero waste and the overall demand for "green" materials. This keeps up the financial viability of recycled goods and cuts down the demands for virgin material. Have in mind that in most cases recycled material is more budget-friendly than raw material.
Take into consideration the redesign of products and equipment: Extend your zero waste aim from landfill diversion to the elimination of waste in your production line and product consumption. Increasingly more products now have prolonged reuse and adapt a design that is recyclable. An excellent execution example is compostable product packages or the idea to offer "product as a service". The last one is perfect for durable products that customers could return to the manufacturer for a refurbishment after they no longer need or use.
Final Words
In conclusion, zero waste is an achievement that embraces much more than just waste diversion, but to reach that achievement, diversion might be just the perfect place from which to start your initiative.