In a thought-provoking conversation at the Business Connect event in central London to close out the AI Safety Summit, billionaire entrepreneur Elon Musk and UK Prime Minister Rishi Sunak discussed the potential and pitfalls of artificial intelligence (AI).
Musk's provocative statement that "AI can do everything" raised questions about the role of work and meaning in our future society.
Elon Musk and Rishi Sunak Debate AI's Impact on Jobs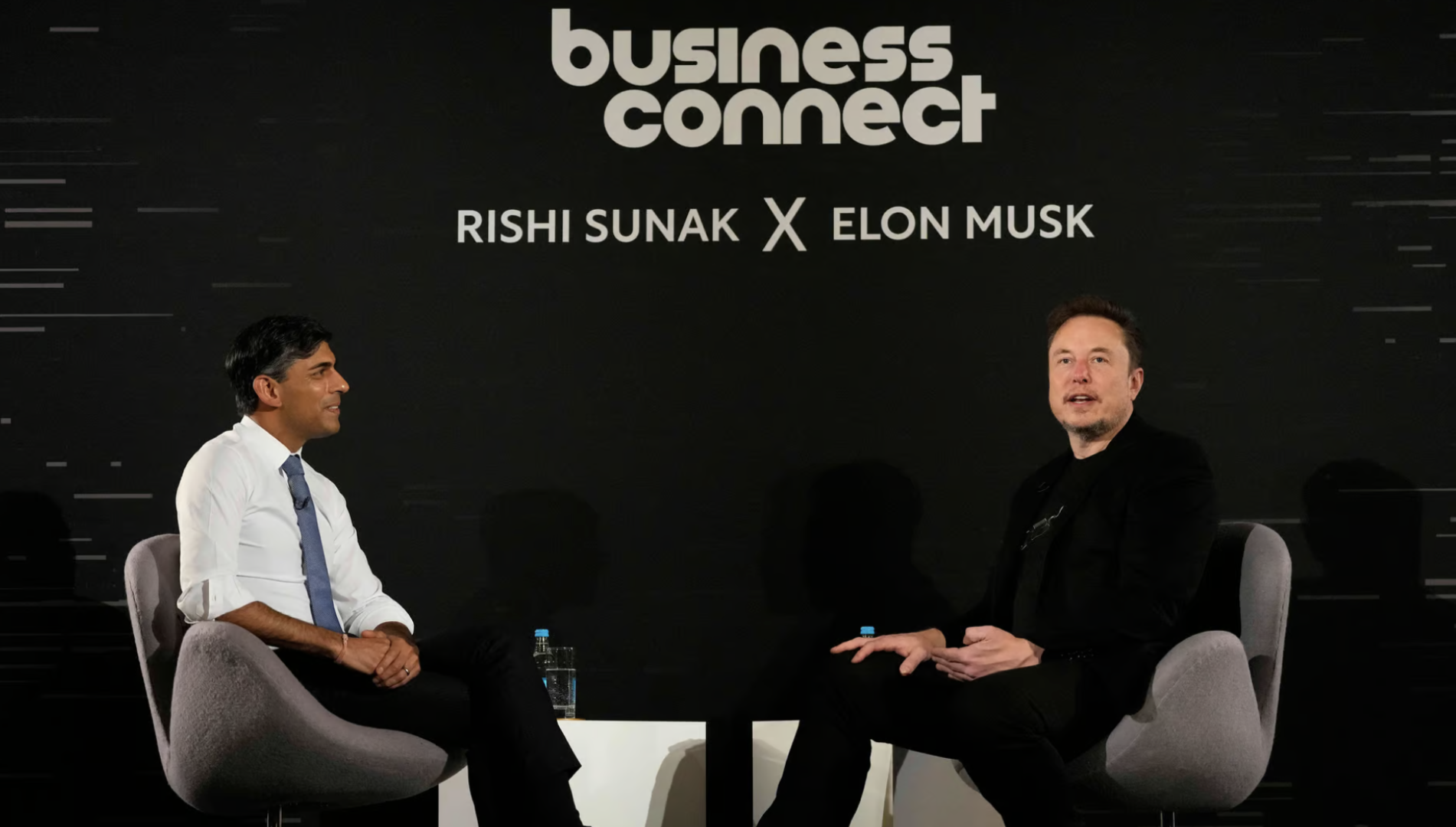 The visionary entrepreneur behind the success of Space X, PayPal X and Teska, shared his perspective on AI's role in the workforce, suggesting that AI could eventually replace the need for people to work. Elon Musk stated, "You can have a job if you want to for personal satisfaction, AI can do everything." While this vision may sound both promising and unsettling, it leads to a crucial question: How will society find meaning in life when traditional jobs may no longer be essential?
Musk emphasized that AI's entry into the job market could have both positive and negative aspects. He argued that AI could excel in roles that are dangerous or tedious, leaving humans free to pursue more fulfilling endeavors. In the context of education, he envisioned AI as an exceptional tutor, offering students a tailored and efficient learning experience. By automating repetitive tasks, AI could enhance productivity and free up human potential for creative and meaningful pursuits.
Musk's View on the Role of AI in Education: Can We Be Friends with AI-Powered Robots?
Musk's optimism extended to AI's role in education, suggesting that AI could become "the best tutor" for students. Tailored learning experiences, instant feedback, and adaptive teaching methods are some of the possibilities that AI brings to the education landscape. While AI might not replace human educators, it has the potential to transform the learning experience, making it more engaging and effective.
Elon Musk shared an intriguing vision of the future, where AI-powered robots become our friends. He envisioned a scenario where these robots have vast memory and access to extensive knowledge, making them ideal conversation partners. Musk asserted that these AI companions would provide friendship and intellectual exchange, highlighting the ever-evolving integration of AI into our lives.
Sunak's Views on AI and Entrepreneurship
As the conversation shifted to the topic of entrepreneurship and AI's role in fostering innovation, Prime Minister Rishi Sunak echoed the significance of creating a culture that celebrates new companies. He underscored the importance of providing a high-reward environment for entrepreneurs, making it a safer space to take risks and innovate. Sunak emphasized the need for a regulatory system that supports innovation and protects the interests of all stakeholders.
Musk is a Strong Advocate for Balanced Regulation and Oversight in the AI Industry
Elon Musk advocated for a balanced approach to AI regulation, drawing parallels with the role of a referee in sports. He acknowledged that while regulation might be seen as annoying and potentially stifling, it plays a crucial role in ensuring public safety. Musk encouraged governments to act as referees, ensuring that the AI industry operates responsibly. He stressed that, on balance, AI is a force for good and that responsible oversight is essential.
The tech genius, Elon Musk, acknowledged the significant concern within the AI industry that stringent regulations could stifle innovation. However, he highlighted the need for a referee to maintain safety and prevent potential negative consequences. Musk believes that AI will ultimately be a force for good, provided there are adequate safeguards in place.
A Compelling Debate Between Elon Musk and Rishi Sunak on AI Governance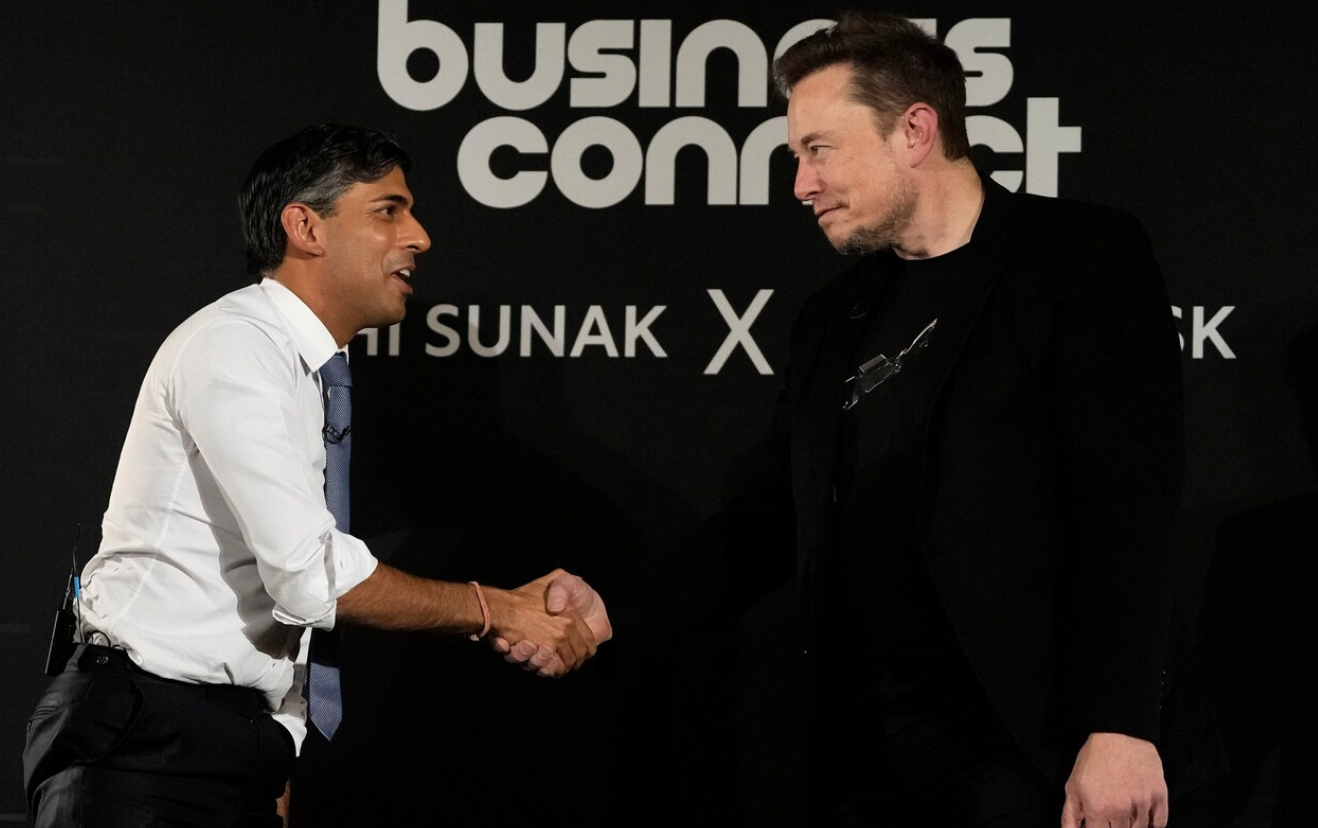 The conversation also touched upon international collaboration in the AI safety domain. Musk and Sunak discussed the invitation extended to China to participate in AI safety discussions. Musk highlighted the importance of having China involved in the conversation, particularly in the context of AI safety. He emphasized that cooperation and consensus-driven approaches are essential for addressing the global challenges posed by AI.
Rishi Sunak's approach to AI governance has been subject to scrutiny, with some critics accusing him of not regulating AI more assertively. He explained that the UK aims to ensure a regulatory environment that promotes innovation while safeguarding public interests. Sunak also advocated for independent oversight and a comprehensive examination of AI's impacts, including on jobs, security, and transformative potential.
The Future of AI and Society
The "in-conversation-with" event featuring Elon Musk and Rishi Sunak offered valuable insights into the ever-evolving role of AI in our society. As AI continues to advance, the challenge lies in striking a balance between fostering innovation and ensuring AI's responsible and safe deployment. While Musk envisions a future where AI transforms the way we work and learn, he also emphasizes the importance of governance, regulation, and international cooperation to harness AI's full potential as a force for good. The future of AI promises to be a dynamic interplay between human creativity and technological innovation, and discussions like these are vital to shaping this future responsibly and ethically.