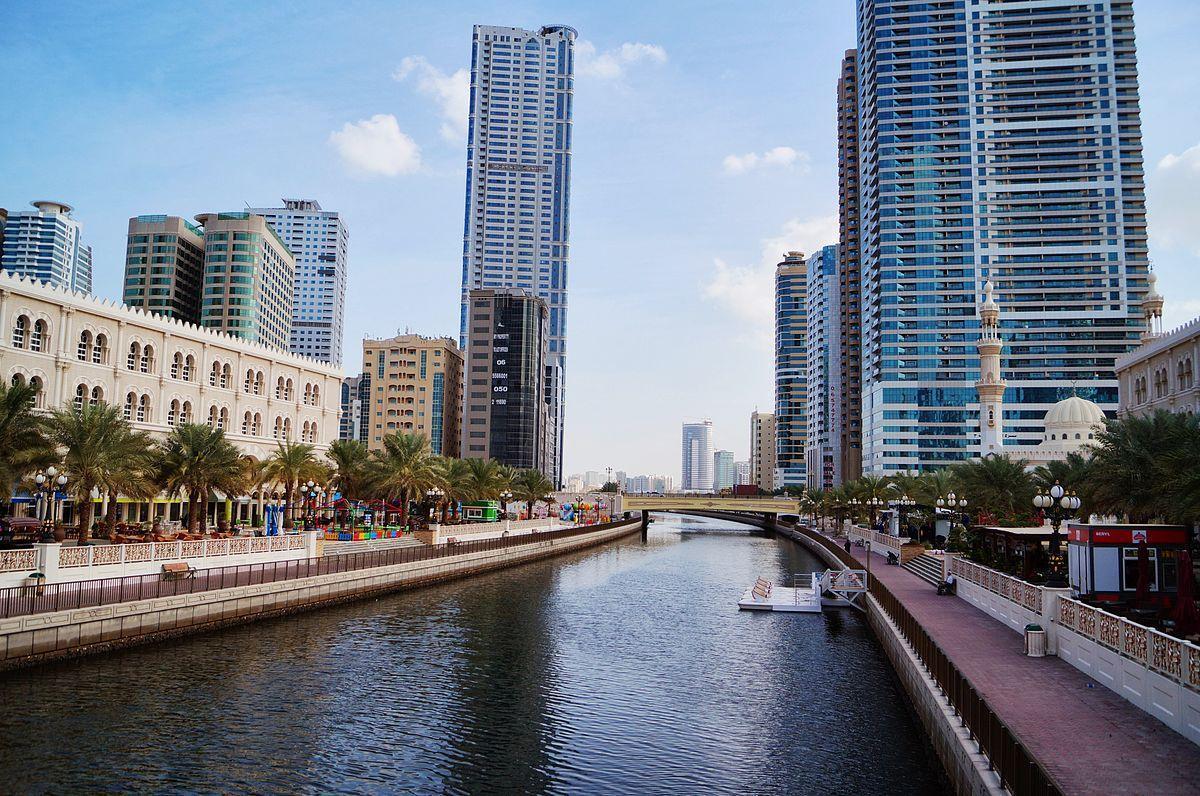 As I write this, I am just back - last night - from Sharjah, where I spoke at a conference. With all due respect to my most gracious hosts, before receiving the invitation to speak in Sharjah, I had never even heard of it. This is despite the fact that I have been to the United Arab Emirates (of which Sharjah is one) before, for a World Health Organization project in Abu Dhabi some years ago. I have been to neighboring Qatar for a public health conference as well. Even so, I had not heard of Sharjah- which now occupies a special place in my memory, and a warm spot in my heart.
Perhaps not knowing of Sharjah is a bit like a person from, say, Pakistan or Bulgaria never having heard of Connecticut, my home state. Certainly, they would have heard of the United States, and probably New York and California- but maybe not know of my particular state. Connecticut is one small piece of one giant country; Sharjah is one small piece of one tiny country. Knowledge of either may be limited around the world for much the same reasons.
I guess many of you will not have heard of Sharjah, either, and that may suffice for now: it is a tiny patch on a great globe.
But I write these reflections on my participation in the eighth annual International Government Communication Forum there with this impression paramount: Sharjah feels large, and the United States feels small.
The conference, as its title suggests, was focused on strategic involvement of the government in communication on topics of importance. Those topics constituted the theme of this year's gathering: shared responsibility between citizen and state for health, well-being, productivity, and environmental stewardship. Talks and panel discussions probed the right and constructive role of government in optimizing education, understanding, and empowerment.
There, unlike here, there was no rhetoric offering a choice between personal responsibility and responsible public policy- but rather an explicit acknowledgment of their synergy. The choices people make are always subordinate to the choices people have; the government of Sharjah eagerly explored the means of optimizing both. Here at home, we seem to specialize in asking people to make good choices while offering, and even exporting, bad ones as defaults.
There was dedicated attention to the demands of sustainability, and to the role of government in enabling the many daily, private practices that contribute to it or conspire against it. These discussions did not devolve, as they do here, into myopic critiques of science and prediction models. Tiny Sharjah clearly embraced what here embroils: that ever more demand by ever more people on a world of finite resources inevitably warrants urgent, active management. Here, we bicker over how much ash we must first let pile up before conceding we stood by and watched the world burn.
My particular panel was devoted to the topic of health and happiness, with my role largely an espousal of the interdependence of the two. The government there, but not here at home, allows that measures of quarterly financial returns may not best reflect the measure of human fulfillment, in the service of which all lesser metrics should be configured. Sharjah was taking seriously the Global Happiness Index, and exploring the best way to track the overall well-being of its citizens and thus, gauge the contributions of government to what matters most. We tend only ever to manage what we measure, and if contentment and fulfillment matter- Sharjah was saying they should be both measured and managed. The index in question derives from the Happiness Research Institute in Copenhagen, Denmark, and the CEO and founder, Meik Wiking, was one of my fellow panelists.
That the full weight and resources of the government of not just Sharjah, but the UAE, were directed at the priorities emerging from this conference was on almost embarrassing display. The conference had extensive regional and global media coverage. The meeting was attended by the ruler of Sharjah- something akin and yet a bit more than a governor here. Conference collateral was on lavish display throughout the UAE; I drove by billboard-size images of conference participants, including myself, on highway bridges in both Sharjah and Dubai (to the delight of my mother, if no one else).
Sharjah is tiny, and the United States is giant- geographically, and on the world stage. Why do I write this feeling so much the opposite?
There is nothing smaller- no more complete renunciation of the space one should occupy- than abdication in the face of profound responsibility. While leaving my great country for a tiny one, students around the world were striking our inaction on climate change to confront our shortsighted, selfish predations upon their future. Sharjah has formally pledged its commitment to sustainability, to developing a greener economy, to foster public/private partnerships to advance this goal. The United States has formally renounced reality and denied responsibility.
I really can't imagine that anyone watches Avatar, and roots for the blinkered, avaricious humans ravaging the dazzling majesty of pristine nature. I cannot imagine that anyone watches Remember the Titans without cheering the triumph of character over color, brotherhood over bias and prejudice. I cannot imagine that anyone watches About a Boyand thinks it right to root for the bullies who torment Marcus for his idiosyncrasies, rather than Marcus for persevering in spite of them (see these movies if you haven't). I can't imagine any child hears the fable of The Ant and the Grasshopper, whether by Aesop or La Fontaine, and concludes the ants were the fools because their preparations for the future were predicated on imperfect prediction models.
And so, I should not be able to imagine that a great and powerful country becomes ever less of its own foundational ideals, and ever more what even in our casual entertainments we deplore. But there is no need for imagination when that very reality is imposed on us. When the United Arab Emirates is devoted to the imperatives of sustainability, shared responsibility, the hegemony of human fulfillment, and acting on the best science we have- and the United States of America denounces all such need. We have no need of morbid imagination when New Zealand acts immediately and assertively to defend life, tolerance, inclusiveness, and community; and the United States of America procrastinates, prevaricates, and abdicates again and again.
I left a large and historically great country and traveled to a tiny one to talk about the interdependence of health and happiness. I may as well have said that these need space to flourish in the heart of a nation to populate the hearts of its people.
The disparities in commitment and convictions here, and there; the prospects for responsible action by individuals and the body politic alike in partnership, and the devotion to sustaining opportunities for the generations to succeed us- made me feel that tiny Sharjah had all the space in the world. The giant country of foundationally great ideals to which I returned home, alas, not so much.
Author, The Truth about Food. All book proceeds go to support the True Health Initiative, a federally authorized 501c3 non-profit.